Self hosted
Jellyfin vs Plex: Best Self-hosted Media Server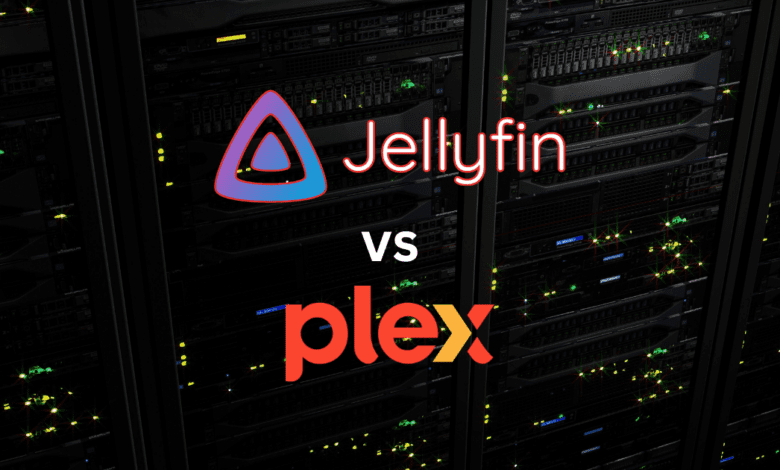 Two names generally come up with self-hosting your own media files: Jellyfin and Plex streaming platforms. They each have great capabilities. However, let's look at Jellyfin vs Plex and see which one might best fit for your home media services for hosting video and audio files.
We will compare Plex vs Jellyfin in the following categories for media servers:
Device compatibility
User interface
Hardware transcoding
Pricing and subscription services
Setup
Player and plugins
Privacy controls
Apps
Advanced features
Overview of the comparison between Jellyfin vs Plex:
What is Jellyfin?
Jellyfin is an open-source media server software that provides a platform for organizing and streaming media files from a self-hosted media collection. It's free, with no premium subscription tiers, contrasting with Plex, which operates on a freemium model. Jellyfin prioritizes privacy and complete control, allowing users to manage their media library efficiently.
The user interface is simple and functional, enabling easy media streaming and management across various devices. Jellyfin can be installed on multiple platforms, including Windows, Linux, and macOS, and has client apps for devices like Android TV and Apple TV.
The community around Jellyfin is active, adding to its range of features and plugins that enhance its functionality. Stream music, host a personal movie library, or watch TV series with Jellyfin.
Jellyfin is open-source. This allows for a transparent, community-driven experience, standing as a solid choice for those looking for free, privacy-centric media server software.
You can download Jellyfin here: The Free Software Media System | Jellyfin.
What is Plex?
Plex is a media server software that allows you to organize and stream content from a central location. Unlike Jellyfin, Plex operates on a freemium model where basic functionalities are free, but advanced features require a Plex Pass subscription.
Plex has a modern UI and supports many devices. Setting up Plex is straightforward with an easy setup process. It is quick to get configured and up to a point where you can start to stream music, movies, and TV series across your devices.
With Plex Pass, it offers additional features like live TV support, mobile sync, and parental controls, catering to users looking for more advanced media server functionalities.
Plex also has a large and active community that has been active for over a decade. With Plex, you also get numerous plugins and add-ons available to extend the Plex server's functionality. It features a really nice mix of free and premium features and is a versatile media server software solution for those looking to access their media content anytime, anywhere.
Learn more about and download Plex here: Stream Movies & TV Shows | Plex.
Device Compatibility
When it comes to device compatibility, Plex holds an advantage over Jellyfin. It is known for its wide range of device compatibility. Plex provides dedicated applications for many platforms, including Windows, Linux, macOS, iOS, Android, and Samsung Smart TV.
You will notice that there are often "official" apps for Plex, but not for Jellyfin, showcasing that Plex has been around longer and is a solution with broader support.
Jellyfin also has a wide range of device compatibility with official and community-developed applications on various platforms such as Android, iOS, Windows, macOS, Samsung Smart TV, and Apple TV, but again, is a bit less supported than Plex​.
User Interface
The user interface is an important aspect of the overall experience. Both platforms are easy to use, with some notable differences. Jellyfin is a highly functional and clean user interface, emphasizing ease of use and simplicity.
In comparison, Plex has a polished and sleek interface akin to an enterprise offering, creating a visually appealing user experience with an organized media library view and top-notch artwork
Hardware Transcoding
Hardware transcoding is a crucial feature for a media server software as it converts media files to formats that are more suitable for the device it is being streamed to, without overloading the server's CPU. This feature is vital for maintaining high-quality streaming across different devices while ensuring smooth performance.
While both Plex and Jellyfin offer hardware transcoding, the ease of setup and additional features accompanying hardware transcoding in Plex come at a cost through the Plex Pass subscription.
In comparison, Jellyfin provides a no-cost solution but might demand more technical know-how from the user for setup and optimization. Your choice between Jellyfin and Plex depends on your technical abilities, budget considerations, and the level of support you desire to manage hardware transcoding on your media server.
Pricing and Subscriptions
Pricing is a decisive factor for many users. Jellyfin emerges as a free, open-source media server solution with no hidden costs or premium subscriptions, making it an attractive option for budget-conscious users.
Plex, however, operates on a freemium model. While it offers a free version with basic features, accessing advanced features like live TV, mobile sync, and others necessitates a Plex Pass subscription, embodying a blend of free and premium subscription models.
Server Setup
Setting up both Jellyfin and Plex is relatively straightforward. For Jellyfin, you initiate by installing the Jellyfin server software, configuring it by specifying your media library locations, adding media content, and setting up access permissions.
Below are screenshots of the setup wizard with Jellyfin. Setting up the language.
Setting up the user and password.
Setup the media libraries.
Setup the media folder for the Jellyfin library.
Setup the metadata downloaders.
More settings.
Preferred metadata language.
Remote access configuration.
Finishing the setup.
Logging into Jellyfin.
Plex setup is similar. You install Plex, create an account, and then add and share your media libraries, ensuring a smooth setup process for both platforms. Below, I am installing Plex on my Synology NAS device.
As you can see, it is a native application you can install from the Synology apps store.
Confirm the settings for the installation.
Installation is successful and steps that need to be followed afterwards.
You can install Jellyfin as well on Synology NAS. However, you will need to manually spin up the container in container manager, which is relatively easy to do, but helps to highlight the inherent differences between the two solutions and polish of Plex between the two. Below is a shot of adding a library in Plex.
Player & Plugins
Jellyfin and Plex offer many player options for streaming media. Jellyfin has web players and official applications for platforms like Android TV, Android, and iOS, allowing you to stream media easily across devices.
Plex, on the flip side, provides a web player for streaming media through a web browser on various devices and dedicated applications for different platforms like Linux and Windows (including in the Microsoft Store), providing the broadest option for player choices between the two.
Below, you can see the Plex apps available in the Microsoft store.
Plugins
Plex has a wider range of plugins available due to its longer presence in the market and a larger user community. These plugins can provide additional features such as integration with other software or services, enhanced metadata fetching, and more.
However, with Plex's move away from plugin support in recent updates, the scope of plugins has been limited, and some previously available plugins may no longer be supported.
On the other hand, Jellyfin, an open-source media server software, has a community developing plugins to extend its functionality.
Jellyfin vs Plex: Apps
Plex
It has been around for longer than Jellyfin and has official apps across most of the app stores. The apps are available for Windows, macOS, Linux, mobile devices (iOS, Android), smart TVs, streaming devices (Roku, Amazon Fire TV, Chromecast), gaming consoles, and other devices.
Jellyfin
Jellyfin, being a newer and open-source platform, has been building its app catalog. Apps are available for many of the major platforms and provide basic functionalities to access, manage, and stream media content.
While they may lack the polished look and additional features present in Plex apps, they serve the purpose for users looking for a straightforward and no-cost solution to access their media library.
Jellyfin vs Plex: Advanced Features
Plex
Plex offers a range of advanced features, especially to Plex Pass subscribers. Some of these features include:
Live TV and DVR: Plex Pass users can watch and record over-the-air live TV.

Mobile Sync: Users can sync their media to their mobile devices for offline viewing.

Premium Music Features: Enhanced music experience with lyrics, premium metadata, and more.

Parental Controls: Advanced parental controls to manage what content is accessible.

Automatic Photo-tagging: Uses machine learning to tag and organize photos.
These features, among others, provide a rich and enhanced media server experience, catering to users who seek more than just basic media streaming and organization.
Jellyfin
Jellyfin, on the other hand, focuses on providing core media server functionalities without any cost. While it may lack some of the premium features available in Plex, it provides a range of features including:
Live TV: Supports live TV streaming with compatible tuner devices.

Metadata Management: Allows users to manage metadata for their media files.

Transcoding: Both hardware and software transcoding to ensure smooth streaming across devices.

Plugins: Extend functionality through community-developed plugins.
Privacy Controls
In the digital epoch where privacy is paramount, Jellyfin shines with exceptional privacy controls. Being a free, open-source media server, you totally own your data. In contrast, Plex requires you to sign up with their online account, even if you are self-hosting. If privacy and cost-effectiveness are your primary concerns, Jellyfin is the winner.
Jellyfin vs Plex: Which to choose?
The choice between Jellyfin and Plex depends on your personal needs and preferences. If a free, open-source, and privacy-centric media server appeals to you, Jellyfin is a solid choice. However, Plex has even more features if you pay for a premium subscription with many advanced features.
Jellyfin is also known for its lighter-weight interface compared to Plex. Many find it more responsive and requires fewer resources compared to Plex.
Also, Die-hard open-source purists will likely prefer Jellyfin since it is truly free and open-source, while Plex has a paid model built-in.
Frequently Asked Questions
Can Jellyfin work on Apple devices?
Yes, Jellyfin has apps for iOS and Apple TV, allowing Apple users to stream and manage their media content on their devices.
Is Plex Pass worth the cost?
The value of Plex Pass hinges on individual needs. If features like mobile sync, live TV, and advanced parental controls are important, a Plex Pass could be a beneficial investment.
How does Jellyfin ensure privacy?
Jellyfin is an open-source media server, meaning anyone can inspect its code to ensure there are no privacy-compromising elements. Additionally, Jellyfin doesn't collect user data, providing a privacy-focused media streaming platform.
What are the options for live TV on Plex and Jellyfin?
Both Plex and Jellyfin offer live TV support. Plex requires a Plex Pass for this feature, while Jellyfin provides this for free with compatible tuner hardware.
Does Plex support music streaming?
Yes, Plex supports music streaming and even offers premium music features like lyrics and premium metadata for Plex Pass subscribers.
Are there parental controls on Jellyfin?
Jellyfin offers basic parental controls, allowing you to manage what content is accessible to different users.
Can I extend the functionality of Jellyfin and Plex?
Yes, both platforms support plugins that can extend functionality. Plex has a range of third-party integrations, while Jellyfin allows for community-developed plugins due to its open-source nature.
How do Plex and Jellyfin compare in terms of user interface?
Plex has a sleek and intuitive user interface, making navigation easy. Jellyfin has a simple and functional user interface that gets the job done without any extra frills.
Can I access my media remotely with Jellyfin?
Yes, Jellyfin supports remote access to your media library, allowing you to stream your content from anywhere.
How do the client apps for Jellyfin vs Plex compare?
Plex has well-developed apps for a variety of platforms, providing a consistent user experience across devices. Jellyfin's apps provide basic functionalities to access, manage, and stream media content.
What are the system requirements for running Jellyfin and Plex media servers?
The system requirements vary based on your media collection size and the number of concurrent streams. Both platforms provide detailed website documentation to help you understand the server requirements.
Can I share my media library with others on Jellyfin and Plex?
Yes, both Jellyfin and Plex allow you to share your media library with others, though the setup and features may vary between the two platforms.