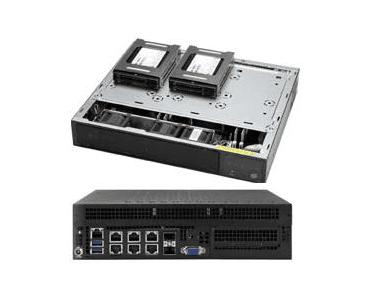 I have been making some changes and additions to the home lab recently and have added a new little machine to the mix that I will talk about. However, as most of you know if you have visited my Home Lab page, I run exclusively Supermicro servers for my VMware home lab. I will explain why that is and also consider the topic of Supermicro VMware home lab setup and configuration to give you guys a high-level idea of a few things you want to think about and which models you might consider using.
Why Supermicro VMware home lab servers?
Some may use "whitebox" servers they build on their own for their VMware home lab. This is totally fine. The home lab is supposed to be what you want it to be and what works for you and ultimately your budget. For me, why Supermicro? Well, it comes down to these three reasons:
Stability
Price
Supported platform
Form factor and power consumption
Stability
Supermicro, in case you didn't know, is the premiere "whitebox" server on the market for years now. However, they are not simply an amateur "prosumer" company selling a lot of servers. They make very high quality hardware that is extremely stable in line with true enterprise class gear.
I like the fact that when I buy a Supermicro server for the home lab, I know it is going to be a stable platform that will serve me well for lab purposes. After all, for me, the real thrill of the home lab has to do with the software/virtualization solutions that I am able to run.
Don't get me wrong, I still enjoy hardware and I think it is extremely important to still understand how hardware, networks, and software go together. However, I am past the days of tinkering with CPU multipliers and overclocking as these were always about performance and not stability.
With Supermicro hardware running in my home lab, I get a good mix of both. The servers for me have been extremely stable and my lab runs 24x7x365. I have not had a single failure as of yet from the server component side (mainboard, processor, PSU, etc), only other third-party brand drive failures which is expected.
Price
Can you build a whitebox server that is cheaper than a Supermicro? Yes, you most likely can. However, I think the Supermicro prices is in a sweet spot of price and affordability.
They are not dirt cheap, however for $2000 or so you can have a great little lab server that is well tested, proven, and that will perform and serve you well for years with a warranty.
Supported Platform
Many of the Supermicro solutions are supported platforms from a VMware perspective and can be found on the HCL. This is cool in many ways. You know you have a platform that is tested and verified to work with vSphere.
It also means you most likely will not see any quirky issues that may arise from running on top of hardware that is not supported. We all know that even though you can run software successfully on non-supported platforms, it can lead to issues. You may choose however that this is not an important item. I will say as well – I am running more Supermicros that are not found on the official HCL and have had no issues (will detail this more below).
Form Factor and Power Consumption
A final reason that I would like to detail here is form factor and power consumption. Supermicro is one of the main vendors out there producing supported edge and IoT vSphere platforms and have been featured by VMware in marketing and other documentation.
There are two form factors I am currently making use of:
Mini tower
Mini 1-U rackmount
Both are small and have the physical footprint that most want for a VMware home lab.
Also, both types are very power efficient, running the Intel "D" series processors. These perform well in everything I have thrown at them and power consumption is minimal as well.
Details of my specific Supermicro VMware Home lab
What specific Supermicro VMware home lab servers am I using? So, my stable that I have used now for three years or so is the:
Supermicro SYS-5028D-TN4T
I am using (4) of these in my home lab currently

(3) are in a vSAN cluster
(1) is used as a standalone host for other testing
I also just recently purchased:
SYS-E301-9D-8CN8TP

Mini 1-U (actually 1.5 U) form factor

I have (1) of these at this time
The following are actual pictures from my home lab: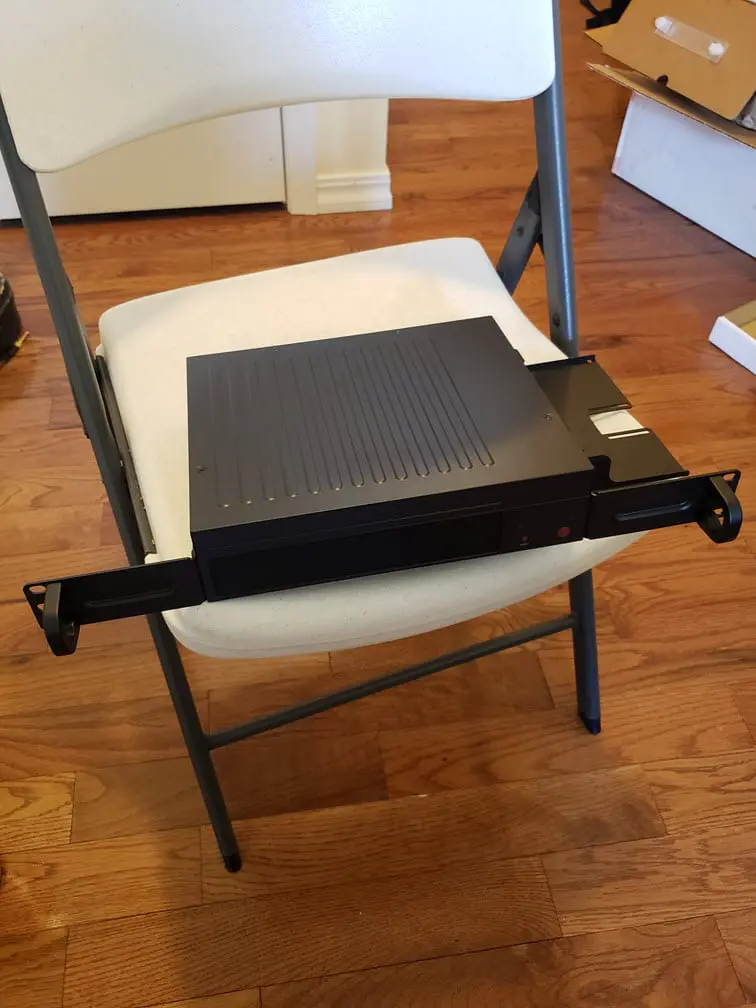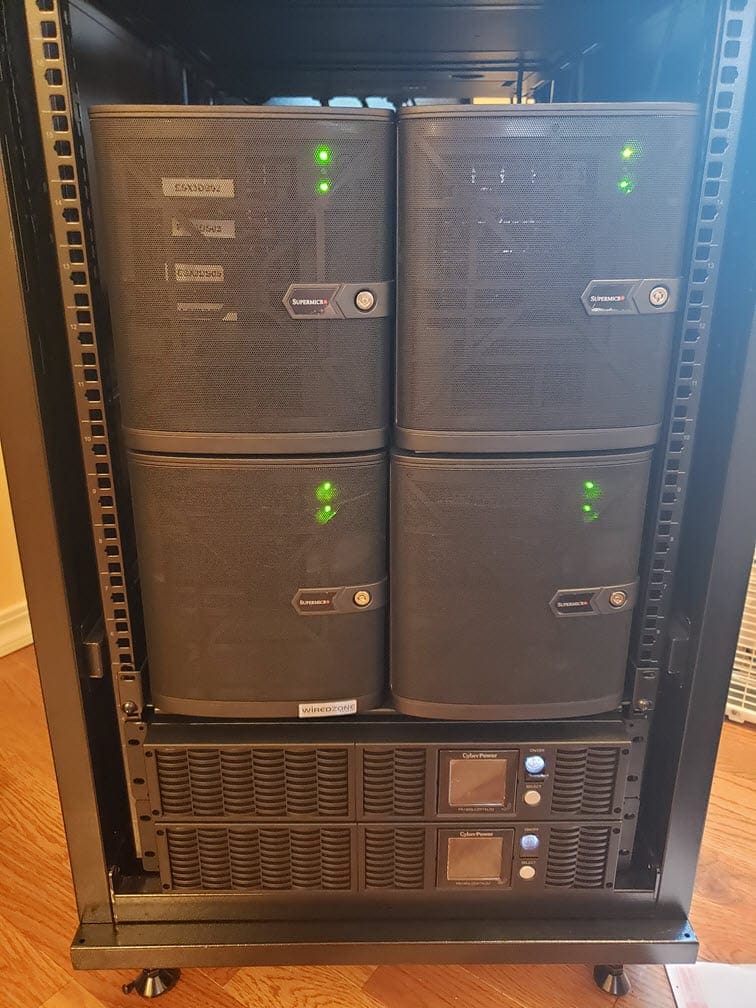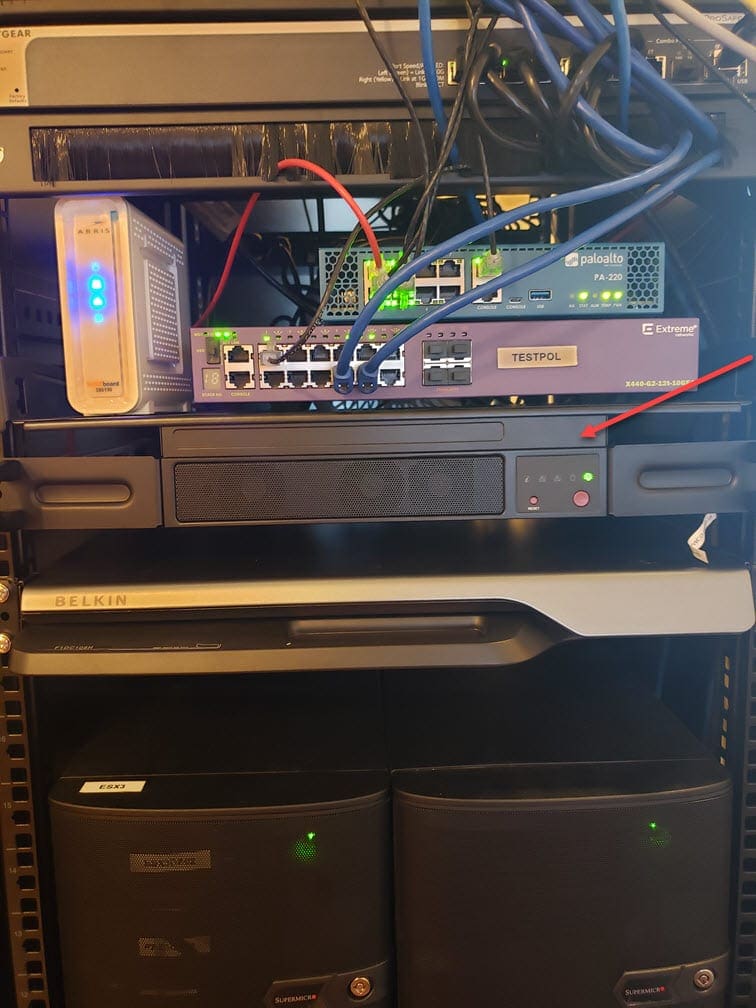 Comparing the Mini Tower and the Mini 1-U servers
Some may wonder, what are the pros/cons of using either the mini tower and the mini 1-U servers? Here area few of my thoughts on this.
The mini tower servers are great (possibly still my favorite). They are easy to work on, and are better suited for cooling quietly

These are super quiet servers – I have never hear the CPU fan ramp up in my environment
The 8-core servers are extremely cost effective ($1500-1600 currently at the time of this writing
They take up more space. As you can see in the pictures above, they do fit perfectly, side-by-side in a normal rack space, however, you loose several U's of space housing this way. I have just a normal rack tray underneath them for support

The mini 1-U servers like the e300 and e301 are extremely powerful little servers

They fit in a rack as you would expect with the rack mount kits
They seem to be outfitted with the newer processors in the D line
They are much louder with stock fans

Due to the reduced air volume in the case, the CPUs can't be cooled as efficiently. Fan noise is a problem with this form factor IMHO
You can change out the stock fans with Noctua or others for much better noise profile
Networking the Supermicro Lab Servers
I have all of my Supermicro servers uplinked at 10G. I am dumping the four SYS-5028D servers via 10G-BaseT into a Netgear x708t switch and then the E301-9D I am uplinking via Twinax into a Cisco350x switch that I am currently using as my core switch and had free 10G ports since I am fully populated on the Netgear.
For my vSAN hosts, I am running everything off two 10G connections only. So I have Network I/O control up and running, using the two connections for all networking, vmkernel ports, management, etc – different VLANs of course.
Home Lab Posts covering various topics
The following are a few of the posts I have written covering home lab topics that you may find useful:
Don't miss out on new posts! Sign up!