vSAN
VMware vSAN 7.0 New Features and Capabilities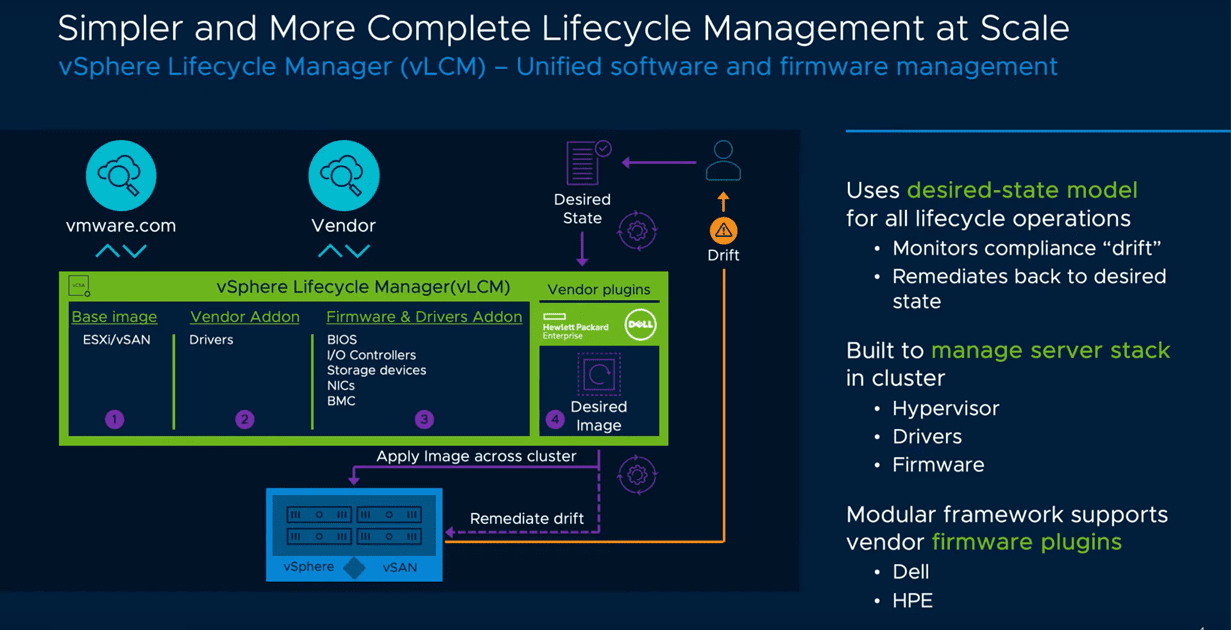 More great release details coming from the announcement of vSphere 7 is the announcement of VMware vSAN 7.0 which also brings about great new features and functionality compared to previous releases of the vSAN HCI stack. VMware leads the HCI revolution and the underlying solution that has made this possible is vSAN. Let's take a look at the the VMware vSAN 7.0 new features and capabilities to see what is in store for this next vSAN release.
VMware vSAN 7.0 New Features and Capabilities
VMware has concentrated its efforts with this vSAN release on the following three areas of features/functionality:
Simplified Management
Native File Services
Enhanced Cloud Native Storage
Enhancements for Stretched Cluster and 2-Node Topologies
Unified Cloud Analytics with Skyline Health
Improved Consistency in VM Capacity Reporting
Easy View Memory Consumption for vSAN Services
Improved Awareness of vSphere Replication Data
Increase Efficiency with the Latest Hardware
Hot-Plug NVMe Devices Improves Uptime
Improved Flexibility for Applications Using Shared Disks on vSAN
Let's take a look at each of these new areas of focus with VMware vSAN 7.0 and see how vSAN 7.0 effectively implements these great new features.
vSAN 7.0 Further Simplifies Management
One of the beautiful things about VMware vSAN IMHO is the simplicity by which vSAN operates. It is incredibly complex under the hood, however, fo the vSphere admin, vSAN helps to abstract away all the nuts and bolts that are going on underneath so that vSphere administrators can focus on delivering business-critical applications and supporting the development pipeline.
With vSAN 7.0, this end goal is futher realized with even more simplified management of the vSAN platform.
Unified software and firmware management, native to the vSphere platform. The vSphere Lifecycle Manager (VLCM) is the next-generation replacement for the vSphere Update Manager. VMware vSAN 7.0, being built on top of vsphere 7, benefits from this new shift in lifecycle management in the vSphere environment.
Again, VMware is incorporating many of the DevOps concepts today that are driving not only development, but also IT operations in this cloud-centric IT ops world. The new declarative model of configuration management is extremely powerful and is used by organizations around the world to manage the lifecycle of not only software but also on-premises and cloud infrastructure.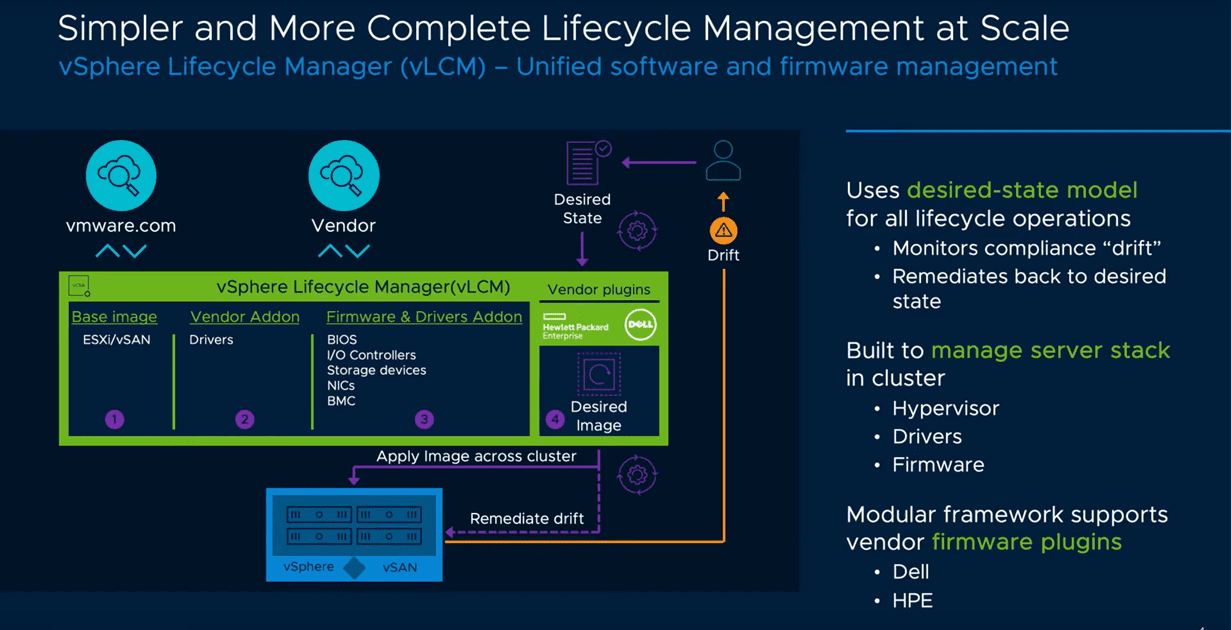 VMware has embraced this model of configuration management in the new VLCM tool allowing vSphere administrators to manage their vSphere estate with this new declarative approach to managing lifecycle management for not only the hypervisor but also the physical hardware such as firmware updates.
This provides a all-inclusive, unified, declarative holistic approach to managing not only the software of the environment but also the hardware in a way that is consistent, predictable, an programmatic.
vSAN 7.0 Native File Services
Native file services eases management whe file services are needed. Instead of having to provision a Storage Array or some other hardware device, or a VM, the vSphere administrator can simply enable the service on a vSAN cluster. The file services provide support for NFS 3 and 4.1.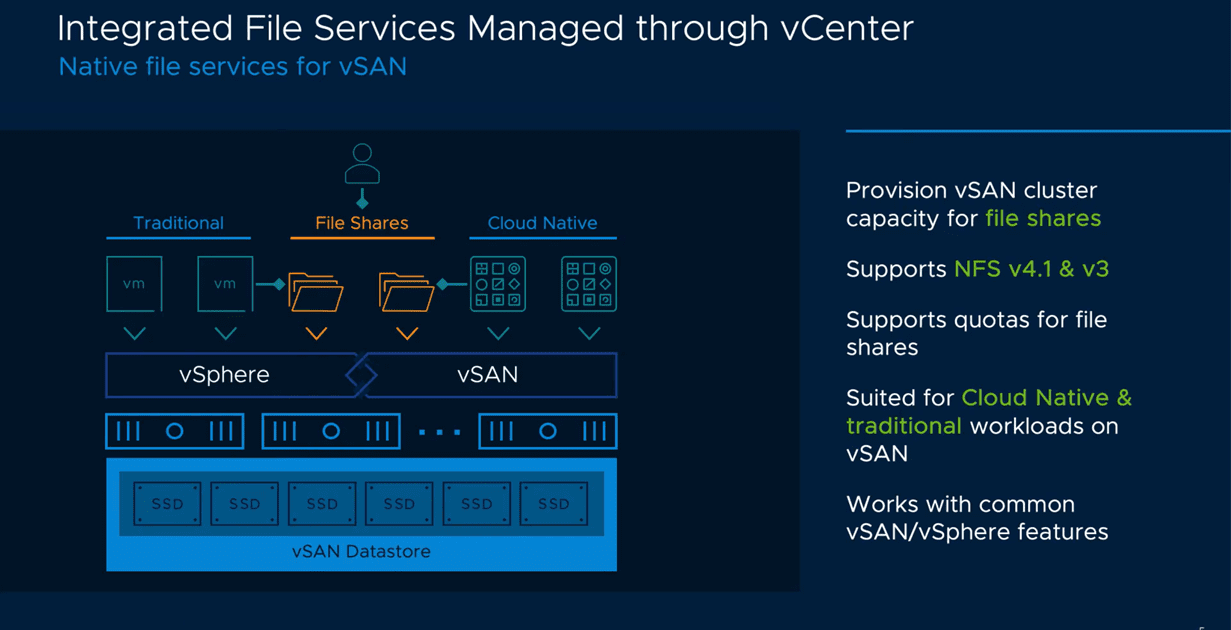 The new vSAN 7.0 cluster native file services. It is suited for cloud-native and traditional workloads. This allows it to easily scale and support a broad set of services.
vSAN 7.0 Enhanced Cloud-Native Storage
VMware vSAN 7.0 continues to extend the cloud-native storage services that were introduced in vSphere 6.7 Update 3. With 7.0, native file services feature that is introduced in this release, and allow containers to deploy and use file-level persistent storage. Persistent volumes can be used and managed on VVOLs as well.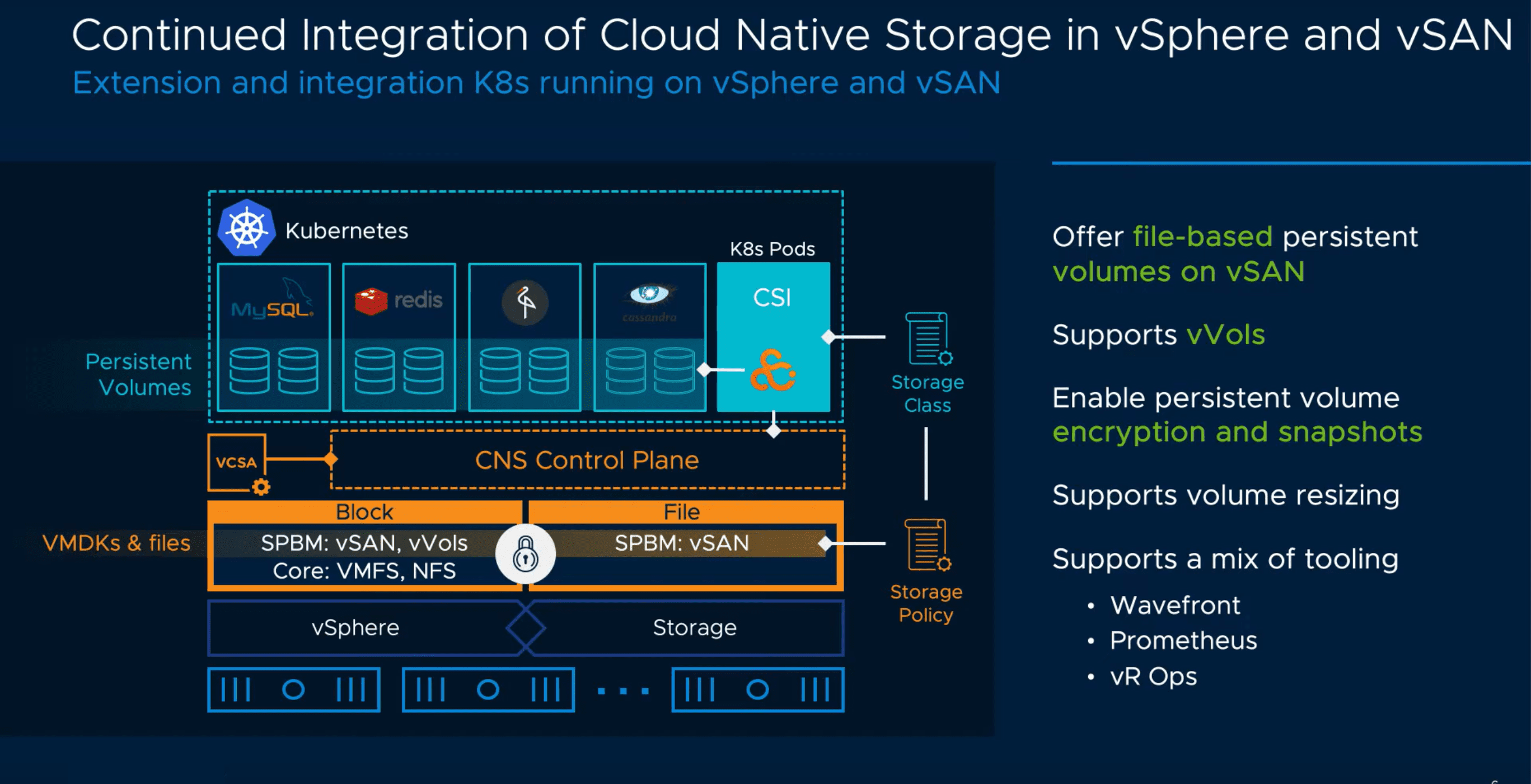 vSAN 7.0 Enhancements for Stretched Clusters an 2-Node Topologies
There have been many enhancements for Stretched Clusters and 2-Node topologies in vSAN 7.0. These include the following:
Improved VM Placement Intelligence
Improved Resilience
Intelligent Capacity Management
Improved VM Placement Intelligence
Stretched and 2-node environments are very valuable configuration for many customers. Stretched clusters have to deal with many different recovery conditions. With VMware vSAN 7.0, VMware has introduced integration between the data placement mechanism used in vSAN 7.0 and DRS.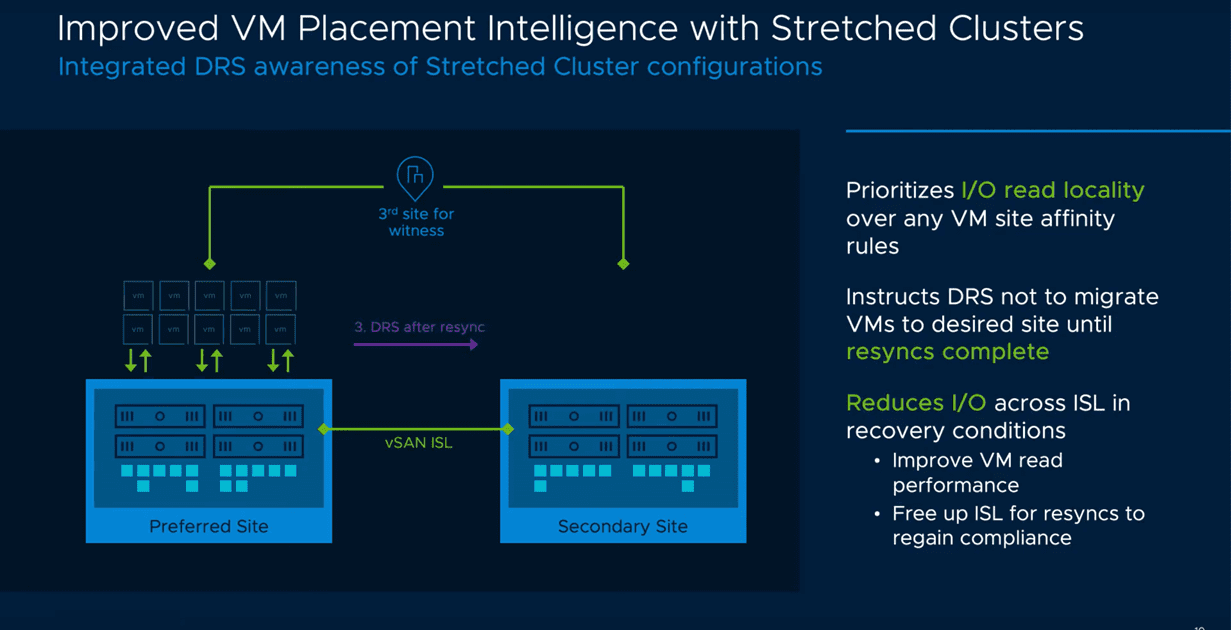 This means that after a failure, DRS will keep the VM state at the same site, until the resynchronization operation is fully completed. This means that all read operations for data synchronization will happen at the same site and there are no unnecessary read operations that traverse the site link between the stretched cluster nodes.
After synchronization is complete, DRS will then move the VM to the desired site in harmony with the DRS rules in place.
Improved Resilience
This approach to failures and recovery operations means that vSAN automatically determines which location has the copy of data that needs to be recovered. The witness appliance helps to determine which location has quorum.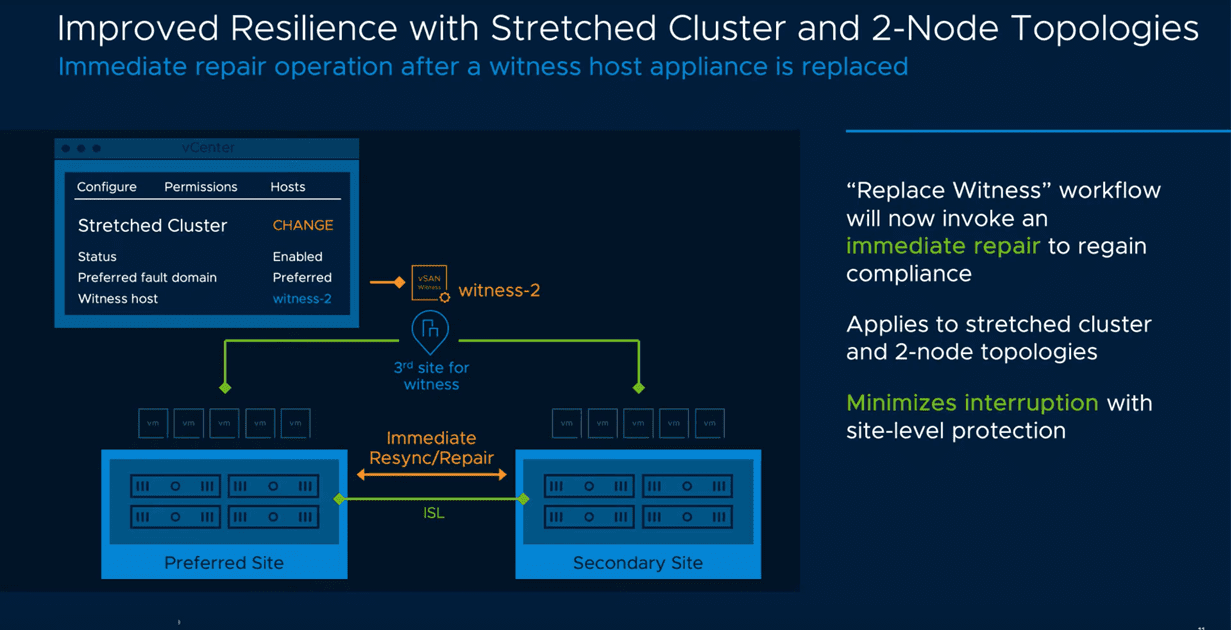 VMware vSAN 7.0 has improved the "replace witness" action so that immediately after it is replaced, the sychronization operation will kick off so it can resume the important functionality it provides.
Intelligent Capacity Management
The stretched cluster provides resiliency for the VM and data during an outage. The stretched cluster configuration could lead to an imbalance of capacity. With vSAN 7.0, new features have been introduced to help alleviate capacity restraints in various configurations.
Some of these mitigations for capacity constraint include:
Redirecting active I/O to the site with the available capacity
Allowing VMs to continue non-disruptively in capacity strained conditions
Assume rebalancing within the site has taken place.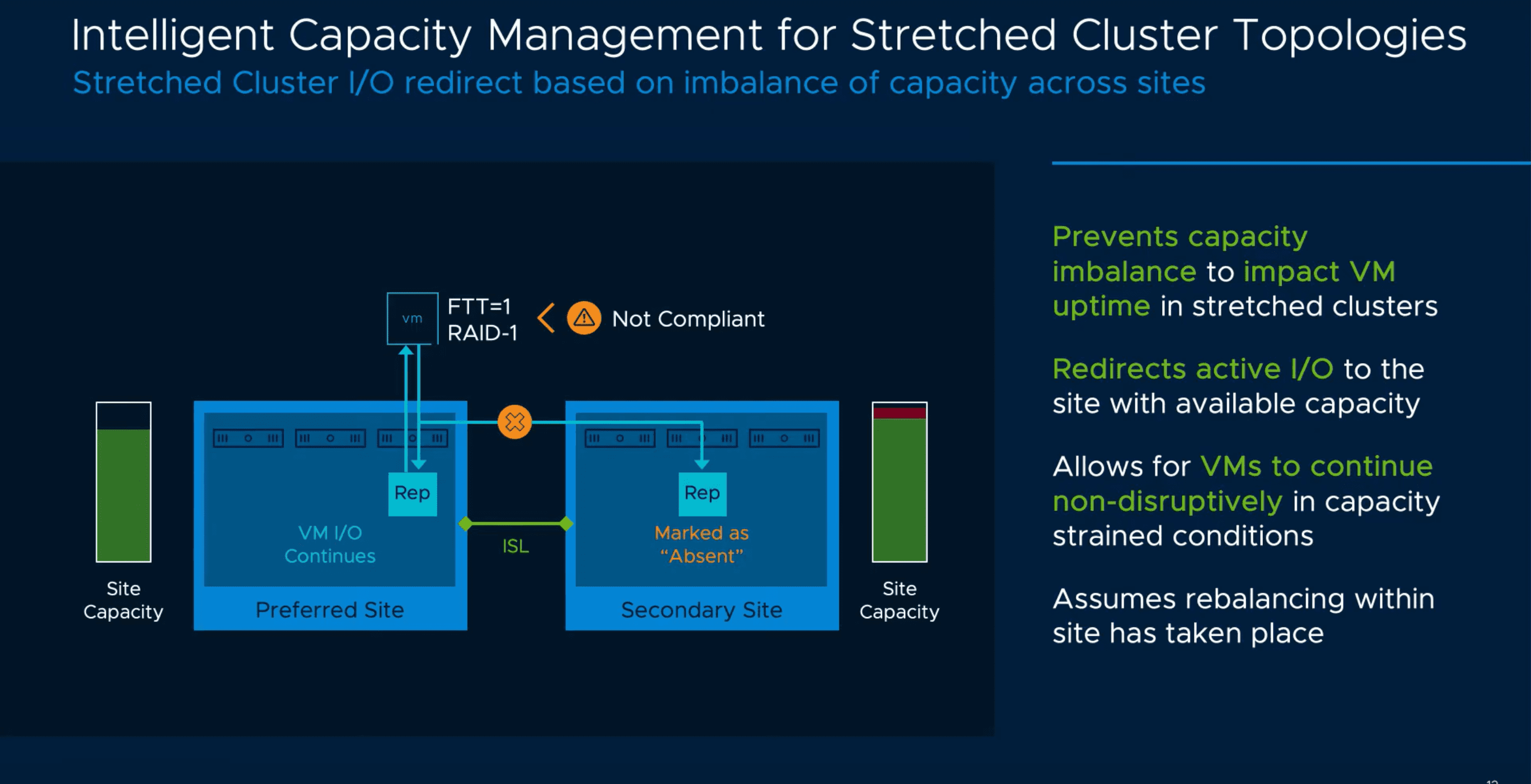 Unified Cloud Analytics with Skyline Health
Operations and Management Enhancements include many new great features. VMware vSAN 7.0 now combines vSAN Health and vSAN Support Insight in Skyline Health. With Skyline health, it is a complimentary offering to all vSphere and vSAN customers, so not a paid solution.
Improved Consistency in VM Capacity Reporting
New consistency in VM capacity reporting has been introduced with vSAN 7.0. Traditional methods of calculating VM capacity and storage metrics were based on more traditional types of storage environments. With vSAN HCI, storage is carried out much differently than in these traditional environments.
Now, with vSAN 7.0, VMware has closed the gap on any discrepancies with reporting VM capacity and storage usage in line with the way vSAN handles storage which leads to more accurate and consistent reporting.
Easy View of Memory Consumption for vSAN Services
Data services and hardware configurations that helps to meet workload needs. VMware vSAN 7.0 exposes the memory usage for each ESXi host in the vSAN cluster which will help vSphere admins understand what the needs of vSAN are across the cluster.
Improved Awareness for vSphere Replication Data in vSAN 7.0
Significant improvements in vSphere replication data have been brought to vSAN 7.0. VMware vSphere replication data can more easily be recognized at the VM object level and cluster view. This helps admins determine resources that are used for asynchronous replication needs.
vSAN 7.0 Increased Efficiency with Latest Hardware
VMware vSAN 7.0 can take advantage of much denser storage devices. This can benefit deduplication and compression ratios and lower costs per TB served by hosts. Customers can incrementally replace disks in disk groups with higher density drives without any penalty.
Hot-Plug NVMe Devices Improves Uptime
Hot-plug support for NVMe devices for vSphere and vSAN. This allows a new level of flexibility for maintenance and other tasks with hosts populated with NVMe.
Improved Flexibility for Applications Using Shared Disks on vSAN
VMware vSAN 7.0 removes the requirement for "eager zero thick provisioned" disks when using shared, multi-writer disks.
Concluding Thoughts and Impressions
VMware vSAN 7.0 New Features and Capabilities indeed show VMware vSAN 7.0 to be an extremely powerful release of vSAN with many great new features and capabilities that are built on top of the new features found in vSphere 7.
The vSphere Lifecycle Manager will change how IT admins manage and configure their vSAN and vSphere environments, using desired state as the methodology moving forward.
The stretched cluster and 2-node enhancements look to be equally exciting as well for organizations taking advantages of this configuration in their environments.
Along with the many other features found in vSAN 7.0, this release, like the other vSphere 7 products will be a game changer.
Don't miss out on new posts! Sign up!