vSphere 7
VMware vSphere 7 Announced New Features and Benefits
It appears that the wait is over for the next evolution of VMware vSphere. We have seen this product go from a simple hypervisor that wowed us with the first glimpse of vMotion, to an all-inclusive product that is holistic in its approach to being the glue for connecting all aspects of the software-defined data center together, effectively and efficiently. It seems it was only just a short while ago that we saw vSphere 6.7 Update 3 announced. However after VMworld 2019, we knew something special was coming down the pipes for vSphere 7. In this post, we will take a look at the news of VMware vSphere 7 announced new features and benefits to see how this new version of vSphere takes the product to the next level.
VMware – Modernizing Applications and Kubernetes Focused
VMware has made no bones about the fact they are heavily focusing and investing in Kubernetes orchestrated container technology. Kubernetes has become the defacto standard in controlling and orchestrating containerized environments.
VMware is touting their new porfolio of products released today as an app modernization mission to help businesses undergo this transformation of their application infrastructure into a modern mode of development, testing, and deploying.
In conjunction with the vSphere 7 release today, VMware is releasing the following solutions in their app modernization portfolio: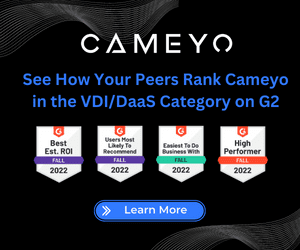 VMware Tanzu
VMware Cloud Foundation 4
In this post, we are focusing in on the vSphere 7 release in particular, however, look for further posts detailing these releases as well. However, know the DNA for vSphere 7 runs deep with VMware Cloud Foundation 4 and Kubernetes.
VMware vSphere 7 Announced New Features and Benefits
As most are aware Project Pacific as we have written about fully integrates Kubernetes into the core of the VMware vSphere product. This means that VMware's Kubernetes solution is no longer a bolt-on product that requires an additional appliance to provision. Rather, Project Pacific, now VMware vSphere 7 is a modernized version of vSphere, ready to take on not only your virtual machine workloads, but also provides Kubernetes as the core of its offering.
This is a foundational change in the way that VMware vSphere works and operates. Think of VMware vSphere 7 as a mashup between the latest features and capabilities of what we know and love about what vSphere can do already and extending that with Kubernetes powers.
The benefit to your business in this core architecture change is that you have support for current applications, but also those applications that can support modernization and cloud infrastructure. This helps to support both the IT operations side of the house as well as the development side as well.
New vSphere 7 Services Exposed by Kubernetes
The great thing that VMware has done with Project Pacific, now vSphere 7, is the new set of services that are included in this vSphere 7 ecosystem, are exposed via Kubernetes.
Developers can now have an easy way to have access to services needed to build modern applications and have them run on top of the VMware vSphere 7 infrastructure. This helps to accelerate application development.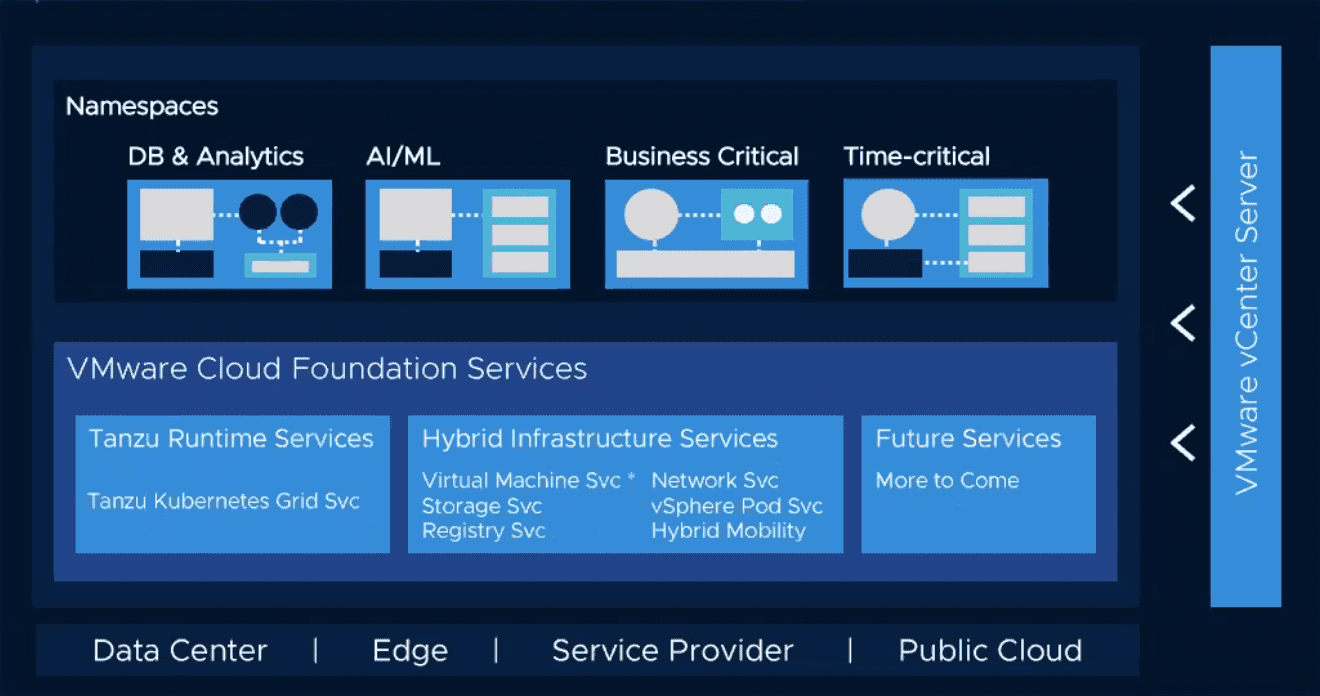 VMware vSphere 7 New Features Besides Kubernetes Integration
There are three new categories of improvements that are included in the VMware vSphere 7 release. VMware has introduced massive innovation in the release to help not only with modernizing applications for future development but also current apps and including new releases that help with IT operations as well as security.
New, innovative features are being introduced with vSphere 7 that VMware describes as being lumped into the following three categories. These include the following:
Simplified lifecycle management
Intrinsic security
Application acceleration
Let's see what new features and the benefits to you as the customer are found in each of these three areas.
vSphere 7 Simplified Lifecycle Management
One of the problems that VMware is helping to address with the vSphere 7 release is helping customers who have moderate to large environments to manage large deployments of vSphere.
Managing large scale deployments and even smaller deployments when it comes to lifecycle management can be a challenge. VMware is introducing with vSphere 7 a VMware vSphere Lifecycle Manager that helps businesses to manage their vSphere infrastructure in a way that allows such things as:
Desired state patching, upgrades, and configurational changes
JSON and REST-based automation
Providing of recommendations based on the current estate and helping to expose potential issues before these are encountered with lifecycle management.
One of the exciting things that VMware continually delivers on is the tools and capabilities to effectively automate your environment. By exposing the essential REST APIs and other endpoints, automating your vSphere infrastructure is made extremely easy.
VMware vSphere 7 Lifecycle management will only improve your ability to manage your vSphere estate. One of the examples given by VMware was the ability to specify a single host image and apply this to multiple ESXi hosts. This looks to be a great new benefit to the vSphere 7 release.
vSphere 7 Intrinsic Security
With vSphere 7, VMware is enabling a trusted computing base. This allows locking down a set of vSphere hosts that only have a handful of administrators have access.
These hosts are used as a trusted computing base that can attest to other hosts to ensure other hosts are trusted, unmodified in an unauthorized way and that no one has compromised the integrity of the vSphere ESXi hosts.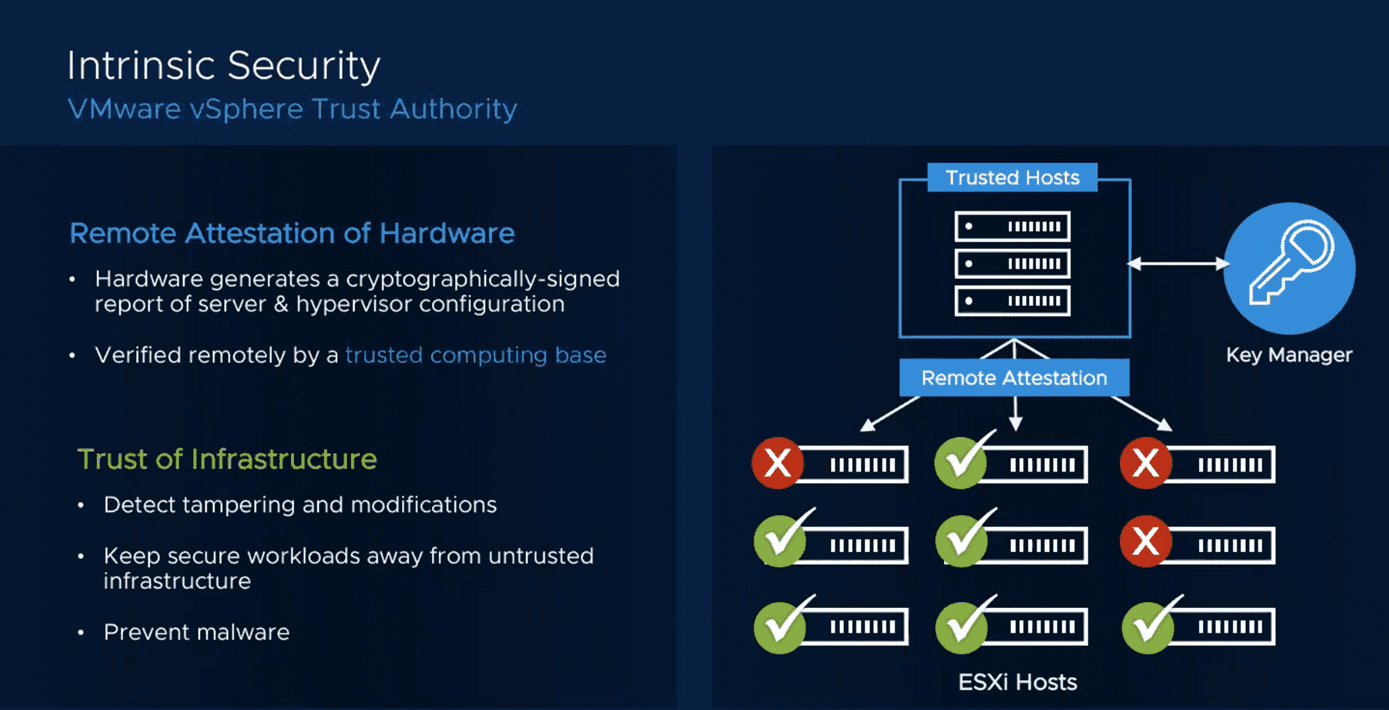 Additionally, things like certificate management is made much easier. The number of certificates that administrators need to manage has been reduced and easier key rotation. Identity federation has been introduced when logging into vSphere 7.
The benefits to you as the customer with the new intrinsic security features is a much more secure vSphere environment. With workloads hosted on vSphere now spanning many different complex infrastructure locations including on-premises, cloud environments, and edge environments, security is extremely important. You want to know that your vSphere environment is secure, trustworthy, and has not been tampered with.
vSphere 7 Application Acceleration including New DRS and vMotion
VMware is taking a lot of application innovation that it has done in recent years including a technology called Bitfusion (acquired by VMware) and integrating this powerful AI/ML technology right inside of vSphere 7.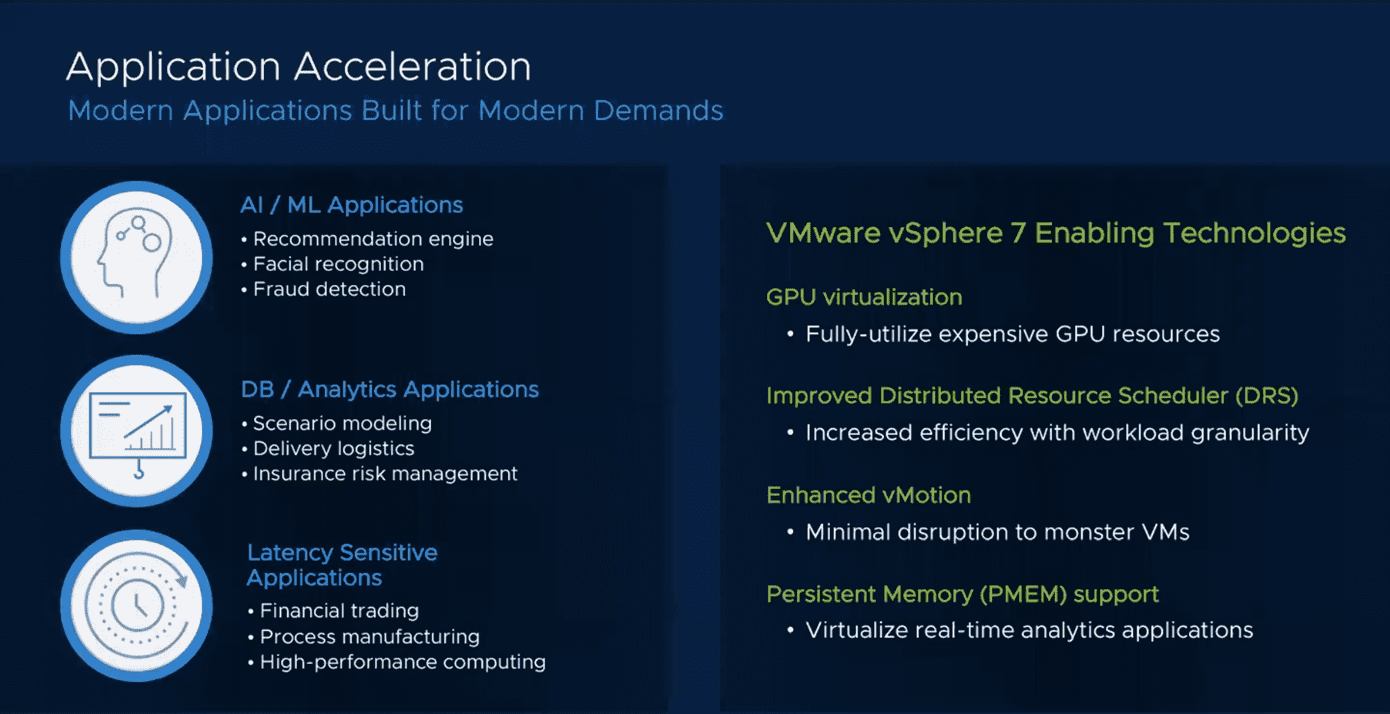 Bitfusion technology brings about GPU virtualization which is powerful for ML use cases. This allows pooling together GPU resources in a way that allows all to take advantage of expensive GPU resources.
VMware vSphere 7 includes a New DRS technology that allows many great new benefits including:
Algorithm changed, more focused on VM performance and VM health.
Runs every 1 minute instead of every 5 minutes
VMware vSphere 7 also includes New vMotion technology as well that provides the following benefits:
Monster VMs are much more efficiently moved without disruption
VMware vSphere 7 Benefits Current Workloads and Modern Applications
VMware with this release has really taken a step back and redesigned vSphere to be a much more holistic product that allows taking care of existing workloads and applications more efficiently and effectively than ever before, but also provides the technology that will help you drive your application development forward for the future.
Many great new features are found in this release including the following highlights just to summarize:
Project Pacific – vSphere 7 includes Kubernetes in its DNA. Now that vSphere is fully integrated with Kubernetes, vSphere itself can be access, managed, and developed against much more easily
Developers are not the only ones benefiting. VMware vSphere 7 includes great new lifecycle management features allowing easily managing ESXi hosts at scale using things like desired state and full-blown lifecycle automation.
Intrinsic security is part of vSphere 7 allowing you to develop a trusted set of ESXi hosts and use them to attest to the integrity of ESXi hosts that may exist in the cloud, on-premises, and edge environments
New advancements in AI/ML capabilities are due to Bitfusion technology now being integrated into vSphere7 along with new DRS and vMotion technology.
Availability
When is all of this VMware vSphere 7 goodness going to be available? It is expected to become available by May 1, 2020.
Wrapping Up
VMware vSphere 7 Announced New Features and Benefits – All in all, this is going to be a great new release that has me chomping at the bit to get my lab upgraded with this latest release. VMware is continuing to push the envelope of innovation and staying ahead of the curve of the tools businesses need both for today, but also tomorrow.