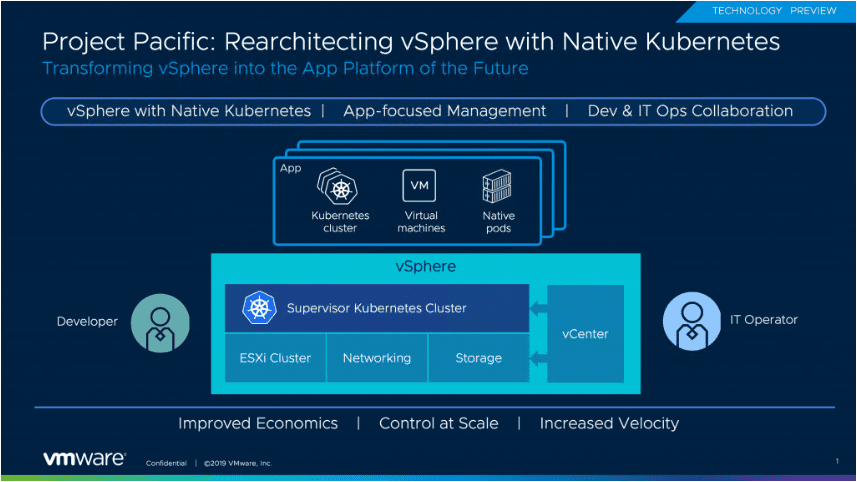 Big news is already coming from VMWorld 2019 and the first general session has not even begun as of yet! Today, at the time of this writing, VMware is releasing a huge new improvement to VMware vSphere that evolves the platform into the future. VMware announced Project Pacific to the masses today. They are calling it the "biggest evolution of vSphere in the last decade". What is VMware Project Pacific? How does it change VMware vSphere as we know it? What are the features and capabilities of VMware Project Pacific? Let's take a look.
What is VMware Project Pacific?
VMware is now effectively rearchitecting VMware vSphere to natively include deeply integrate Kubernetes functionality. In fact, it makes VMware vSphere a native Kubernetes platform.
If you have had your head in the sand for the past few years :), Kubernetes is THE orchestration platform for containers. It is the open sourced project released by Google that solves many of the problems of containers for organizations trying to run containers at scale in their environments.
Why is there a need to rearchitect VMware vSphere? Well, as we know the past decade or more, VMware has helped to change the landscape of how IT infrastructure is managed, controlled, secured, etc for traditional applications.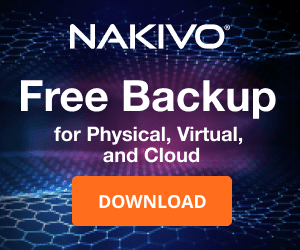 However, the face of the application itself is changing. Modern implementations of applications are a combination of many different technologies that include apps, databases, containers, application services, etc. It is becoming more difficult for IT operations to manage and secure these types of application implementations.
Project Pacific uses Kubernetes to change vSphere. It unites vSphere by embedding Kubernetes into the control plane of vSphere. Containers now appear in the vSphere client next to VMs and managed accordingly. It converges the VM and container runtimes by using vSphere pods. VMware vSphere Native Pods are a fast lightweight and secure container runtime built into vSphere. It can be even faster than bare metal.
This enables IT ops can manage at an application level. IT ops has app level control to manage and control and provide role based access and quotas to today's applications. It facilitate operations and development collaboration. IT operations can use vSphere tools to deliver Kubernetes clusters to developers. The developers in turn can use the Kubernetes APIs to access the underlying SDDC infrastructure.
Features and Capabilities of Project Pacific
There are many new and exciting features and capabilities that are delivered by Project Pacific with the new unity of VMware vSphere and Kubernetes. Let's look at the following three as described by VMware:
Native Kubernetes with VMware vSphere
Application focused Management of vSphere
Effective Dev and IT Operations Collaboration
Project Pacific – Native Kubernetes with VMware vSphere
For the first time ever, Kubernetes is natively embedded in VMware vSphere! Kubernetes is embedded into the control plane of vsphere in a way that allows container compute, storage, and networking resources to be managed alongside the traditional VM. This means that IT ops can effectively and efficiently managed and secure Kubernetes objects from the vSphere Client. This is accomplished with the VMware vSphere Native Pods allow all the traditional PowerCLI scripts, third-party tools and other tools and mechanisms to work with Kubernetes as it does with VMs in VMware vSphere.
Application Focused Management of VMware vSphere
Instead of being component level focused on the containers and VMs that are running in the vSphere infrastructure, Project Pacific allows VMware vSphere to be application focused. This means that IT operations will have unified visibility to both VMs/containers and their applications and be able to apply the same great VMware vSphere technologies to their infrastructure such as VMware vSphere HA, DRS, vMotion and do this all at the application level.
Effective Dev and IT Operations Collaboration
What does this all mean? It means that both the IT operations and developer camps all get the desired end result. IT operations get the same great VMware vSphere tools to manage and deliver Kubernetes to the developers and developers get access to the Kubernetes APIs that are exposed through vSphere to access the SDDC infrastructure.
This leads to a consistent view of the Kubernetes infrastructure by means of the constructs provided by VMware vSphere. This is the best of both worlds for VMware vSphere moving forward. This is going to allow IT operations and developers to be united in the quest to develop and serve out applications of today and tomorrow by utilizing the modern technologies that are available such as containers and Kubernetes.
Project Pacific Resources
Below are some of the new Project Pacific resources that are available as of today:
Wrapping Up
There is no doubt when look at what is VMware Project Pacific that we realize that this is a gamechanger for VMware vSphere. No longer is containers and Kubernetes an afterthought or a bolt on technology by adding a virtual appliance or some other mechanism. It is a true, native feature of VMware vSphere moving forward that will allow enterprise environments to change the way they look at, develop, deploy, secure, and manage their applications!