VMware
VMware vSphere 6.7 Update 3 Announced New Features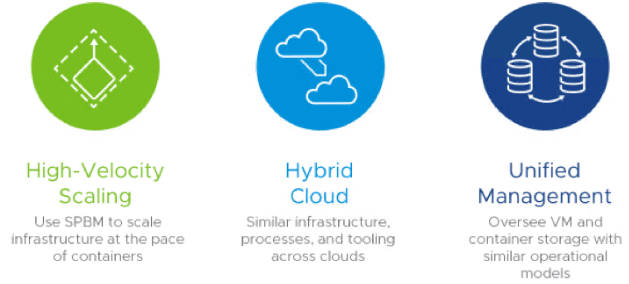 In case you haven't heard today, the next version of VMware vSphere has been announced! VMware officially announced VMware vSphere 6.7 Update 3 today with new and exciting enhancements to the already powerful platform. This is going to be a great release all around in the improvements and functionality added to the platform in terms of drivers, operations management, and increased performance. Exciting indeed! Let's dive into VMware vSphere 6.7 Update 3 announced new features to see what is contained in this newest release.
New Features in VMware vSphere 6.7 Update 3
VMware vSphere 6.7 Update 3 contains great new features that take the platform to even new heights of functionality and features for the enterprise. Let's take a look at the following new areas:
Driver Enhancements with new Networking features
vCenter VCSA Appliance installation improvements with DNS
New 2nd Generation AMD EPYC support
Ability to change the vCenter Server PNID
Support for multiple NVIDIA vGPUs
New VMware vSAN features
New VMware vSphere 6.7 Update 3 Driver Enhancements
New networking features and enhancements are part of the VMware vSphere 6.7 Update 3 release with ESXi 6.7 Update 3. This comes as part of VMXNET3 upgrades with this release. Now Guest encpasulation offload and UDP, and ESP RSS support have been added to the Enhanced Networking Stack (ENS). Working along with the VMXNET3 v4 driver, checksum calculations are offloaded from encapsulated packets to the virtual device emulation. RSS on UDP and ESP packets can be ran on demand.
There are other driver updates that are to be included with VMware vSphere 6.7 Update 3 including a new ixgben driver that adds queue pairing to optimize CPU efficiency. Broadcom 100 GbE network adapters are now supported with the bnxtnet driver and multi-RSS feeds. Other new drivers included: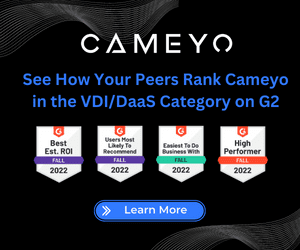 VMware nvme
Microchip smarpqi
Marvell qlnativefc
Broadcom lpfc/brcmfcoe
Broadcom lsi_msgpt2
Broadcom lsi_msgpt35
Broadcom lsi_msgpt3
Broadcom lsi_mr3
Intel i40en
Intel ixgben
Cisco nenic
Broadcom bnxtnet
vCenter VCSA Appliance Installation Improvements with DNS
We all know what a challenge DNS presented with VMware vSphere vCenter Server VCSA appliance install if you didn't have the correct DNS entries in place before attempting to install a new VCSA appliance.
You had to manually create the entires to ensure your networking stack would be brought up correctly with a new VCSA appliance. New with VMware vSphere 6.7 Update 3, dynamic DNS updates are now supported. This is going to be a great new feature and I am sure VMware support are loudly applauding this feature.
if IP addresses change as they do from time to time, this new dynamic DNS functionality offered by VMware vSphere 6.7 Update 3 VCSA appliance will make life much easier in the realm of name resolution. Cool stuff!
New 2nd Generation AMD EPYC Support
AMD is making waves with the release of its new 2nd generation AMD EPYC cpus that are setting benchmark records across the board. Especially with the rough year that Intel had with side-channel attacks and is still going through, AMD has a new found momentum.
The VMware vSphere 6.7 Update platform will be compatible with the 2nd Generation of AMD epyc PROCESSORS. AMD and VMware are also closely collaborating to deliver more enhancements to the VMware vSphere platform in conjuction with the capabilities of the new AMD CPUs in an upcoming version of VMware vSphere.
Ability to change the vCenter Server PNID
In case you didn't know, the PNID is the Primary Network Identifier of vCenter Server and is considered the system name when deploying vCenter Server. It has been a recommended best practice to set this to the FQDN of the vCenter Server. If however, you needed to do this beforehand, this would be a reinstall of vCenter.
New with VMware vSphere 6.7 Update 3, you can do this after installing vCenter Server. So customers can now rename their vCenter appliances post-installation and still be in a supported condition with VMware. Prerequisites to this include:
Changing this FQDN is only supported for embedded vCenter Server nodes
Verify plug-in compatibility prior to changing a vCenter Server FQDN. An FQDN change is not recommended if 2nd party (NSX, vRA, SRM) or 3rd party plug-ins are registered with vCenter Server.
Replication agreements between the VCSA node changing its FQDN should be removed via vdcrepadmin (do not remove all replication agreements within the topology)
vCenter HA (VCHA) should be destroyed prior to an FQDN change and reconfigured after changes
All custom certificates will need to be regenerated
Hybrid Linked Mode with Cloud vCenter Server must be recreated
vCenter Server that has been renamed will need to be rejoined back to Active Directory
Make sure that the new FQDN/Hostname is resolvable to the provided IP address (DNS A records)
Support for Multiple NVIDIA vGPUs
New with VMware vSphere 6.7 Update 3 is suport for multipel NVIDIA GRID virtual GPUs (vGPU) per virtual machinefor more graphics and compute intensive workloads.
Up to 4 NVIDIA vGPUs can be connected to one virtual machine. This will dramatically allow scaling the needs of certain applications with intensive graphics and CPU performance requirements.
New VMware vSAN 6.7 Update 3 Features
One of the things that definitely caught my attention with VMware vSphere 6.7 Update 3 is the blurb that VMware vSAN 6.7 Update 3 contains "significant performance enhancements". Additionally as you read about some of the new features with VMware vSAN 6.7 Update 3, it is evident that VMware is going after the container market in a large way.
With VMware vSAN 6.7 Update 3, developers can seamlessly consume storage. With VMware vSAN cloud native storageit supports all key storage API objects within Kubernetes.
with the new vSAN, developers can choose policy-driven storage for their pods and automatically mount the volume. This allows scaling your containers without storage being a limiting factor and making it portable.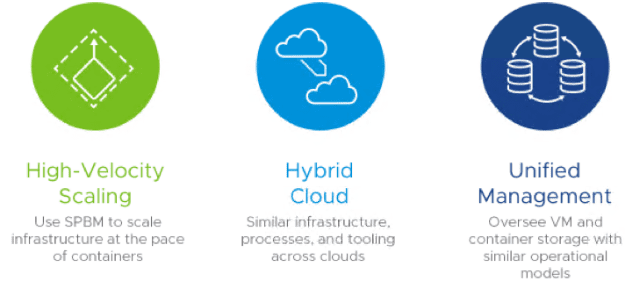 Wrapping Up
VMware vSphere 6.7 Update 3 Announced New Features that will certainly move the platform to the next level. It is very apparent that VMware is targeting cloud-native and cloud-ready infrastructure markets with new and emerging technologies that are getting rolled into each new release of VMware vSphere. It is great to see they are continuing to improve upon the core VMware vSphere features such as vCenter and core networking support. Stay tuned for more VMware vSphere 6.7 Update 3. Read the official VMware blog post covering VMware vSphere 6.7 Update 3 here.