home lab
Home Lab UPS Power Management and Notifications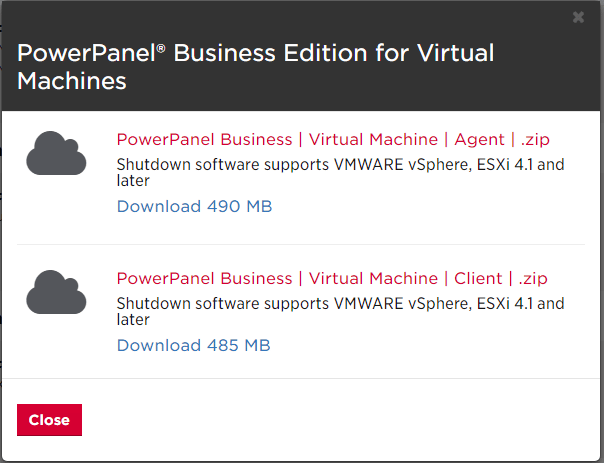 When operating a home lab, we often get attached enough and depend enough on their stability and resiliency that they often become like a "pseudo production" environment. With that being said, generally speaking there are definitely the basics that need to be followed to have a resilient and reasonably stable home lab environment. One of those basic essentials for a stable home lab is basic power/battery backup in the form of a UPS. For me I have a variety of UPS's that exist in my home lab due to acquiring various ones either by buying them myself or being given a couple with office cleanups and such. UPS's are an essential part of a home lab as the whole point of being able to enjoy and benefit from a lab environment is having them accessible. Let's take a look at Home Lab UPS Power Management and Notifications and look at a couple of different UPS vendors and solutions they have available that can be utilized in the home lab.
Home Lab UPS Power Management and Notifications
As I mentioned I have a variety of UPS battery backup units i the home lab environment mainly due to just collecting various ones over the past few years and snagging ones that were being thrown out and replaced.  Currently, in my home lab environment, I am running UPS's from three different vendors – APC, CyberPower, and TrippLite.  Interestingly, all three vendors have solutions to perform UPS power management and notifications.  Let's look at these one by one and see how they compare as far as features and notification abilities.
APC Powerchute Network Shutdown UPS Management and Notifications
APC is certainly one of the most well known and most well established players in the power protection market.  They make great products for sure.  APC provides a Network Shutdown utility that provides protection for both physical and virtual environments to properly shutdown critical servers during a power event and includes some really nice benefits including:
You can sequence the shutdown of multiple servers powered by the same UPS to extend runtime for higher priority servers.
Performs graceful shutdowns
Easily manageability from a web browser
Supports virtual clusters and the ability to migrate virtual machines to a different host and shutdown the host being evacuated
Supports a graphical representation of virtual cluster environments and UPS setup on a single screen
vSphere plugin to integrate Powerchute with vCenter Server
Enables shutdown and startup of VMware vApps
VMware certified
Provided via a VMware virtual appliance (OVA)
Take a look at the APC page that describes Powerchute network shutdown here
Download the virtual appliance here:  http://www.apc.com/us/en/tools/download/download.cfm?sw_sku=SFPCNS42-V&software_id=AKRN-AD4CGA&family=&part_num=SFPCNS42-V&swfam=&tsk=&swtyp=
Note I had issues with my PowerChute virtual appliance (due to a lab issue and not APC issue), so I don't want to provide an overview of sorts without a good working environment.  Will revisit the APC solution shortly and add details to the post.  Stay tuned for that update.
CyberPower PowerPanel Business
Following an excellent writeup by Paul Braren @paulbraren at Tinkerytry, the last UPS I purchased for the home lab was a CyberPower unit.  CyberPower makes great UPS units at an affordable price and with all the integrations that you need for a home lab virtual environment.  At first the offerings were a bit confusing to me on the Business Edition software, however, CyberPower provides a good breakdown of the various components and downloads and what they are used for.  The PowerPanel software consists of the following three roles as defined on the CyberPower PowerPanel site here:  https://www.cyberpowersystems.com/feature_focus/powerpanel-business-edition-software-and-its-roles/
Use Agent if you connect the computer to the UPS with a USB or Serial cable. Agent, which is the primary means of communication for a basic setup between a computer and the UPS, supports a limitless number of clients.

Use Client if you connect the computer via your network to the RMCARD installed in the UPS or on a secondary computer connected to the UPS (with an agent computer already connected). The RMCARD manages as many as 50 clients.

Use Center when you want to monitor and manage all the CyberPower power protection products on your network. The Center role supports a limitless number of devices.
Choose one of these roles depending on the type of UPS you have and the connection to the UPS such as USB vs network connectivity.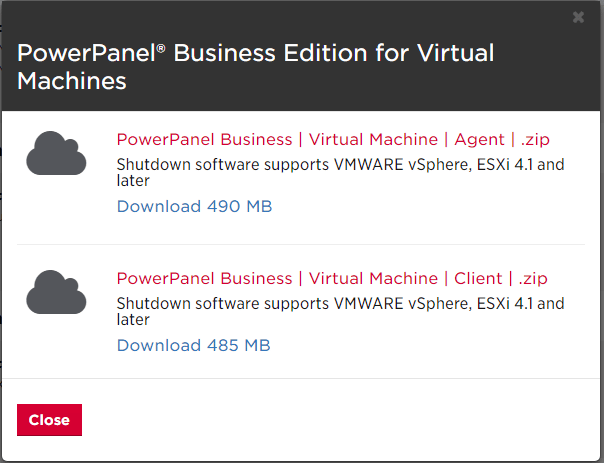 I am utilizing a unit with a USB connection and so downloaded the Agent appliance.  As you can see below the resources required for the CyberPower appliance are minimal.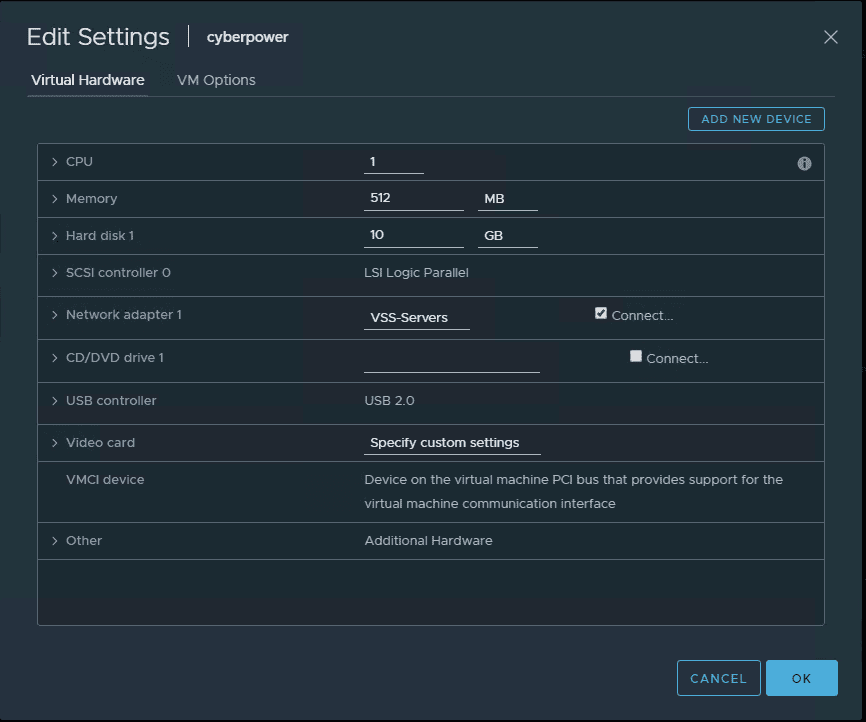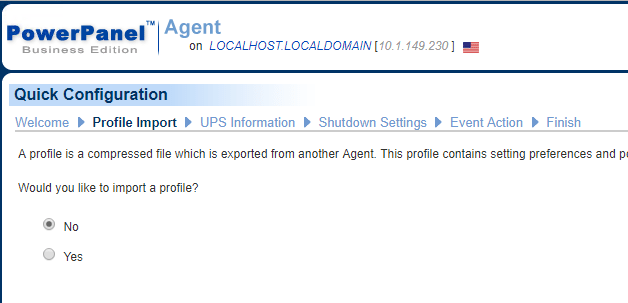 Again, check out Paul Braren's walkthrough of the CyberPower interface and setup.  All and all, CyberPower provides an impressive product especially for home lab use with running virtual hosts and virtual machines.  The OVF template is super easy to install, requires little resources, and does what it is supposed to do.
Tripplite PowerAlert Agent
Tripplite also has a solution for UPS management and notifications.  I was a little disappointed in the PowerAlert Agent Local console as it is very archaic and needs Java installed to run.  Tripplite also offers a PowerAlert Network Shutdown that is supposed to do similar operations as APC's network shutdown.  In all fairness, I have not tried the network shutdown solution partly due to the install method.  There looks to be now appliance that can be run in the vSphere infrastructure.  The download for the product looks to be an RPM package that says it is for VMware installation?  The details are provided here:  https://www.tripplite.com/products/power-alert-network-shutdown-agent
Since the install for the network shutdown agent seems a bit kludgy at best, I went ahead and took the PowerAlert Agent Console for a test drive.  The software definitely feels old in design, but I will give it this, it does seem to work.  One other downside I will mention with the PowerAlert Agent software is that you can't sent email notifications via TLS or SSL.  If you want to send alerts from the software you will have to use a smarthost to relay traffic how you would like – to Gmail, etc.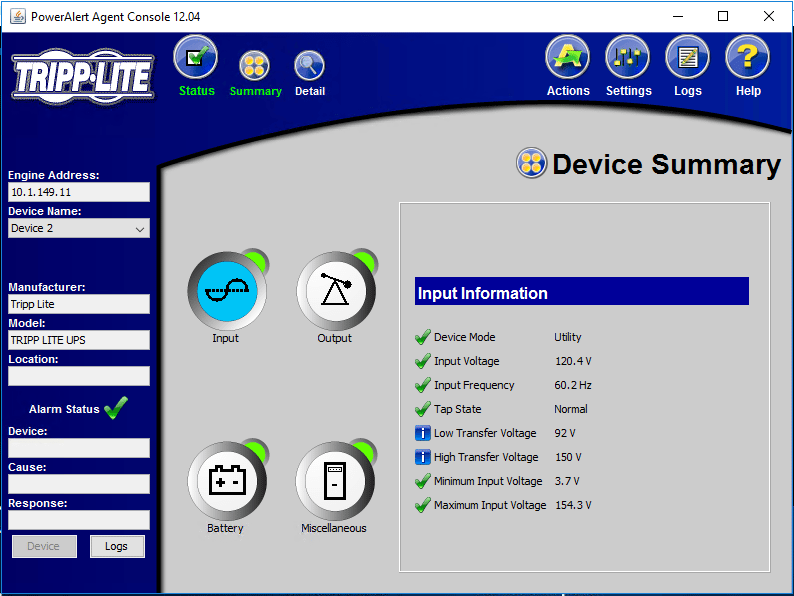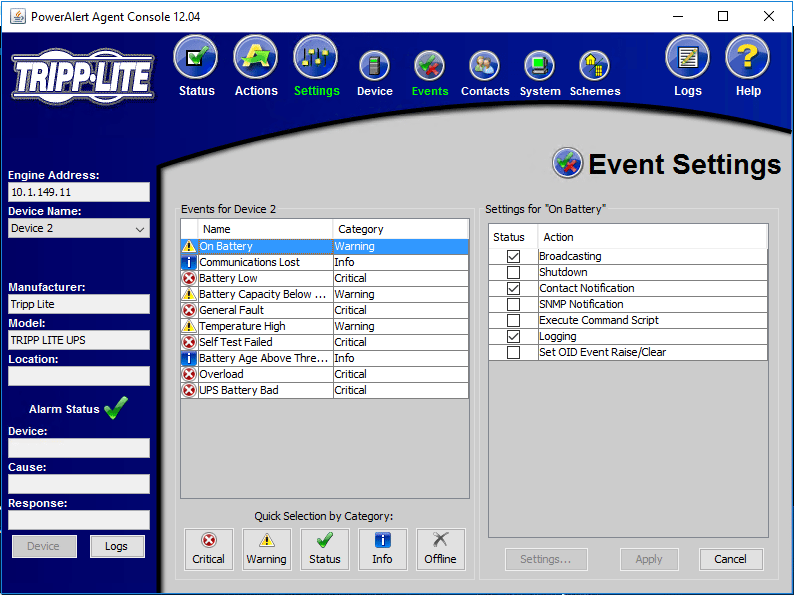 One neat feature of the software is the ability to manage and monitor other manufacturers UPS's.  Not sure if this is by design, however, the CyberPower UPS below is showing in the Agent Console and was able to pull statistics on the unit, etc.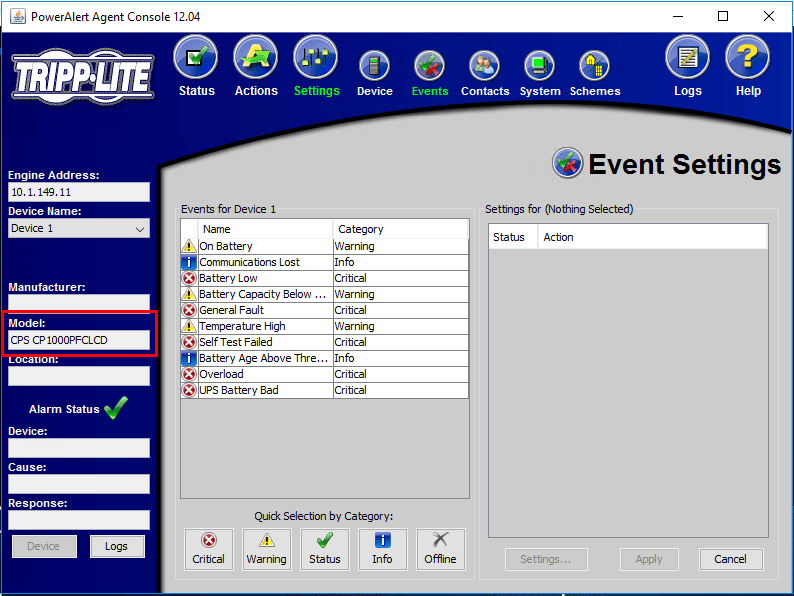 Takeaways
If you are running a home lab environment, no doubt you may already have a UPS protecting your VM hosts.  Adding the management software piece from a vendor can provide a much more enhanced and powerful solution for power management and monitoring the home lab.  The product mentions in this post contain only a brief description of a few of the solutions out there.  Check with your specific UPS vendor and the management software options that are available.  Out of the UPS vendors that I have running in my lab environment, the CyberPower UPS stands out as one of the easiest to manage and cost effective.  The ability to spin up a very low resource VM for UPS management and notifications is a powerful way to quickly and easily get a handle on power management and safely shutting down precious home lab VMs.
Don't miss out on new posts! Sign up!