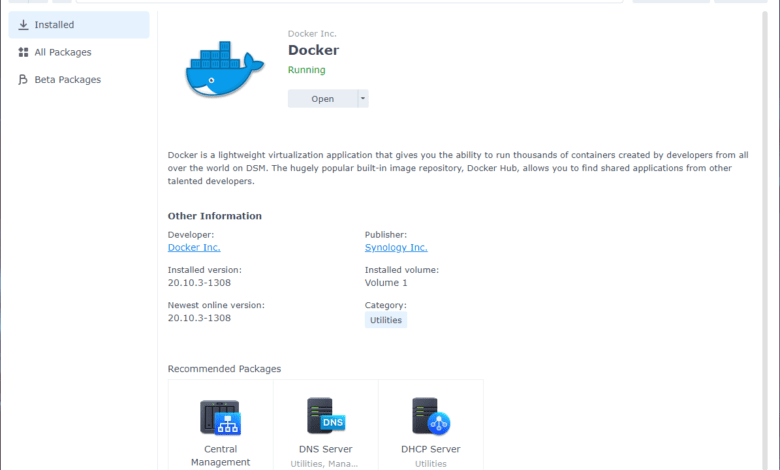 Synology NAS devices offer a wide range of applications and services that help you get the most out of your NAS system. In my opinion, this is why Synology is such a great NAS solution for the home lab and self-hosting in general. Let's look at the best Synology apps, including mobile apps, and get an overview of their features and how they can improve your Synology NAS user experience. We will explore popular Synology packages and other useful integrations to help you maximize your Synology NAS for serving applications.
DS file
DS file is one of the essential Synology apps available for mobile devices and desktop computers, allowing users to easily access the files stored on their Synology NAS from anywhere. This app lets users easily share files, view documents, and stream videos stored on their NAS system.
The app supports offline access, enabling users to download files for later use without an internet connection. DS file is compatible with Android devices and offers a seamless experience across multiple platforms.
DS video
DS Video is a powerful video station allowing Synology NAS users to stream their video collection to their mobile device, desktop computer, or TV. Its intuitive user interface makes DS video easy to browse, search, and watch your favorite movies and TV shows.
The app supports streaming videos to compatible devices such as Chromecast, Apple TV, or DLNA devices. This video station is available on Android and iOS devices, ensuring you can enjoy your video collection from any mobile device.
DS finder
DS finder is a must-have mobile app for Synology NAS users, allowing you to easily manage and monitor your NAS system from your Android or iOS devices.
With DS finder, you can access your DSM version, configure network settings, and even install DiskStation Manager on your NAS device. The app also offers a convenient way to find your NAS on your local network and enables you to access various configuration settings.
Synology Secure SignIn
Security is a top concern for Synology NAS users, and Synology Secure SignIn is an excellent solution for protecting your data. This mobile app enables two-factor authentication for your Synology NAS, adding an extra layer of security to your login process.
By using this app, users can ensure that only authorized individuals can access their NAS system and the valuable data stored within it.
Synology MailPlus
Setting up your mail server can be complex, but Synology MailPlus makes it much more manageable. This Synology app offers a comprehensive solution for managing your mail data, enabling you to create your own mail server easily.
With MailPlus, users can access their emails, contacts, and calendar events from a single platform, simplifying the email management process. The app offers a web-based user interface and supports multiple users, making it ideal for small businesses or individuals looking to manage their email accounts efficiently.
Synology Photos
Synology Photos is an all-in-one solution for managing, organizing, and sharing your photo collections. This Synology app offers an intuitive and easy-to-use interface, allowing you to organize your photos into virtual albums, share them with friends and family, and even create custom slideshows.
With its advanced search functionality and support for various file formats, Synology Photos is an excellent choice for anyone looking to consolidate their photo library.
Synology Contacts
Synology Contacts is a centralized address book app that allows you to manage and sync your contacts across multiple devices.
With Synology Contacts, you can easily import, export, and merge contact information, ensuring that your contacts are always up-to-date and accessible. The app also supports sharing contact lists with other users, making it an ideal solution for both personal and professional use.
Synology Calendar
Synology Calendar is a powerful scheduling tool that enables you to create, manage and share events and tasks within your Synology NAS environment. With its user-friendly interface and support for multiple calendars, Synology Calendar makes it easy to stay organized and plan your time efficiently.
The app also offers synchronization with popular calendar services like Google Calendar, allowing you to access your schedule from any device.
Synology Office
Synology Office is an integrated productivity suite that offers a range of applications for creating, editing, and sharing documents, spreadsheets, and presentations. With its real-time collaboration features, Synology Office allows multiple users to work on documents simultaneously, making it an excellent choice for team projects.
Additionally, Synology Office supports version control and encryption, ensuring your data is secure and easily recoverable.
Synology Drive Server
Synology Drive Server is the core component of Synology Drive, providing essential services for file storage, synchronization, and sharing. By installing Synology Drive Server on your NAS, you can create a private cloud storage solution that offers the convenience and accessibility of public cloud services while maintaining control over your data.
Synology Drive Server also supports advanced features like file versioning, selective sync, and user access control, making it a powerful and flexible storage solution for any Synology NAS user.
Synology Snapshot Replication
Snapshot Replication is a powerful data protection tool that allows you to create and manage snapshots of your Synology NAS volumes and LUNs (Logical Unit Numbers).
With Snapshot Replication, you can quickly and efficiently recover data in the event of accidental deletion, system failure, or malware attack. The app also supports remote replication, enabling you to create offsite backups for added data protection.
VPN Server
Synology's VPN Server app allows you to transform your NAS into a secure and reliable VPN server, providing remote access to your network and data. By configuring a VPN on your Synology NAS, you can securely access your files and services from any location, ensuring that your data remains protected even when using public Wi-Fi networks.
With support for multiple VPN protocols, Synology VPN Server offers a versatile solution for remote connectivity.
Surveillance Station
Surveillance Station is a comprehensive video surveillance solution that enables you to manage and monitor IP cameras connected to your Synology NAS.
With its intuitive interface and advanced features, Surveillance Station offers a centralized platform for monitoring your home or business, providing real-time video feeds, motion detection, and event notifications. The app also supports video playback and archiving, making it easy to review and analyze footage as needed.
Virtual Machine Manager
Virtual Machine Manager (VMM) is a powerful tool that allows you to run and manage virtual machines on your Synology NAS. With VMM, you can create, configure, and deploy virtual machines running various operating system configurations, including Windows, Linux, and Virtual DSM.
By leveraging the power of virtualization, you can maximize the potential of your Synology NAS hardware and run multiple applications and services simultaneously.
Hyper Backup Vault
Hyper Backup Vault is a dedicated data backup app designed for use with Synology Hyper Backup, allowing you to store your backup data on a remote Synology NAS securely.
With Hyper Backup Vault, you can easily manage and monitor your backup tasks, ensuring your data is always protected and up-to-date. The app also supports data deduplication.
Backup for Business
Active Backup for Business is an all-in-one backup solution that provides comprehensive data protection for your Synology NAS. With support for multiple platforms, including Windows, Linux, and virtual environments, Active Backup for Business lets you centralize your backup tasks and reduce management complexity.
The app also features advanced technologies like global deduplication and incremental backup, ensuring efficient use of storage space and minimizing backup time.
Media Server and Plex
Synology's Media Server app allows you to transform your NAS into a powerful and versatile media server, capable of streaming audio and video content to various devices within your network. With support for popular media formats and DLNA/UPnP devices, Media Server lets you enjoy your media collection on your TV, smartphone, or gaming console. The app also features customizable transcoding settings, ensuring smooth playback and optimal quality for your media files.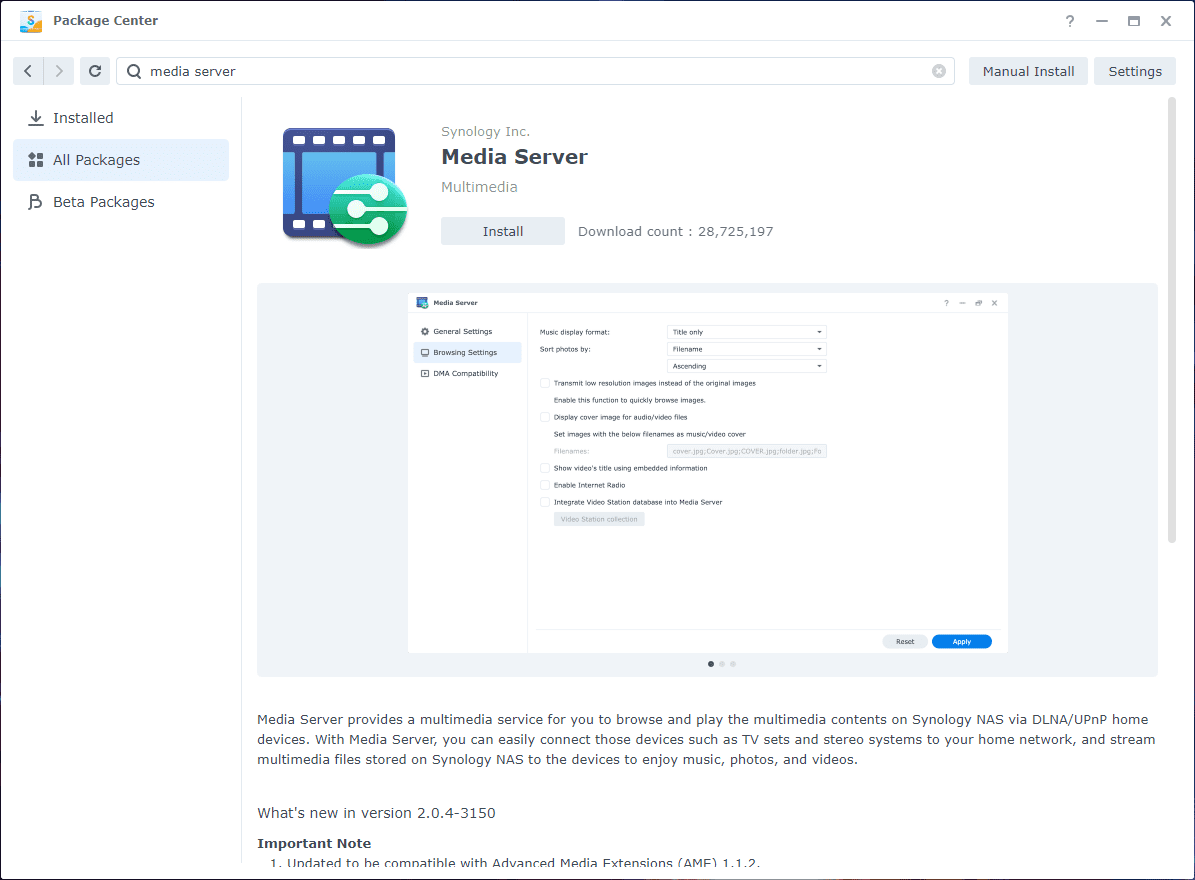 We can't go without mentioning Plex media server for Synology. While it is a third-party solution, it is well-known in the community to be a great solution for self-hosting your media.
Docker
Docker is a powerful tool that allows you to run applications inside containers, providing a lightweight and efficient way to deploy and manage your software. Synology NAS models support Docker, enabling users to run various applications on their NAS system without installing additional packages.
Docker Hub offers a vast repository of ready-to-use Docker container images, making deploying popular applications like Plex, Nextcloud, or WordPress on your Synology NAS easy.
Synology Active Insight
Monitoring your Synology NAS's performance is crucial to ensure it's running smoothly and efficiently. Synology Active Insight is a comprehensive monitoring tool that provides real-time insights into your NAS system's health and performance.
With Active Insight, you can easily monitor the status of your storage space, CPU usage, memory consumption, and network activity. By monitoring these critical metrics, you can proactively address any potential issues and maintain optimal performance for your Synology NAS.
Synology Chat
Communication is essential for any organization or team, and Synology Chat offers a secure and private messaging platform for Synology NAS users. This app enables users to communicate via text, voice, or video, making collaboration easier and more efficient.
Synology Chat supports file sharing, making it easy to share documents, images, and other files with team members. With its user-friendly interface and robust features, Synology Chat is an excellent communication solution for businesses and individuals alike.
Synology Drive
Synology Drive is a powerful cloud storage solution that stores, sync, and shares files across multiple devices. Synology Drive allows you to access your files from any device, including mobile devices, desktop computers, or a web-based user interface.
Synology Drive offers version control, ensuring your files are always up-to-date and allowing you to recover previous versions if needed. The Synology Drive Admin Console makes managing user access, setting permissions, and monitoring storage usage easy, providing a comprehensive solution for managing your data.
Active Backup by Synology
Data protection is crucial, and Active Backup by Synology offers a robust solution for backing up your data across various platforms. With its support for Windows, macOS, Linux, and virtual environments, Active Backup ensures that your data is secure and easily recoverable during a disaster.
This Synology app offers features like incremental backup, data deduplication, and encryption, making it an essential tool for protecting your valuable data.
Synology Notes Station
Notes Station is a versatile note-taking app that allows you to create, edit, and share notes within your Synology NAS environment. With its rich text editor and support for multimedia attachments, Notes Station offers a flexible and powerful platform for organizing your thoughts, ideas, and projects.
The app supports collaboration, enabling multiple users to simultaneously work on a single note. Notes Station is an excellent tool for individuals and teams looking to improve productivity and organization.
Other Useful Integrations
In addition to the best Synology apps mentioned above, many other integrations are available for your Synology NAS that can enhance its functionality. These include:
Web Station: Easily create and host your own websites.

Download Station: Manage and automate your downloads.

Audio Station: Organize and stream your audio files.

File Station: Manage your files with an easy-to-use interface.

Cloud Sync: Sync your data with popular cloud services like Google Drive.
Secure and recover your Data on Synology NAS – Wondershare Recoverit
Data loss is a common concern for Synology NAS users. Another app I ran across is Wondershare Recoverit. It offers a solution for recovering lost or deleted files from your NAS system. With its advanced data recovery algorithms, Recoverit can retrieve lost files due to accidental deletion, formatting, or other data loss scenarios. Integrating Wondershare Recoverit with your Synology NAS ensures that your valuable data is always protected and recoverable.
Related links
Wrapping up
Synology offers many applications and services that can significantly enhance your NAS experience. By exploring the best Synology apps and integrations mentioned in this blog post, you can unlock the full potential of your Synology NAS and ensure that your data is secure, organized, and accessible. Whether you are a home user or a business owner, these apps can help you maximize your investment in a Synology NAS system.