VDI
How to run Windows Apps on Chrome OS with Cameyo Progressive Web Apps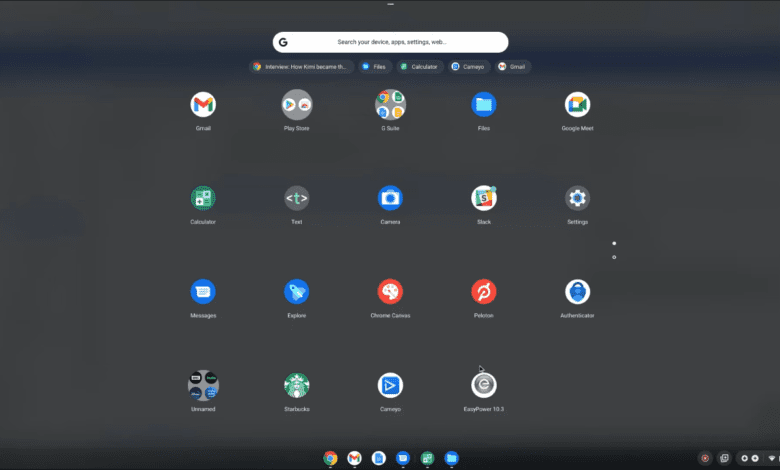 Chromebooks and other devices running Chrome OS have become extremely popular as they offer an affordable option for schools, businesses, and other use cases. They provide a fully functional experience in today's very web-centric world where apps, services, data, and other resources live in the cloud. However, many organizations may run native Windows apps to interact with business-critical applications. Let's look at how to run Windows apps on Chrome OS with the newly released Cameyo Progressive Web Apps (PWAs).
Cameyo – quick, easy, secure, and intuitive
Camey is a relative newcomer to the scene of virtual applications and virtual application delivery. However, they are quickly gaining momentum in this space as one of the simplest and easiest solutions to deploy to get your users up and running easily with published applications.
In conjunction with Cameyo, and as a new tester of their product, I was asked to evaluate the solution and the ease of deployment, provisioning resources, and having a fully functional Cameyo environment, serving out applications. I have to say it was one of the easiest experiences I have been through with a remote connectivity, remote application delivery solution to date. You can read my write up about that experience on Cameyo's blog here:
Using Cameyo's solution, IT admins can literally be up and running in minutes and start publishing applications to end-users. Cameyo delivers true application virtualization delivered in a web browser. All applications, even full, legacy Windows applications run in a simple web browser tab, eliminating the complexities of "fat installs" and other issues.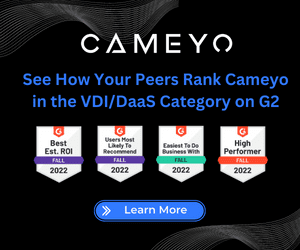 Also, while a full VDI solution is necessary for some users (engineers, power users, developers, CAD/CAM designers), it is not needed for the majority of users. In fact, for many businesses, VDI desktops are by in large used by general office workers and not the specialized use cases that truly need full desktop sessions. Most users require access to their "applications" and not a desktop for productivity, collaboration, and communication.
This is the sweet spot that Cameyo delivers for companies – the ability to cut costs, scale, and deliver apps for the wide use case found in most organizations – general productivity apps and delivering easy and quick access to legacy remote Windows apps without refactoring for modern browser-based access, without VPNs and other complex network configurations.
How to run Windows Apps on Chrome OS with Cameyo Progressive Web Apps
Today, at the time of this writing, Cameyo has announced Progressive Web Apps (PWAs) in conjunction with their virtual application delivery platform. The new Progressive Web Apps take things a step further and delivers applications with the added benefit of making those apps seem native as if they are installed on the device from an end-user perspective.
As we all know, remote connectivity, productivity, and application delivery tools are only as good as the ability of the end-user to adopt them. Cameyo is making the user experience seamless with the new PWAs. With the new PWA implementation from Cameyo, users no longer need to open a browser tab to access their apps, they can simply click the app icon from their Chrome OS shelf or Chromebook taskbar. The app then runs in its own window, just as if it is a locally-installed app.
The beauty of the solution is Cameyo can deliver every Windows app as a PWA implementation on Chrome OS device, even if that app does not have a PWA version itself.
Virtual Application Delivery Management Benefits
Not only is the experience more seamless and fluid for end-users, IT admins also can publish apps in Cameyo and then push those apps to end-user Chrome OS devices within minutes. These can be based on roles or group profiles.
They have a good overview video showing the process to use PWAs in conjunction with Google management tools. You can watch that here:
Benefits of Cameyo Progressive Web Apps (PWAs)
Note the following benefits of the Cameyo Progressive Web Apps (PWAs):
Ultimate Flexibility – Apps delivered as Cameyo PWAs work for every user, and are responsive on any form factor (desktop, mobile, tablet, etc.).
Native App Experience – Users interact with Cameyo PWA apps as if they were installed locally on their device, with nothing new to learn.
Ultra Secure – Cameyo's Virtual App Delivery (VAD) platform is built with a Zero Trust security model at its core, reducing an organization's attack surface and protecting their network & data while providing seamless access to apps. 
Powerful Simplicity – IT can push apps to users' devices in a matter of minutes while having complete control over who has access. IT can also update apps from the Cameyo Admin console and know that the latest and greatest version is instantly available to all users (no more updating across all systems individually). 
Cameyo Progressive Web Apps (PWAs) FAQs
What is virtual application delivery (VAD)? – Virtual application deliver allows delivering remote applications to end-users. Modern solutions like Cameyo allow delivering applications in a modern web browser.
What is Cameyo? Cameyo provides a new virtual application delivery solution that is seamless, easy, and extremely secure. They have been making waves in this space and gaining momentum with new features, functionality, and customers.
What are Cameyo Progressive Web Apps (PWAs)? The new Cameyo PWAs allow delivering the same virtual application delivery benefits to Cameyo customers with a new streamlined end-user experience where the apps feel like a native application in the local environment, such as in Chrome OS.
How is virtual application delivery (VAD) different than virtual desktop infrastructure (VDI)? Virtual application delivery (VAD) delivers applications to remote end-users as opposed to full desktops. It provides many benefits to VDI in terms of resources, cost, management, and other advantages. VDI is still a great solution for the right use case. When full desktops are needed for certain power users, it fits that use case well.
Wrapping Up
The new Cameyo Progressive Web Apps (PWAs) provide businesses with a seamless way to answer the question – how to run Windows apps on Chrome OS. The Cameyo PWA experience feels like a native app in Chrome OS and allows IT admins to easily assign and publish apps to end-users with Google Admin.
Learn more about Cameyo Progressive Web Apps and how this can be used with Chrome OS here: