home lab
NAS vs Server: Pros and Cons for Home Lab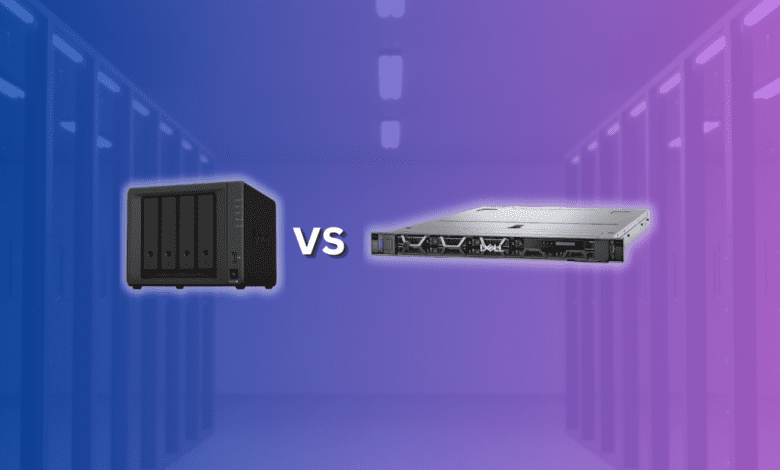 Two devices dominate both SMB and home lab environments – NAS devices and servers. The NAS vs server debate has been going on for quite some time. Both have their unique set of advantages and disadvantages. This post delves into the pros and cons of each, to guide you in making a good decision in the realm of electronic data storage.
What is a Network Attached Storage (NAS) device?
A NAS device is a dedicated data storage server for sharing files, designed to store data and share files on a local network. They are known for their simplicity and ease of setup, offering an easy solution for data storage needs, allowing you to have a very cloud storage-like experience at home or in the small business environment.
The NAS operating system often comes embedded within the device, making it easy to use. So, you get hardware, software, and storage all rolled into one nice and neat package. NAS devices also come with some type of RAID data protection built-in.
Below is a commercial Synology NAS. Synology is well-known in this space as a commercial NAS offering.
What is a Server?
Servers are machines designed to handle a broader range of tasks, including acting as a traditional file server. A typical file server may run a server operating systems like Windows Server and can not only act as a file server and application server but also do many other things like virtualization. They offer more granular access controls, powerful hardware, and many configuration options.
Below is a picture of a Dell PowerEdge server. Dell PowerEdge servers are well-known in the enterprise and in home labs with second-hand Dell servers being very popular.
The lines of what is a server have definitely been blurred. Many home labbers are using mini PCs these days. Check out my write-up of the Acemagic S1 mini PC that I loaded Proxmox on: Acemagic S1 Mini PC Home Server with LCD Display.
Server and NAS hardware lines have been blurred quite a bit as well. If you look on Amazon, you will see many types of hardware that are listed as TrueNAS compatible, such as the following server:
NAS vs Server
| Feature/Parameter | Network Attached Storage (NAS) | Server |
| --- | --- | --- |
| Primary Function | File storage and sharing | Multi-purpose including file storage, application hosting, database management, etc. |
| Ease of Use | User-friendly, simpler setup | Requires technical expertise for setup and management |
| Cost | Generally more cost-effective | Higher initial investment and maintenance costs |
| Energy Efficiency | Higher (consumes less power) | Lower (consumes more power) |
| Physical Space | Compact, requires less space | May require more space, especially for larger setups |
| Customization | Limited customization options | Extensive customization options |
| Processing Power | Less powerful hardware | More powerful hardware, suitable for resource-intensive tasks |
| Scalability | Limited scalability | Highly scalable with easier upgrade paths |
| Access Controls | Basic access controls | More granular access controls |
| Operating System | Embedded NAS operating system | Requires a server operating system like Windows Server |
| Hardware Flexibility | Generally fixed hardware configurations | Configurable hardware options |
| Software Compatibility | Compatible with most NAS software, limited third party software support | Broad compatibility with third party software and applications |
| Security Features | Basic built-in firewalls and user access controls | Advanced security features, user groups, and built-in firewalls |
| Remote Access | Basic remote access capabilities | Advanced remote access and network configuration options |
NAS Pros and Cons
Pros:
User-friendly: NAS devices are often heralded for their user-friendly interface. The setup process is simple, and basic settings are easy to configure, making them a suitable choice for small businesses or home labs.

Cost-effective: In the NAS vs server cost analysis, NAS devices are generally the more cost-effective option, especially for entry-level NAS setups.

Energy Efficiency: NAS devices are generally more power-efficient than traditional servers.

Compact: The physical space required for a NAS device is significantly less, especially if you are comparing it with a rackmount server. It makes it an ideal choice for space-constrained environments or home use where you don't have a server rack

Versatile: Today's NAS devices can run virtual machines and containers!
Cons:
Limited Functionality: NAS devices are primarily geared towards file storage and sharing. They may lack the processing power and functionality offered by servers. However, we could argue against this point as well when you consider NAS OS distros like TrueNAS, Unraid, etc.

Less Customization: The customization options in a NAS device are relatively limited, especially when compared to the configuration options available in servers. Most purpose-built NAS devices may have limited options for upgrading the components, or slots for add-in cards, etc.
Servers Pros and Cons
Pros:
1. Versatile: Servers are versatile and capable of handling a multitude of tasks. They can function as file servers, application servers, or both, offering greater functionality. A typical file server offers many features, including role-based access, access-based enumeration, etc. You can also configure these as full-on virtualization hosts running hypervisors that allow you to run VMs, containers, or a mix of both (VMware, Proxmox, etc)
2. Powerful Hardware: Server hardware is generally more powerful than purpose-built NAS devices, enabling them to handle resource-intensive tasks easily.
3. Scalability: Servers are generally very scalable and upgradeable, allowing you to add to your data storage and processing needs as they grow.
Cons:
Cost: The initial investment for a server, including the server license, can be costly. Also, servers require ongoing maintenance, which can add up. We could also argue the opposite with the second-hand server market that allows you to get very powerful hardware cheaply, such as on EBay and sources like LabGopher.

Technical Expertise Required: The management and maintenance of servers require a bit more technical expertise when compared to NAS devices, which could be a little bit of a barrier for some home labs or those who are not as familiar with server management.
What do I have?
In my home lab, I have both NAS and servers in my environment. In my opinion, this is the best option of course, if you can afford both or add both over time. I think both NAS vs server offers capabilities that I want/need in my home lab environment. With either a NAS or a server, you do what the other was intended to do. However, neither is best for all roles.
Currently, I am running a Synology NAS DS1621xs+ and also running TrueNAS in virtual machines and on physical hardware.
I think NAS devices of course, excel with storage capabilities compared to most servers. However, if you are looking for all-out versatility, a server is the way to go. Having both compliments your home lab infrastructure, allowing you to have the best of both worlds and utilizing the storage capabilities along with the flexibility of a server.
I also target my NAS storage on my Synology NAS as a backup target for my data protection solutions I have running, backing up my virtual machines.
Turn a server into a NAS with NAS operating systems
Most likely, you have heard about NAS operating systems like TrueNAS or Unraid that allow you to turn vanilla server hardware into a NAS very quickly. A NAS operating system will enable you to load NAS features onto purpose-built NAS hardware, or even a server and turn these into a NAS.
TrueNAS, Unraid, and others also allow running virtual machines and containers, which definitely narrows the differences between NAS devices and servers.
Frequently Asked Questions
Can NAS devices support multiple users?
NAS devices are built with support for multiple users accessing data simultaneously. They provide access to file shares, network storage targets, and other purposes, like iSCSI LUNs. User permissions and access can be managed from the NAS and admins can control who has access to what data.
What kind of maintenance do servers require?
Servers require regular maintenance to ensure they operate efficiently. This includes updating the server operating systems, apply security patches, monitoring server performance, and making sure data backups are configured and taking place. The maintenance tasks can be more demanding compared to those of NAS devices.
How does the storage capacity compare between NAS and servers?
The storage capacity in both NAS and servers can vary widely based on the model and configuration. However, servers generally have a higher storage capacity ceiling and offer more flexibility in expanding storage compared to NAS devices. They can also be configured to support high-capacity storage solutions and are often used for large-scale data storage needs. However, keep in mind that NAS devices are also very scalable.
Is there a difference in data security between NAS and servers?
Both NAS devices and servers offer data security features, but servers typically provide more advanced security options. Servers can be configured with more granular access controls, advanced user authentication protocols, and sophisticated data encryption. However, the built-in firewall and user access controls in NAS devices provide a basic level of security suitable for less complex environments. Also, NAS devices are purpose-built and can also provide secure storage.
Can I run third-party software on a NAS or server?
While servers offer a broader scope for running third-party software due to their more powerful hardware and server operating systems, modern NAS devices also support third-party software. Third-party software can extend the capabilities of both servers and NAS devices.
Do I need a server license for both NAS and servers?
A license is usually required for servers, especially using operating systems like Windows Server. On the other hand, NAS devices come with their embedded operating system, and there's usually no need for a separate license for the operating system. This is one of the factors that make NAS devices a cost-effective option for small businesses or home labs.
What's the difference between file servers and NAS?
File servers and NAS devices both serve the purpose of storing and sharing files. However, a file server typically offers a broader range of configuration options, thanks to the server operating systems they run or bare-metal hypervisors. NAS devices, with their dedicated focus on file storage and sharing, tend to be simpler with less configuration required.
Which is more suitable for small to medium-sized businesses, NAS or server?
The suitability of NAS or servers for small to medium-sized businesses depends on the specific needs of the business. If the primary need is file storage and sharing with minimal setup, a NAS could be a viable choice. However, if the business requires a more enterprise-type solution for hosting applications, virtual machines, containers, or other services, including managing large-scale data, and having advanced configuration options, a server might be the better option.
Choosing between a NAS and Server
When it boils down to nas vs server for your home lab or small business, the decision largely depends on your specific needs, technical skills, and budget. NAS devices offer a simple, cost-effective solution for file storage and sharing, whereas servers provide a more powerful, configurable environment for managing and accessing data.
However, as mentioned, the lines have been blurred between NAS vs server as both can assume the role of the other. Modern NAS operating systems can run virtual machines and containers, and servers can store data and serve out file shares like a NAS. NAS devices, in general, are more cost-effective if you are simply looking for quick and easy storage. Keep NAS operating systems in mind, like TrueNAS and Unraid, if you are looking at "rolling your own" NAS on top of extra computer or server hardware you have lying around.
Don't miss out on new posts! Sign up!