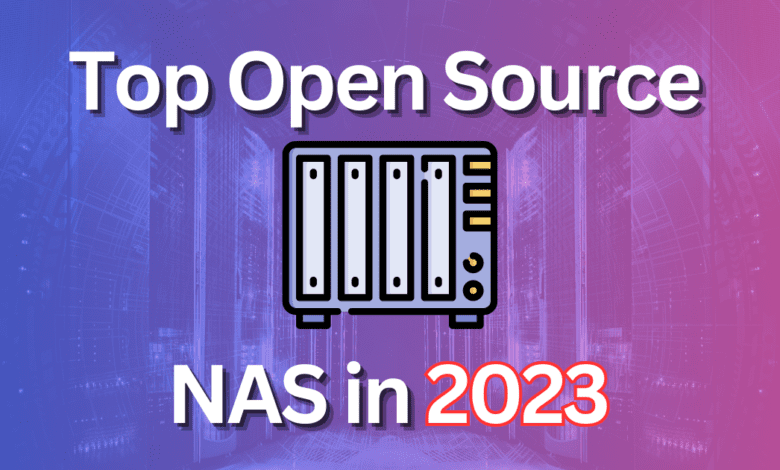 There are many freely available open-source NAS solutions you can download for free. An open-source NAS server offers an excellent way to manage and protect your data. Let's dive deeper into the top free NAS software solutions available in 2023.
Introduction to Open Source NAS Solutions
Network Attached Storage (NAS) or NAS operating system is one of the building blocks of self-hosting your own storage at home or in a home lab. They are cost-effective network storage and allow you to store, access, and protect your data on your own terms. Below is a list of top open-source NAS solutions, each with distinct features catering to various needs:
TrueNAS Scale and TrueNAS Core are reliable solutions designed for different user needs. While TrueNAS Core focuses on providing stable data storage, TrueNAS Scale offers even more features, including virtualization and other self-hosted capabilities.

OpenMediaVault (OMV): OMV offers a straightforward platform for file storage, sharing, and data backup, supporting various file-sharing protocols.

Rockstor: Rockstor offers a simple interface for file storage and sharing, providing a personal cloud server experience with Docker support.

Amahi: Amahi offers a simple platform for file sharing, media streaming, and data protection, ensuring your data is both accessible and secure.

PetaSAN: This solution excels in scalability and high performance, making it ideal for businesses with growing data needs. It uses the Ceph storage engine and provides secure and efficient data storage.

Enterprise Storage OS (ESOS): ESOS is designed for businesses with large amounts of data storage needs, supporting various storage devices and providing a secure and controlled environment for data storage.

EasyNAS: EasyNAS is user-friendly and effective for individual and small business data storage needs, providing a hassle-free solution.

OpenFiler: OpenFiler is suitable for businesses requiring customizable storage solutions, supporting both file and block-based storage.

XigmaNAS: XigmaNAS is efficient for home users and small businesses, supporting various hardware platforms.

Ubuntu Server with ZFS: This option combines a well-known Linux operating system with ZFS to provide a stable and customizable storage solution for users familiar with Ubuntu.
Let's look at these in more detail to see several options for the best NAS software for managing storage on your storage device.
TrueNAS Scale and TrueNAS Core: Great Open Source NAS
TrueNAS Scale and TrueNAS Core are well-known open-source NAS solutions that provide a wide range of capabilities, including NAS and storage area network options, including fibre channel target support (I have not personally played around with fibre channel with TrueNAS as it is listed on their enterprise feature list).
You will notice there are two distributions listed. TrueNAS Core serves both personal and small business users looking for reliable data storage. On the other hand, TrueNAS Scale uses Debian Linux and focuses on providing scalable storage solutions with a user-friendly interface.
Below is the dashboard with TrueNAS (core shown below)
Creating VMs in TrueNAS is easy.
You can also easily spin up containers.
Features
Multiple protocol support, including Fibre Channel Target and iSCSI target.

Advanced data protection with backup capabilities.

Intuitive web interface for easy management.
Pros
High storage capacity with efficient data backup.

Strong community support.

Free and open-source NAS software provides a reliable file server

Great virtualization features, including VMs and containers

You can use it as a hypervisor host

There are tons of plugins to run solutions like Plex media server, and many other popular ones
Cons
Some learning is required for beginners.

Potential hardware compatibility issues.

Some features require the enterprise license (HA storage cluster, fibre channel, etc)
Download TrueNAS Scale: Download TrueNAS SCALE – Data Storage Software
Download TrueNAS Core: Download TrueNAS CORE – Completely Free NAS OS.
OpenMediaVault: A Turnkey File Server Solution
OpenMediaVault (OMV) is an ideal open-source NAS software for users needing a turnkey file server. it is designed for home users and small businesses and supports various file-sharing protocols, making it excellent for file-sharing and data backup tasks.
Installing OpenMediaVault.
Features
Offers IP storage gateway and supports multiple network file systems.

Provides a web interface that is both intuitive and user-friendly.

Supports data backup and provides a reliable file server.
Pros
Simple setup and active community support.

Reliable with consistent updates.

Supports various plugins to extend its functionality.
Cons
Limited features for larger enterprises.

The plugin system may confuse some users.
Download OpenMediaVault here: openmediavault – The open network attached storage solution.
Rockstor: Your Personal Cloud Server
Rockstor steps up as a user-friendly open-source NAS solution designed to offer reliable personal cloud server services for both individual users and small businesses. It is easily installed from the ISO which you can download, and has an intuitive web interface to manage your file storage and sharing.
Installing Rockstor
The Rockstor dashboard
Features
The text-based installer is intuitive, as well as the web GUI (graphical user interface).

Built with a Btrfs file system, ensuring secure file storage and data integrity.

Provides Docker support, allowing for modern cloud-based technologies and applications.
Pros
A practical choice for those new to NAS solutions, with a simple learning curve.

Benefits from an engaged and helpful community support network.

Offers dependable data protection to mitigate risks of data loss.
Cons
Limited support for additional plugins and extensions.

Some advanced features available in other NAS solutions might be missing.

You have to pay for an activation key for updates
Download Rockstor here: Homepage (rockstor.com).
Amahi: The Simple Home Network Solution
Amahi is an easy pick for home network setups, with a simplified and efficient open-source NAS dashboard. It's not just about file storage but also sharing and media streaming across your home network, but it also has data redundancy and protection features built-in.
Features
Features a user-friendly interface for navigation and one-click app installations.

Streaming media and file sharing with support for various file-sharing protocols.

Data redundancy to protect against data loss.
Pros
Ideal for home networks and smaller business setups.

Wide range of available apps to expand its functionality.

Supported by an active user community.
Cons
May not offer enough for larger business needs.

Customization options might be limited for advanced users.
Download Amahi here: Amahi Home Server – Making Home Networking Simple.
PetaSAN: Scalable Storage with Ceph Engine
PetaSAN is a powerful open-source NAS solution focused on scalability and high performance, utilizing the Ceph storage engine. This platform accommodates your growing data storage needs, providing block-level replication and a secure environment for storing sensitive data.
Features
Uses the Ceph storage engine for high availability and data protection.

Supports iSCSI target interfaces, providing flexibility in network connections.

Easy deployment and scaling process for growing businesses.
Pros
Highly scalable, ideal for businesses with expanding data storage requirements.

Offers secure and stable storage environment with advanced data protection.

Efficient block-level replication to safeguard your data.
Cons
Might be intimidating for new users during the initial setup.

Requires capable hardware for best performance results.
Download Petasan here: PetaSAN Free Scale-Out SAN Highly Available Platform.
Enterprise Storage OS (ESOS): Tailored for Business Needs
Enterprise Storage OS (ESOS) is an open-source NAS software designed for businesses. Its architecture is built to handle large data storage needs. With its versatile functionality, ESOS supports various storage devices, ensuring your data is accessible and secure.
Features
Supports a broad range of storage devices and interfaces, including Fibre Channel Target.

Incorporates data protection and redundancy features to ensure data integrity.

Efficiently manages storage capacity resources, providing a scalable storage solution for businesses.
Pros
Excellent for enterprises with large data storage demands.

Offers consistent performance across different storage devices.

Implements security protocols to protect stored data.
Cons
New users might experience a learning curve.

Optimal functionality may require specific server hardware.
Download Enterprise OS (ESOS) here: ESOS – Enterprise Storage OS (esos-project.com).
EasyNAS: Uncomplicated and Effective Storage Solution
EasyNAS is a straightforward and effective open-source NAS solution. It presents a simple user interface, making it easy for users to navigate and manage their data storage and file-sharing tasks. This NAS software is ideal for individuals and small businesses that require a hassle-free storage solution.
Features
Friendly interface with easy navigation, providing a user-friendly experience.

Btrfs file system for robust data protection and integrity.

Offers various storage management options to cater to different user needs.
Pros
Easy to set up and manage, perfect for new users to NAS solutions.

Secure data protection features are in place to prevent data loss.

Community support is available for troubleshooting and assistance.
Cons
It might lack advanced features needed by larger businesses.

Limited support and documentation may be available.
Download EasyNAS here: Download | EasyNAS.
OpenFiler: Versatile and Customizable Storage
OpenFiler offers flexibility with a wide range of storage options. It works well for businesses that require a custom storage solution. OpenFiler can meet storage needs, whether it's file-based or block-based storage.
Features
Supports both file and block-based storage, providing versatility in data storage options.

Data replication and snapshot features are included for enhanced data protection.

Compatible with numerous network protocols, making it adaptable to different network environments.
Pros
Versatile and flexible, meeting various storage and network requirements.

Provides robust data protection and recovery options.

Active community and forum support for users.
Cons
The user interface may not be as intuitive for beginners.

Users might encounter compatibility issues with certain hardware setups.
Download Openfiler here: Openfiler | Open Platform Software Defined Storage.
XigmaNAS: Small but Mighty Storage
XigmaNAS is a compact, efficient, open-source NAS solution for home users and small businesses. While it might be small, it offers powerful features typically found in larger NAS solutions. It supports various hardware platforms and ensures your data is secure and accessible.
Features
Reliable ZFS file system support for secure data storage.

The intuitive web interface allows for straightforward management.

Supports various file sharing and network protocols for versatile data access.
Pros
It is efficient and small, making it excellent for smaller network environments.

Compatible with various hardware platforms, from home routers to enterprise servers.

Has an active community providing valuable support and advice.
Cons
Some advanced features of bigger NAS solutions may be missing.

It may have a slight learning curve for newcomers.
Download XigmaNAS here: XigmaNAS – XigmaNAS
Ubuntu Server with ZFS: Familiar and Flexible Storage
Ubuntu Server with ZFS provides a stable platform with the flexibility of creating a customized storage solution. This option offers users familiar with Ubuntu a stable and reliable storage solution for their network-attached storage (NAS) needs.
Features
ZFS support ensures reliable and scalable storage.

Familiar Ubuntu operating system interface provides ease of use.

Extensive community support and documentation are available for troubleshooting and learning.
Pros
Highly customizable to suit various storage needs.

Stable and reliable, running efficiently on different hardware setups.

Backed by a large community and a wealth of documentation.
Cons
More setup and configuration are needed compared to dedicated NAS solutions.

It may not be the easiest option for those new to NAS systems.
Download Ubuntu Server here: Get Ubuntu Server | Download | Ubuntu.
Why Use open-source self-hosted NAS storage?
Why would you self-host storage rather than use cloud storage in today's SaaS solutions? Choosing a self-hosted Network Attached Storage (NAS) solution over cloud-based Storage as a Service (SaaS) options has many advantages.
Control Over Your Data
With self-hosted NAS, you have complete control over your data. There's no need to rely on third-party services, which might have different priorities and standards regarding data protection and privacy. You decide where your data is stored, who has access to it, and how it's shared
Let's look at key features to note with self-hosted storage.
Cost-Effective in the Long Run
While cloud services often come with monthly or annual fees, investing in a self-hosted NAS involves a one-time hardware purchase. This investment is cost-effective over time as there are no recurring subscription fees.
You're also not limited by SaaS pricing structures, which may restrict storage space unless you opt for a more expensive plan. With your own NAS, expanding storage is as straightforward as adding more drives to your setup.
Offline Access and Performance
Self-hosted NAS systems ensure your data is accessible even without an Internet connection. This offline access is crucial for situations where internet connectivity is unstable or unavailable.
Also, accessing your data locally often results in faster upload and download speeds than cloud services, as it's not dependent on your internet speed.
Customization and Flexibility
Self-hosted NAS solutions offer an unparalleled level of customization. You can choose the hardware and software that best fits your needs and tweak the system settings to create a storage environment tailored to your requirements. This flexibility allows a storage system to grow and adapt with you or your business.
Data Redundancy and Backup
Most open-source NAS solutions have robust data protection features, including RAID support and automatic backup capabilities. These features help protect your data from hardware failure and easily recoverable during data loss.
Frequently Asked Questions
What makes open-source NAS software preferable to proprietary alternatives?
Open-source NAS software is generally free to use, providing an economical solution for data storage needs. Users benefit from the collective input and expertise of a global community of developers and users, resulting in a continuously improved and updated product. Open-source solutions also offer transparency, allowing you to audit the code for security and compliance purposes.
How secure are open-source NAS solutions for storing sensitive data?
Security is a top priority for open-source NAS solutions. These solutions typically have active communities that promptly address vulnerabilities and release updates. To enhance security, many open-source NAS solutions support data encryption, user authentication, and access controls, safeguarding your data from unauthorized access. However, ultimate security also depends on your network configuration and administration practices.
Can I use an open-source NAS for creating a personal cloud server?
Absolutely. Many individuals use open-source NAS solutions to set up personal cloud servers. This approach allows users to access their data from anywhere, just like with commercial cloud services, but with greater control over their data and without the monthly fees. Solutions like Rockstor and Amahi are particularly popular for creating personal clouds.
How do open-source NAS solutions ensure data integrity?
Data integrity is ensured through features like checksums, snapshots, and RAID support, which are common in many open-source NAS solutions. For instance, ZFS, used by solutions like TrueNAS and Ubuntu Server, is renowned for its focus on data integrity, offering features like copy-on-write and automatic repair to protect your data.
What should I consider when choosing NAS server hardware?
Select hardware that is compatible with the NAS software you plan to use. Check the software's system requirements, considering CPU, RAM, and storage capacity factors. The type of data you plan to store, the number of users accessing the system, and the network environment will all influence the hardware you should select.
Users often start with older, repurposed hardware for small home setups, while businesses might invest in new, dedicated server hardware for performance and reliability.
Is there community support available for open-source NAS solutions?
One of the highlights of open-source NAS solutions is the vibrant and active communities that support them. These communities consist of developers, IT professionals, and everyday users contributing to forums, documentation, and online discussions. If you encounter issues or have questions, there's a good chance someone within the community can help.
How does data backup work in open-source NAS?
Open-source NAS solutions often incorporate automatic data backup and recovery features. Users can schedule regular backups of their data, and some solutions also offer synchronization features to update backups with newly added or modified data automatically.
With support for various file transfer protocols, these solutions ensure you can retrieve your data when needed, providing peace of mind.
How does an open-source NAS solution handle file-sharing protocols?
It supports multiple protocols, including file-sharing protocols like SMB/CIFS, NFS (network file system), and AFP, and is integral to open-source NAS solutions, ensuring compatibility with different operating systems, including Windows, macOS, and Linux. These protocols facilitate easy file sharing across your network, making accessing and distributing data among multiple users and devices simple.
Can I add functionality to open-source NAS with plugins or add-ons?
Many solutions we have discussed offer the ability to extend capabilities through plugins, add-ons, or third-party applications. These allow adding more capabilities to NAS systems and helps in customizing the service to a specific need.
You might install plugins to help with multimedia streaming, content management, or virtualization. This ability makes self-hosted storage even more like a public cloud with easy add-ons and capabilities.
Wrapping up
Hopefully, this list of open-source NAS solutions will help shed light on some of the best free NAS software solutions that are open-source and available to freely download. Open-source and self-hosted solutions are excellent for complete control over your data and not being locked into any one vendor or another if you want to go directly with your environment.
For those who are already running a home lab environment with server hardware, network switches, and storage devices, it makes a lot of sense to take control over your data in this way. These solutions mentioned allow installing or running these open-source NAS solutions on your own hardware or in a VM and then provisioning storage as you need it.
However, it is not just about storage. Many of these solutions can run VMs and containers directly. It means you can use them essentially as hypervisor hosts in your lab or home network, such as TrueNAS Scale.
Other posts you may like