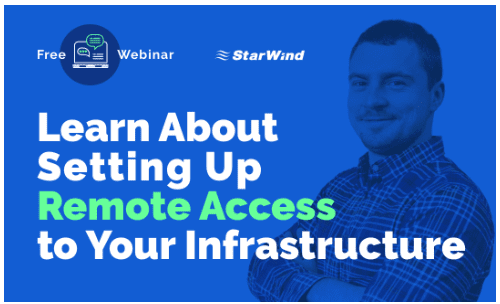 We live in a changed world with the current COVID-19 outbreak. Organizations have had to move quickly to change the way they do business as well as change the way they allow their employees to work. While many may have already had remote access setup for employees to access infrastructure, this may not be something that your business already has in place.
If you are a business leader, or part of a technical team looking for more answers about setting up remote access to the office in a way that is easy, secure, and allows carrying on business as usual, there is a webinar coming up tomorrow, April 16, 2020 that can help find answers to these important questions. The webinar is entitled "Learn about setting up remote access to your Infrastructure" and will be hosted by StarWind.
Details About the Webinar
What will be covered in tomorrow's webinar? StarWind provides the following details of the webinar:
"The upcoming webinar is related to the new requirements of the corporate world. The current pandemic had a great impact on the way we achieve business-critical tasks. This calls for the simplification of the decision-making process. The webinar will touch upon preparing your infrastructure for remote client access. Learn about relevant security issues, remote access methods, cloud migration, existing infrastructure, and VDI vs. RDS, so that you can make the right decision and conduct the migration easier."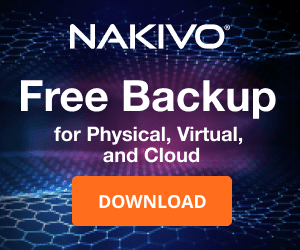 Register for the webinar here.
The webinar covers very relevant topics that many organizations are concerned about, especially with current events. Even if your organization has quickly stood up a remote access infrastructure, are you now worried about security concerns?
I know I have seen a lot of this recently with companies that moved quickly to simply get remote access in place and are now having to go back and revisit the security of the solution as it may have had many security holes due to the quick nature that it was provisioned.
We are coming to the realization that the situation with the remote workforce and COVID-19 means this may be BAU (business as usual) for the foreseeable future. Organizations need to plan for this to potentially be a long term solution and not simply a short-lived situation.
Also, the discussion concerning the relevant types of remote access will be an important one to consider. There are always arguments in my experience that one technology is "always" better than another. However, the one thing that is truly answered as "always" is that it "always" depends.
Different businesses are different and have different needs, budgets, expertise, time lines, and many other factors that will always weigh into which technology is better suited for a particular business.
This often gets discussed with the following:
These types of topics will be covered in tomorrow's webinar. Additionally, how cloud comes into the picture. Is it time to simply jump to the cloud? Can it solve all your issues? Well, again this is a mixed bag of answers.
Wrapping Up
The "Learn about setting up remote access to your infrastructure" webinar looks to be a very relevant and great topic considering the times. StarWind is a great company with really great products and solutions in my opinion. No doubt there will be some valuable content discussed with the webinar.
Check out the following topics we have covered here with StarWind products: