Nowadays, organizations want to focus mainly on their applications and data, and not the underlying infrastructure.  More businesses are looking at turnkey solutions that provide the features, scalability, and performance needed for their business-critical applications.  This also helps to eliminate the need for large IT teams with specialized skills to keep the infrastructure running.  
The rapid pace of technology environments today means much less time for tweaking and turning "nerd knobs" to make solutions work. No doubt, when you purchase a solution for your business today, you expect it to work, and work well.
Recently, StarWind upped the ante of their prebuilt HyperConverged Appliance (HCA).  They are now offering the turnkey HCA solution in all-flash only.  Let's dive into the new specification from StarWind and see what it has to offer for 2 Node Hyper Converged Cluster with StarWind All-Flash HCA.
What Is StarWind HyperConverged Appliance (HCA)?

StarWind HCA is a single 2-U physical device built on top of TIER1 server hardware that offers all the necessary components to bring true hyperconvergence to your environment by way of a turnkey solution that takes guesswork out of engineering a software-defined storage solution.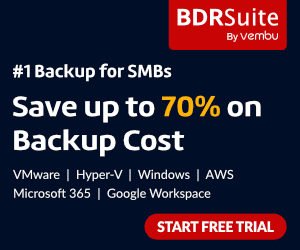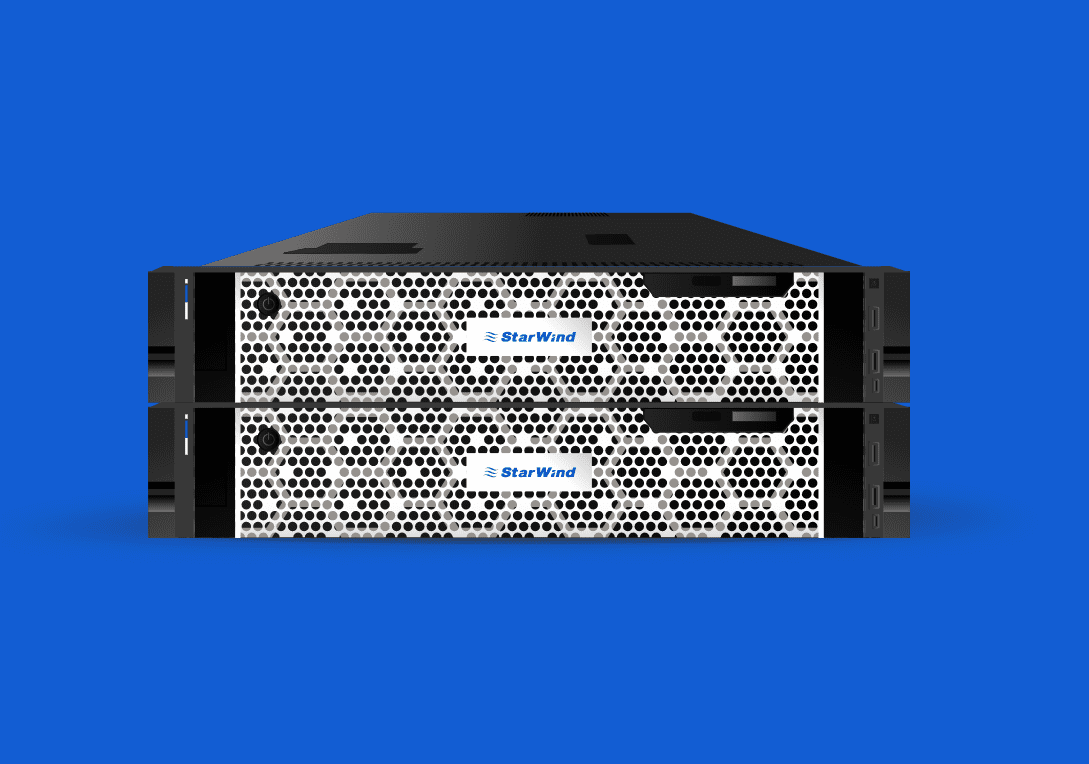 StarWind HCA incorporates everything needed to create an HCI, including compute, network, storage, and software fitted into a single device that allows simplifying the approach to configuring and integrating a hardware solution into your existing environment. This leads to many great features and benefits for your environment. These include:
Hybrid cloud features – ability to provide clustering between on-premises and cloud environments including AWS, Azure, and any other public cloud environment
Fault tolerance – StarWind HCA provides your environment with high availability, secure backups, cloud disaster recovery, and many other features that help to bolster the fault tolerance of your infrastructure
RDMA – Remote Direct Memory Access is a technology used today to bypass the CPU for common operations, such as network traffic. This allows greatly reduce CPU overhead.  StarWind has optimized their HCA to make use of RDMA, which increases performance by helping to eliminate the CPU as the bottleneck
StarWind HCA is a true HCI platform that provides everything needed to implement, integrate, and configure the solution
HCA shines in the area of simplicity and architecture – It is a "true" two-node solution. While other HCI solutions need a witness component in some form or fashion, StarWind has been designed with a very unique ability to safely and efficiently operate with only two nodes in the configuration 
Constant uptime is a result of how StarWind engineered the HCA solution.  It is able to withstand the failure of an entire node or disk without resulting in any downtime at all
There is no question that the days of spinning disks are numbered in terms of datacenter workload applications. Flash provides the ultimate performance for business-critical applications. With the price of flash storage having dropped dramatically, all-flash solutions are quickly becoming the norm.
StarWind is not only taking advantage of an all-flash configuration for StarWind HCA, the All-Flash StarWind HCAs are now available with an all-NVMe storage setup for use with Microsoft Hyper-V. As most are aware, NVMe offers top-tier performance for all-flash configurations.
StarWind HCA Provides All-Inclusive Value

The value offered by the StarWind HCA is not limited to just the hardware. The HCA solution value proposition includes not only the HCI software/hardware, but also two very important additional items that you should consider:
Management software
Support
It is important to understand: this is a "soup to nuts" solution that literally includes "everything" you need for having a complete turnkey solution. Even if you have the hardware and software components from another vendor, without management and support, it isn't truly turnkey.
StarWind Command Center

The management software piece of StarWind HCA is known as StarWind Command Center. StarWind Command Center is built into the HCA solution and allows the IT administrator to see all the relevant information related to StarWind HCA at their fingertips.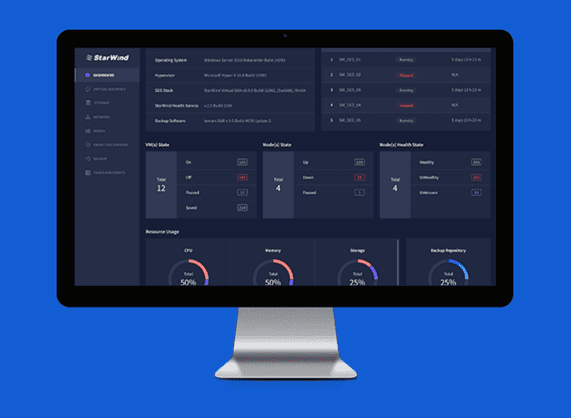 StarWind touts the Command Center as a single-pane-of-glass monitoring and management interface that serves to improve your hyperconverged infrastructure experience. It provides the following related to the HCA solution:
Convenient HCI monitoring and cluster-wide statistics
Management of all the diverse HCI activities on a daily basis
Simplified operations through the HTML 5 web interface of the StarWind Command Center
Related specifically to HCI operations when using the HCA solution, the StarWind Command Center allows you to control nodes, virtual machines, storage, networks, and tasks/events/alerts from the single web UI found in StarWind Command Center.
ProActive Premium Support

Most HCI solutions do not simply "include" their support in the product. However, one of the tremendous benefits to note with StarWind HCA is ProActive Premium Support that comes with every license on hardware products offered by StarWind.
This is their top-tier support level that includes proactive monitoring by engineers 24/7/365 of your environment to spot any anomalies that may indicate an issue before it arises. The proactive monitoring StarWind is using is backed by machine learning technology to spot potential problems in the environment. This includes any failure patterns or error messages that might indicate an issue.
StarWind HCA Appliance Editions

Even though you may think of all-flash storage as being a top-tier offer that would only have "one level" of performance/functionality, StarWind has engineering their HCA so that you have three levels of the product to choose from. Depending on what you want to achieve or what your primary objective is, they have a tier of HCA all-flash products to choose from that will fit most environments and their use cases.
The StarWind HCA solutions include the following editions:
Performance Flash – this is designed for small and mid-sized virtual environments that are looking for the best performance with StarWind HCA.  These nodes can also be scaled up by simply adding more flash storage, memory, NICs, etc. 
Capacity Flash – This StarWind HCA edition provides automated storage tiering to help with performance demands and does so in a very cost-efficient manner.  These are a great mix between high storage capacity and performance.  These appliances can also be scaled up as needed.
Value Flash – The value flash appliance provides a great option for those IT environments that have only a handful of VMs and low storage requirements.  These appliances can be scaled up the same as the other two options. 
Details of the three different StarWind HCA options below:
| | | | |
| --- | --- | --- | --- |
| | Performance Flash | Capacity Flash | Value Flash |
| Chassis | 1-2 U/10-20 BAYS | 1-2 U/10-20 BAYS | 1U/10 bays |
| CPU | Intel Xeon Scalable | Intel Xeon Scalable | Intel Xeon Scalable |
| Memory | 128-512 | 128-512 | 128 |
| Scale Up | Yes | Yes | Yes |
| Capacity | 4.8-23TB | 8.6-36.4TB | 3.8-7.6TB |
| Storage | 960/Mix Use SSD/2X 240GB SSD RAID1 Boot | 960/Mix Use SSD/2X 240GB SSD RAID1 Boot | 960/Mix Use SSD/2X 240GB SSD RAID1 Boot |
| Networking | 2×1 GbE + 2X10 GbE NDC, 2×25 GbE RDMA-enabled | 2×1 GbE + 2X10 GbE NDC, 2×25 GbE RDMA-enabled | 2×1 GbE + 2X10 GbE NDC, 2×25 GbE RDMA-enabled |
| Support | Proactive Premium Support | Proactive Premium Support | Proactive Premium Support |
| Dedup and Compression | Yes | Yes | Yes |

Pricing

StarWind provides an extremely powerful solution for organizations who want affordable high-end performance. The solution offered by StarWind comes in at the cost of what most other vendor's hybrid solutions. How is StarWind able to deliver an all-flash solution at the price that most vendors are offering hybrid solutions?
The StarWind HCA solution provides the means to offer solutions that do not require IT organizations to make a choice between capacity, performance, or IT management
Since it is a turnkey solution, the StarWind HCA offers organizations a simple, easy solution to deploy an all-flash solution for production workloads
Unlike other solutions on the market, the StarWind HCA solution is a true two-node configuration with cutting-edge resiliency baked into the solution
The truly two-node configuration allows reducing the hardware footprint which has a direct impact on price
Proactive Premium Support is included with StarWind HCA all-flash
Wrapping Up

The 2 Node Hyper Converged Cluster with StarWind All-Flash HCA is a great option for enterprise environments looking for the most efficient and performant option for a an HCI offer that provides a cost-effective, turnkey solution.  I really like that StarWind has included "everything" that is needed, including management and support, which are often missing from "all-inclusive" vendor propositions. 
The all-flash option from StarWind HCA allows businesses to take advantage of the performance of flash storage by way of three different options (performance, capacity, and value), depending on the needs of the business.
Check out more information on the StarWind HCA appliance here.