vSphere 6.7
Select Multiple Patch Baselines in vSphere 6.7 Update 1 HTML 5 vSphere Client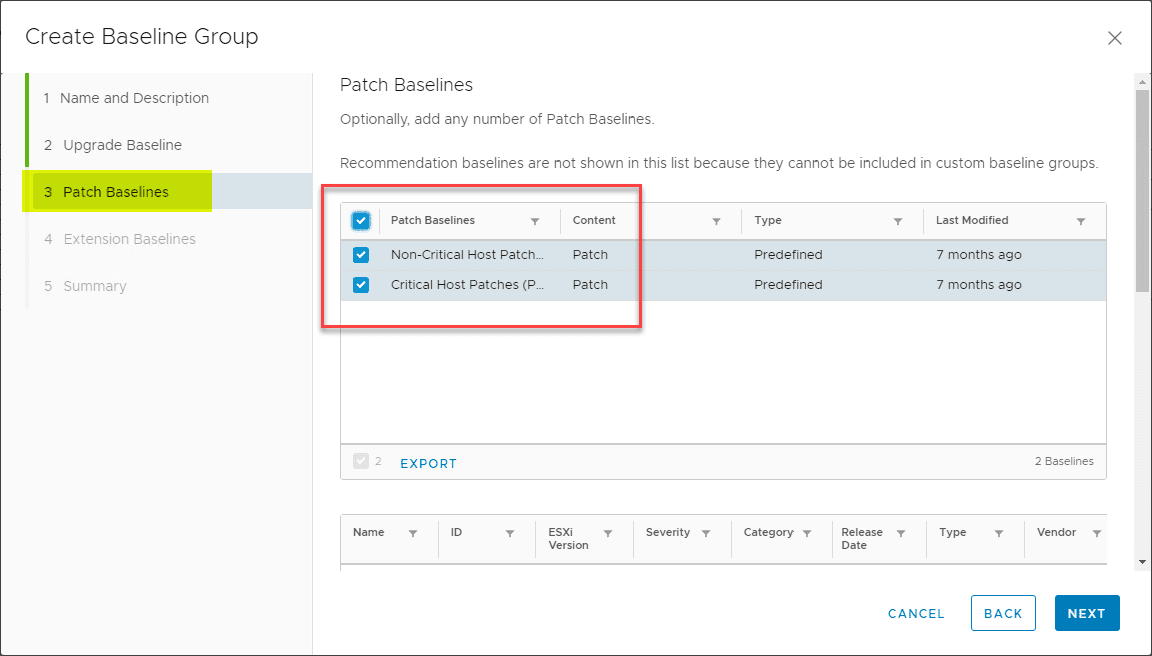 All of us vSphere admins love the new vSphere Client HTML 5 interface. In fact this is probably the most anticipated reason to upgrade an environment to vSphere 6.7 Update 1, since you get the fully-featured client that now has feature parity with the old "Flex" client. It has taken some getting used to however as certain things may behave a little differently in the vSphere Client (usually for the better). One small little thing you may have noticed in the new HTML 5 vSphere Client, you can't select multiple patch baselines when you are in Update Manager in the vSphere 6.7 Update 1 vSphere Client. Let's see how to select multiple patch baselines in vSphere 6.7 Update 1 HTML 5 vSphere Client to see how to use Baseline Groups to accomplish this.
No Multiple Selections in the HTML 5 vSphere Client for Patch Baselines
Patching is a critical part of vSphere administration and ensuring a vSphere environment is operating smoothly and without issue or security vulnerabilities. As you already most likely know, when you remediate a host based on a patch baseline, you can only select one baseline at a time. In the new HTML 5 interface, the selection mechanism is a radio button and not a check box that allows select multiples. This means you have to select one or the other.
In steps, the baseline group. The baseline group is a baseline object that is a grouping of singular patch baselines. You can house multiple patch baselines inside a baseline group. Then, by extension, you can attach a baseline group to a host, cluster, etc, as you would a singular patch baseline.
Straight from VMware, there is a good explanation of the Baseline Group found here:
Baseline groups are assembled from existing baselines. A baseline group might contain one upgrade baseline, and one or more patch and extension baselines, or might contain a combination of multiple patch and extension baselines.
To create, edit, or delete baselines and baseline groups, you must have the Manage Baseline privilege. To attach baselines and baseline groups, you must have the Attach Baseline privilege. Privileges must be assigned on the vCenter Server system with which Update Manager is registered.
This launches Create Baseline Group wizard. The first step is simply naming the new Baseline Group and adding a description if desired.
You can add Upgrade Baselines here as well. A note as shown is that recommended baselines are not shown in this list because they cannot be included in custom baseline groups.
Step 3 is the step we want to pay attention to. This is where we can add the patch baselines we wish to include in the baseline group for multiple update baselines to be applied at once. Here I am selecting the Non-critical Host Patches (Predefined) and Critical Host Patches (Predefined).
Optionally, you can add any number of extension baselines.
Finally, simply click the Finish button to finish the creation of the new baseline group with the multiple patch baselines included.
Now, we simply need to Attach the new baseline group to the host.
The new baseline group should show as available to be attached. Click the new baseline group and select Attach.
The new Baseline Group can now be used for remediation, including the critical and non-critical patches.
The host is correctly showing patches available for installation using the baseline group.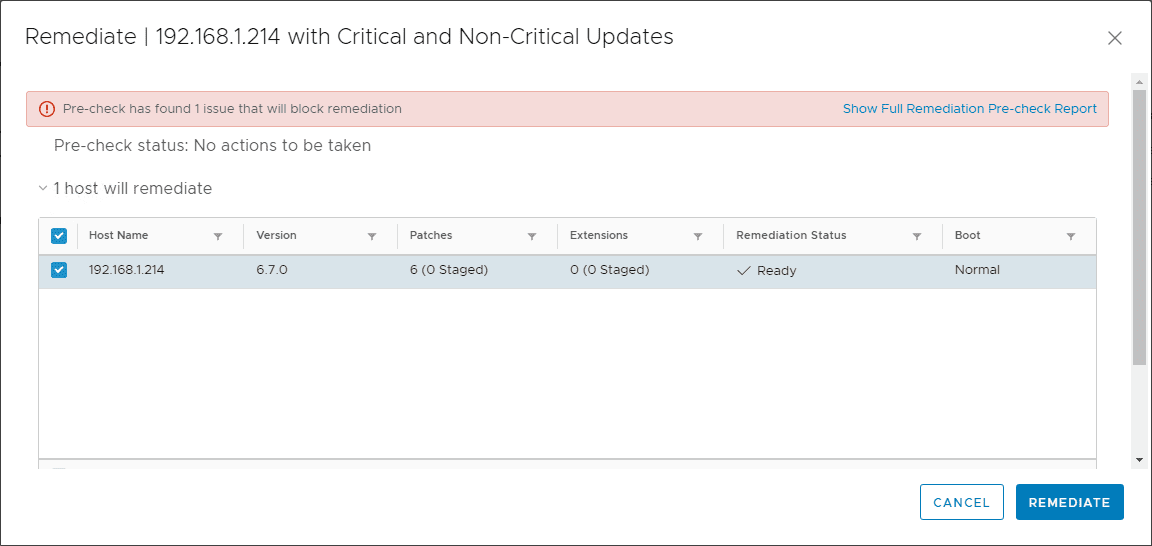 Wrapping Up
The process to Select Multiple Patch Baselines in vSphere 6.7 Update 1 HTML 5 vSphere Client is a bit hidden when compared to the way the Update Manager interface operates in the Flex client. However, with the Baseline Group functionality, you can effectively aggregate update baselines into a single entity that allows the same functionality when compared to the multiple check boxes in the Flex client that could be placed next to the critical and non-critical baselines. The HTML 5 vSphere Client in vSphere 6.7 Update 1 is a great tool that allows quick and easy administration of the vSphere environment. The behavior and tools in some cases are a little different than in the Flex (Flash) client as seen here.
Don't miss out on new posts! Sign up!