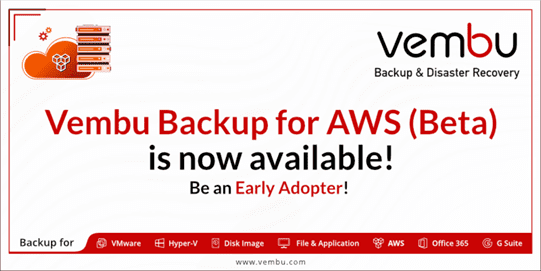 Vembu BDR Suite is Vembu's flagship offering that protects your physical and virtual resources on-premises and in the cloud. Just a couple of days ago at the time of this writing, Vembu announced Vembu Backup for AWS Beta that is a cloud-native backup and recovery solution that is designed to protect your AWS EC2 instances you have running in Amazon's AWS environment. I really like Vembu's BDR Suite product and this new native solution that is set to protect AWS EC2 workloads in a native way is welcome news to Vembu customers and certainly helps to extend Vembu's portfolio to the number one cloud environment running the majority of business-critical workloads in the cloud. Let's take a look at this new offering from Vembu to see what it is exactly and the features of the new solution.
Why Backup Your AWS Environment?
Isn't the cloud incapable of losing your data? No! This is a misconception held by many that may lead to disastrous consequences when it comes to your data being protected in the event that something unexpected happens.
First off, can the huge cloud vendors lose your data due to a disaster on their end? Yes. Just this past Labor Day in 2019, AWS lost around 1 TB of customer data, even affecting EC2 instances.
More commonly though, data loss in the cloud comes from two sources:
End user actions
Ransomware
End users can inadvertently delete data that causes a disaster scenario. Cloud vendors don't natively protect you from these types of actions. Secondly, ransomware can corrupt data and cause data loss by "locking" your data where it is not reachable. The only recourse in this case is restoring your data from backup, or paying the ransom.
What is Vembu Backup for AWS Beta?
What is the new Vembu Backup for AWS Beta solution?
This is a cloud-native solution from Vembu that means Vembu is able to protect your business-critical workloads running in AWS EC2 using an agentless backup solution that leverages Amazon AWS APIs to manage snapshots.
Vembu is making use of an Amazon CloudFormation template to launch a Vembu BDR Backup Server instance running in an Amazon AMI. Using the CloudFormation template and launching the Vembu instance, backups can be taken of istances running in th same account or any other AWS account.
The snapshots (backups/restore points) are stored in the same account the resource resides in being backed up. To restore the data, the required instances can be launched and recovered to the same account instantly.
Vembu Backup for AWS Beta Key Features
Key features of the new Vembu Backup for AWS Beta release include some really great capabilities including the following.
Agentless Cloud-Native Backup – Vembu has engineered the solution correctly since they are requiring no agents be installed in the AWS EC2 instances. All of the functionality that is allowed by the Vembu Backup for AWS is API driven. This means they speak directly to AWS programmatically to perform snapshots that produce the restore points that can be used for recovering data.
Automatic Scheduled Backups – Backups can be scheduled as often as every minute, hourly, daily, or weekly. This provides the granularity and custom scheduling needed by most enterprise customers with workloads out in AWS.
Incremental Backups – After a full backup that is taken first, each subsequent backup of the AWS EC2 instance is an incremental backup.
Configurable Retention – Incremental snapshots (recovery points) that are taken are stored in your Elastic Block Store (EBS). You can define a retention limit to configure how many restore points are maintained.
Application-Aware Backups – Application-aware backups are essential if you are running applications such as Exchange Server or SQL Server. Transactional databases require that backups taken are performed correctly, using VSS writers. Vembu Backup for AWS Beta allows properly quiescing databases so data contained in backups is not corrupt.
Pre/Post Scripts – Vembu allows the use of Pre/Post scripts that are especially helpful when backing up Linux instances that do not contain Microsoft's VSS service. This allows preparing applications for backup by running pre-freeze and post-thaw operations to ensure applications are consistent.
Instance Recovery – Vembu allows you to recover your EC2 environment instantly from snapshot backups. A new Amazon Machine Image can be spun up from your backups. Multiple AMI instances can be launched from the same restore point as well. The recovery instance allows restoring access to business-critical data and services very quickly.
Volume Recovery – If restoring an entire instance is not needed, you can also perform a Volume Recovery which allows attaching a backup volume to the same EC2 instance. The volume type, capacity and target device can be changed during the recovery process along with the volume Attach Behavior.
Reports – Vembu Backup for AWS Beta provides very detailed reporting that details the step-by-step status of each backup job in the activity logs. This allows complete visibility to effectiveness and performance of each backup job.
Upcoming Features
What features should you expect in future releases coming soon? Upcoming features of Vembu Backup for AWS include file-level recovery (FLR), cross-region disaster recovery, EBS volume-level backups, backups of VPC settings, and many other features. Cool stuff coming up for sure with the Vembu Backup for AWS product.
Wrapping Up
With Vembu Backup for AWS Beta Released, Vembu now has a native AWS Backup product that is agentless and API-driven. It provides many of the enterprise backup features that you would expect to backup your AWS environment.
These features include incremental backups, configurable retention, flexible scheduling, application-aware backups, and many others. It will be great to see how this product evolves over the coming weeks/months.
Vembu has a promotional offer for early adopters of the solution. Early-adopters of the Beta solution will be able to take advantage of a 50% discount that can be used on the final product.
You can get started with Vembu Backup for AWS (Beta) using Vembu's CloudFormation Template now.
Don't miss out on new posts! Sign up!