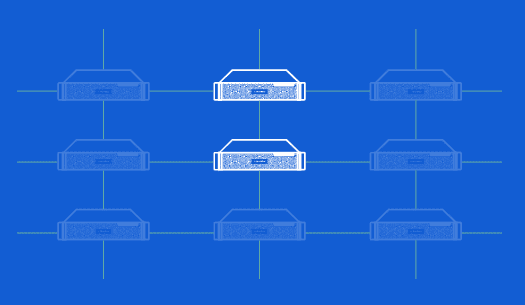 Software-defined resources are literally changing the way businesses think about hardware replacements, especially in the area of storage.  StarWind Virtual SAN helps  Enterprise ROBO, SMB & Edge environments eliminate the need for costly shared storage.  Uniquely, there is no HCL for StarWind VSAN, and it  supports solutions for both VMware and Hyper-V environments. 
Recently, StarWind updated their VSAN offering for Hyper-V with great new features and fixes.  In this post, we will take a look at StarWind VSAN Update for Hyper-V New Features.  First of all, let's consider an overview of the StarWind VSAN solution for Hyper-V and its performance advantages . 
Overview of StarWind VSAN for Hyper-V

Many are familiar with the vendor specific "virtual" SAN solutions that are on the market from the familiar virtualization vendors out there.  However, let me introduce you to  StarWind Virtual SAN (VSAN)  that provides a really great solution without the need for any shared storage requirements to offer a truly software-defined experience.
It does this by simply mirroring internal hard disks and flash between hypervisor servers. It is one of the (if not the only) solution that I know of that allows running a full VSAN solution on truly two-nodes. This allows for you to run business-critical workloads on top of very minimal hardware requirements and still have HA built-in.
The great thing about StarWind is that it empowers you to use off-the-shelf commercial hardware. There is no HCL like with other vendors, and it is compatible with the hypervisor of your choice, meaning you can pair it with any software suite and architecture that you need.
Top Notch Performance

Many may not realize that StarWind VSAN recently achieved a record-setting 28 million IOPs using commodity off-the-shelf hardware. There is no question their solution is geared for not only simplicity, but also performance. A case in point is what you can achieve with Hyper-V using StarWind's solution coupled with NVMe.
It allows you to squeeze every ounce of performance from your NVMe drives in a Hyper-V environment. It is still a challenge to present PCIe SSDs to the entire Hyper-V cluster effectively over the network. Latency can spike, and throughput can greatly suffer. Both iSCSI and Fibre Channel technologies are not designed to handle flash storage performance capabilities, especially NVMe.
StarWind VSAN NVMe-oF protocol, included in the StarWind VSAN solution, allows achieving peak performance from your NVMe devices when used in Windows Server environments. StarWind uses a multiplied command queue to replace the short command queue for enhancing the performance of NVMe-oF for microsecond latency and the performance you would expect from NVMe. It also allows a high level of parallelism in multicore processors which also helps to reduce the latency in orders of magnitude.

There is no question that StarWind VSAN provides a solution requiring minimal hardware, providing great performance, and allows you to be vendor-agnostic when it comes to your storage solution. It provides a really nice model of flexibility and options for your business.
There are some really great new features includes in the latest build of StarWind VSAN V8, especially regarding replication and other notable features. Let's talk about these.
StarWind VSAN Update for Hyper-V New Features

The new release of StarWind VSAN for Hyper-V environments was released in February of this year and contains many great new features and capabilities that add a great deal of functionality to the solution. Let's take a look at the following:
Core features and management shell enhancements
Synchronous replication
E-mail notification enhancements
VTL and cloud replication
StartWindX PowerShell module
Let's take a closer look at each one of these new enhancements and see how they take the StarWind VSAN solution forward.
Core features and management shell enhancements

There have been many core feature enhancements in this release of StarWind VSAN for Hyper-V. These include many key platform enhancements and core feature updates. One of the areas of functionality improved in the StarWind VSAN core with Hyper-V is the StarWind Log Collector mechanism. Now logs can be easily gathered for support requests using the StarWind Management Console.
Using the context menu for the server, you can prepare a log archive and download the log bundle to the machine where the Management Console is running. The output of the event log records for various time ranges have been improved as well.
The UNMAP/TRIM processes have been improved in StarWind VSAN for Hyper-V as well.  Previously, there may have been cases where the UNMAP/TRIM operation returned an unexpected code and resulted in a disk error being returned in the console.  In the new version, the unexpected return has been resolved. 
New processing of header and data iSCSI digests on CPUs without the SSE4.2 command set has been added and the default number of log files in the log rotation settings have been increased from 5 to 20. 
The Management Console has undergone various fixes and updates in this release, resulting in a much smoother and solid end-user experience in administering the StarWind VSAN solution.
Synchronous replication

StarWind made many new efficiency improvements with the data synchronization processes. Now the full synchronization has been fully reworked to remove the need for any unneeded data movement. This results in more of a "changed block tracking" mechanism for keeping up with actual data changes.
StarWind VSAN for Hyper-V now is able to compare the CRC block-level data on the partner devices and copy only the data that is different which again, results in drastic efficiency improvements.  Other stability and error related platform changes have been introduced in regards to replication such as:
High-load induced errors causing the partner node to go offline
Default ping partner replication timeout intervals have been increases from 1 to 3 seconds
Memory leak for the state when one node has RDMA configured and tries using the iSER for partner connection and the other node has no RDMA iSER configuration
Email notifications

Email configuration and functionality has been improved, allowing more secure configurations to be provisioned.  This includes support for SSL/STARTTLS SMTP connections as well as the ability now to use SMTP authentication.  You can also now test the SMTP settings with the send test message command in the event notification rules section to allow testing your mail configuration.
VTL and Cloud Replication

The virtual tape library and cloud replication functionality in this release of StarWind VSAN have introduced various fixes and stability improvements including:
Replicators and region lists have been moved to external JSON file configuration
Fixes introduced for processing barcodes with non-default lengths
VTL tape split into large numbers of sections (thousands) experiencing crashes has been resolved
Replicator settings management related to incorrect parameter mappings
Overall stability of the VTL and Cloud Replication capabilities have been improved.
StarWindX PowerShell module

With automation being the kind of the hill when it comes to today's DevOps methodologies, it is great to see StarWind continuing to improve their PowerShell offering with more cmdlets and enhanced cmdlets to interact with the VSAN solution.
Many of the already existing cmdlets with the StarWindX PowerShell module have been enhanced in this release. This includes including optional parameters, new methods, properties and other aspects of StarWindX PowerShell cmdlets. Examples of enhanced PowerShell cmdlets and scripts include:
AddVirtualTape.ps1 – Updated with case-insensitive string comparisons
Remove-Device – optional parameters included with added functionality
CreateHA*.ps1 samples – create HA devices with failover strategy
MaintenaceMode.ps1 – better processing for Boolean parameters
LSFS device type – AutoDefrag parameter removed
Wrapping Up

StarWind's solutions excel in the areas of simplicity, cost, and performance which are three key areas of consideration when looking at today's software-defined storage options.  With the StarWind VSAN Update for Hyper-V New Features, there are many great new features that have been added. There is a lot that I like about StarWind's VSAN solution:  simplified model, hypervisor-of-your-choice  approach, and no HCLs.
Today's market is all about time to value, flexibility, and ROI.  I think StarWind gives you all three without the complexity of vendor specific HCI solutions.  This is especially the case with Hyper-V where many still struggle with the configuration and idiosyncrasies of Storage Spaces Direct (S2D). 
Be sure to check out the newest release of StarWind VSAN for Hyper-V here.
Don't miss out on new posts! Sign up!