Computers
VMware vSphere 7 Update 1 vSAN 7 Update 1 VCF 4.1 Announced New Features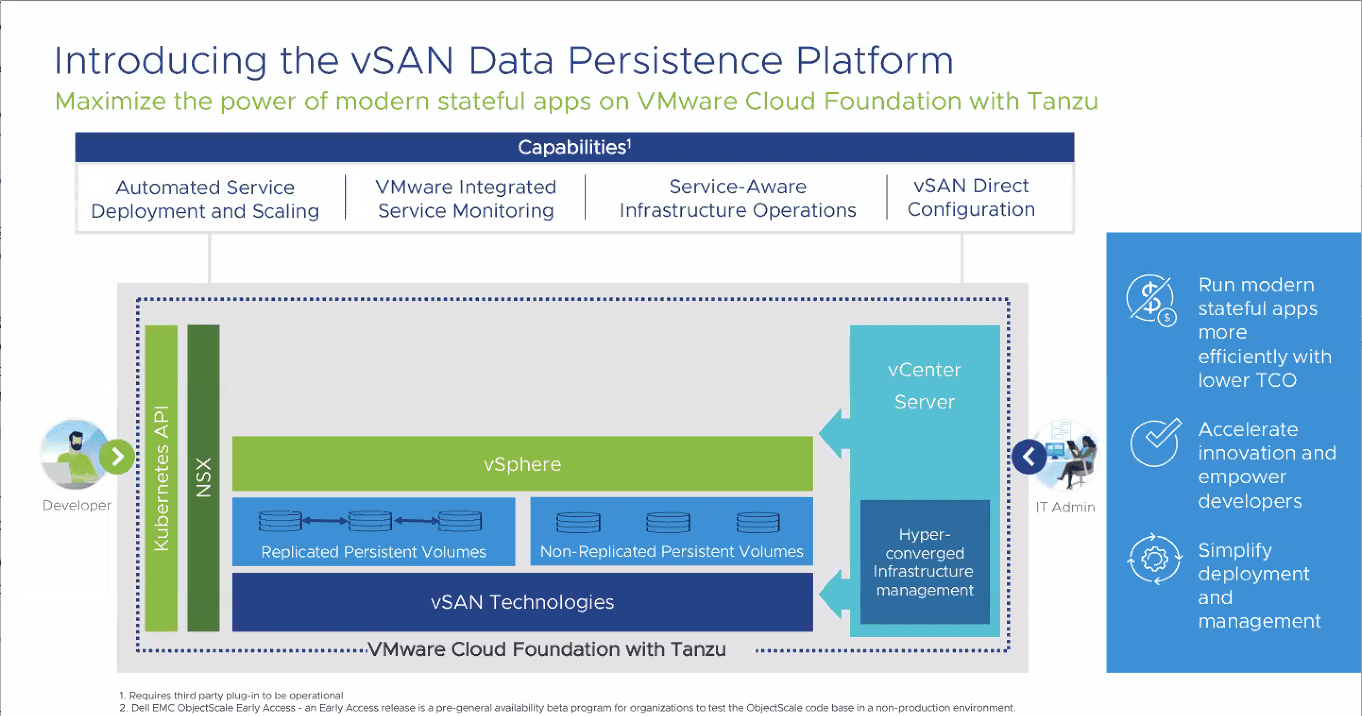 Short on the heels of the vSphere 7 release earlier this year back in March, today, VMware has made waves with some very big announcements across the portfolio of products. There are many announcements made today including VMware vSphere 7 Update 1, vSAN 7 Update 1, VMware Cloud Foundation (VCF) 4.1, Tanzu Editions, and VMware vSphere with VMware Tanzu. Let's dive into VMware vSphere 7 Update 1 vSAN 7 Update 1 VCF 4.1 announced new features.
VMware Simplifies Customer's Application and Infrastructure Modernization
VMware is offering complete portfolio of solutions for modern apps including Kubernetes deployment. New infrastructure and packaging options to further drive modern app needs.
VMware vSphere with VMware Tanzu
Tanzu Editions
vSphere 7 Update 1
vSAN 7 Update 1
VMware Cloud Foundation 4.1
Let's take a look at each of these new VMware releases and see the new features contained in each new offering.
New vSphere with Tanzu
Previously, the Tanzu offering was only found in the VMware Cloud Foundation (VCF) offering. Now, with the release of VMware vSphere with Tanzu, customers have the fastest way to get started with Kubernetes workloads.
The difference between this and VCF, it doesn't have the complete stack. Here customers get same value proposition with the ability to deploy drop-in Kubernetes into the vSphere environment. They can administer Kubernetes from the familiar vSphere platform. Developer and application owner can consume the infrastructure the way the way they are used to with Kubernetes APIs.
The additional benefit of deploying VMware vSphere with Tanzu is that customers have the flexibility to bring their own networking and storage. In other words, you are not tied in this solution to NSX-T and vSAN.
Benefits:
Configure enterprise-grade Kubernetes with existing network and block or file storage in about an hour
Use the vSphere Distributed Switch for Kubernetes clusters
Deploy NSX Advanced load balancer essentials or choose their own load balancer
vCenter will allow provisioning role-based access in minutes
This will allow modernizing the 70 million+ workloads that are currently running in vSphere. It only takes about an hour to get up and running on K8s with VMware vSphere with Tanzu. It is intrinsically agile for developers. This allows delivering application infrastructure for developers in an agile and efficient manner.
Tanzu Editions
Also new is the introduction of Tanzu editions.
Tanzu Basic – run basic K8s in vSphere. Embracing multi-cloud vision, focused on both private and public cloud. Offers up operational simplicity. Targeted at the VI Admin and System Admin.
Tanzu Standard – addresses needs of how to run K8s at scale. Available in VCF, Azure vSphere service, VMware managed cloud. Common basic infrastructure abstraction in private or public cloud. Targeted at the infrastructure lead and cloud architect.
Tanzu Advanced – Pulls together portfolio of capabilities not just focused on building applications, but enables a full experience end-to-end. Embraces devops practices that enables orgs to unlock K8s. Tageted at DevOps and PlatformOps.
Tanzu Enterprise – Providing end-to-end experience that is fully enterprise grade. Helps to drive innovation and development. Targeted at VP Applications and CIO. Creates a superhighway between Devs and their IDEs and production.
vSphere 7 Update 1 – New Enterprise Workload features
Aside from the app modernization capabilities being introduced with Kubernetes updates today, VMware has not left out the enterprise customer running more traditional workloads. In conjunction with VMware vSphere 7 Update 1, VMware vSAN 7 Update 1, and VMware Cloud Foundation 4.1, VMware is introducing several new capabilities for the enterprise datacenter. These include the following:
Monster VMs – With vSphere 7 Update 1, VMs can scale up to 24 terabytes (TB) and 768 vCPUs to deliver "monster VMs" for very resource intensive applications including in-memory databases (SAP HANA, etc).
Cluster scale enhancements – Hosts per cluster with vSphere 7 Update 1 has been increased by 50% for a total of 96 hosts per cluster.
New vSphere Lifecycle Management enhancements – In addition to the aspects of single click upgrades – now includes NSX-T, vSAN, and other firmware. vSphere ideas to be able to simplify those directly.
VMware vCenter Connect – Single vSphere client interface, manage vCenters in Cloud environments.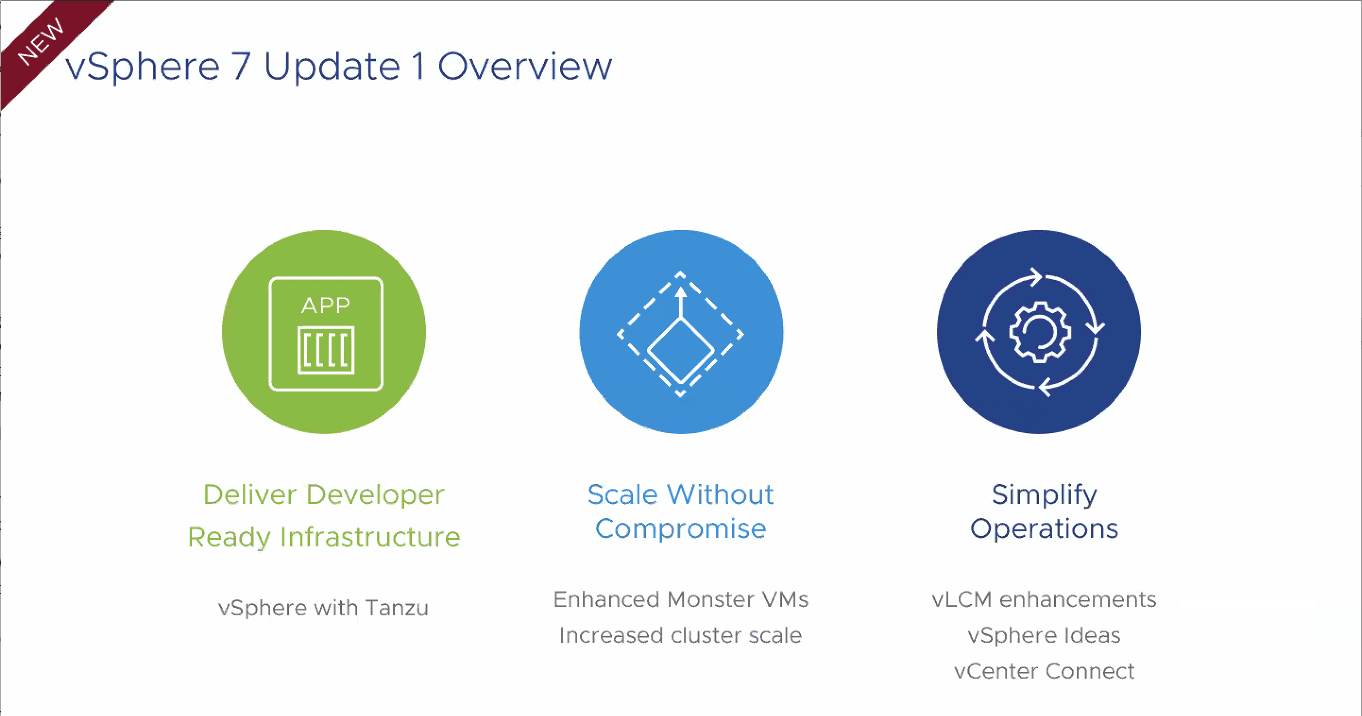 vSAN 7 Update 1
HCI Mesh – The new HCI Mesh is a new capability with vSAN 7 Update 1 that provides for disaggregation of compute and storage that allows customers to scale incrementally. Customers can reduce CAPEX by sharing resource capacity across clusters and lowering OPEX as they reduce the amount of storage resources managed by scaling efficiently
Deliver Developer Ready infrastructure
Scale without compromise – HCI Mesh – scale across clusters, shared witness capability. Two-node up to 64 of 2-node environment share a witness
Simplify operations – vLCM enhancements, new hardware and firmware
Compression-only option – This is a new option in vSAN 7 update 1 option will allow customers to enable compression-only instead of deduplication and compression. Customers will be able to take advantage of a 20% increase in useable capacity and then have both improved performance for all-flash and hybrid systems without compromising space efficiency for databases.
Enterprise-ready file services – vSAN 7 Update 1 offers file service protocols by adding support for SMB v3 and v2.1 protocols. Another very cool feature is Active Directory integration which will allow integrating vSAN file services with Active Directory permissions. By adding these new features, vSAN can be used for both block and file storage for many different use cases.
vSAN Data Persistence Platform
What is it?
This is a framework for independent software vendors (ISVs) that allows creating and enabling modern stateful services such as NoSQL databases and object storage to integrate with the underlying infrastructure.
Benefit is that it leverages the platform through Kubernetes operators to simplify deployment and lifecycle operations. Optimized underlying storage capabilities for lowest TCO and highest ROI. Will allow developers to consume applications through K8s APIs, and for admins, must simpler to deploy and administer. It is completely integrated with vSphere. Simply be able to monitor their dashboards.
Today with the announcement, Dell EMC ObjectScale will be integrated and validated on the vSAN Data persistence platform. Additional partnerships are in the works such as Cloudian, DataStax, and MinIO to integrate their offerings into the persistence platform.
What benefits do the data persistence platform allow?
Developers can use Kubernetes APIs to provision and scale services on-demand in a self-service model
Allow vCenter to have integrated dashboards and health information for the integrated service
Have service-aware infrastructure
Run stateful services
VMware Cloud Foundation 4.1
Deliver Developer-ready infrastructure – vSAN data persistence platform
Scale without compromise – VCF Remote clusters (leverage vCenter from main DC location, use that to manage clusters without vCenter in remote sites)
Simplify operations – Parallel NSX-T upgrades, skip-level cluster upgrades, vVOLs 2.0+ support
vVols Integration – New vVols integration into VMware Cloud Foundation 4.1 with Tanzu provides a common storage management framework for external storage. 
VMware Skyline Support for VMware Cloud Foundation – VMware Skyline brings proactive intelligence to VMware Cloud Foundation by identifying management and workload domains and proactively surfacing VMware Cloud Foundation solution findings.
Availability
When will the new offerings become available? According to VMware at this time, the new offerings will become available in VMware's Q3 FY21 which ends Oct 30, 2020. So, I have a feeling we will see these new releases very soon. NSX Advanced Load Balancer Essentials is expected in beta in Q3. VMware Tanzu Advanced and Enterprise editions will come later.
Wrapping Up
With the new release of vSphere 7 Update 1, vSAN 7 Update 1, VCF 4.1, and vSphere 7 with Tanzu, the vSphere 7 portfolio of products has quickly come of age.
However, this is no mere facelift of the existing products. These are major enhancements to the core features of the platform. VMware is set on modernizing application platforms by enabling organizations to be able to easily deploy K8s in their environments. However, it is great to see that also traditional workloads have not been left out. Many new enhancements are introduced across the board with the various releases today.