home lab
VMware Cloud Foundation vCF 4.0 added to VMUG Advantage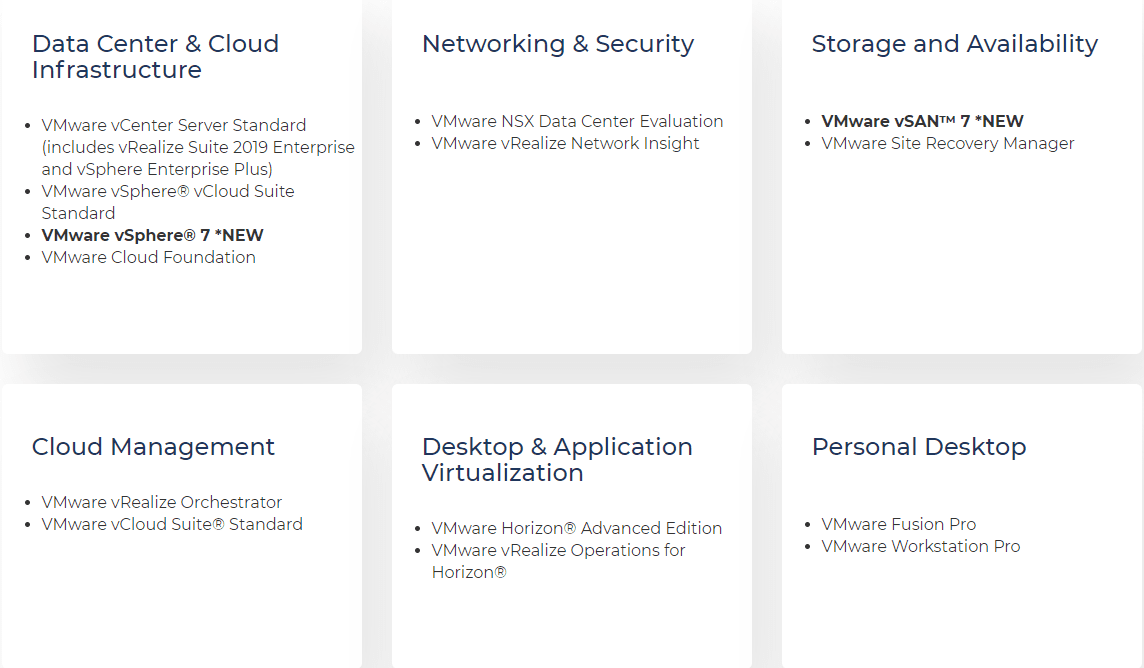 I am a big proponent of the VMUG Advantage subscription as I have detailed in many previous posts. VMUG Advantage keeps getting better and better and since I have been a paying member, the price has remained unchanged. The newest addition to the VMUG Advantage subscription is the new VMware Cloud Foundation 4.0 which is now available for download via the VMUG Advantage subscription. Let's take a quick look at VMware Cloud Foundation 4.0 and also the offering in VMUG Advantage.
What is VMware Cloud Foundation?
This is a an all-inclusive, holistic solution that includes everything you need to deploy for a SDDC platform that brings all the requirements together. What does this include?
VMware ESXi
VMware vSAN
VMware NSX-T
vRealize Suite Lifecycle Manager
With these components contained in the VMware Cloud Foundation 4.0 stack, organizations have everything they need to deploy a fully integrated stack for both private and public cloud environments.
VMware Cloud Foundation 4.0 continues to improve upon previous versions with its abilities to automate the VMware SDDC stack and has new partner integrations and other functionality.
What is VMUG Advantage?
If you haven't heard about VMUG, it is perhaps the best kept secret (if it still is a secret) that you need to know about. If you are serious about learning, VMUG is the way to have access to all the VMware catalog of products that most likely you will use in your day job or future employment opportunities.
The entire catalog of VMware products including the likes of:
VMware ESXi
vCenter Server
vSAN
vROPs
vRNI
vRA & vRO
NSX-V and NSX-T
and now VMware Cloud Foundation (vCF) 4.0
If you have read my post on building a VMware NSX Home Lab, you will see my recommendation on the software side to use VMUG Advantage for your software licensing.
Some may ask, why do I need to buy licensing when I can just use evaluation licensing? It is true that you can use evaluation licensing for things like vSphere ESXi and vCenter Server. However, there are some products that aren't available with evaluation licensing.
NSX-T is one of those. While I have seen some evaluation licensing mentioned from VMware on this, I have not seen this materialize unless I have missed something here.
I have found that it is also very cumbersome to rely on getting everything you need out of your deployments in 60 days or so. In my home lab, while I have a lot of churn there, typically it is nice to have your core products with permanent type licensing so you are not having to reload, reconfigure, and other things while trying to learn new products and configure new solutions.
For me in my home lab, the core infrastructure like the underlying ESXi and vSphere installation is for me like "production". So I am building environments off the core infrastructure I have installed (which I want to have permanent type licensing).
For nested environments, often, I usually stick with evaluation licensing as for me these are generally provisioned and torn down as needed. So, they are fairly volatile.
VMUG Advantage is a tremendous value to be able to have permanent, fully featured licensing for your home lab or other lab environment. Below is a quick listing of the various benefits of the program.
| | | |
| --- | --- | --- |
| Benefit | Free | Advantage |
| UserCons | X | X |
| Virtual Events | X | X |
| Local Community Meetings | X | X |
| Access To Online Communities | X | X |
| Live & On-Demand Webcasts | X | X |
| 20-35% off Training Discounts | | X |
| 365-day Evaluation Licenses | | X |
| $100 off VMworld | | X |
| Test Drive by VMware | | X |
| Price | Free | $200.00USD/year |
The benefits of the VMUG Eval Experience
Wrapping Up
VMUG is the "best thing since sliced bread" especially if you are running a home lab. The benefits of the subscription are ridiculously cost-effective for what you pay.
It is really a no-brainer if you want to have the best labbing experience, access to the latest VMware products, and long-term licenses for the duration of your subscription.
Check out my previous posts covering the VMUG Advantage subscription:
Don't miss out on new posts! Sign up!