home lab
VMUG Advantage adds vRealize Automation 7.3 Enterprise

VMUG continues to offer a mind shattering package of value for VMUG Advantage members. The EvalExperience that comes with the Advantage membership is the hands down best cost effective way to play around with the suite of VMware products in a home lab environment. It feels like new offerings are being added constantly to the package. I received notification via email that VMUG Advantage adds vRealize Automation 7.3 Enterprise to the subscription. Let's take a brief look at the current state of the Advantage membership offerings and why it is such a tremendous deal.
VMUG Advantage adds vRealize Automation 7.3 Enterprise
For those who may not know what vRealize Automation is – it is a part of VMware vRealize suite of products that is the core piece of automation infrastructure in a vSphere environment.  It allows for provisioning and delivery of IT services, across infrastructure, containers, applications and custom services.  Additionally it offers the following:
Agility Through IT 

Automation

: Accelerate the end-to-end delivery and management of infrastructure and applications.
Choice Through Flexibility: Provision and manage multi-vendor, multi-cloud infrastructure and applications by leveraging new and existing infrastructure, tools and processes.
Control Through Government Policies: Ensure that users receive the right size resources, or applications, at the appropriate service level for the jobs they need to perform.
Cost Saving Through Efficiency: Reduce operational cost by replacing time-consuming, manual processes and gain additional cost savings through 

automated

reclamation of inactive resources.
Below is a screenshot from my VMUG download portal after logging in.  As you can see in this subset of all the products we see the new vRealize Automation Enterprise is available and ready for download.

With vRealize Automation v7 VMware has taken the product to an entirely new level with native integrations for such products as VMware NSX!  When mentioning NSX, we need to mention that VMUG Advantage memberships include access to VMware NSX as well as all the other major VMware technologies you can readily think of – vCenter, ESXi, vROPs, Horizon, vRNI, VMware Workstation, Fusion, vRealize Log Insight, Orchestrator, etc.
Access to all the products mentioned above comes at the still staggering low cost of $200 for an individual.  You can typically find coupons floating around as well that can make the deal even sweeter.  Not to sound repetitive on this point, but VMUG is essentially the best cost/value you can get to use VMware products for personal labbing/learning anywhere.
Check out the VMUG website to get more details on the Advantage membership or go ahead and buy it for quick access to a powerful suite of products from VMware.  Aside from the tremendous deals on software technologies that you get to use, the VMUG community is a great community to learn from others and interface with great talent in the virtualization field.
Part of the email that went out to VMUG members yesterday: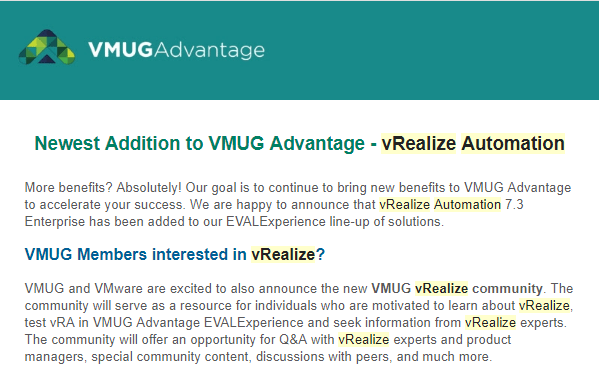 Additional VHT VMUG Links
Thoughts
If you are a home lab enthusiast or love to play around with new products, learn new technologies, or just geek out and have fun with virtualization, VMUG Advantage EvalExperience is an awesome way to do this.  Plus, the value of the online community with VMUG is exceptional along with user groups, other discounts (VMWorld, exams, etc) make it a fantastic buy.
Don't miss out on new posts! Sign up!