NSX
VMUG Advantage EvalExperience adds VMware NSX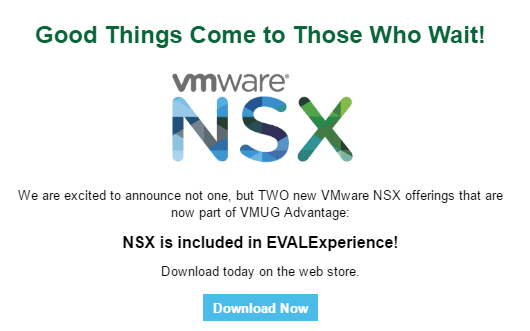 We had written a blurb just a little while ago about the hinting of the addition of VMware NSX to VMUG Advantage EvalExperience.  This was an exciting rumbling as it has been a highly requested addition that would simply sweeten the deal of the already great deal of EvalExperience.  Well, the wait and anticipation is finally over!  If you are like me you may have been excited to receive the email communication today making it official – VMUG Advantage EvalExperience adds VMware NSX.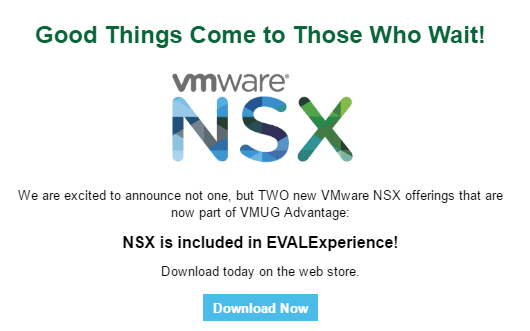 VMUG Advantage EvalExperience adds VMware NSX
Many had wondered in the VMUG forums if the new VMware NSX offering would come at a premium or they would have to pay additionally to receive this as part of EvalExperience.  However, this is not the case.  After receiving the email, I was able to log right in and see the NSX offering as part of the suite of EvalExperience products.  VMware NSX is the first product I see listed.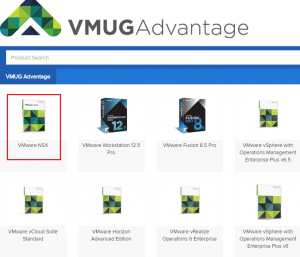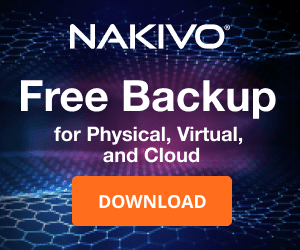 Also, I was able step right through adding it to the cart.  As you can see below, exciting is the fact that the version you gain access to is the Enterprise version that includes all the features and functionality to play around with.  Enterprise includes cross vCenter NSX, Multi-site NSX, VPN, Remote Gateway, and Integration with HW VTEPs.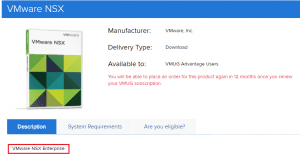 After accepting the license agreement and going through the "checkout" process in the portal, I quickly gained access to the license key as well as the binaries to download which included the NSX Manager and VPN binaries.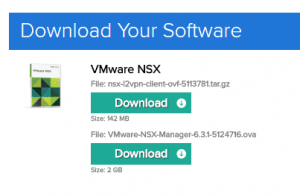 Additional benefits to this offering include heavily discounted VMware NSX training.  The training package that is included in the addition of the NSX offering includes training to help you earn your VCP-NV.  This package is valued at over $4000.  However, the Exclusive VMUG pricing is $1995 which is valid until June 30, 2017.
Why buy VMUG Advantage EvalExperience?
Quite simply, there isn't a better value if you want to get your hands on the actual bits of code from VMware.  If you are a home lab enthusiast and want to learn the core pieces of VMware funcationlity, or you work with VMware everyday and want tosharpen your skills and lab ideas out at home, then it is an unbeatable value.  There isn't a better or cheaper way to get your hands on the software and use it.
VMUG also has a great number of other additional benefits that come with the subscription such as deals on training, VMWorld admission, and many others.  Also, invaluable, is this access to the VMUG forums and other online perks from being a VMUG member.
Thoughts
The release of VMware NSX for VMUG Advantage EvalExperience subscriptions is a great value add for an already great deal.  In my honest opinion, VMUG Advantage EvalExperience is a no brainer for value and for anyone who wants to have hands on experience with the core VMware technologies.  Waste no time and get over to VMUG to grab your Advantage subscription.