NSX
Upgrading VMware NSX Manager to 6.3.1

With the release of VMware NSX 6.3, we now have NSX compatibility with vSphere 6.5a and higher. Recently released was the upgrade patch to upgrade to NSX 6.3.1 which is mostly a bug fix release with specific customer bugs. In this post we want to take a look at Upgrading VMware NSX Manager to 6.3.1. A few notes as well about the upgrade:
If you are upgrading from NSX 6.3.0 to NSX 6.3.1: Only NSX Manager and Host Clusters need to be updated. NSX 6.3.1 shows only these components for upgrade.
If you are upgrading from NSX 6.2.x to NSX 6.3.1: You will need to perform a full upgrade, upgrading all NSX components, however, note that NSX Edge and Guest Introspection will show version 6.3.0, not 6.3.1.
Be sure to check out the full release notes for NSX 6.3.1 here.
Upgrading VMware NSX Manager to 6.3.1
We first need to obtain the upgrade package.  Login to your VMware portal and pull down the 6.3.1 upgrade package.  The filename I retrieved was named:  VMware-NSX-Manager-upgrade-bundle-6.3.1-5124716.tar.gz and weighs in at around 2 GB.
Once you have obtained the upgrade package, login to our NSX Controller via the IP address or hostname of the controller appliance.  The link to do that is:  https://<your nsx manager>/login.jsp.
In the displayed menu, click the Upgrade button.

On the Upgrade NSX Management Service screen, we can see the current software version and also we see the Upload Bundle button in the upper right hand corner.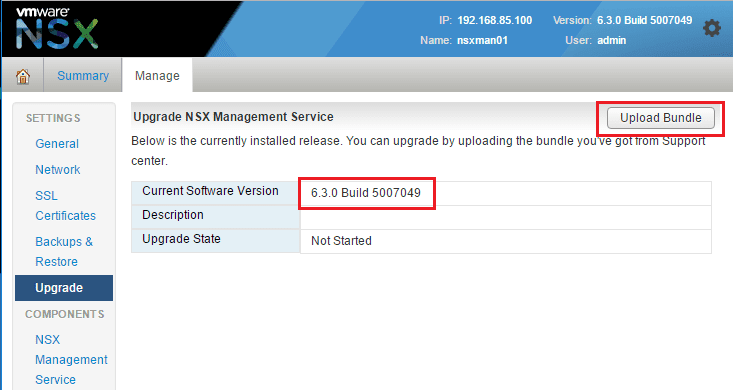 Once we initiate the Upload bundle operation, we are able to Choose File and point to our upgrade package we have downloaded.  Then click Continue.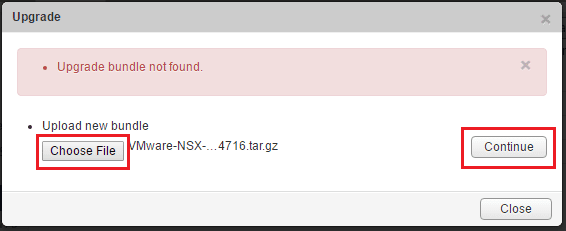 The upload file operation kicks off which copies the upgrade package to the manager for upgrading.

Now that we have uploaded the upgrade file, we can kick the upgrade off by clicking the Begin Upgrade button.

The Upgrader will provide some warning for us here as it will direct us to make a backup of the manager before proceeding with the upgrade.  Notice we also have a couple of configurables here – whether or not to enable SSH and also to either agree or not agree to join the Customer Experience Improvement Program or CEIP.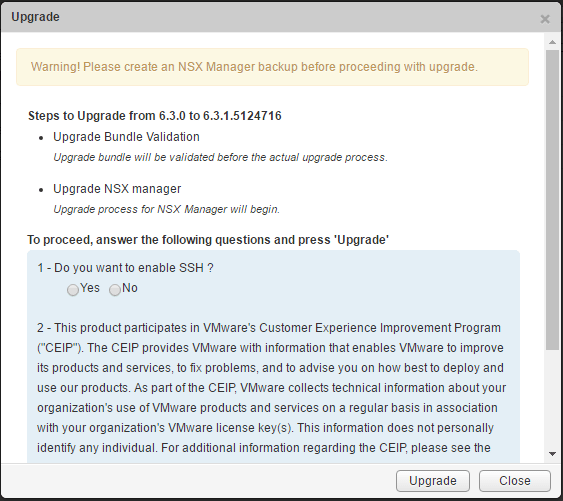 We can make our selections here and then click the Upgrade button.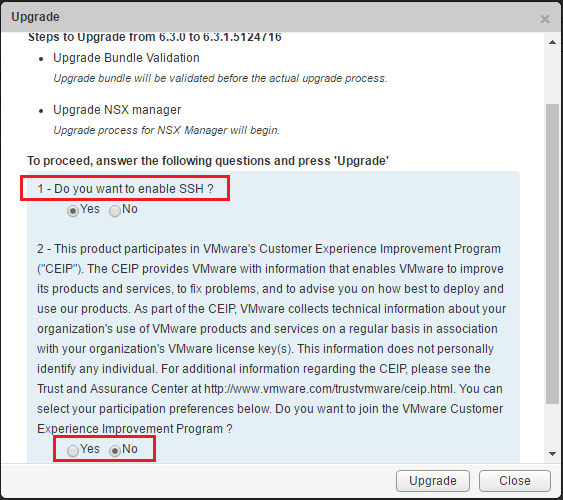 The upgrade process begins.

After some time, notice we can take a look at the current software version as well as the upgrade state and they both show as expected.  We are now running on 6.3.1 Build 5124716 and the upgrade state shows complete.

Thoughts
The process of Upgrading VMware NSX Manager to 6.3.1 is straight forward and the upgrade package process is fairly streamlined in the interface.  As always though, any type of update to production systems can be disruptive, so test, test, test.
Don't miss out on new posts! Sign up!