home lab
VMware TestDrive added to VMUG Advantage Subscriptions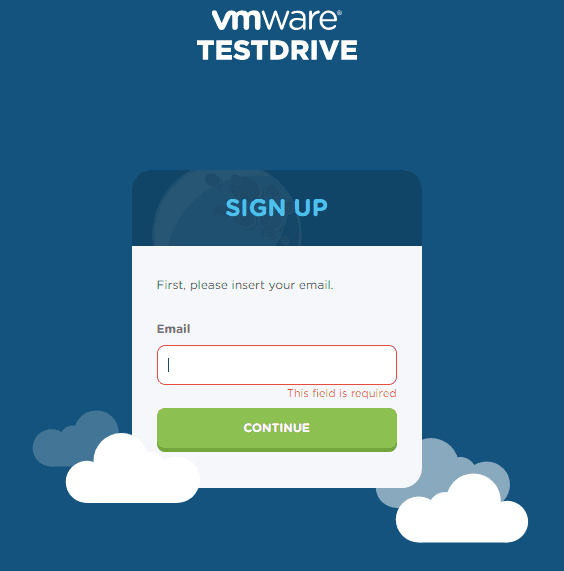 Every post that you read about VMUG Advantage from vExperts in the community is how great a value it really is. This is due to the fact that for the price that you pay for a year, you increasingly get additional benefits as VMUG is continuously improving the offering from a value perspective. Since I have joined VMUG, this has been the case with each new subscription cycle – new and better offerings for the money are served up. Just a couple of days ago, I received the email from VMUG that a new feature has been added – VMware TestDrive. This is a new and exciting feature that will certainly sweeten the already awesome value of the VMUG Advantage subscription. I certainly try to evangelize the VMUG Advantage subscription through this blog and other means as it is a great way to continually learn VMware products and offerings. So, if you haven't heard of VMUG Advantage (doubtful) then check out the official site. In this write up, we will take a closer look at VMware TestDrive added to VMUG Advantage Subscriptions to see what TestDrive is and what it can allow you to learn/do by way of VMUG Advantage.
What is VMware TestDrive?
What is VMware TestDrive anyway? TestDrive provides a Software-as-a-Service or SaaS environment to currently test out the following products with VMUG Advantage subscriptions: Workspace ONE, Workspace ONE UEM (formerly VMware AirWatch), Horizon, vSAN, and Pivotal Container Service. Can you say WOW! Massive amount of value here!
TestDrive offers users two experiences with this offering:
Ready to Use Experiences – In this mode, you can access fully configured and integrated environments allowing you to use and experience the products as customers would be able to experience in their own environments. The products are configured alongside partner solutions to experience the entire ecosystem including Office 365, Salesforce, and more.
Sandbox Experiences – This is your own personal SaaS instance of the products mentioned including Workspace ONE, UEM, Identity Manager, and AirWatch Express, to set up, test, and explore your own custom configurations.
This is exclusive functionality that is only open to the following users: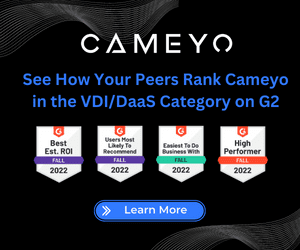 VMware Employees
Customers and Prospects
VMware Partners
VMUG Advantage Members
In the context of VMUG Advantage subscribers, how do you sign up or login to the TestDrive environment?
VMUG Advantage members can sign up for TestDrive using the email address associated with their VMUG membership. To sign up, navigate to portal.vmtestdrive.com and click "Get Started". After completing the registration form you'll be emailed your credentials or a verification link (if you selected your own password). For any assistance with the process please email [email protected].
VMware TestDrive added to VMUG Advantage Subscriptions
Let's take a quick look at how simple it is to get your VMUG TestDrive account activated and start accessing these powerful environments. This is what the process looked like when I stepped through the procedure to get the account provisioned, log in, etc.
Once you navigate to https://portal.vmtestdrive.com/, click the Get Started! button.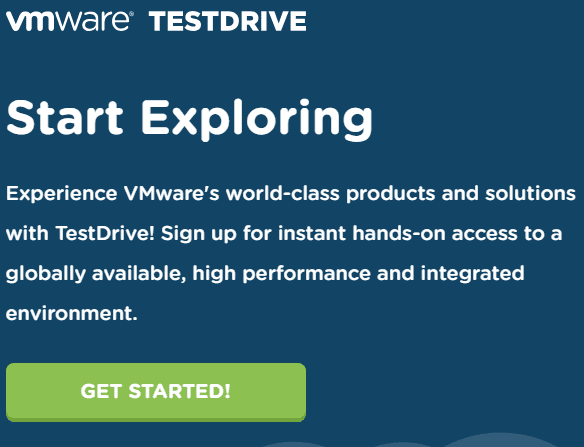 After clicking the Get Started! button, you will be prompted to sign up using your VMUG Advantage subscriber email address.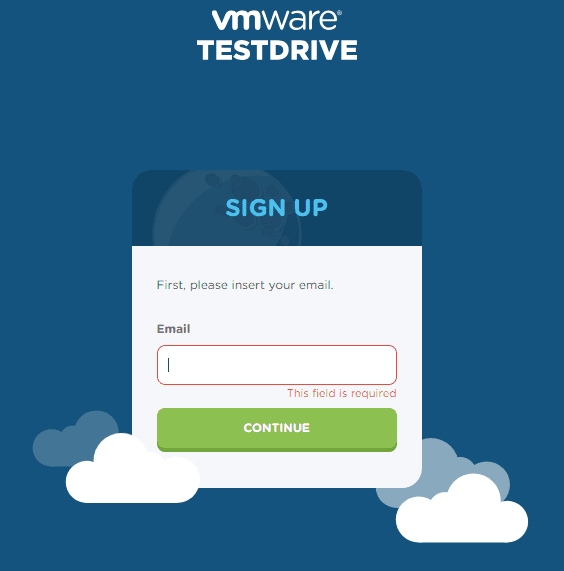 Once your VMUG Advantage subscriber email address is confirmed, you will see the below screen. It directs that you will receive an email confirming the account has been provisioned and ready to login.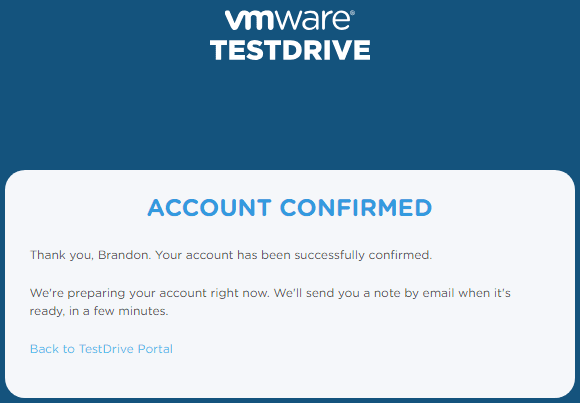 Below, the email that I received after confirming the VMUG Advantage subscriber email address. At this point, I was able to simply click the login link at the bottom of the email and login to the TestDrive portal.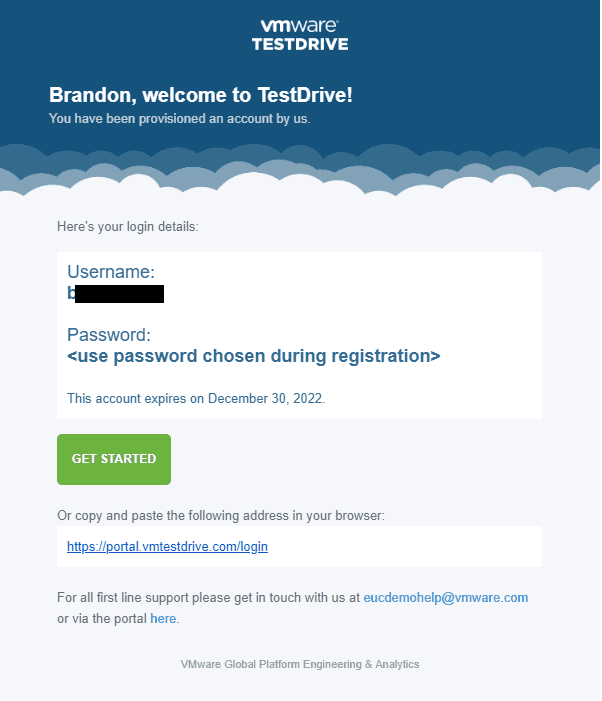 Below is a quick screen snip of the tabbed interface inside the portal. Also, interestingly a look at functionality to come. What technologies do you think will be found under these tabs? Integrate Public Clouds and Transform Security?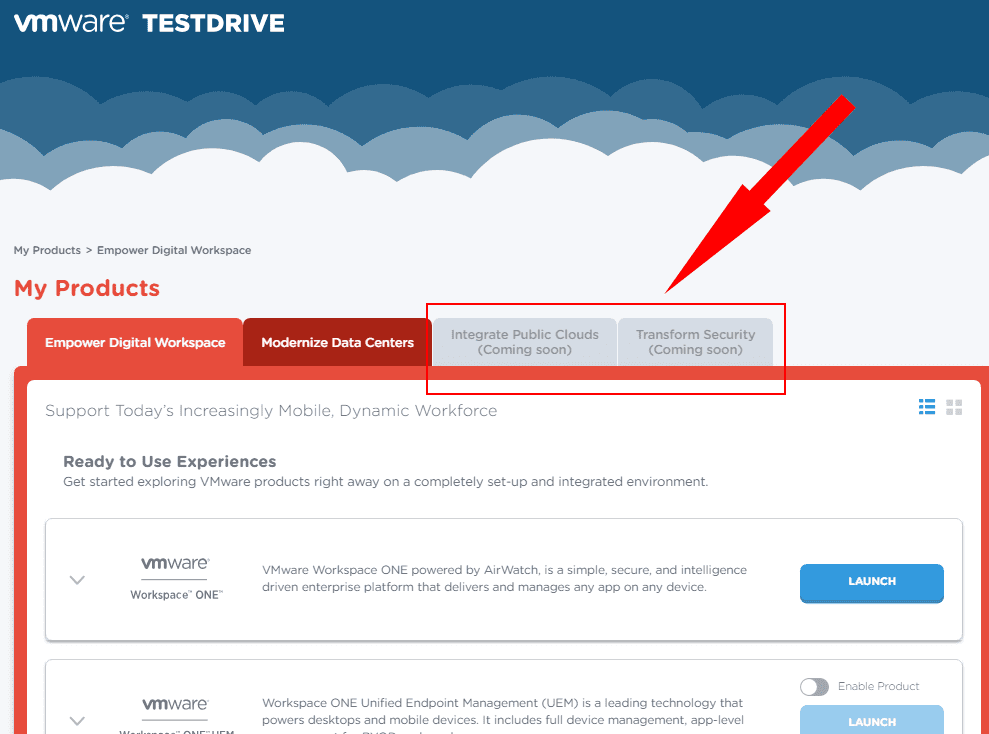 Under the Modernize Data Centers tab, you see the vSAN and PKS environments ready for consumption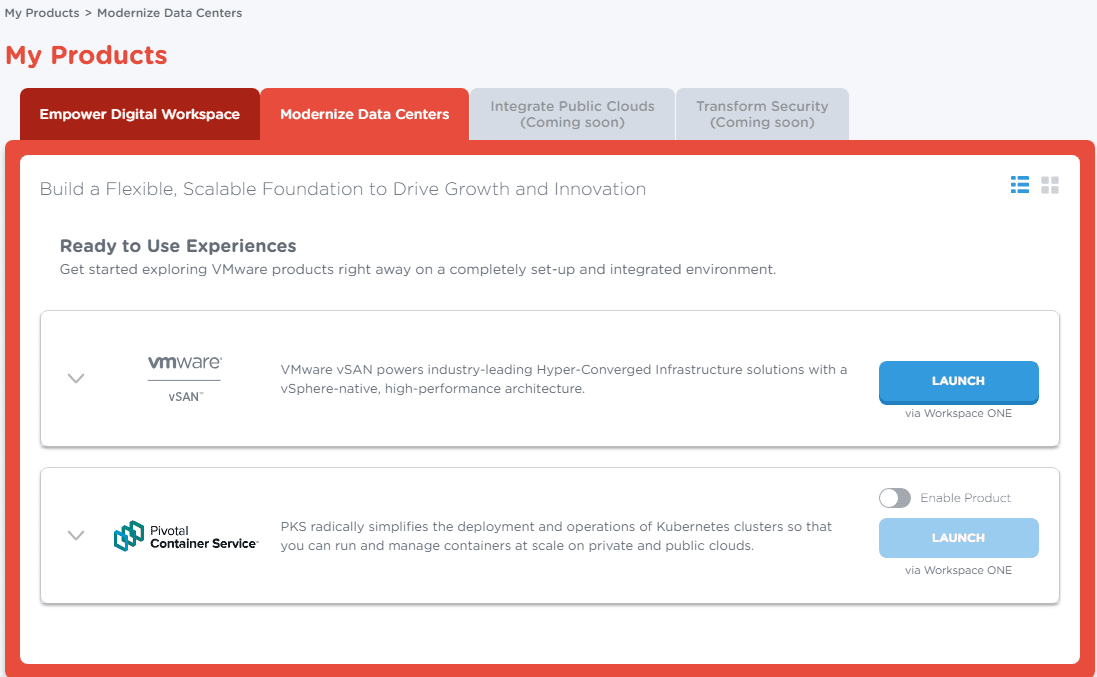 Underneath the other resources, you will see the Sandbox Experiences environments including Workspace ONE UEM, Identity Manager, and AirWatch Express.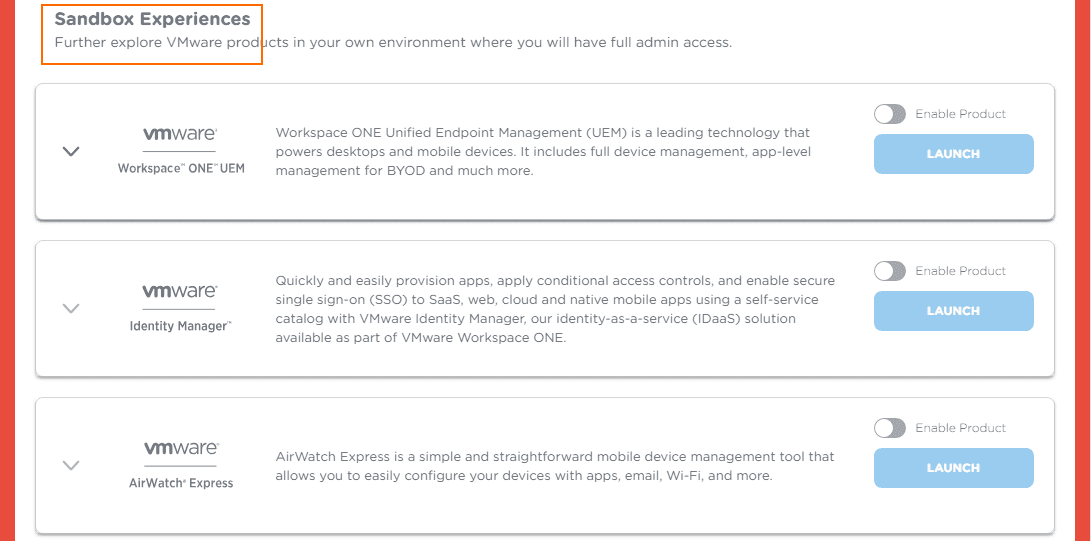 Sample Integrations includes Dropbox, Office 365, and Salesforce.

I am really excited to start diving into some of these environments to give these exciting technologies a "test drive" inside the TestDrive environment. Again, this is unbelievable value on top of the rest of the VMUG Advantage benefits that we already have available with the Advantage subscription. The amazing thing is since I have had the Advantage subscription, the benefits have gone up and the cost has stayed the same. Don't we wish health insurance and other aspects of life followed suit?
Wrapping Up
If you are like me, the news of VMware TestDrive added to VMUG Advantage Subscriptions is welcomed additional value to an already amazing offering for VMUG Advantage subscribers. The TestDrive environment allows a fully SaaS offering to allow kicking the tires on many of the great VMware technologies leading the way today which is great. You don't have to have a home lab, or other test environment. This all lives inside the cloud and available for consumption. If you aren't already a VMUG Advantage subscriber and have been tossing the idea around, I can tell you, you won't find a more cost-effective way to try out VMware software and have legitimate license keys for a year. When you factor in discounts on VMware certification exams, VMworld, training discounts, and now TestDrive, the VMUG Advantage subscription simply can't be rivaled. Check it out – VMUG Advantage.