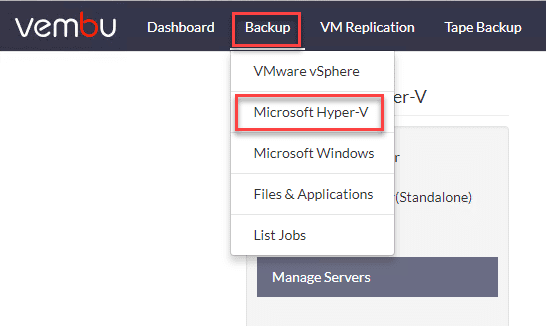 Windows Server 2019 Storage Spaces Direct represents the latest and greatest software-defined storage solution from Microsoft that can be used with Hyper-V for true software-defined storage backed virtual machines. We have covered the benefits found in Windows Server 2019 Storage Spaces Direct in some detail in the post "Windows server 2019 Storage Spaces Direct Features and Improvements. Notably, the S2D implementation found in Windows Server 2019 contains really great new features including New configuration maximums, data deduplication along with ReFS is now possible, and the "True Two-Node" S2D cluster that can use a USB drive as a witness share for a tiny footprint for quorum. Certain, customers will want to be able to take advantage of the latest technology as relates to Storage Spaces Direct. However, backups should always be a consideration with any technology used including software-defined architectures. In this post, we will take a look at Windows Storage Spaces Direct Backups with Vembu BDR Suite to see how Vembu's BDR Suite is a great choice for backing up Storage Spaces Direct in Windows Server 2019 as well as Hyper-V Clusters in general.
Hyper-V Cluster Backups – Why Important?
Backing up Hyper-V at the cluster level is extremely important functionality and capabilities of true enterprise backup software that is able to effectively backup Hyper-V. Why is this the case?
Any organization that is serious about running Hyper-V as a production hypervisor running production workloads will run it in a Windows Server Failover Cluster configuration. This means there will be multiple hosts that are able to pool resources including compute, memory, and in the case of Storage Spaces Direct, storage to the cluster. If a backup solution is not able to properly protect a Hyper-V cluster at the cluster level, it will not truly be able to be considered as an option for protecting production Hyper-V workloads.
Additionally any backup solution that is not able to protect Hyper-V at a cluster level is not going to even be considered to protect a Storage Spaces Direct implementation as this is a "cluster-only" storage solution. Multiple hosts contribute commodity storage to a Pool that is presented for consumption for the virtual machine workloads.
Interacting at the Hyper-V cluster level is akin to working at the vCenter level for VMware backups instead of interacting with the ESXi hosts directly. This allows having visibility over all the virtual machines running in a Hyper-V environment, no matter what node they may exist on. Additionally, this provides the benefit of being able to backup Hyper-V virtual machines on one host, then if they are Live Migrated to another host, the backup job automatically knows where the virtual machine "lives" so that it can continue protecting the virtual machine properly. This is extremely important, especially in large environments where virtual machines will be in flux constantly moving between hosts as resources may be balanced by System Center Virtual Machine Manager or SCVMM.
Vembu BDR Suite 4.0 Provides Hyper-V Cluster Support
There are many great new features with Vembu BDR Suite 4.0 as we have covered here in the Vembu BDR Suite 4.0 review, specifically however this is a huge release for Hyper-V environments with the addition of Hyper-V cluster support as well as other Hyper-V features to note including the following:
Shared VHDX backups – In Hyper-V, VHDX files can be shared between virtual machines such as in the case of guest clustering Windows Server clustering.  With v4.0 shared VHDX backups are now possible
Hyper-V Checksum Based Incremental backups – Vembu has introduced a new checksum based incremental "changed block tracking"
New APIs and capabilities – New APIs and capabilities allow querying for storage information, etc
Newly added disks are automatically added to backups – Any disks that are added to a virtual machine will be detected and automatically added to the data protection in the backup job
Full support for Cluster Shared Volumes – Cluster Shared Volumes or CSVs allow effective and efficient storage utilization for Hyper-V sharing workloads between hosts
Using Vembu BDR Suite 4.0 for backing up Hyper-V environments has many other great features including:
Near Continuous Data Protection in your Hyper-V environment with RPO and RTO values of less than 15 minutes
Hyper-V Quick VM Recovery allows booting Hyper-V virtual machines directly from backup storage, allowing almost instant service and data recovery of your Hyper-V virtual machines!
Full Application-Aware support in Hyper-V allows protecting your business-critical applications, including Microsoft SQL Server, Microsoft Exchange Server, Active Directory, and SharePoint
High-performance checksum-based Hyper-V Change Tracking provides efficiently backing up only the changes made between each Hyper-V backup run
One of the primary use cases for public cloud today cited by most organizations is as a component of their data protection, disaster recovery/business continuity plans. Vembu BDR Suite 4.0 fits really nicely in that end goal with their strong cloud capabilities, including Hyper-V backups.
Replicate Vembu VMBackup Hyper-V backup data to your offsite DR site or to the public cloud with OffSiteDR provisioned in any public cloud environment including AWS, Azure, and GCP
Make use of Vembu's hosted Offsite DR cloud for a fully managed cloud DR solution.
Windows Server 2019 Storage Spaces Direct Backups with Vembu BDR Suite
Let's take a quick look at backing up a Windows Server 2019 Storage Spaces Direct backups with Vembu BDR Suite 4.0. The Vembu BDR Suite 4.0 server integrates with Hyper-V Clusters by installing a Windows service on the host called VembuIntegrationService. Vembu has a great KB article (https://www.vembu.com/support/knowledge-base/question/115083/prerequisites-to-check-before-pushing-a-vis-agent/) that walks through some basic checks in a very thorough way as a set of prerequisite validations before attempting the install of the VembuIntegrationService. These verification checks are great to do beforehand to ensure there is no issue installing the agent on the Hyper-V hosts. These include the following:
1) Service logon check

2) UNC path validation 

3) Agent Credentials validation

4) Support Platform

5) Access to Windows Management Instrumentation

6) Access to Remote Registry 

7) Hyper-V Evaluation

   a) Hyper-V role evaluation

   b) SMB role evaluation

   c) Virtual Machine evaluation

8) Confirmation test: wbem test
In the Vembu BDR Suite 4.0 console, to begin backing up a Hyper-V cluster, simply select Backup > Microsoft Hyper-V.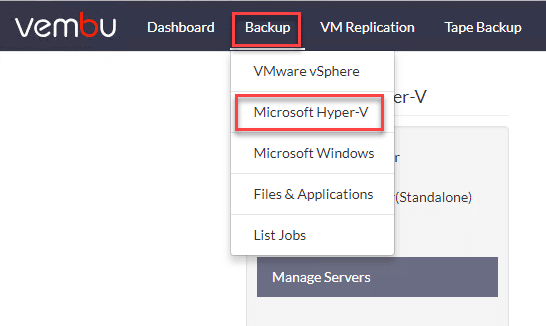 Notice we have several options here for Hyper-V workloads:
Add Hyper-V Cluster
Add Hyper-V Server (Standalone)
Add SMB Server
Manage Servers
Here I have selected Add Hyper-V Cluster and have entered the FQDN of my Windows Server 2019 Storage Spaces Direct cluster. Note the Add Credentials button allows adding the Windows credentials/Domain credentials needed to connect to the Hyper-V Cluster.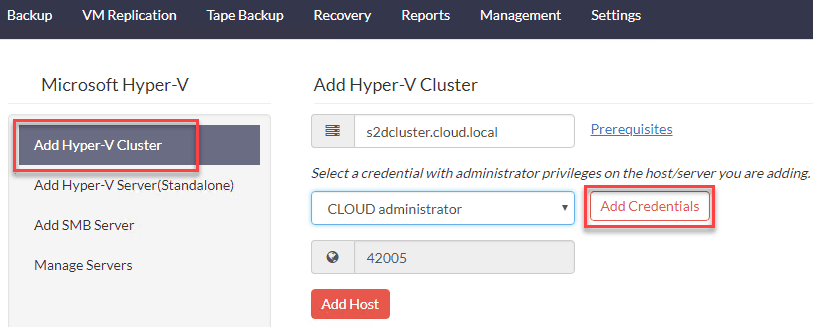 A quick look at the Credential Manager screen.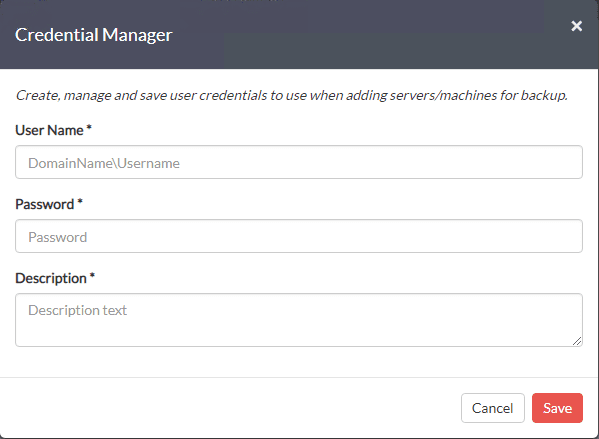 Once you have verified your prerequisites, entered the FQDN/IP of your Hyper-V Cluster and have credentials to connect added to the Vembu BDR Suite 4.0 server, you are ready to begin installing the agent. Click the Add Host button and you will see the confirmation dialog screen to begin installing the agent.

You will see the message Agent installation is initiated in <your cluster name>, will complete shortly.

We now have the Windows Server 2019 Storage Spaces Direct S2D Hyper-V cluster added to Vembu BDR Suite 4.0. Click the Backup button to begin creating your first backup job.

Vembu BDR Suite 4.0 allows creating a Hyper-V Backup job in five steps as shown below. Here we are selecting the virtual machine from the Hyper-V cluster.

After successfully backing up the Windows Server 2019 Storage Spaces Direct Hyper-V cluster virtual machine, we now see the successful backup with the options to restore or mount with all the usual really great functionality that Vembu offers for recovering data.

Wrapping Up
Windows Server 2019 Storage Spaces Direct Backups with Vembu BDR Suite 4.0 is a great way to protect your software-defined Hyper-V cluster using Windows Server 2019 technology. Vembu BDR Suite provides great functionality that allows ensuring your S2D workloads are protecting with near continuous data protection irregardless of which host the production workload is running on. This functionality is required for any data protection solution serious about protecting Hyper-V environments in the enterprise. Be sure to check out Vembu BDR Suite 4.0 and download a free trial edition which will allow you to test all the functionality shown here in your environment.
Don't miss out on new posts! Sign up!