VMware
Runecast Analyzer 2.0 Released with History and VMware PCI-DSS Scanning Features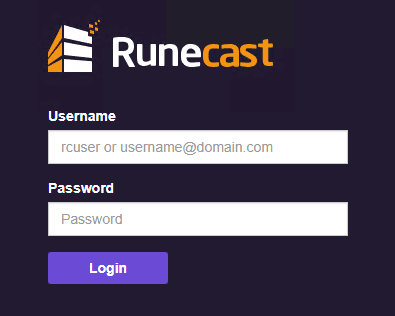 In the realm of automating VMware vSphere best practices, scanning for configuration issues, and helping organizations running on top of VMware vSphere stay on top of compliance concerns – Runecast is killing it! With each new version of the Runcast Analyzer product, they have succeeded in steadily introducing powerful new functionality that allows today's businesses to have automated expertise in a simple, yet extremely robust interface. With the introduction of Runecast Analyzer 2.0, this trend continues with the introduction of an all new streamlined interface, new history features, and PCI-DSS VMware rules which will be extremely useful for businesses dealing with credit card information. Let's take a look at Runecast Analyzer 2.0 Released with History and VMware PCI-DSS scanning features along with other great functionality to note.
Runecast Analyzer 2.0 Released with History and VMware PCI-DSS Scanning Features
This release of Runecast provides a tremendous amount of new features and functionality that will help bring any VMware vSphere environment up to tip top shape with Runecast's automated approach.  At a high-level glance, the new features contained in the Runecast 2.0 release are the following:
New History Feature – allows tracking history of issues and when they were resolved for all connected vCenter Servers monitored by Runecast
New Dashboard – Contains new widgets showing "Hosts with Most Issues" and trends represented by Issue History split out by days and weeks
New PCI-DSS VMware scans via a new PCI-DSS profile UI
Now supports vSphere 6.7 HTML5 plugin
Usability, performance, and security improvements
All the latest VMware Knowledge Base Updates
How do you go about getting Runecast 2.0?  Can you update?
Installing or Updating to Runecast 2.0?
Typically with previous Runecast releases, you would login to the VAMI UI via port 5480 and check for updates.  However, this release of Runecast includes a radically changed and improved platform under the hood.  With this release there is no in place upgrade from version 1.X to 2.0.
For most, simply deploying a new Runecast Analyzer 2.0 appliance will allow getting up and running quickly on the new platform.  The deployment process is super easy and intuitive.  If you know how to deploy any OVA/OVF appliance in vSphere, you will easily deploy the Runecast 2.0 appliance.  Basically, you deploy the appliance, plugin your vCenter connection information and start scanning.
In the case that you have an extensive list of filters or KB notes, Runecast support will be able to migrate settings for customers who want to carry these items over to the new platform.
To download the appliance, simply login to your Runecase account and pull down the Runecast 2.0 OVA file: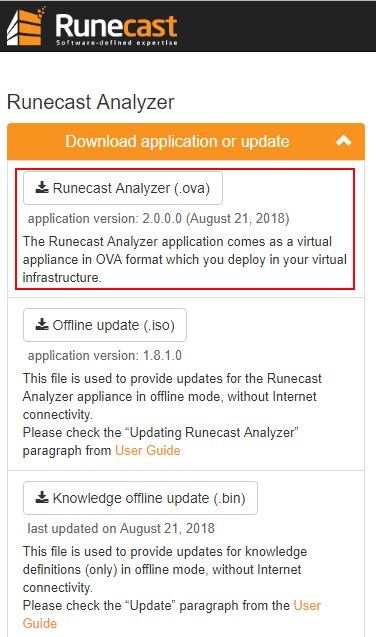 After deploying the new Runecast Analyzer 2.0 appliance, you will be presented with the dialog box to configure the connection to your vCenter Server, making it easy to get up and running quickly without navigating to settings, configurations, etc.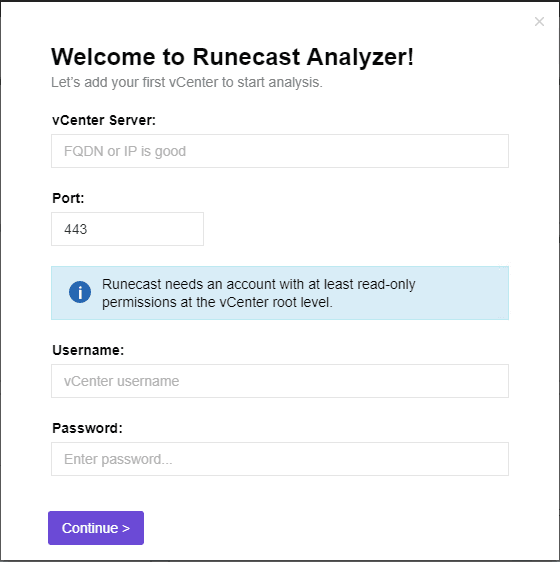 Runecast Analyzer 2.0 New Dashboard and History Features
The new look and feel of the Runecast dashboard is extremely nice.  The dashboard widgets and colors look as though they have had additional polishing applied to the UI – beautiful interface.  Also, you will be struck by the new Dashboard layout and widgets.  Again, everything looks great and the widgets present all the information in an easy to read, easy to consume, and easy to action format.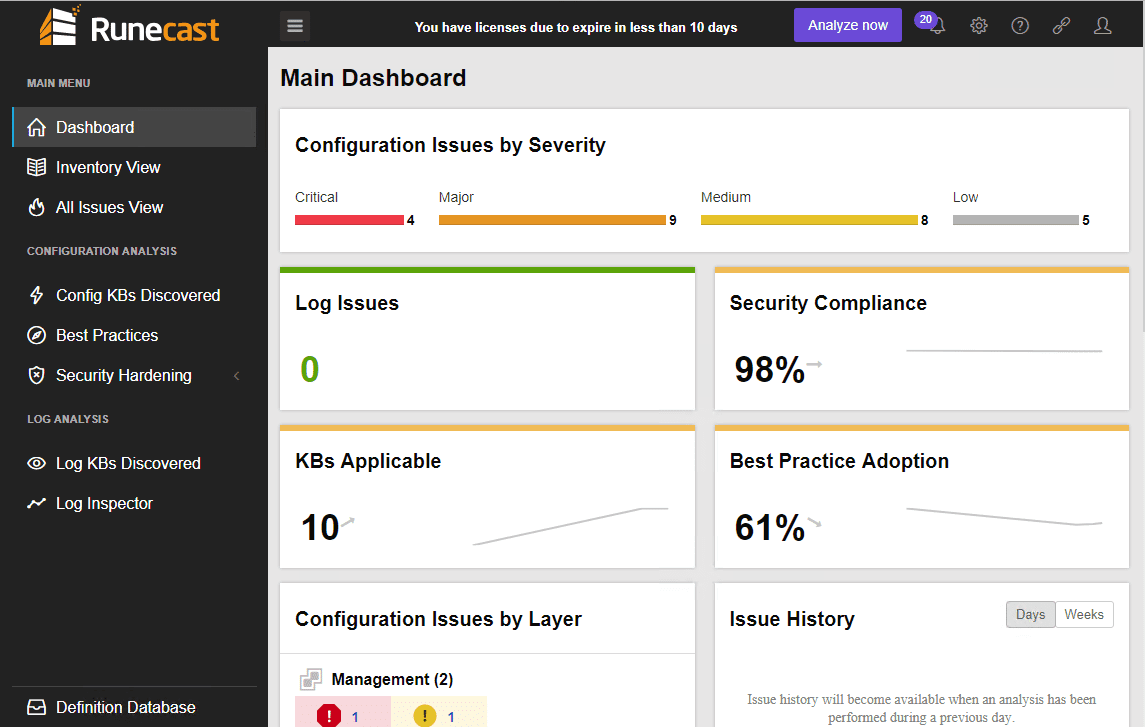 The new Hosts with Most Issues is an easy way to see which hosts have trending issues or are perhaps problematic.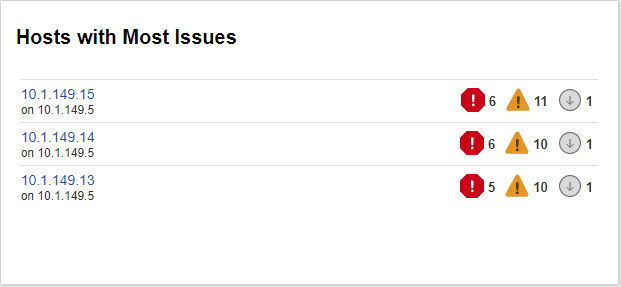 The All Issues View dashboard is really great in that it allows drilling down into all issues and allows filtering this view by Severity, Source, Applies To, Affects, and even specific VMware products such as vSAN and NSX.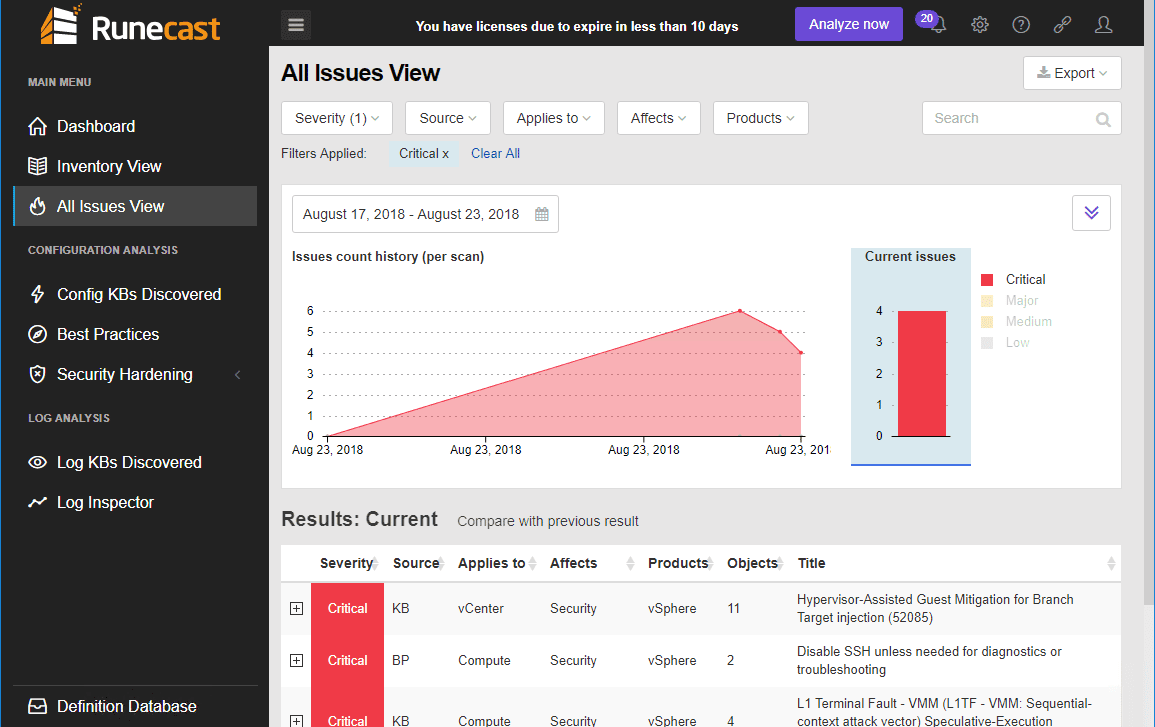 Another really great feature with this release is that you can Compare with previous result and see the exact number of issues that have changed since the last scan result.  What are the potential use cases with the historical trends, history, etc?
Identify configuration changes, updates, etc that may have caused issues
Help isolate causes of support incidents
Validate maintenance periods on VMware hosts, etc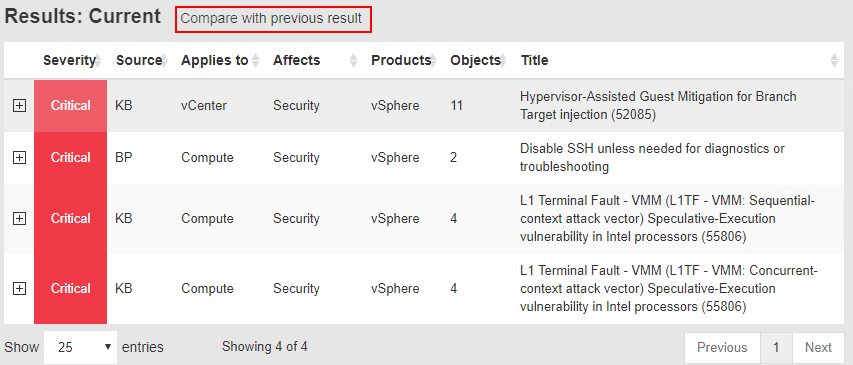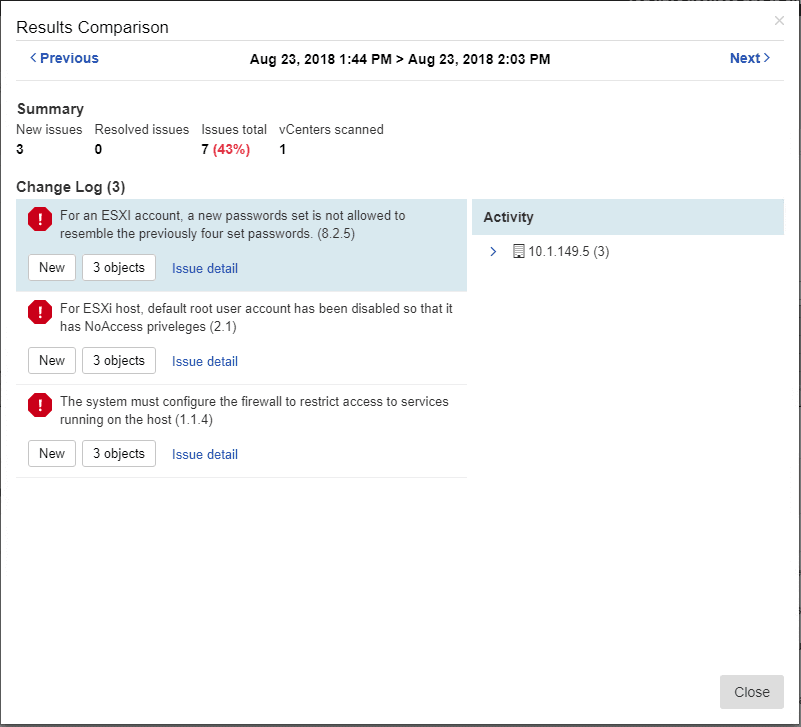 Below, I don't have any history as of yet with the appliance scanning and monitoring the lab environment, however, this new feature allows visually seeing issue history as it changes over time.  This is a powerful way to uncover potential security issues in the environment and narrow in on possible trends that can be linked to administrator activities, updates, etc.  This issue history component of Runecast Analyzer 2.0 will be a powerful tool for VMware vSphere administrators moving forward.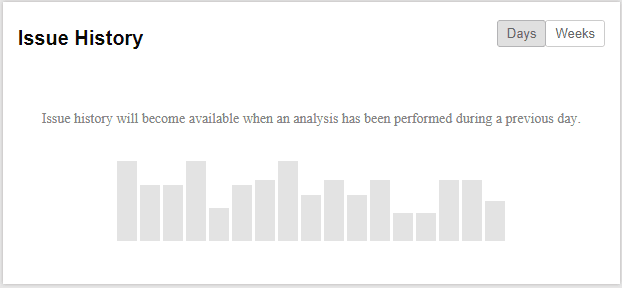 Runecast Analyzer 2.0 New PCI-DSS Scanning
Organizations dealing with credit card data are obligated to comply with the PCI-DSS compliance regulation.  PCI-DSS or Payment Card Industry Data Security Standard.  PCI-DSS maintains, evolves, and promotes payment card industry standards to help protect cardholder data across today's technology driven e-commerce world.  So, PCI-DSS is a really good thing as it protects card holder data and enforces regulations that help to ensure the safety of that data.
If you have ever been an administrator in an environment that is required to meet PCI-DSS regulations, you know all too well how difficult it can be to bring technology platforms in use into compliance with the standard.
For VMware vSphere environments, Runecast Analyzer 2.0 will be your savior as it brings the same powerful automated scanning to your vSphere environment in the context of PCI-DSS regulations.  With Runecast Analyzer 2.0, new PCI-DSS scans have been added to the Security Hardening capabilities of the platform.
Under Settings >> Security Compliance click Edit and then place a check next to the PCI DSS v3.2.1 profile.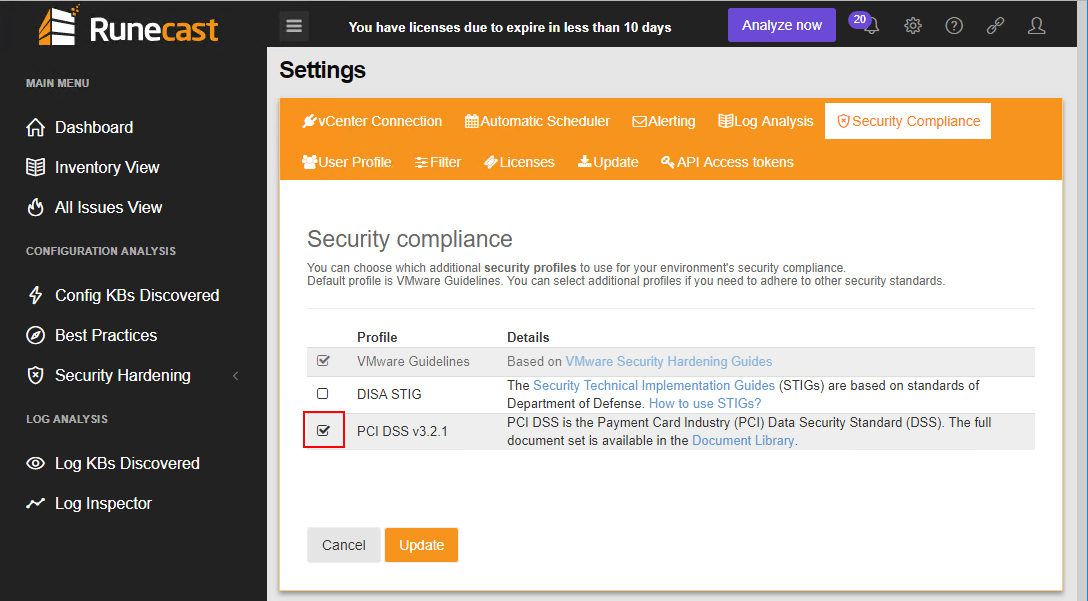 After checking off the new PCI-DSS profile, run a new scan and Runecast Analyzer 2.0 will display the PCI-DSS specific findings as they relate to your environment.

As all the Runecast Analyzer findings are, you can drill down deep into each PCI-DSS finding and display the pertinent reference material and the findings of which specific hosts are affected, etc.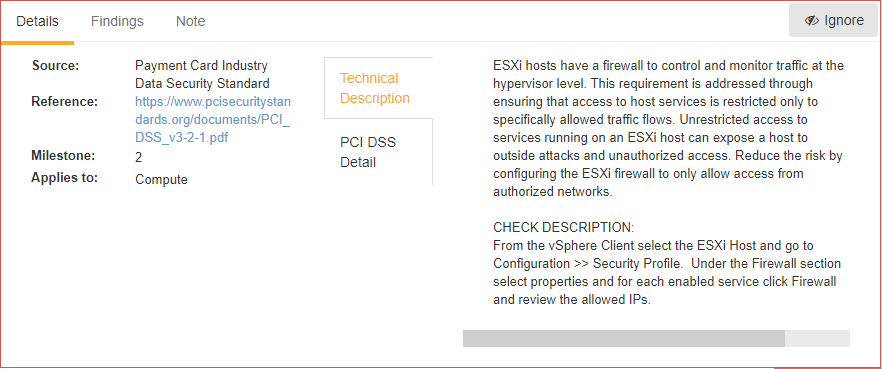 Takeaways
Runecast Analyzer 2.0 is a gem among the tools that VMware vSphere administrators use on a daily basis.  It allows vSphere administrators to be proactive, effective, and efficient in administering complex multi-site and multi-vCenter vSphere environments.  It allows instantly having access to all the best practices and expert knowledge base information automatically compiled and queried with the click of a button in each Runecast Analyzer 2.0 scan.  Can you administer a VMware vSphere environment without Runecast Analyzer – sure.  But would you want to?  If you are like me, I would want to have all of the automated expert knowledge available to ensure a problem free and well performing vSphere environment that is compliant with all of today's massively complex regulations.  Try it out for yourself – download a trial of Runecast Analyzer 2.0 here.
Don't miss out on new posts! Sign up!