Horizon View
Setup VMware Horizon View Connection Server vCenter Connection

In continuing our setup of the View Connection Server, let's take a look at how to setup VMware Horizon View Connection Server vCenter Connection. The vCenter Server connection provides the connection server hooks into vCenter as well as gives us the ability to define our Composer server as well.
Setup VMware Horizon View Connection Server vCenter Connection
The first thing we need to do to setup our connection to vCenter as well as our Composer server is navigate to View Configuration >> Servers >> vCenter Servers >> Add.

Enter your vCenter Server Address as well as the user name and password to authenticate with vCenter.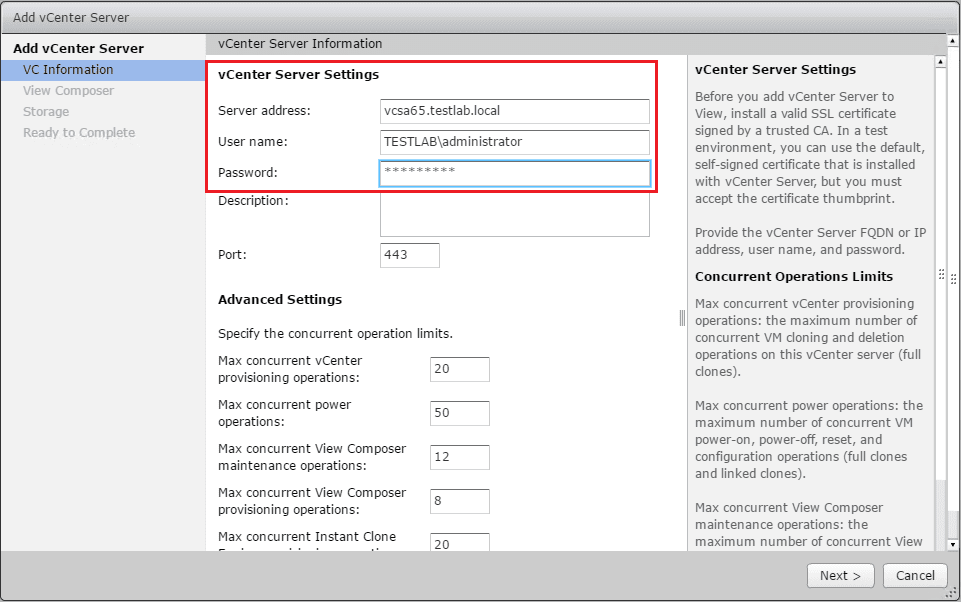 Here if using self signed certificates, you will see a certificate warning.  To move forward and actually accept the certificate, you have to click the View Certificate button.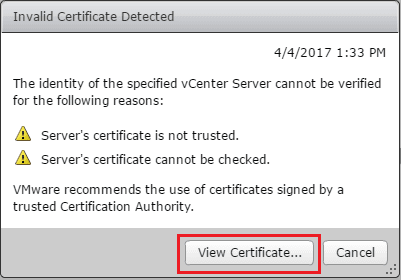 At the bottom of the "view certificate" window, you can Accept the certificate.

Next, we configure the View Composer Settings.  I am choosing to use a Standalone View Composer Server since I have that installed on a separate VM.  View Composer is needed for linked clones and instant clone technology.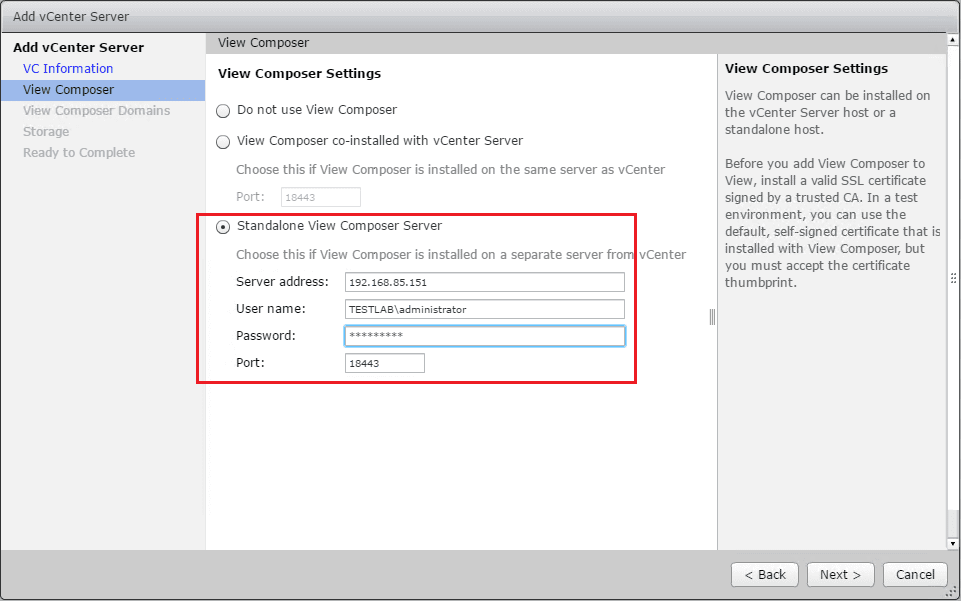 Again we have to use the same trick to view and accept the certificate.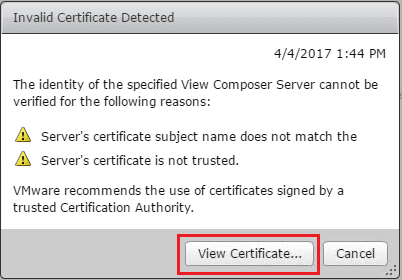 Accept the View Composer certificate.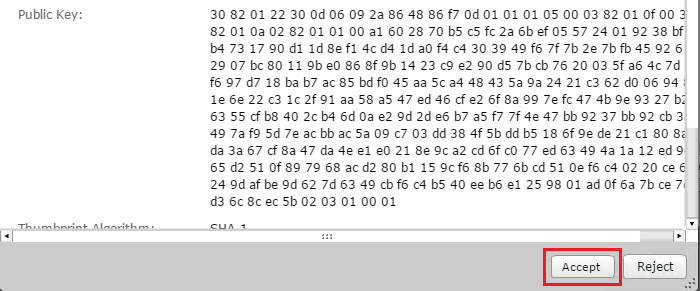 On the View Composer Domains, we can configure Active Directory domains here t have the View Composer to automatically be able to add computer accounts to.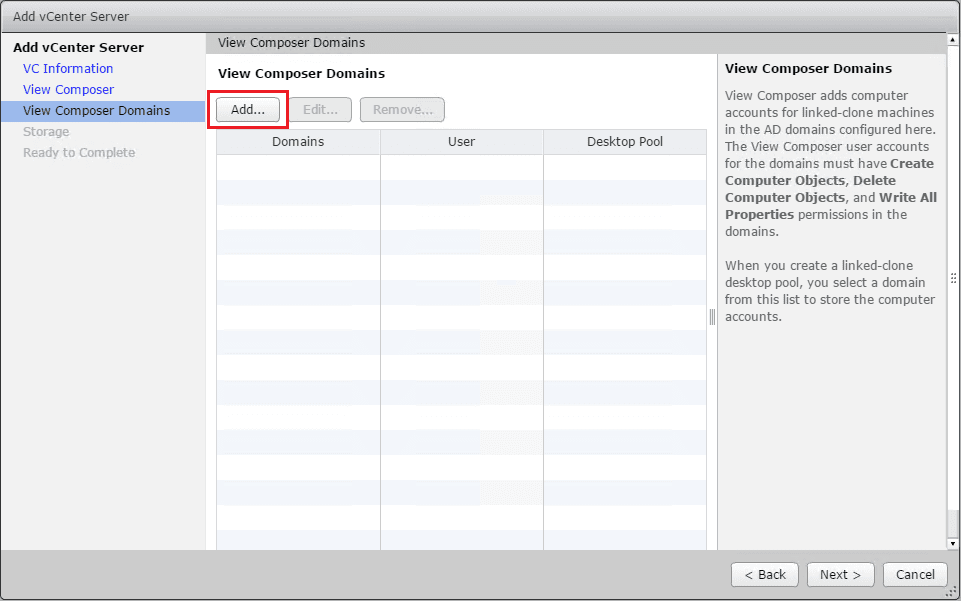 As shown in the screenshot above, you need to use a user who has the Create Computer Objects, Delete Computer Objects, and Write All Properties permissions in the domains.  For the lab, I am simply using my administrator account.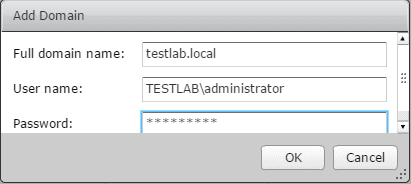 Now we have added a Composer Domain.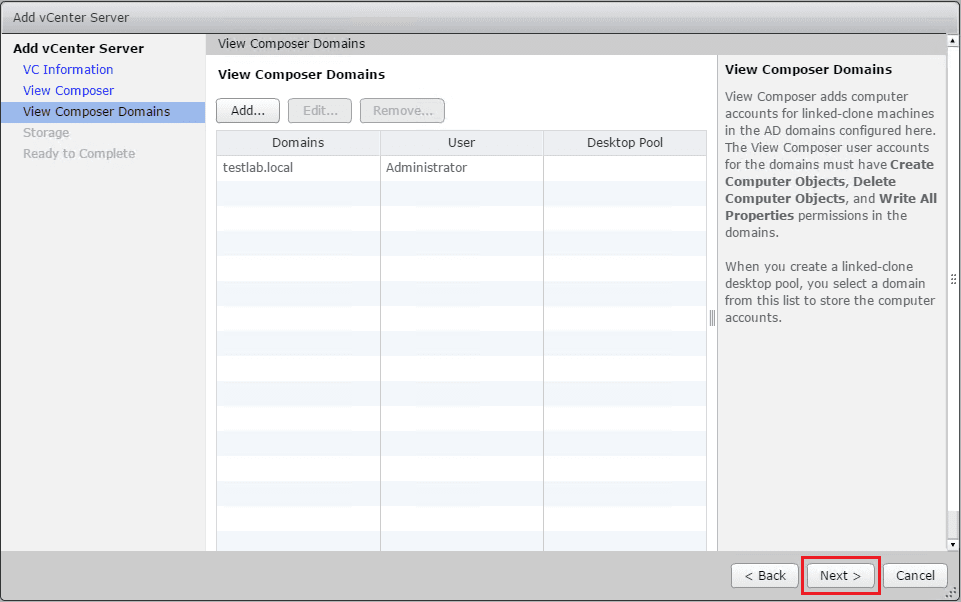 On the Storage Settings screen, ESXi hosts can be configured to cache virtual machine disk data to improve performance during boot storms, etc.  The storage accelerator lowers the demand on the storage subsystem.  If you receive an error "View Storage Accelerator is unavailable because vSphere 5.0 or higher is required" you need to make sure the user you are using for your vCenter connection is correct or has the right permissions.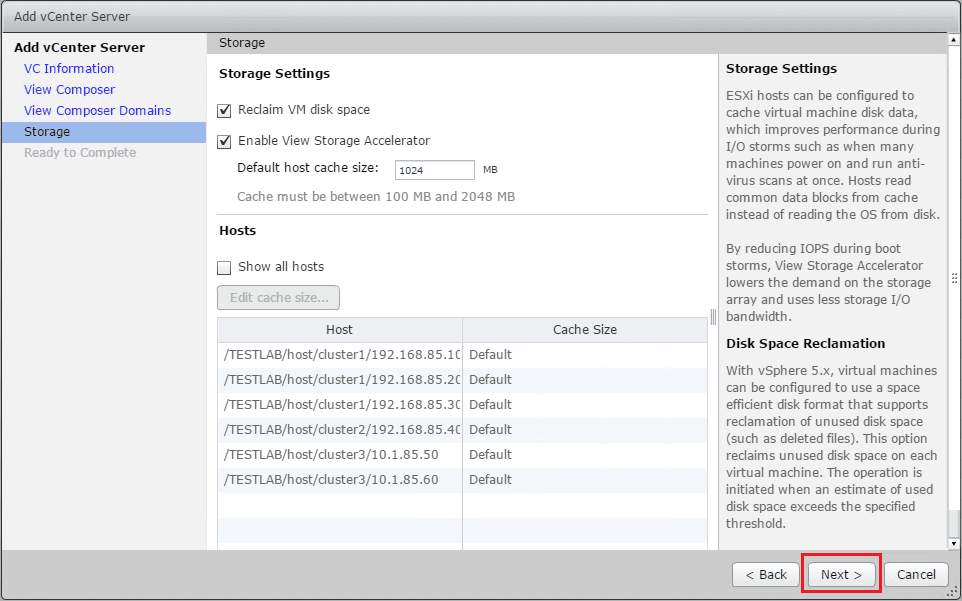 Finally we see the Ready to Complete screen that shows a summary of our settings.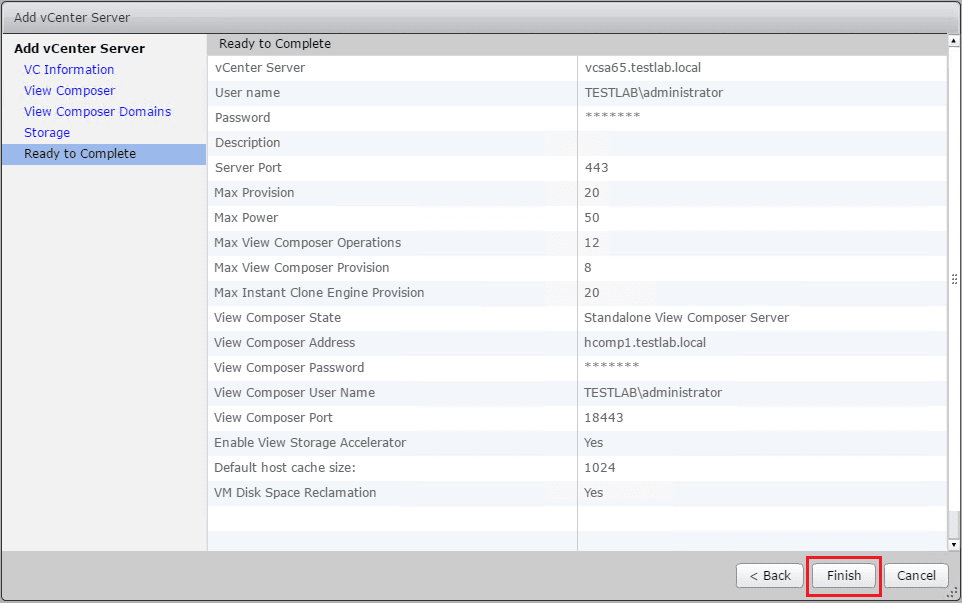 You should now see your vCenter connection listed under the vCenter Servers tab in your Servers configuration.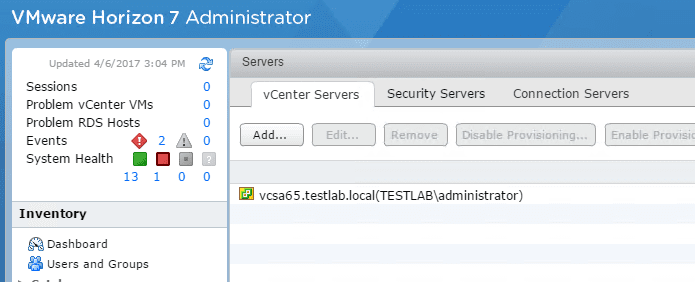 Thoughts
Here we have covered how to Setup VMware Horizon View Connection Server vCenter Connection and link the connection server with your View Composer server.  Stay tuned as we delve deeper into VMware Horizon View!
Part 1 – Installing VMware Horizon View 7.1 Connection Server
Part 2 – VMware Horizon View 7.1 Composer Install
Part 3 – Setup VMware Horizon View Connection Server vCenter Connection
Part 4 – Optimize Windows 10 for VMware Horizon View 7.1
Part 5 – Create VMware Horizon View 7.1 Desktop Pool
Don't miss out on new posts! Sign up!