Computers
Optimize Windows 10 for VMware Horizon View 7.1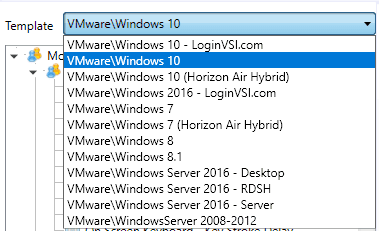 In thinking about our client OS desktops that we will be using for our VMware Horizon View 7.1 lab, there are a number of things we need to do to optimize the operating system for using with VDI.  Thankfully, there is a great tool provided via a VMware fling that helps out tremendously when optimizing our guest operating system for use with VMware Horizon View 7.1.  I am using Windows 10 in my test lab, but the optimization tool also works for Windows Windows 7/8/2008/2012.  Let's take a look at how to Optimize Windows 10 for VMware Horizon View 7.1.

Optimize Windows 10 for VMware Horizon View 7.1
To begin with, the VMware OS Optimization Tool is a free download that can be found here.  The download is a zip file that contains the .exe for the utility as well as an XML configuration file.  The uitlity is a standalone executable as no install is required.

When the tool loads, it automatically runs an analysis of your machine and will display the results of the scan to you by way of both a line by line readout and a bar graph of the resulting optimizations that are currently missing.
Resulting optimizations table: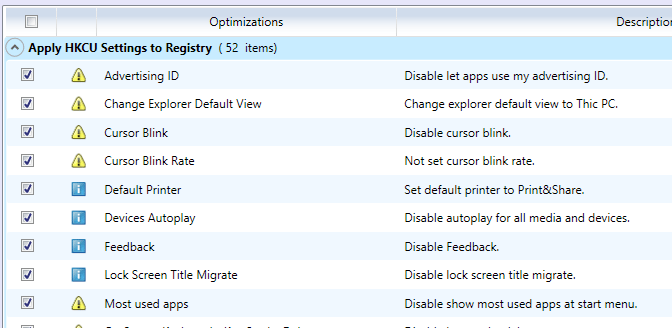 Bar Graph visualization: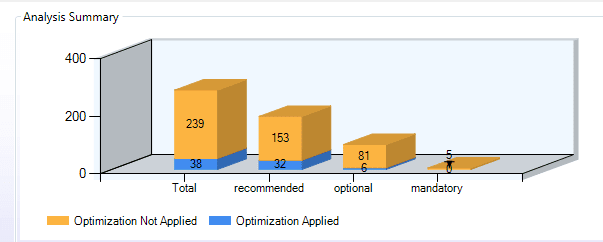 The optimization utility will automatically select the best built in template in the optimization utility, however, just to show the wide range of templates available if you choose to manually select one, below is clicking the drop down combo box.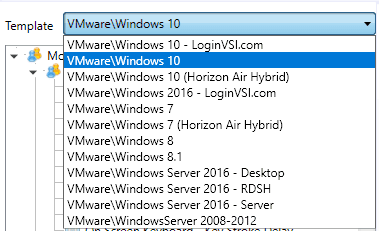 After reviewing the optimizations, you can run the optimize process.  At the bottom of the utility, you will see the Analyze, Optimize, and Compatibility buttons.  Simply select the Optimize option.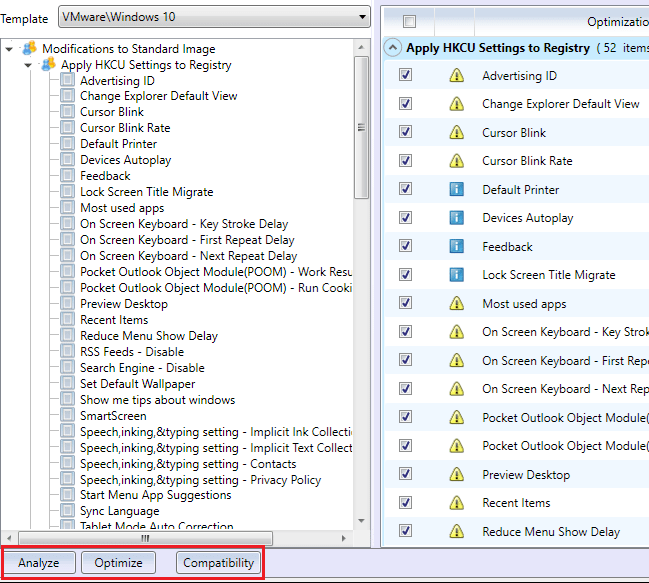 The optimization process will run and take a few minutes to complete.  However, once the optimization process is finished, you should see optimizations now in place.  As you can see below, I have "green checks" on the right next to the optimizations.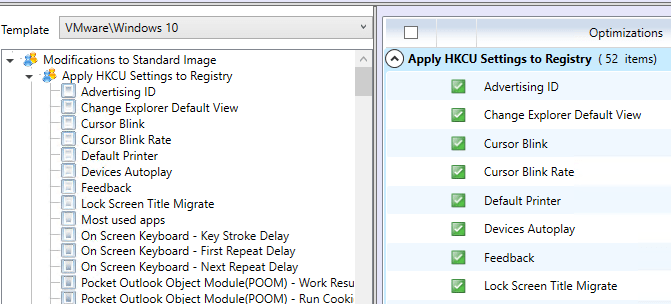 Also, the bar graph now shows the optimizations (in blue) vs the "not applied" (orange).

Thoughts
Using the VMware OS Optimization too, you can Optimize Windows 10 for VMware Horizon View 7.1.  The utility is extremely easy to use and very intuitive.  If you can imagine trying to make all the optimization changes by hand through the registry and other means, you will definitely appreciate this utility!  It is a powerful tool to use when prepare template VMs for use with VMware Horizon View 7.1.
Part 1 – Installing VMware Horizon View 7.1 Connection Server
Part 2 – VMware Horizon View 7.1 Composer Install
Part 3 – Setup VMware Horizon View Connection Server vCenter Connection
Part 4 – Optimize Windows 10 for VMware Horizon View 7.1
Part 5 – Create VMware Horizon View 7.1 Desktop Pool
Don't miss out on new posts! Sign up!