home lab
Mini PC Server: Things to know before you buy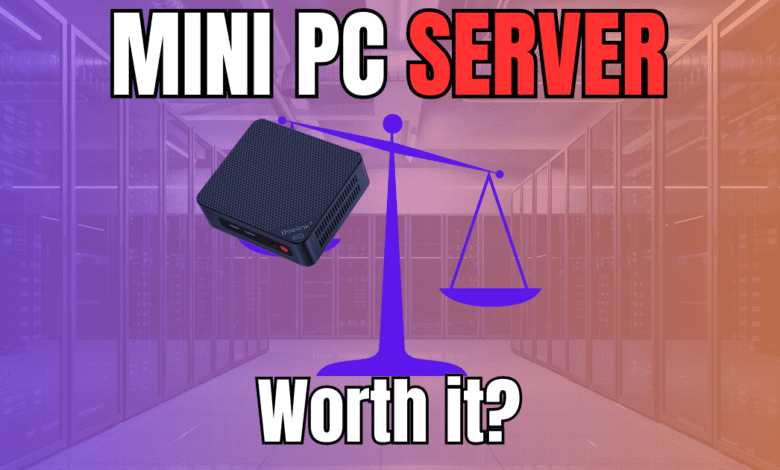 I have been testing quite a few Mini PCs over the past several days in the home lab and really have enjoyed working with many of these little devices, like an Intel NUC or other Mini PCs. They are powerful, and the amount of technology and hardware manufacturers have fit into such a tiny package is amazing. Nonetheless, are there reasons not to use a mini PC server? This post will take a "devil's advocate" look at Mini PC server configurations and why you might not use one for a server configuration.
Mini PC strengths
Before we turn negative, let's talk about the strengths of mini PC configurations. Most manufacturers of mini PCs would not say their hardware is designed as server-class hardware, which is fair. These devices are meant to be very small form factor, small footprint, yet powerful PCs that can perform power use tasks, business productivity, video editing, more demanding tasks, and even mid-level gaming capabilities.
Manufacturers from Dell, HP, Intel, Asus, and even the Apple Mac Mini target the market for those looking for this form factor and these productivity use cases.
Advantages of mini PCs
Some of the best mini pc compact computer configurations would even delve into high-end gaming. Whatever chosen mini PC configuration you go with, you will definitely benefit from the following: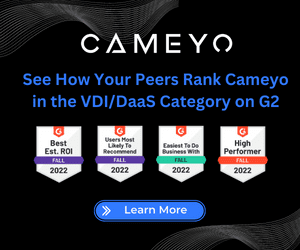 Small form factor – The 4×4 size of most of these little mini PCs make them extremely small. Most even come with mounting hardware to mount them on the back of your monitor VESA mount or a wall mount where you can wall mount them.

Low noise – With the much smaller footprint, they also have lower noise since they have fewer if any fans and less overall hardware. Some units are even "fanless," meaning they have a large heatsink on the outside of the unit case that passively cools the unit, meaning quiet operation

Power Efficiency – This is one of the areas where mini PCs excel – power consumption. These days, electricity costs have skyrocketed. Power efficiency is now more important than ever. So, this is definitely one of the advantages, especially if you are planning on running multiple servers.

Powerful hardware – Mini PCs these days are certainly not "mini" in the hardware specs. Many mini PCs today house multi-core AMD Ryzen or Intel multi-core processors like the Intel Core i7 that are very powerful with excellent processing power. Also, many come with 2.5 gig network controllers and at the very least gigabit ethernet jack configurations. Large storage capacity is possible with NVMe storage and 2.5 inch hard drive configurations. I/O connectivity is also healthy with most mini PC configurations, including multiple USB ports.
Why you might not use a mini PC server?
There is definitely a trend recently of Mini PC home server configurations, as these can take advantage of all the points we noted above for mini PCs and use these for server needs. These are powerful enough to load a hypervisor operating system and carry out server tasks (handle multiple tasks simultaneously), home media server, and can even run multiple virtual machines, along with other roles like serving as a file-sharing server (file server).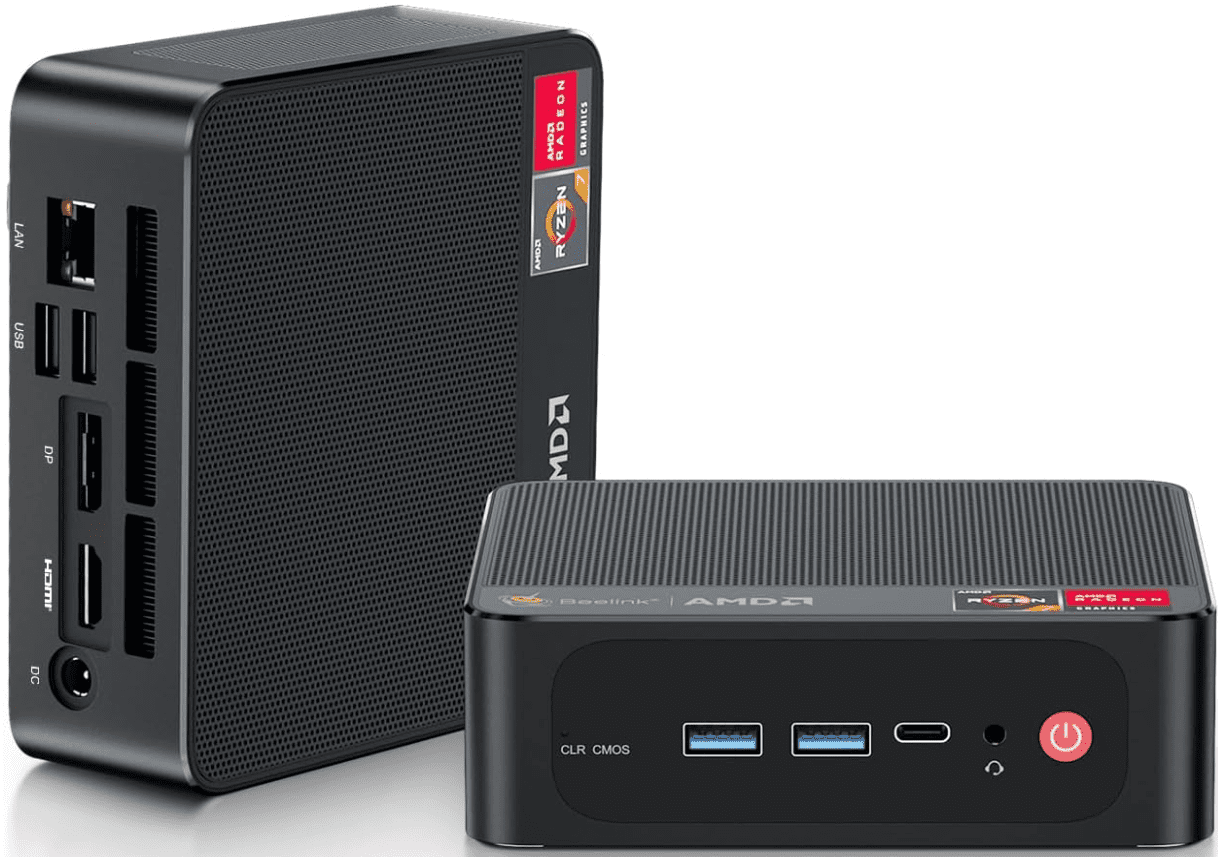 A mini home server may not be used for your home server setup, though we will outline a few reasons here. Note the following limitations that even the best mini PCs may have:
Limited RAM

Limited storage

Limited expandability

No out-of-band management

Lack of 10-gig networking

Limited VMware network drivers
Let's take these one by one and see why this may limit you in your pursuit of running a home server.
Limited RAM
One thing to note about Mini PC configurations is that they use SODIMM RAM or laptop memory. Even though this allows mini PCs to retain the small form factor and still have modern RAM, it leads to limitations with the maximum amount of memory possible in these configurations. Even with the right mini PC, this can seriously limit server tasks.
DDR4 vs DDR5
For DDR4, the max is 64 GB of memory simply due to the fact that you can't find any DDR4 SODIMMs larger than 32 GB modules. However, recently, we are starting to see larger DDR5 memory coming out, leading to larger capacities. You can now buy 48 GB capacity SODIMMs in DDR5 memory.
I have seen mini PCs from several of the vendors now with 96 GB of DDR5 memory due to the availability of DDR5 memory modules in these sizes.
When running server configurations, RAM is king, especially if you hope to have a dense configuration of running virtual machines. So, this is a reason why you might now use a mini PC server configuration.
Limited storage
Another limiting factor of mini PCs is the lack of storage. Most mini PCs will come with a single NVMe 2280 slot and some have the possibility of adding a 2.5 inch hard drive. Some of the higher end units I have seen with 2 NVMe 2280 slots and some are even showing up with 3 slots. However, by in large, most mini PCs are limited from a storage space perspective.
Below you can see the limited hardware you can change/upgrade in this particular Mini PC: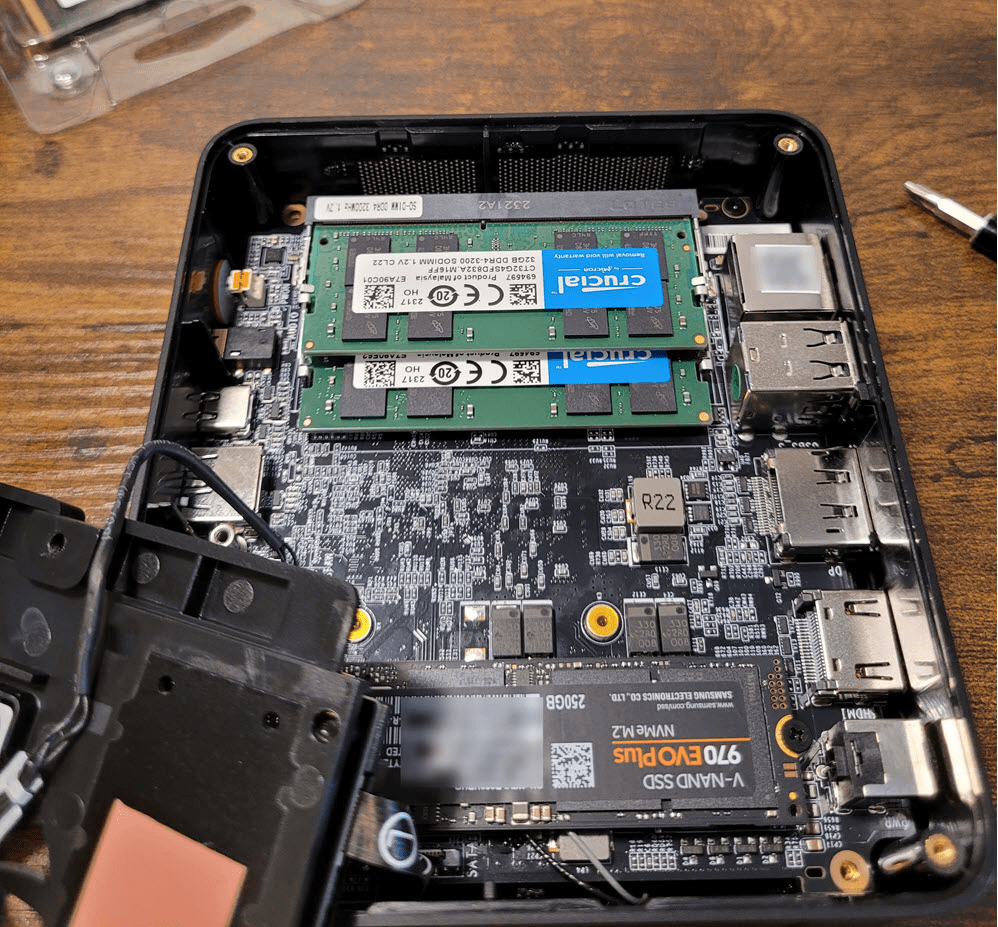 Like RAM, you may need more storage space or expect to run VMs that have a large storage volume. While NVMe drives are growing in size and coming down in price, this will still be a limitation.
Limited expandability
You may want your mini server to have expandability as you may want to add RAM, storage, additional CPUs, etc. However, as mentioned, mini PCs are limited in expandability and upgradeability.
Limited to RAM and storage upgrades
Keep this in mind as you purchase a mini PC for a server in the home lab as you will mainly be limited to the hardware you purchase with little room to upgrade, outside of changing RAM DIMM sizes or upgrading the NVMe or 2.5-inch drive.
Also, mini PCs don't have PCI-e slots available to add cards and such (or at least most don't), so don't assume you will add "add-in" cards later, etc.
No out-of-band management
This may not matter to some with a mini PC, but most true servers will have some out-of-band management built into the platform. This is essentially a "lights out" system like an ILO, IPMI, IDRAC, etc. Different vendors call them different things.
You will have to use another device for OOB
Just know you will have to use an IP KVM switch or a TinyPilot to have multiple connectivity options to the console of your mini PC that you use as a home server.
Below is a TinyPilot connection to the console of a mini PC running Proxmox.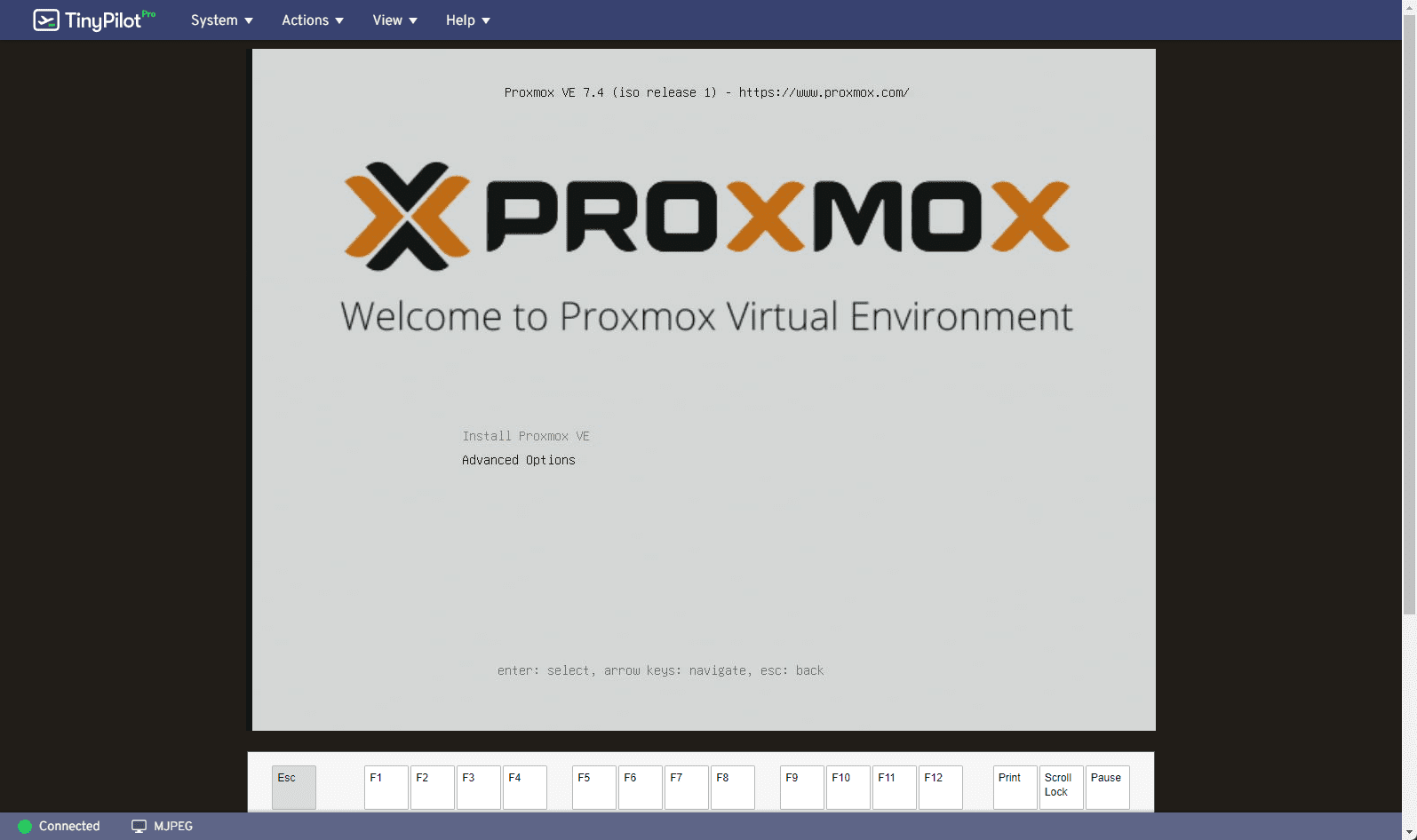 Lack of 10-gig networking
One of the other glaring disadvantages of running a mini PC is the lack of 10 gig or higher bandwidth networking. If you purchase even refurbished server gear, most servers at this point contain 10 gig network adapters and allow you to connect using very high bandwidth connectivity which directly impacts things like file transfers and is the heart of hyperconverged storage solutions like vSAN or Ceph, providing superior performance.
You will be hard-pressed to find a mini PC now with a 10 Gbps network connection. Most of the high-end mini PCs only have a 2.5 gig network adapter connection. Some just have one, but others may feature dual 2.5 gig connections.
If you want to play around with HCI and hyperconverged storage, this will be a factor that may weigh into your overall satisfaction with your hardware due to some limitations.
Limited VMware network drivers
To go along with the network discussion, there is another consideration to make with mini PCs if you want to use them for a VMware ESXi host. You want to check and ensure the onboard network adapter is not a Realtek adapter. The latest versions of VMware ESXi do not support Realtek adapters.
Realtek adapters are problematic
If you buy a mini PC that has a Realtek adapter, the network adapter won't be recognized and you won't even be able to install ESXi.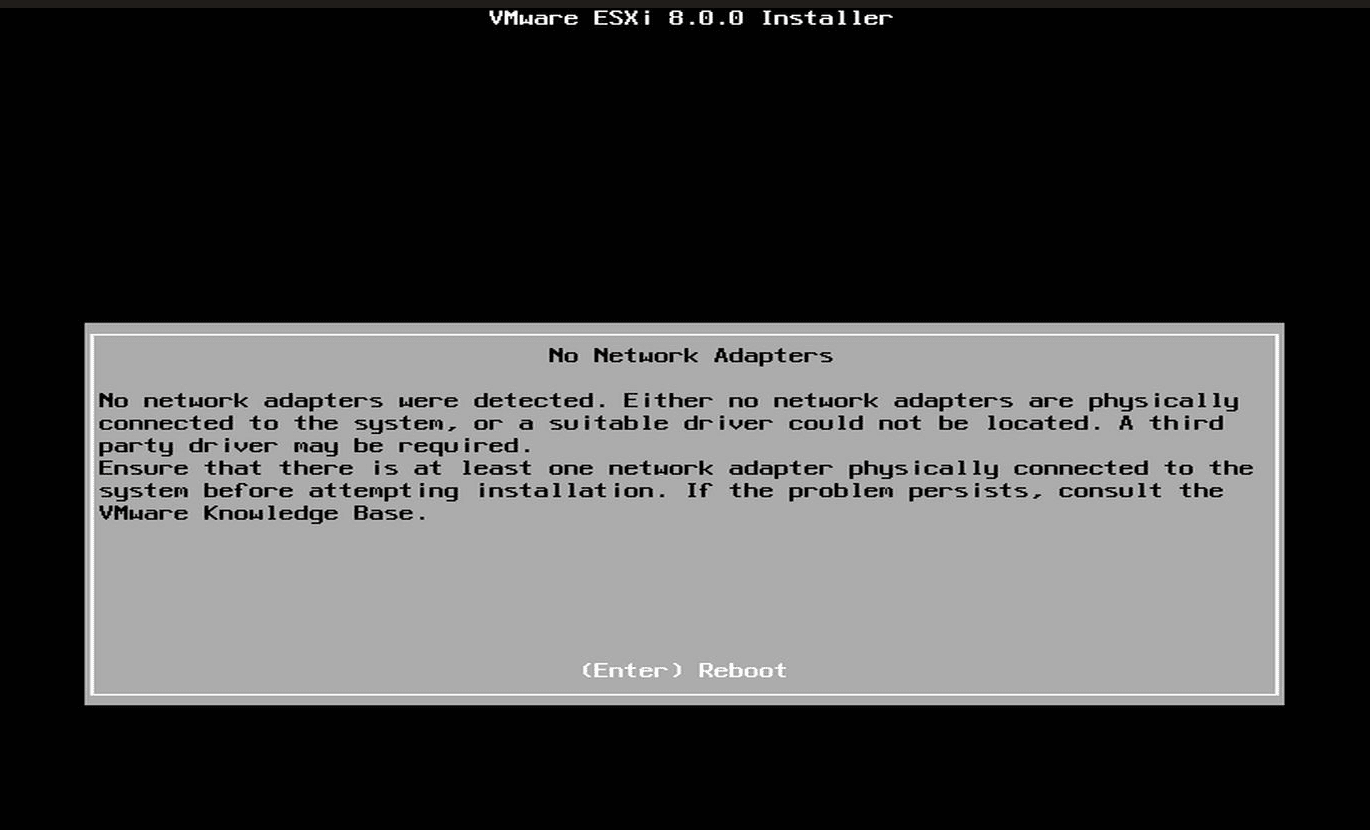 If you switch a drive over that was already loaded, you will see something like the following: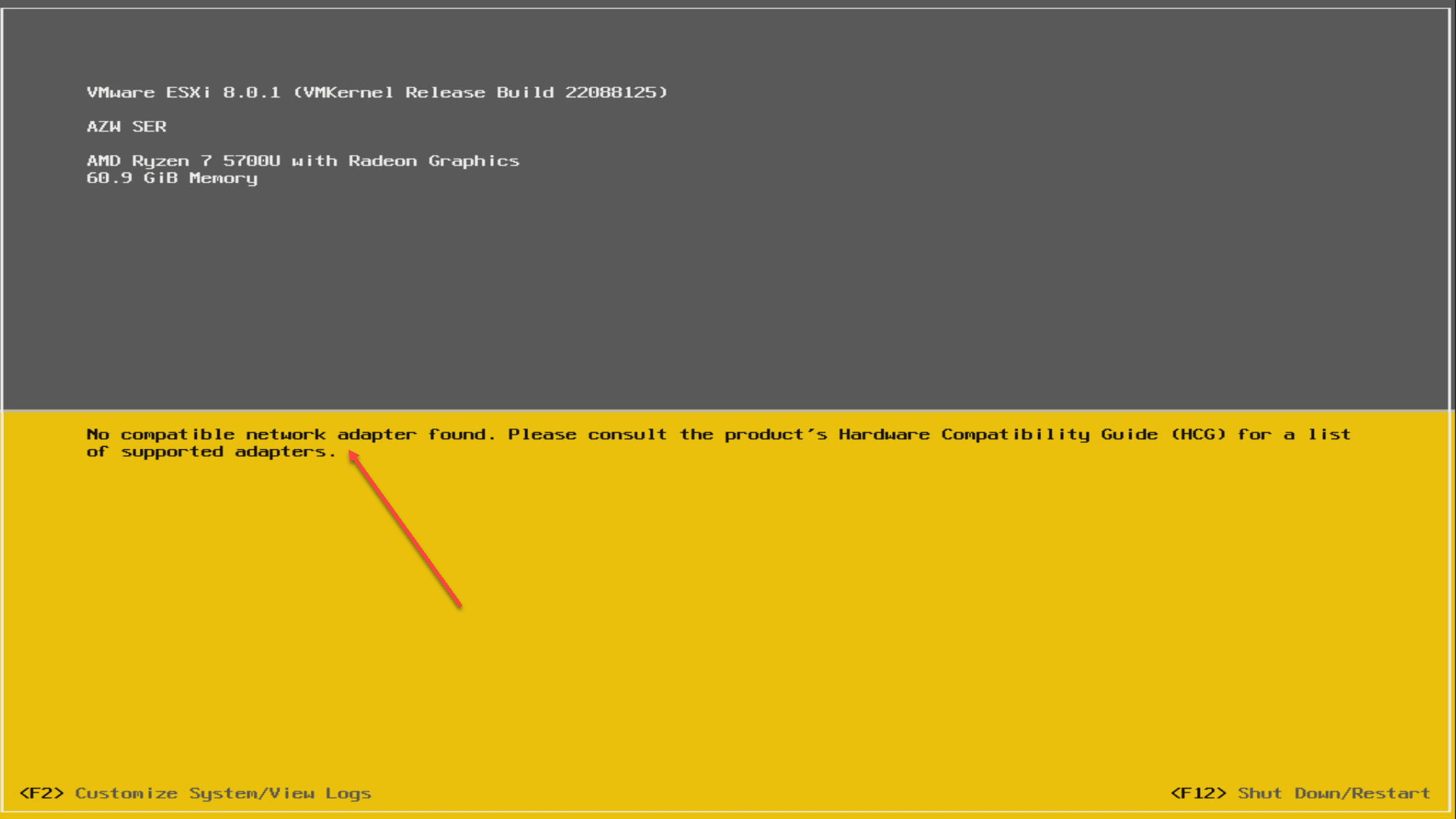 USB NICs are a workaround
You can though use a USB network adapter and get around this. However, I have found flaky behavior with USB network adapters, even though they are supported. If you are looking to have a long-running stable environment, I would definitely opt for a supported physical network adapter, like a Realtek i226 adapter and not the Realtek.
One frustration with many mini PCs is that the manufacturers don't necessarily document the network adapter manufacturer. So you may be left guessing if someone else has not already reviewed the unit or documented the type of network adapter that is present.
Frequently Asked Questions
How does the small form factor of mini PCs influence their usability?
Given their compact design (often referred to as 4×4 size), Mini PCs can be conveniently mounted on VESA mounts or walls. Their design emphasizes space efficiency, making them ideal for setups with limited room. While their small footprint contributes to their quiet operation, some designs even sport an external heatsink for passive cooling, offering a fanless and silent operation.
What are some popular manufacturers in the mini PC realm?
Renowned names like Dell, HP, Intel, Asus, and Apple (with their Mac Mini) are dominant players in the mini PC market. These manufacturers target those seeking a balance between a compact form and productive capabilities.
How does the hardware in mini PCs stack up in terms of power?
Despite their "mini" label, these PCs pack a punch. Modern units house potent processors like AMD Ryzen and Intel's multi-core variants. Connectivity features often include a 2.5 gig network controller and a gigabit ethernet jack. Storage options are broad, ranging from NVMe storage to 2.5-inch hard drive configurations. Plus, they ensure ample I/O connectivity with a range of USB ports.
What are the major constraints of mini PCs in server configurations?
While many tech enthusiasts are keen on utilizing Mini PCs as home servers because of their powerful specs, they do present challenges:
RAM Limitations: Due to their reliance on SODIMM RAM (akin to laptop memory), there's a cap on how much memory they can house. DDR4 memory maxes out at 64 GB because of the current 32 GB SODIMM module limit. Though DDR5 is expanding this frontier, it's still a consideration.

Storage Capabilities: While mini PCs might have an NVMe 2280 slot, many restrict you to a singular storage option. Some high-end models offer up to three NVMe slots, but storage can be limiting, especially for large-scale operations.

Expandability: Aspects like RAM, storage, and CPU can have strict limits. The absence of PCI-e slots in most models also curtails hardware expansions.

Out-of-band Management: Unlike traditional servers, mini PCs typically lack integrated systems like ILO, IPMI, or IDRAC. This mandates using external tools like IP KVM switches or TinyPilot for remote management.

Networking: A glaring shortcoming is the absence of 10-gig bandwidth networking in most mini PCs. This can be a bottleneck for tasks needing high-speed data transfer.

Compatibility with VMware: The embedded network adapter in some mini PCs, particularly those using Realtek, may not be supported by recent VMware ESXi versions. It's essential to ensure compatibility if you're planning on using VMware.
Why is power efficiency a notable strength of mini PCs?
Electricity costs have been climbing, and power efficiency is now a major consideration for many tech enthusiasts. Mini PCs shine here, consuming less energy, making them especially suitable for setups involving multiple servers or continuous operation.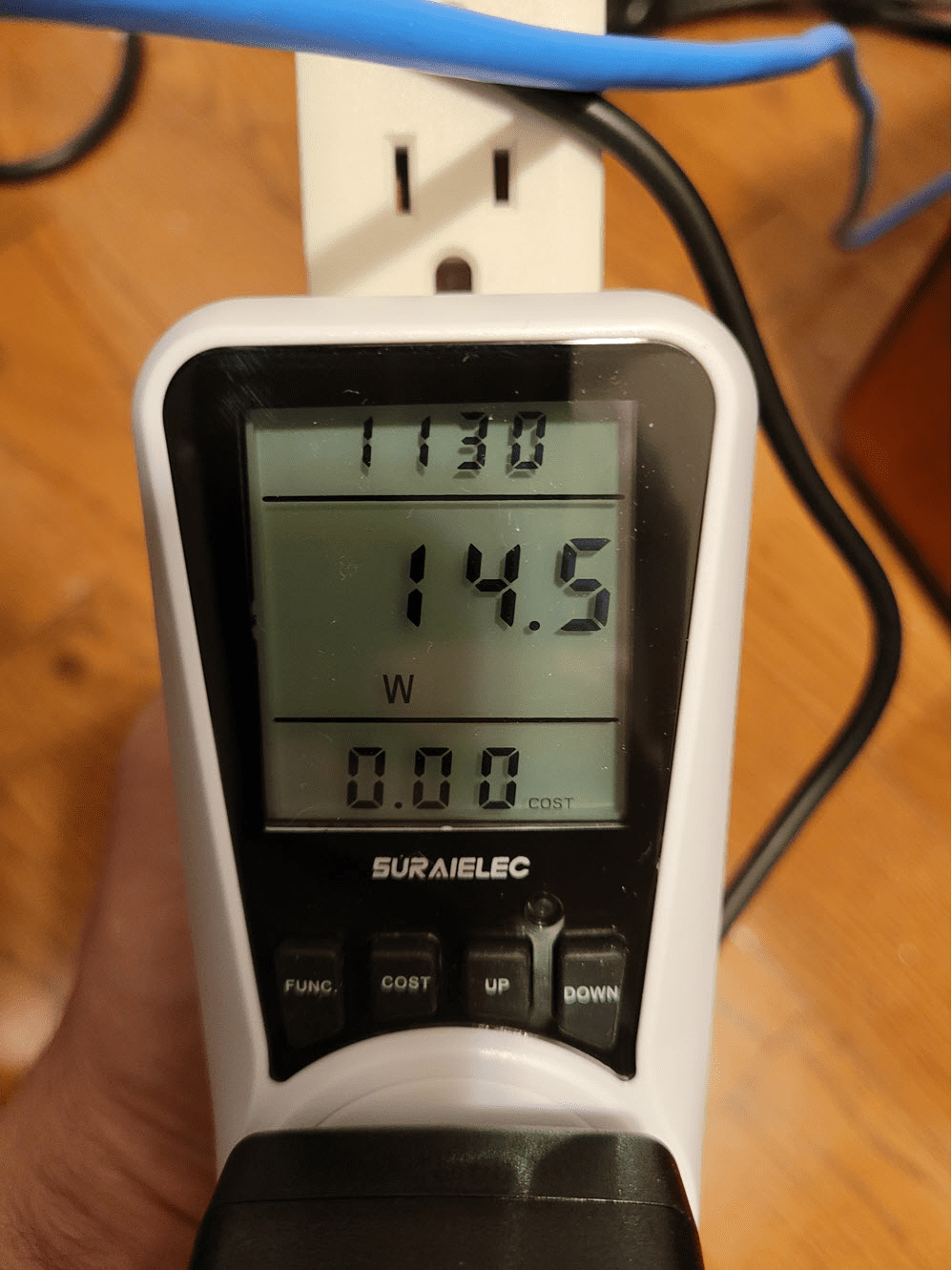 How do Mini PCs handle gaming?
Interestingly, some mini PC configurations have ventured into high-end gaming realms. Depending on the specific model and its specs, mini PCs can provide a respectable gaming experience, even if not at the absolute highest end.
Can Mini PCs handle virtual machines?
Absolutely. Running virtual machines is feasible on a Mini PC, especially if they're equipped with powerful processors like the Intel Core. However, it's crucial to consider factors like RAM slots and customizable RAM options for smooth performance. Choosing a great mini PC with adequate resources is best if VMs are a significant part of your workflow.
Wrapping up
Hopefully, this discussion of mini PCs will help share some insights into some of the challenges you may face when using a mini PC as a home server. However, even with the limitations mentioned, I am embracing this smaller form factor for my next home lab and looking at options to see the best possible solution. Seeing the market getting more options for mini PC units is exciting.
Other posts you may like