home lab
Beelink EQ12 Pro: Cheap Home Server with 8 Cores and 32 GB RAM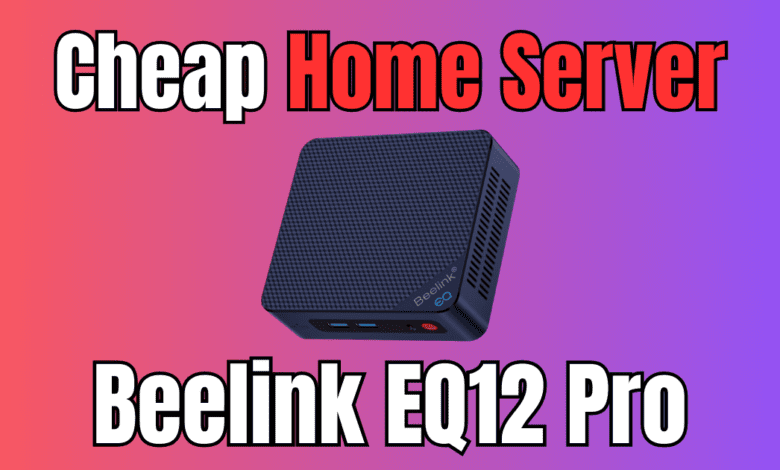 Beelink's EQ12 Pro might be a great option if you are looking for a cheap home server solution. It has 8 CPU cores and is power efficient, making it even "cheaper" over time compared to other server options. We will even consider how it can unofficially support 32 GB of RAM.
Intel Core i3-N305
The Beelink EQ12 Pro is configured with the Intel Core i3-N305. This processor is part of Intel's Alder Lake-N series, laptop CPUs tailored for mobile applications. With many features included with the i3-N305, let's take a closer look at its technical aspects.
Essentials
Product Collection: Intel® Core™ i3 Processor N-series

Code Name: Products formerly Alder Lake-N

Processor Number: i3-N305

Lithography: Intel 7

Recommended Customer Price: $309.00
CPU Core Specifics
Total Cores: 8

Total Threads: 8

Max Turbo Frequency: 3.80 GHz

Cache: 6 MB Intel® Smart Cache

TDP: 15 W (Configurable down to 9 W)
Memory and Graphics
Maximum Memory Size: 16 GB

Supported Memory Types: DDR4 (3200 MT/s), DDR5 (4800 MT/s), LPDDR5 (4800 MT/s)

Maximum Memory Speed: 4800 MHz

Max # of Memory Channels: 1

Processor Graphics: Intel® UHD Graphics with a max dynamic frequency of 1.25 GHz and 32 execution units.

Graphics Output Options: eDP 1.4b, DP 1.4, HDMI 2.1, MIPI-DSI 1.3

Supported Resolutions: Up to 4096 x 2160@60Hz for both HDMI and DP

DirectX Support: 12.1

OpenGL Support: 4.6

OpenCL Support: 3.0
Expansion and I/O Specs
PCIe Revision: Gen 3 with a max of 9 PCI Express lanes.

USB Revision: Supports 2.0/3.2.

General Purpose IO: Yes
Package and Technology Features
Socket Type: FCBGA1264 with a package size of 35mm x 24mm

Max CPU Configuration: 1

TJUNCTION: 105°C

Advanced Technologies: Includes features like Intel® Gaussian & Neural Accelerator 3.0, Image Processing Unit 6.0, Smart Sound, and more.

Instruction Set: 64-bit, with extensions including SSE4.1, SSE4.2, and AVX2.
Security and Virtualization
Security Features: Intel® AES New Instructions, OS Guard, Boot Guard, among others.

Virtualization Technologies: VT-x, VT-d, and VT-x with Extended Page Tables (EPT) are supported.
Given these specs, the i3-N305 may not win performance benchmarks, but it is equipped to handle many tasks efficiently, from running server applications to managing virtual machine deployments.
Other Beelink EQ12 Pro specs
Note the following other specs of the Beelink EQ12 Pro:
Advanced Graphics and Display Capabilities
Regarding GPU power, the Beelink EQ12 unit doesn't disappoint. Its "Intel UHD graphics" with 32 EUs, clocking in at a dynamic max frequency of 1.25 GHz, ensures that any video or graphical data processed on this mini PC is smooth and free from lags. Moreover, the Beelink EQ12 Pro supports triple displays, which is great for multitaskers, meaning you can monitor different server tasks or systems simultaneously.
High-Speed Memory
Memory plays a pivotal role in any server's operation. The Beelink EQ12 Pro's single-channel memory offers 16 GB of DDR5 at a max of 4800 MHz. Given that it's DDR5, it's on the cutting-edge of memory technology, giving your home server a future-proof edge.
Connectivity and Expansion
Beyond its impressive CPU and memory specifications, the Beelink EQ12 Pro shines in its connectivity options. With support for Wi-Fi 6, BT 5.2, and dual 2.5 Gbps Ethernet ports, it promises seamless data transfer and uninterrupted connections. The mini pc also comes with PCIe support up to 2TB, making it suitable for extensive data storage or backups.
Cooling and Power Efficiency
A good server must run efficiently, especially in a home environment. The dual-fan design in the Beelink EQ12 Pro, featuring both a CPU cooling fan and a system cooling fan, ensures optimal temperatures during intensive tasks. With a TDP of 15 Watts and the ability to go down to 9 W, its power consumption is both eco-friendly and budget-conscious. Running in Turbo mode will boost up to 25 Watts and a bit higher. But this is still great compared to beefy rack mount servers.
Taking the Beelink EQ12 Pro apart
Right now at Amazon, you can pick up a Beelink EQ12 Pro with a $100 off coupon.
The Beelinks come packaged very well.
After unboxing the unit, here is the side with main I/O panel. I like how everything is on one side of the unit. A lot of the minis spread I/O on multiple sides. It does also have USB ports in the front. However, you can access everything you need to effectively route cables from the same place: the power supply, HDMI connections, USB ports, network ports, etc.
Also, I like this color. It is a light grey color compared to the black.
Another angle of the rear of the unit.
Here is the front of the unit with the two USB ports, clear CMOS (who uses this these days?) and the power button.
Taking it apart
After taking out the 4 screws on the bottom feet and pulling the rubber pull tab, you will see the SATA bay and fan unit. This is where you would install a 2.5 inch hard drive. However, to change out the NVMe drive or RAM, we need to take out the fan unit.
You have to remove the screws on each side of the SATA connector. Then there are (3) screws that hold in the fan unit. One is visible. The other two are deep in the corners of the unit. So you will need a long Phillips screwdriver to get those two out.
Another view with the RAM and NVMe slots.
Intel network adapters
One of the things I really like about the Beelink EQ12 Pro is the fact is is running (2) 2.5 Gbps Intel network adapters. Rather than running the Realtek adapters seen in the cheaper models I have looked at, the EQ12 allows you to easily install VMware vSphere 8.x with out-of-the-box drivers. You don't even have to use the Community Networking Drivers fling. Plus you get the additional bandwidth of the 2.5 Gbps adapters if you have a 2.5 Gbps network switch.
Proxmox or XCP-ng also have the network drivers out of the box for the Intel adapters. So, it makes this little mini PC great for any of the leading hypervisors ones are using in their home labs.
16 GB Max RAM or 32 GB?
In case you didn't know, when you look at the documentation for the i3-N305, you will see the max RAM documented as 16 GB. However, those who tinker around with things will tell you the N305 can recognize 32 GB of RAM.
Since I had the Beelink EQ12 Pro coming, I pulled the trigger on 32 GB DDR5 4800 MHz modules as I know I can put these to good use in testing and in a unit that I settle on with DDR 5. So, in my opinion, it makes these little boxes even more desirable since you can squeeze 32 GB of memory into them, making them even better at running self-hosted services.
Below is a screenshot after I added the 32 GB Corsair 4800 MHz DDR 5 module.
Running Virtual Machines!
With 32 GB of memory and 8 cores, I wanted to see what this little mini PC could do in terms of running virtual machines. It definitely has the potential to be an Intel NUC replacement for the home lab on a budget.
After loading up ESXi (since I can use Intel drivers :), I added the little host to my vCenter Server in the lab. All smooth sailing. I did see the TPM error that is expected.
William Lam has a good write up about this, describing the reason for the error. The TPM doesn't operate correctly because fTPM uses a CRB interface, not the TIS/FIFO that ESXi needs. To eliminate the warnings and errors, turn off the TPM in the BIOS by going to Advanced -> Trusted Computing -> Security Device Support -> Disabled. Even without a physical TPM, you can still make use of vTPM.
I started cloning over virtual machines and it doesn't break a sweat as we get a dozen or so spun up.
Another look at the CPU graph.
Memory usage continues to rise as expected as more VMs are cloned up.
Finally I get to 21 virtual machines and the little PC is still holding its own.
To simulate some real-world work I kick off updates on 6 of the Ubuntu Servers at once at the same time. I noticed a bit of laboring on the other virtual machines, but nothing that was just a show stopper.
As you can see this is where I got to with the VMs, configured with 2 vCPUs and 2 GB of memory. I could have probably doubled the number of VMs by cutting this back to 1 GB of RAM for each as we still had CPU headroom.
Video overview
Wrapping up
I am really impressed with the little Beelink EQ12 Pro unit. It is more than capable of handling the role of a home server. The Intel i3-N305 and the 32 GB of advanced memory type DDR5 memory make this a great little unit with enough cores and memory headroom to run some real workloads and runs against other popular comparisons quite well.
Even with 21 VMs up and running and updates pulling down on 6 of them or so, the little box buzzed along quite well. I saw it hit between 27-30 watts at full load which is not bad!
If you are in search of a device that offers a blend of power, efficiency, and advanced features without burning a hole in your pocket, the Beelink EQ12 Pro might be the perfect fit, especially since you can buy them at Amazon and clip a $100 coupon to boot.
Other links you may like