home lab
Intel NUC Alternative: GMK Nucbox K10 Ryzen 7 Home Server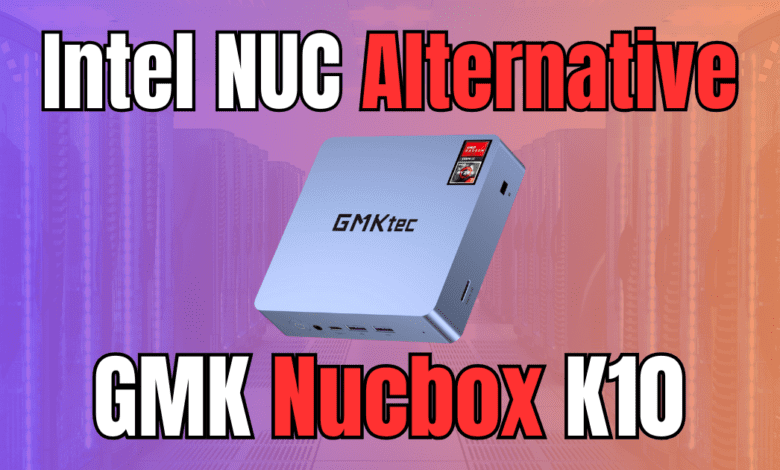 Intel's NUC (Next Unit Computing) has been a standard in the mini PC space for those using mini PCs in the home lab or as a productivity machine. However, as the market has evolved, many other vendors and models have appeared. With Asus taking over production of the Intel Nuc and some uncertainty there, many are looking for a worthy NUC alternative. The GMKtek Nucbox K10 is a worthy Intel NUC replacement, especially if you want a home virtualization server, AND it is compatible with VMware vSphere 8, Proxmox, and other Linux hypervisors. Let's look at the GMKtek Nucbox series mini PCs and how they can be used as alternatives to the Intel Nuc Pros and Intel Nuc alternative in general.
GMKtek Nucbox K10
If you haven't heard about GMktek, they are a multinational consumer electronics company that produces a lot of great little mini PC devices. I have reviewed the Nucbox G2 as a mini-server alternative. You can check out that review here: Mini Server for Home Lab: GMKtec Nucbox G2.
The GMKtek Nucbox K10 is a prime example of how small form factor PCs have transformed over the years. Its compact dimensions, a mere 4.86x 4.38x 1.45 inches, are a testament to the advancements in mini PC design. But this small PC doesn't compromise on performance, ensuring silent operation and efficient computing.
AMD Ryzen 7 5800U: Powerful and power-efficient
The GMKtek Nucbox K10 sports the AMD Ryzen 7 5800U processor CPU power. This is an impressively powerful and efficient CPU with strong performance levels that many Intel NUCs will be hard-pressed to offer the balance it provides. It is also paired with the AMD Radeon Vega 8 2000MHz.
As you guys remember, I reviewed the Beelink Ryzen 7 5700U unit that I found to be extremely powerful. My review of that unit is here: Beelink SER5 Mini PC: AMD Ryzen 7 Home Server.
The 5800U surpasses what the 5700U can do. Note the following PC Mark score comparison:
Below is the information sheet for the SER5 with the AMD Ryzen 7 5700U.
Memory and Storage: A Mini PC's Cornerstone
The GMKtek Nucbox K10 comes with 16GB DDR4 RAM, which can be expanded up to 64GB, making it much better suited for VMs when fully populated. It also comes with a 512GB M.2 2280 NVMe 3.0 4x SSD. It makes it a worthy competitor to Geekom mini pcs, Minisforum, and other arguably better-known vendors.
Display Capabilities: Beyond Standard HDMI Ports
In the world of mini PCs, display capabilities are paramount. The GMKtek Nucbox K10 offers versatility with its two HDMI ports and a Type-C port. This mini PC ensures top-tier visuals for work presentations or 4K streaming.
Yes! Intel network adapter!
If you are using this as a desktop replacement for productivity, it doesn't really matter on the network side of things if you get a Realtek adapter or an Intel. However, if you are going to use this for a hypervisor, and VMware vSphere in particular, you will be pleased to know it comes with an onboard 2.5G Intel i225-V adapter.
Not that we care too much for a little server, but the GMKtek Nucbox K10 also sports WiFi 6E (802.11ax) and Bluetooth 5.2.
Comes with Windows 11 Pro
Running on Windows 11 Pro, the GMKtek Nucbox K10 offers a contemporary user experience. It's not just another Windows PC; it's a system optimized for peak performance.
Aesthetics
The GMKtek Nucbox K10 isn't just about specs. Its baby blue hue adds a touch of elegance, making it very stylish.
Price
The price is also very good from Amazon with the coupon that is currently available. You can get the K10 for roughly $299 and you can redeem a 10% coupon as well from Amazon.
Amazon.com: GMKtec Mini Gaming PC AMD Ryzen 7 5800U(4C/8T, up to 4.4GHz), 16GB DDR4 512GB SSD Windows 11 Pro Mini Computers, 4K Triple Desktop Computer WiFi6/BT5.2/microSD, Max to 128GB : Video Games
Unboxing and taking apart
GMKtec packaging is top notch and is very well done.
Below is unboxing of the GMKtek K10 after removing the top lid from the box.
The front view of the unit with a USB-C and (2) USB A connections.
The side of the GMKtec K10 unit has a micro SD card reader.
The back view of the unit has the following ports:
(2) HDMI ports

(2) USB A ports

(1) 1GB LAN port
One of the things I don't like about the GMKtek K10 is the top cover is difficult to get off. Unlike the Beelink devices with the built-in pull tab, the GMKtek K10 is more difficult to remove. You have to remove the back screws and pull off the cover which is "stuck" fairly tight. After that, you remove the screws holding the motherboard into the other side of the case. After that, you will have the freedom to see the other side of the unit which houses the 2280 NVMe drive and the (2) DDR-4 memory slots.
Virtual machines in VMware ESXi
As mentioned earlier, the GMKtek K10 is configured with the i225 network 2.5G network adapter, which with VMware ESXi 8.0 is included natively, without having to use the VMware community network fling.
As you can see below, the little server is barely breaking a sweat with 21 virtual machines.
I spun up another few virtual machines and got up to around 31-32 VMs.
Memory crept up to 60-65%.
Power consumption
This unit has phenomenal efficient power consumption. Just powered on the unit, and after it booted VMware ESXi 8.0, it was idling at around 10 watts.
With several VMs and me saturating the CPU briefly around 95-100% for a time, I saw around 40 watts.
Below, the power consumption was roughly around 16 watts when the VMs were idling and with minimal activity across the board. Not bad!
Video overview of the GMKtek Nucbox K10
Frequently Asked Questions
How does the GMKtek Nucbox K10 compare to other Geekom mini PCs?
The GMKtek Nucbox K10 is one of the flagship models in the Geekom mini PC lineup. With its AMD Ryzen 7 5800U processor and expansive storage options, it stands out as a top performer among Geekom's mini PCs.
What makes the GMKtek Nucbox K10 a strong Intel NUC alternative?
Beyond its impressive specs, the GMKtek Nucbox K10 offers a blend of performance, connectivity, and aesthetics. Its support for triple screen displays, combined with robust WiFi 6E and Bluetooth 5.2, makes it a formidable Intel NUC alternative.
Can I expand the storage on the GMKtek Nucbox K10?
While it comes with a 512GB M.2 2280 NVMe 3.0 4x SSD, you can upgrade the storage up to 2TB. A micro SD card slot and external hard drives through USB 3.1 ports also exist. Remember that you cannot install a 2.5-inch drive in this unit like other mini PCs, which is a downside.
How does the GMKtek Nucbox K10's form factor benefit users?
The small form factor of the GMKtek Nucbox K10 is not just about saving space. You can achieve a clutter-free workspace by mounting this compact PC on the back of a monitor. Its silent operation ensures a distraction-free environment.
Are there any unique features in the GMKtek Nucbox K10 not found in typical mini PCs?
The GMKtek Nucbox K10 has a unique look, being a baby blue color. Additionally, it also sports 4K triple-screen display and also has many connectivity options that may set it apart from many mini PCs on the market.
How does the GMKtek Nucbox K10 fare in terms of software support?
Running on Windows 11 Pro, the GMKtek Nucbox K10 is optimized for the latest apps and software. Whether you're into gaming, content creation, or office tasks, this mini PC ensures a smooth and modern computing experience.
Is the GMKtek Nucbox K10 suitable for gaming?
Yes, with its AMD Radeon Vega 8 2000MHz graphics coprocessor and robust CPU power, the GMKtek Nucbox K10 can handle popular games like APEX, DOTA2, CSGO, and more. However, you might want to double-check game specifications against the PC's capabilities for high-end gaming.
How does the GMKtek Nucbox K10's price compare to its Intel counterparts?
While the exact price can vary based on region and retailers, the GMKtek Nucbox K10 often offers equivalent performance to Intel NUCs at a potentially cheaper total cost, making it a value-for-money option for many users.
Wrapping up
The GMKtek Nucbox K10 is an excellent little machine that I found to be very capable of running virtual machines as a home server. The 8 core/16 thread Ryzen 7 5800U processor was very power efficient, running sub-20 watts with 31 virtual machines running. The Intel i225V network adapter allows you to run VMware ESXi as well as Proxmox, XCP-ng, KVM, and others. It is definitely among the Intel NUC alternatives worth considering as a mini PC server.
Other posts you may like