home lab
Mini Server for Home Lab: GMKtec Nucbox G2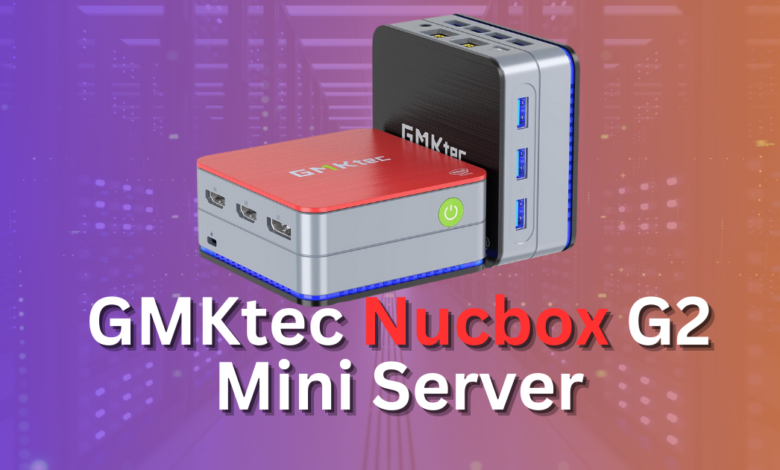 I recently wrote a post covering the topic of mini pc vs server and it seems to have struck a chord with many. I think as power costs escalate in many areas, running full-fledged enterprise servers may not be practical for some. However, as mini pcs are getting more and more powerful, this can provide a great answer to the struggle for those who want to run a home lab but don't want to pay the exorbitant costs for electricity.
The mini pcs compact size and superior performance also make them an attractive option for home use that has gained popularity as a mini server.
Why Mini Servers and Mini PCs?
The main advantage of mini servers and mini pcs is their small form factor, which takes up less space than traditional servers. Combine this with their power efficiency, and it's clear why they've become a preferred choice for many.
With today's hardware, these devices offer energy-efficient solutions without compromising on performance. This makes them a great choice for those looking to run virtualization labs for running running virtual machines and containers, or just hosting a home media server, home DNS ad-blocking, or other containerized services.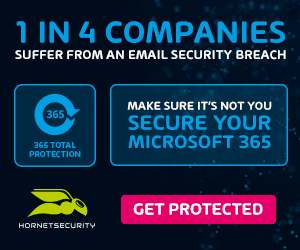 Hardware Considerations for Your Mini Server
The best mini pc or server for your home will depend on your specific needs. Important factors include number of cores you opt for, the amount of RAM, storage capacity, and a gigabit ethernet jack and even faster today (2.5 and 10 gig) data transfers.
For those who prioritize performance and running services with even more performance with demanding tasks, devices powered by the latest Intel or AMD EPYC processors may be ideal to handle multiple tasks simultaneously.
Software and Operating Systems for Mini Servers
For most standing up a mini server in their home lab, they will want to install a hypervisor as their host operating system. There are great open-source hypervisors like Proxmox and XCP-ng. Those with a VMUG Advantage subscription can also easily install VMware vSphere and have the same enterprise hypervisor in their labs as in production.
Those who strictly want to play around with containers, may choose to install a Linux operating system for a Docker container host or to play around with Kubernetes. Needless to say, the operating system you choose for your chosen mini pc is crucial.
Connectivity and Networking
The higher bandwidth your connects the better. Many mini pcs now include 2.5 gig networking standard, with a few that have 10 gig networking. However, if you are just running a few containers on a single host, 1 gig networking will most likely be fine as well. Having multiple connectivity options
10 gig networking is definitely beneficial if you are trying to do hyperconverged and software-defined storage solutions between 3 or more mini servers, etc.
Storage Solutions for Mini Home Servers
Storage is a really important consideration for running a home server. You may just simply want to have locally attached storage running on your mini pc/mini server. This is the easiest type of storage since it is just simply an internal hard drive, like an M.2 drive installed in the mini pc.
However, you can also delve into software-defined storage like Ceph, VMware vSAN, and others for a more advanced type of storage that allows pooling storage betwne your mini server nodes. Cloud storage is a great option for file storage, but not for running virtual machines in a home lab.
Efficiency and Power Consumption
Power efficiency is not just about saving on electricity bills. An energy-efficient mini server ensures less heat production and increased longevity of components. Tracking the power consumption of different mini servers or PCs can help in choosing a suitable device for long-term use.
A cheap mini server – GMKtec Nucbox G2 Mini PC
There are multiple servers that you can choose from the mini computer options available today. There are just so many choices now which is a great thing. I recently pulled the trigger on a mini pc that I wanted to try out for a very tiny mini server that would be power efficient and run containers and some light virtual machines.
Specs and other details
I pulled the trigger on Amazon and also clipped the coupon, so the unit was $149 with the coupon as just a cool little project to test out a mini server in the home lab. This puts it in the neighborhood of a Raspberry Pi and is much more powerful and capable.
Here are the specs on the product page on Amazon:
【2023 Intel Alder Lake N100 Mini PC】The 12th Gen Intel Alder Lake N100 mini pc is 4 Core 4 Threads 6MB cache, base frequency burst speed up to 3.4GHz. More powerful performance and smoother running than J4125/N5095/N5100/N5105/N95. Ideal for routine tasks, office work and home entertainment,which is more convenient than traditional desktop pc.

【12GB DDR5 RAM 128GB SSD Mini Computer】GMKtec Nucbox G2 mini pc is prebuilt with DDR5 MAX 4800 MT/s, you will enjoy a speedier experience with Built-in 128GB M.2 2242 SSD. Our mini desktop pc boots up in seconds, work on multiple software applications and quickly transfers files.

【Multiple Device and Fast Connections】Nucbox G2 mini computer is equipped with USB 3.2*3,up to 5Gbps/S, HDMI(4K@60Hz)×2, 3.5mm Audio Jack. Supports WiFi 6, and 2*Gigabit Ethernet RJ45 1000M network connectivity, Bluetooth 5.2. This Mini PC supports multiple device connection and can be used with servers, monitoring equipment, office equipment, displays, projectors, televisions, etc.

【4K Triple Screen Display】Mini desktop computer is equipped with Intel UHD Graphics(max 750MHz), supports 4K video playback and AV1 decoding, connect the pc with a projector as a home theatre, enjoy a variety of entertainments. Two HDMI 2.0 ports and one DP V1.4 port allows you to multi-task efficiently on three 4K@60Hz displays.

【WiFi6 & Fast BT5.2】Features the latest wireless connectivity with 802.11ax which offers speeds up to 600Mbps. Built-in Bluetooth 5.2 enables you to connect multiple wireless devices such as mice, keyboard, monitoring equipment, printer and monitor. High-speed wireless connection technology, reliable and efficient transmission speed, providing a faster internet experience for browsing and streaming. Small pc supports Wake On LAN, PXE Boot, RTC Wake and Auto Power On, ideal to use as a server.
Of course the first thing I did was get rid of Windows 11 in favor of a hypervisor. I quickly installed Proxmox 8.0 without any issues. Network adapters, etc were detected perfectly fine.
It runs Ubuntu Server 22.04 great, and is a great use case for running a single node Kubernetes cluster using Microk8s or other Kubernetes distribution.
In loading VMware vSphere 8.0 Update 1c, no network adapters were detected. However, you need to create a custom ISO with the USB network fling to use an external network adapter that will work.
During boot I saw around 26 watts: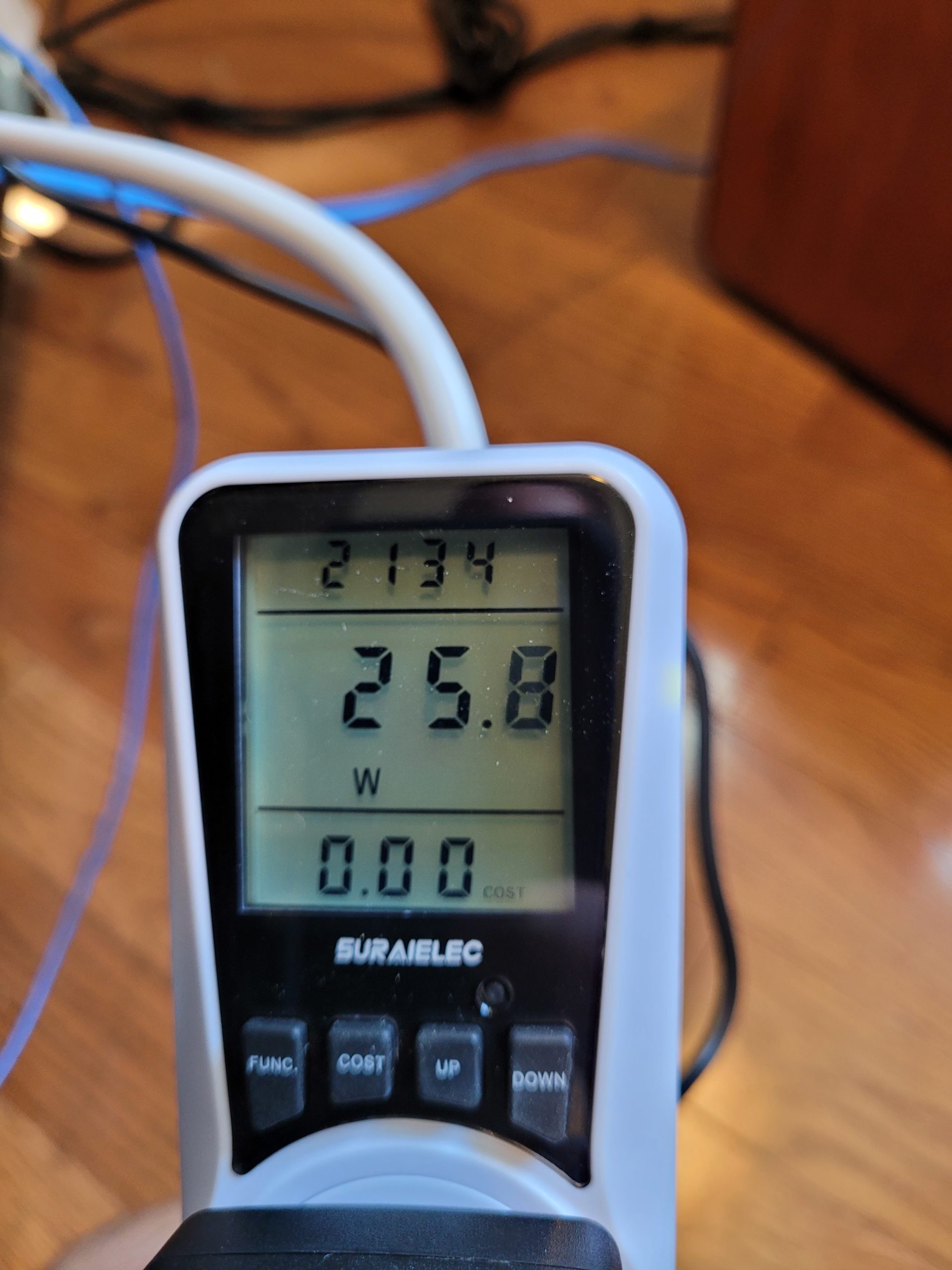 After it settled down, it ran around 11 watts of power consumption: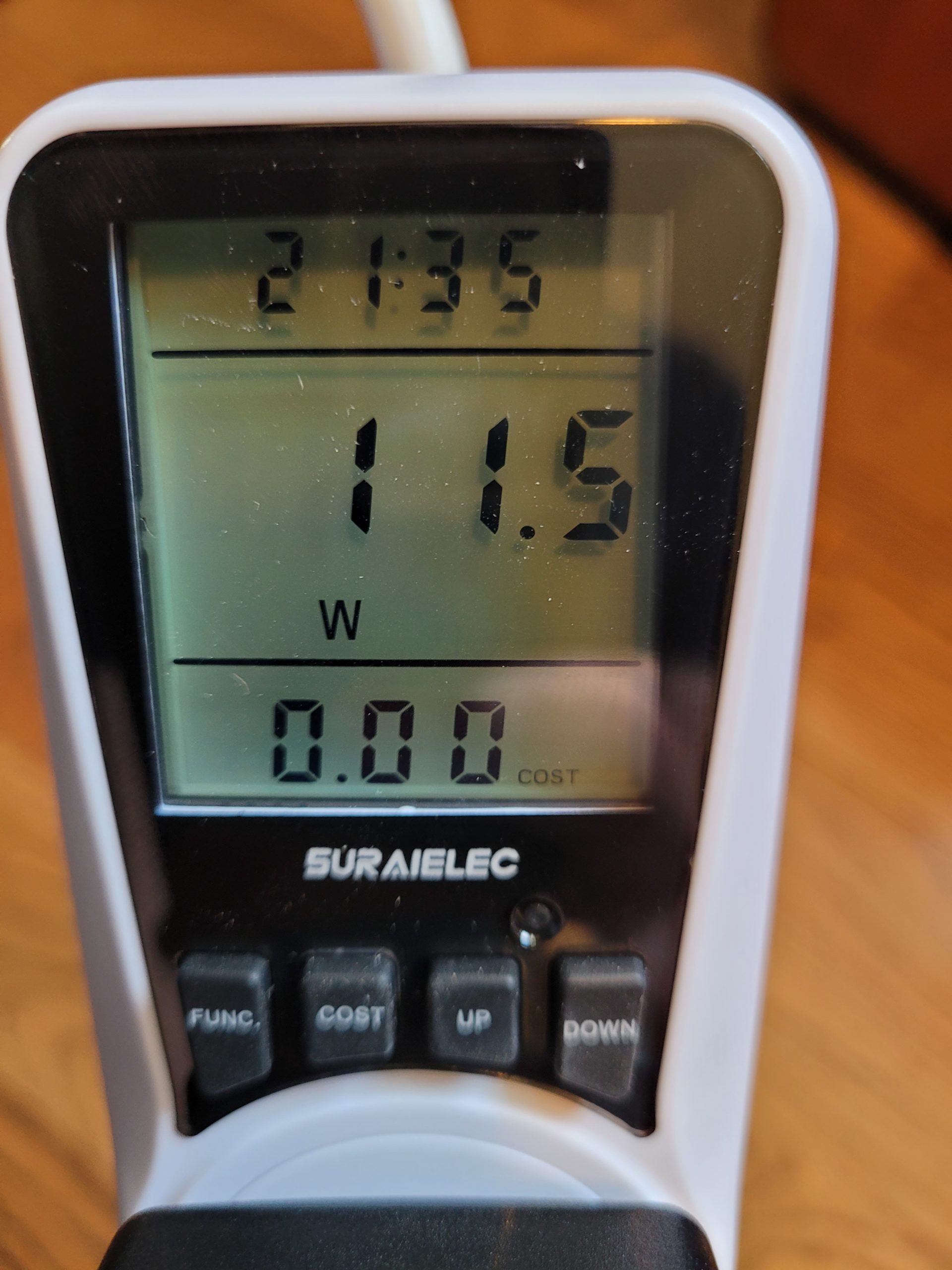 Weaknesses of this unit
There are some gotchas about this unit to note. One of the issues I can see with the hardware is the storage adapter for the M.2 drive. It is a B&M keyed 2242 size PCI SSD from the factory. According to the Questions answered on Amazon, the unit will support NVMe. However, you have to make note of the "keying" on the NVMe drives you purchase. Most of the NVMe drives you will find in the 2242 size are the M key NVMe drives, not the B&M key.
I did find a few out on the net for B&M key like this one from B&H: Transcend 1TB M.2 SSD 430S TS1TMTS430S B&H Photo Video (bhphotovideo.com).
If, like me, you purchased the unit with the 128 gigs of SSD storage, just be aware of this for future upgrades. It may depend though on the use case you plan for these. If you are just running containers or playing around with Kubernetes, I think the 128 gigs of storage may be plenty.
However, if you want to run some light virtual machines on them, you will probably want more than 128 gigs of storage. Another thought is running VMs on iSCSI attached storage via TrueNAS, Synology, etc.
VMware
Also, in testing with VMware, the unit comes with the Realtek chipset which is notoriously unsupported with later versions of ESXi. Unfortunately, the VMware Fling Community Network Driver only includes Intel drivers, no Realtek.
But, there is a workaround. There is another great fling called the VMware USB Network Native Driver for ESXi here: USB Network Native Driver for ESXi | VMware Flings. You will get an error that No vmnic was tagged for management when the installer completes. However, you can just reboot server and apply the workaround found here.
I used a Realtek USB network dongle from Anker and got ESXi 8.0 U1c installed without issue. Just know this will be an issue if you want to run ESXi with the Realtek Chipset without the USB network driver.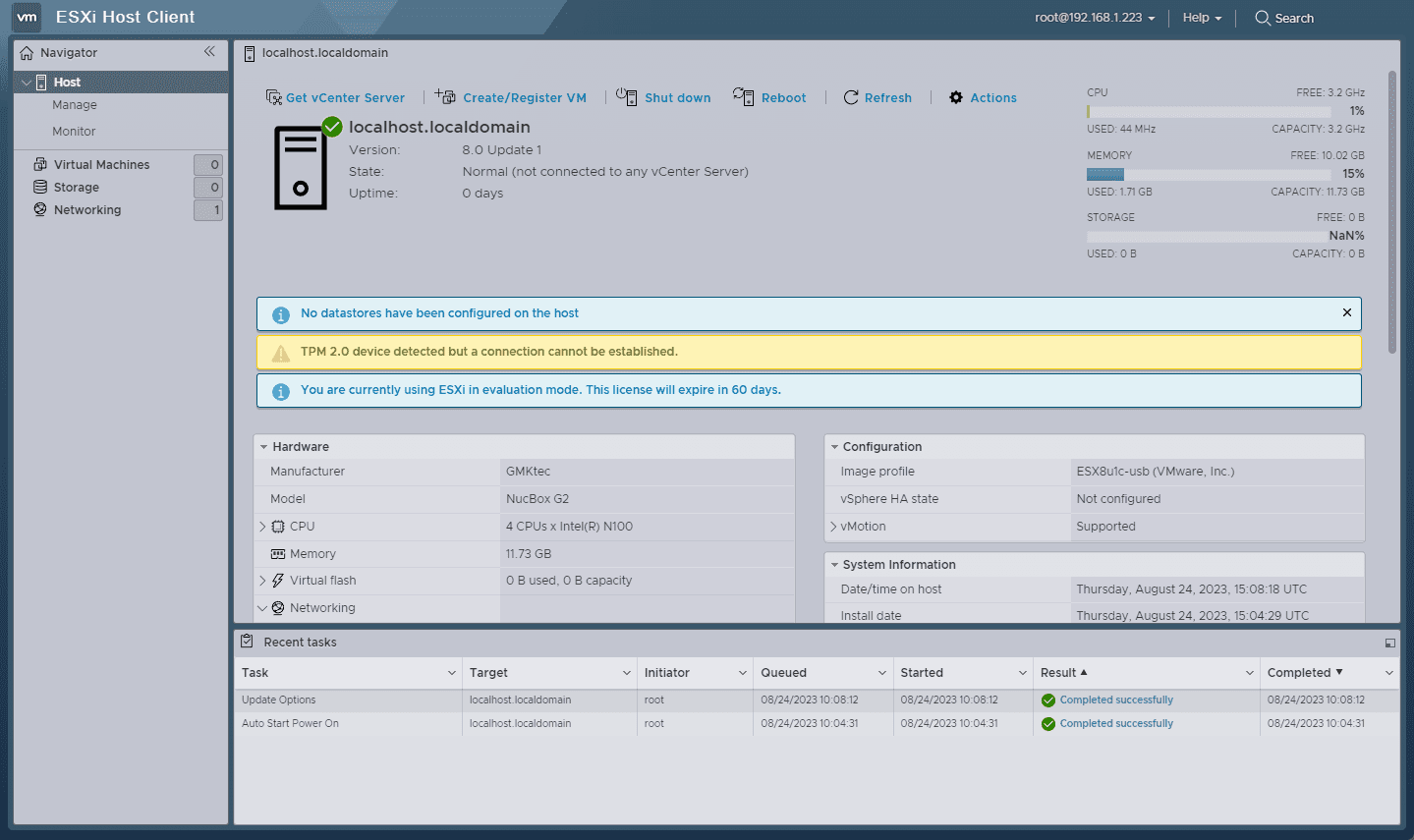 Frequently Asked Questions about Mini Servers
Are mini servers and mini pcs reliable for demanding tasks?
Absolutely. Modern mini pcs and mini servers are equipped with powerful components, such as Intel Core processors and ample RAM, allowing them to handle tasks that were once exclusive to larger computers. From video editing to running multiple servers via virtual machines, these compact devices have proved their mettle.
How does a mini server differ from a regular server?
While both serve similar functions, the primary distinction is the form factor. Mini servers come in a compact size, making them suitable for home use where space might be limited. However, this doesn't mean they compromise on performance or storage capacity. Many mini servers can rival their larger counterparts in terms of power.
Is the power consumption of mini pcs more energy efficient?
Generally, yes. Thanks to their compact nature and advancements in technology, mini pcs tend to consume less power, translating to lower energy bills. Additionally, they are designed with power efficiency in mind, making them environmentally friendly.
Can I run multiple operating systems on a mini pc?
Definitely. Most mini pcs are compatible with a range of operating systems. You can even set up virtual machines on your mini server to run multiple systems simultaneously. This flexibility means users can operate Windows alongside other operating systems for various tasks.
How do mini servers handle networking and data transfer?
Modern mini servers have multiple connectivity options, from Wi-Fi to gigabit ethernet jacks. Such features ensure that these servers can handle data transfers efficiently, serve websites, or even support a business's networking needs.
I've heard about Intel NUC a lot. Are they a great option for home servers?
Intel NUCs have become quite popular in recent times. They offer a combination of compact size, performance, and features that make them a great option for many users. However, with the recent news from Intel that they are discontinuing the Nuc, we will need to wait and see how viable they remain as Asus takes over production. Hopefully, they will be very similar to the quality and specs we have been used to from these little boxes.
Final thoughts on the GMKtek Nucbox G2
I think there is a really awesome future for Mini pcs as mini servers. Many of the hardware and software vendors are thinking about "edge computing" as this is a hot topic amony many to complement the move to cloud computing. There are still many use cases for compute nodes and clusters at the edge. So, this is driving the rapid development of small form factor and yet powerful computing platforms.
The GMK Nucbox G2 is a really decent little mini pc that has a lot of good about it. You can get it with 12 gigs of DDR5 and the N100 proc for around $149 with the Amazon coupon. It sips power compared to my Supermicro servers. So I could definitely see having these to run as Docker hosts, light virtualization hosts, and a few services. You will probably want more storage space, and a external USB adapter to go along with it if you want to play around with VMware ESXi. However, Proxmox, Ubuntu and other OS'es run fine on the unit and include drivers for the Realtek network chipset.
Other posts you may like