home lab
Mikrotik CRS310-8G+2S+IN Review: 2.5 Gigabit Switch For Home Lab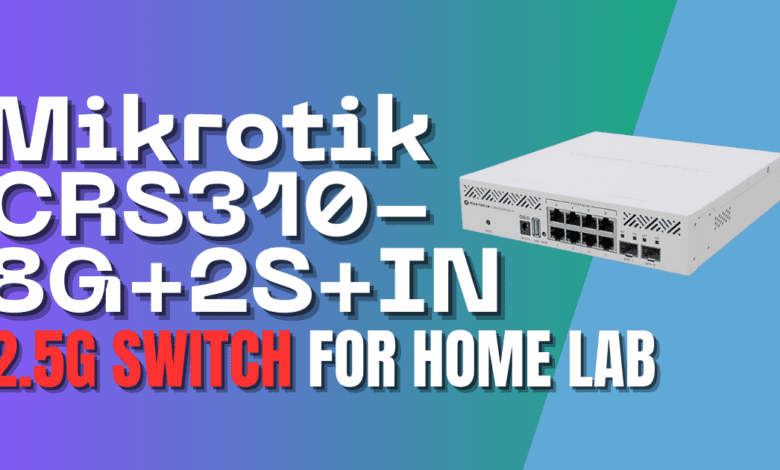 The 2.5-gigabit switch market is set to really heat up in late 2023 and 2024 with so many cheap switches and network adapters now running at 2.5 gig in micro PCs, access points, and other devices. The MikroTik CRS310-8G+2S+IN is a new switch from Mikrotik that is set to be a favorite in the home lab. It has many great features and is designed to meet the needs of small offices, edge locations, and labs with faster 2.5 Gigabit connectivity. One of the great features as well is the ability to uplink to a core or other switch using 10 gig SFP connections.
MikroTik CRS310-8G+2S+IN: An Overview
The Mikrotik switch unit is a small form factor unit that sports eight 2.5 Gigabit Ethernet ports and two 10 Gigabit SFP+ ports. The SFP+ cages are versatile, supporting data rates of 1G, 2.5G, and 10G, offering flexibility in usage.
Usually, home lab enthusiasts love Mikrotik gear as it sports a lot of processing power and features, and has very competitive pricing for what you get with their products.
Below is a look at the Mikrotik CRS310-8G+2S+IN switch. Up front, you have the 8 2.5 gigabit ports, 2 SFP ports, dc jack for your dc inputs. However, there are no multiple powering options with this switch like poe in, etc.
The Switch Chip: A Deep Dive
Embedded in the MikroTik CRS310 is the Marvell 98DX226S switch chip that Mikrotik boasts has unprecedented processing power and is found in some of their other devices. This by a dual-core ARM CPU chip allows the device to run RouterOS v7 efficiently.
The processing power of the chip can handle VLANs, Jumbo frames, link aggregation, ACL rules, and other advanced features. The hardware also supports offloaded Layer-3 routing if you are looking for new routers in your environment.
Exploring Connectivity Options
The device allows users to access 2.5 Gigabit Ethernet ports and 10g SFP modules. These ports support various data rates, including 1G, 2.5G, and 10G, providing options to utilize the switch differently based on the needs.
Mounting Alternatives
Users have multiple mounting options at their disposal. The CRS310-8G+2S+IN can be installed in a standard 19" rack using the included rackmount ears. Alternatively, with the RMK-2/10 accessory set, it's possible to mount two units within the same 1U 19" rack space or in a 10" rack.
Power consumption
The device operates with a max power consumption of 34W and 21W without attachments. The power efficiency of the switch will be a nice fit for businesses and home lab enthusiasts alike who are trimming power consumption back in the home lab and elsewhere.
Operating system and CPU details
As mentioned earlier, the CRS310 operates on RouterOS v7 and houses a 98DX226S CPU with dual cores, each running at a nominal frequency of 800 MHz. This CPU is essential for the smooth running of various operations and tasks the device performs and gives it the power to perform advanced operations without any performance hits.
Price Considerations
Priced at $219.00, the MikroTik CRS310-8G+2S+IN is not terribly expensive and will be a great option for home labs. Its lack of PoE may go against the purchase for many at this price range. However, I think the other features and Mikrotik reliability and capabilities will help to make up for that.
A Look at Additional Features
The device has one USB port, supporting a max current of 1A. It also has a CPU and PCB temperature monitor. It has industry standard ratings, such as CE, EAC, and ROHS certifications, and has an IP20 rating.
Unboxing
Below is after I first unboxed the switch. It is super light. I'm not saying it feels cheap, but it is not a heavy switch unit compared to some.
One thing to note. Don't do like me and get the switch mounted in the rack only to realize the initial admin password is stamped on the bottom of the unit next to the serial number. You will need this to initially connect to the unit with Winbox.
Below is a front view of the unit after mounting in the rack with everything working properly.
The rack mounts it comes with will have the unit mounted to one side or the other, not a middle mount. So you can choose which side you position the long rack ear and the short one.
This switch has very efficient power consumption. Below is after plugging in 2 devices into the 2.5 gig ethernet ports and with 1 10 gig SFP port uplinked. Since this is not a PoE switch it would not make much sense if we did see a lot of power draw. Still it is nice to see the low power consumption.
Initial configuration
The initial configuration can be carried out using Winbox after you plug in the switch to your main network. Mikrotiks will come default with the 192.168.88.1 IP address configured.
Using the admin password stamped to the bottom of the unit, login to Winbox. You will be prompted to change the initial password upon first login.
Looking at the ports in Winbox.
VLAN configuration.
The good about this switch
If you are looking for a great little 2.5-gigabit ethernet switch for your home server or home lab environment, this is a great switch. Mikrotik switches have a lot of features and capabilities built into the solution. If you like to geek out and have lots of "nerd knobs," that is Mikrotik. There is so much you can do with their switches.
This switch's power consumption is very efficient and will fit nicely if you are trying to have a small footprint home server lab and using micro PCs or other devices with 2.5 gig network adapters.
Also, it has (2) 10 gig SFP ports, so you have a high-bandwidth connection back into your core switch if you have a switch with 10 gig capabilities.
The bad about this switch
Some will point out that one thing that is less than desirable about this switch is that it does not have PoE built-in. I guess that could be a concern, especially if you are looking for an all-in-one switch that can do everything for you, including PoE. Many would like to have PoE in a 2.5 gig switch to power APs and other devices that can take advantage of PoE connections.
This switch is not easy to configure if you are coming from other switch manufacturers, like Unifi, etc., making setup extremely easy. Mikrotik has its own way of implementing configurations, and you can definitely get in the weeds quickly trying to configure basic things like VLANs, etc.
Wrapping up
The MikroTik CRS310-8G+2S+IN is a great little switch and it is nice to see Mikrotik offering something for this space that has a decent number of ports and 10 gig uplinks. The lack of PoE may put some off, though so be aware this won't be a switch for you to uplink your APs and other devices for power. It has efficient power consumption, flexible mounting options, and the right mix of network ports and speeds.
Other posts you may like
Don't miss out on new posts! Sign up!