Networking
Weatherproof PoE Switch Enclosure for Cameras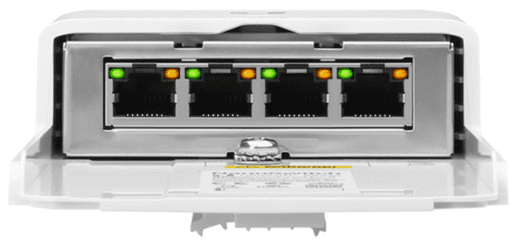 I have been working over the past few months at building out my outdoor security camera network. I have gone with a combination of Ubiquiti cameras which I will detail. However, in a couple of mount locations outdoors, I needed to have more PoE ports available for mounting additional cameras. With this requirement, I needed to have a weatherproof PoE switch enclosure for cameras, providing PoE passthrough. Let's take a look at what I went with to add the additional port count to camera mount locations.
Ubiquiti Networks Nanoswitch Outdoor 4-port PoE Passthrough switch
Since I already am running Ubiquiti gear for the camera network, the choice that made sense for me was the Ubiquiti Networks Nanoswitch Outdoor 4-port PoE passthrough switch. It is a pretty basic device. This is an unmanaged switch that essentially just allows you to feed multiple PoE devices from a single copper run as long as you have the PoE power from the source to feed the devices. It has some really nice features for use to satisfy the outdoor camera network requirements that I needed.
4 x gigabit ethernet ports
4 Gb/sec non-blocking line rate
Durable weatherproof poe switch enclosure
Mounts to pole or wall location
The Nanoswitch outdoor 4-port PoE passthrough switch provides passthrough PoE power for (3) ports. One port is the PoE in port and then you have (3) ports of PoE power out.
The Ubiquiti Nanoswitch PoE passthrough switch isn't terribly expensive either. You can purchase these for around $40 most places. I got mine from B&H Photo here: Ubiquiti Networks NanoSwitch Outdoor 4-Port PoE Passthrough N-SW (bhphotovideo.com)
One thing also that was a nice surprise is they give you a couple of right-sized "hose clamps" to mount the Nanoswitch on a pole style mount. These will cost you a couple of dollars each at a hardware store, plus the inconvenience of having to pick these up yourself. It was nice to have this included with the Nanoswitch.
One of the characteristics of this device that I didn't particularly like as a first impression was the switch's size. The weatherproof PoE switch enclosure is surprisingly large. Basically, the part of the housing below that I have highlighted is the switch enclosure area that contains the (4) port switch. The rest of the housing is space. Some have mentioned this "dead space" is one of the housing characteristics that makes it weatherproof. Whatever the case, make sure you account for the extremely long housing size in your mount location.
Let me detail the cameras that I am using with the Nanoswitch.
Ubiquiti Cameras
The cameras that I am using at home are two different models. They are the UVC-G3 and the UVC-G3-flex. The data sheet on the UVC-G3 shows the following in regards to power requirements:
Power Method 802.3af PoE or 24V Passive PoE
Power Supply 802.3af PoE Switch
Maximum Power Consumption

Standalone – 4W
With Optional IR Extender – 9W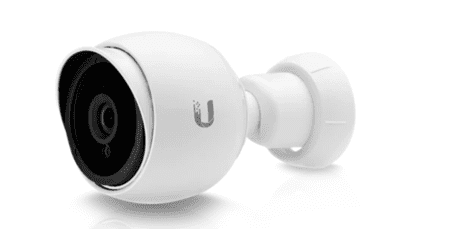 The UVC-G3-flex camera is a smaller variant of the UVC-G3, however, it does have better night vision IMHO than the UVC-G3. The power consumption for the purposes of the passthrough switch is the same as the UVC-G3 without the IR extender at 4 watts.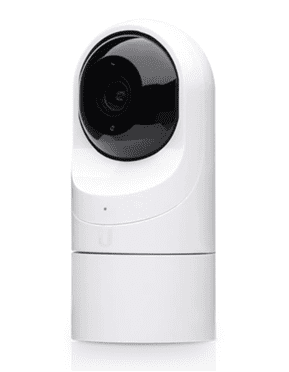 802.3af vs Passive PoE
One thing to note about the Ubiquiti Nanoswitch design is that it is built upon the "passive PoE" notion. If you are feeding your Nanoswitch from an upstream 802.3af PoE switch such as a Cisco PoE switch, you will not see the switch uplink and powerup.
This is due to the way Ubiquiti equipment consumes PoE. It uses passive PoE that isn't directly compliant with the 802.3af standard. True 802.3af is a minimum 44 V DC and 350 mA on each port. The Ubiquiti Nanoswitch and other Ubiquiti equipment work off 24V passive PoE.
You will need to utilize a Ubiquiti Networks INS-3AF-I-G Instant 802.3af Indoor Gigabit PoE Converter such as found here. As far as I have been able to tell in doing some configuration testing, there isn't a way to configure the parameters of a Cisco PoE 802.3af compliant port so that it works with the passive PoE required by the Ubiquiti equipment.
Concluding Thoughts
Weatherproof PoE Switch Enclosure for Cameras allows aggregating PoE connections on a single copper drop at a specific point for powering PoE equipment. The Ubiquiti Nanoswitch fills the role of allowing you to connect multiple PoE devices, especially if you are turning up multiple cameras at a single drop point. There are some things to note:
Pros:
Relatively inexpensive switch
Allows connecting (3) devices at a drop point (1 PoE in and 3 PoE out connections)
Works with Ubiquiti passive PoE
Cons:
Large size with a lot of void space (evidently to help with weatherproofing)
Passive PoE not 802.3af compliant
You will need to purchase a Ubiquiti converter for powering up passive PoE devices
Don't miss out on new posts! Sign up!