home lab
Acemagician Mini PC AD15 Core i7-11800H Home Server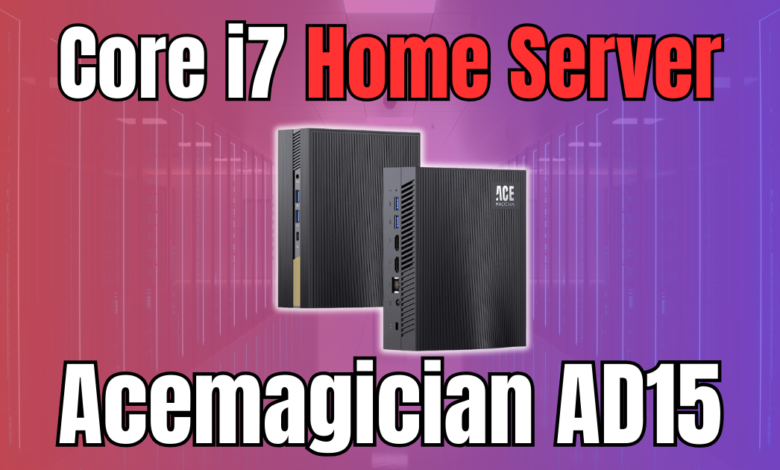 Not too long ago, Acemagician sent me an AD15 model to look at. However, this is not a paid review. It is simply my thoughts on the unit and how well it can handle home server workloads. Since I have been in the middle of looking at many different mini PC configurations as of late, it provided an opportunity to get hands-on with a Core i7-11800H proc with 16 threads. In mini PCs, 16 threads is an excellent configuration for a productivity machine for space-saving students and small businesses, but also for home labs and server-based workloads. Let's look at the AD15 mini PC power, its specs, and the possibilities with this hardware.
Who is Acemagician?
If you search for mini PCs on Amazon or other online retailers, you will definitely come across Ace Magic or Ace Magician as they are seemingly the same vendor. One I have seen a lot of reviews lately is the Acemagician AMR5 mini pc that is AMD ryzen based with radeon graphics. Ace Magician makes a lot of different models of mini PC, including the AD15 which is Intel-based.
Core i7-11800H
Let's start with the Core i7-11800H processor. This little processor packs a punch with 8 cores and 16 threads. If you are looking for mini PCs with high thread counts for running virtual machines, containers, etc, this processor will certainly get you there with the performance mode and more than enough power to run a hypervisor, handling light tasks or rendering intense game graphics (gaming pc), no matter what performance modes you choose.
Below is information from the PC Mark for this CPU:
Description: Intel UHD Graphics for 11th-Gen Intel Processors
Class: Laptop
Socket: FCBGA1787
Clockspeed: 2.3 GHz
Max boost clock: 4.6 GHz
Cores: 8 Threads: 16
Typical TDP: 45 W
TDP Down: 35 W
Cache Size: L1: 640 KB, L2: 10.0 MB, L3: 24 MB
Memory Support: Max. Memory Size: 128 GB (Up to 3200 MT/s)
Other names: 11th Gen Intel(R) Core(TM) i7-11800H @ 2.30GHz, 11th Gen Intel Core i7-11800H @ 2.30GHz
CPU First Seen on Charts: Q2 2021
CPUmark/$Price: 52.68
Overall Rank: 443
How does this compare to 16 thread ryzen 7's that I have tested recently, like the 5800u? Below is the PC Mark comparison. As you can see the Core i7 edges out the Ryzen 7 5800u, but is not as power efficient.
AMD Ryzen 7 5800U vs Intel Core i7-11800H @ 2.30GHz [cpubenchmark.net] by PassMark Software
Efficient Heat Dissipation for Silent Operation
Heat management is crucial for any mini pc's performance; the AD15 does a good job in this area. The mini pc incorporates a good design on this front and from what i have seen stays cool under various workloads that I have thrown at it.
Connectivity Options: USB C and HDMI Ports
The Acemagician AD15 mini pc offers many connectivity options, including USB C ports for fast data transfer and HDMI ports for connecting to monitors and TVs. Users can create a multi-display workstation or gaming setup with support for up to three monitors, providing ample desk space for other accessories.
Reasonably priced
You will find the Ace Magician reasonably price and there are coupons and discount codes that you can easily find as well. Below is the current price on Amazon.
Unboxing the Ace Magician AD15
Let's look at the unboxing of the unit. You get the AD15, a user manual, power adapter, and HDMI cable. The Acemagician AD15 was packaged very well.
Opening the top lid of the box reveals the AD15 and a box with all the cables, power supply, etc.
The front of the unit has USB-A ports, a USB-C port and an audio jack. The power button is on the top of the unit.
Below, you see the back of the unit with the LAN port, USB-A ports, HDMI port. There is no display port on this unit.
The right side of the AD15.
Left side of the AD15.
One thing I really applaud Acemagician for is the ease of access to vital upgrade components. You take 2 screws out from the bottom of the side panel and you have easy access to the NVMe 2280 M.2 slot and the memory. Also, you have easy access to the 2.5 inch SSD bay to install an SSD if you want.
One other point is the installed NVMe drive from the factory comes installed with a heat sink, which is something you don't really see a lot with other mini PCs.
Below, I have added an 2.5 inch SSD to the unit.
See here if you want to know how to add additional SSD or NVMe storage to your Proxmox host: Proxmox add disk storage space – NVMe drive.
Acemagician AD15 BIOS settings
I booted into the BIOS just to take a look around. I left everything in auto mode, so no tweaks here.
One downer for VMware vSphere fans if you want to find a small mini PC for home lab, the A15 is running a Realtek network adapter. So, this will be a down side for this device if you are looking at running ESXi. You can certainly run a USB network adapter, but you won't have use of the onboard LAN port.
Proxmox install and spinning up VMs and containers
Installing Proxmox on the Acemagician AD15 went very smoothly without any issues.
Installing Ubuntu Server 22.04.
After spinning up the first VM, I converted it to a template in Proxmox and started cloning. Below is watching the progress of the clone process.
After spinning up a number of Ubuntu Server 22.04 LTS VMs, I kicked off several containers running inside several of the VMs.
I cloned out and got all the way up to 32 VMs on 16 GB of memory. This was Ubuntu 22.04 LTS Server with the following config:
1 processor with 2 cores configured

1 GB of memory
As you can see below, I ran out of memory essentially at 32 VMs powered on and running. However, I noticed that the Intel Core i7-11800H kept up beautifully and didn't seem taxed even with this number of VMs.
Power consumption
This is less power efficient CPU than some of the AMD Ryzen 7 variants I have been testing. I saw this CPU go up to 50 watts or so from time to time. Below is a capture while I booted the AD15 from power on.
However, even with 32 VMs running and spawning Docker containers, and kicking off updates in the Ubuntu VMs, the CPU surprisingly zipped through work and basically ran at around 25 or less watts which is really great.
Below is a power capture when running 32 VMs and 16 gigs of memory on the system. Not bad for that many VMs running. Several had Docker containers spun up and had kicked off some Ubuntu updates.
The good and the bad
Let's start with the good:
This is a really great little Mini PC that I think will make an excellent Linux-based hypervisor host. The Core i7-11800H doesn't disappoint and I found it very snappy running VMs. It seemed to chew right through the work I through its way.

Also, even though this processor has a typically TDP value of 45 watts according to PC Mark, I saw it running 32 VMs that were mainly idling (what you typically see in a home lab) with the machine sitting at around 24 watts or so, which isn't bad at all.

Easy access to components. This mini PC has one of the easiest access compartments I have seen on the mini PCs that I have tried so far. You take out 2 screws and the side panel easily slides off. You don't have to worry with fan cables, or other things like wireless wires running in the same area that you will have to be careful about. You simply remove the panel and you have easy access to RAM, NVMe, and SSD.
Cons of the AD15
One fo the things I tried to like about the unit is the flared out bottom. I think Acemagician did a good job with styling to make it look modern. However, it would have been nice to see the unite just have square edges so you could turn it horizontally as well. You can lay it down on its side, but you will have one side higher than the other which doesn't look good and won't work well in server racks. Granted this isn't designed as a server, but just calling this out as a mini PC server potential.

It has the Realtek network adapter. While there is nothing inherently wrong with Realtek network adapters, this will prevent you from using it with VMware ESXi. You will need to use a USB NIC instead.

Also, the network adapter is a 1 Gbps LAN connection and not 2.5 Gbps.
Frequently Asked Questions
What makes the Acemagician AD15 stand out among other mini pcs?
The Acemagician AD15 mini pc boasts a blend of potent components, including a Core i7 processor, ensuring swift task execution. Features like efficient heat dissipation and silent mode operation provide a conducive environment for both work and play.
Is the AD15 suitable for gaming?
Indeed, the AD15 is equipped to handle gaming applications smoothly. With a max boost clock supporting intense game graphics, gamers can enjoy a thrilling and immersive gaming experience without compromising the device's performance.
How does the Acemagician AD15 facilitate upgrades?
The AD15 is designed with user upgrades in mind. With easy access to its internal components, users can upgrade storage and RAM as needed, ensuring the device continues to meet their evolving needs.
Can the AD15 connect to multiple displays?
The AD15 supports connections to multiple displays through its HDMI and display port options, enabling users to create a versatile and expansive visual workspace for various tasks.
How does the AD15 optimize desk space?
With its compact and sleek design, the AD15 is a space-saving powerhouse. Its small form factor allows it to fit into tight desk spaces, providing users with more room for other essential accessories and peripherals
How does the silent mode in AD15 enhance user experience?
The silent mode in the AD15 ensures quiet operation, making it ideal for environments where noise minimization is crucial. Whether engaged in quiet streaming, entertainment projects, or late-night work sessions, users can rely on the AD15 to operate discreetly and efficiently.
Wrapping up
The Acemagician AD15 mini pc is a great little mini PC. I found the Core i7-11800H to be a very spunky little CPU, it was relatively quiet, and has versatile connectivity options. Users looking for a device that can easily handle gaming, entertainment, office applications and even looking for a powerful little home server mini PC will be happy with the AD15 in that role, even though this is above and beyond what it was designed to do.
Other posts you may like