home lab
Beelink SER5 Mini PC: AMD Ryzen 7 Home Server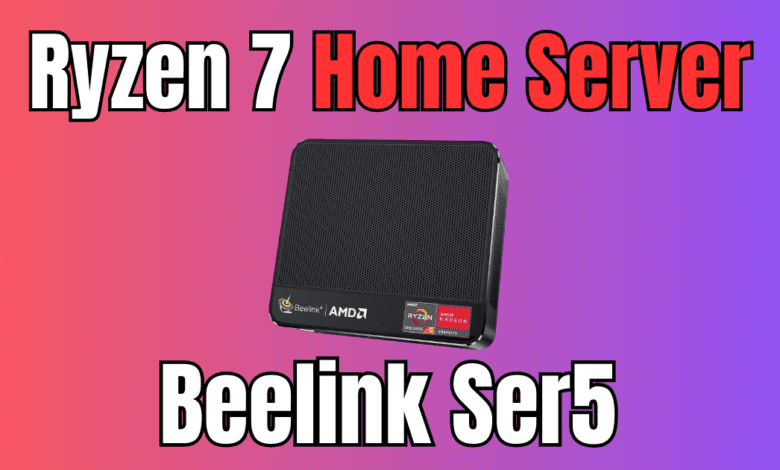 I have been testing and trying out a lot of Mini PCs in the lab environment and quite a few Beelink PCs. Beelink is producing really great small form factor Mini PCs. They offer a minimal physical footprint and generally pack a wide range of powerful CPUs that allow you to easily perform office tasks, gaming, etc. But, for my purposes, they can also easily run a home server for your lab environment at a very reasonable price!
So far, I have only had the Intel models in the lab loading VMware vSphere and Proxmox. However, I recently pulled the trigger on a Beelink SER5 AMD Ryzen 7 unit with one of the low-power Ryzen 7 5700U processors.
Beelink SER5 Mini PC with the AMD Ryzen 7 5700U
The model I purchased is the Beelink Ryzen 7 5700U here: https://www.amazon.com/dp/B0CF5J38K7. One thing I like about the Beelink units is they sell for a bit cheaper than most other Mini PCs from name brand vendors.
As you can see below, you can get a 16-thread processor, 16 gigs of memory, and 500G NVMe drive for $279 and you can clip the $20 coupon. Not bad for a home server!
So far, I have only been testing Intel-based CPUs in the Beelink mini PCs that I have tested in the lab. So, I wanted to get my hands on a Ryzen 7-based mini PC with the lure of even more processing power than what I had tested in the Intel i3-N305 with 8 cores. You can see my review of that unit here: Beelink EQ12 Pro: Cheap Home Server with 8 Cores and 32 GB RAM.
The CPU AMD Ryzen 7 5700U is certainly not the newest Ryzen 7 chip out there (more powerful than AMD Ryzen 5), but it sports the following specs along with an integrated GPU:
Class: Laptop
Socket: FP6
Clockspeed: 1.8 GHz
Turbo Speed: 4.3 GHz
Cores: 8 Threads: 16
Typical TDP: 15 W
TDP Down: 10 W
TDP Up: 25 W
Cache Size: L1: 512 KB, L2: 4.0 MB, L3: 16 MB
The PC Mark scores include the following:
Overall Score: 15831

Single Thread Rating: 2595
The AMD Ryzen 7 stands out in terms of excellent performance. It is known for its strong multitasking capabilities, ensuring tasks run smoothly even in such a compact device. What I really like about the "U" models is the low TDP values. This comes in handy when considering a home server since it will likely run all the time.
Beelink SER5 Pro Mini PC: Key Features and Specifications
Below are the selected options as I purchased the unit from Amazon.
Performance with Beelink Ser5 Mini PC AMD Ryzen 7 5700U
The Beelink SER5 Pro Mini PC comes with the AMD Ryzen 7 5700U processor. With 8 cores and 16 threads, a smart cache capacity of L2-4MB and L3-16MB, this CPU can reach up to 4.3GHz. Using 7nm technology, the 5700U balances power and energy consumption, performing well in both single-threaded and multi-threaded tasks. This ensures the SER5 Pro responds promptly, handling multiple tasks simultaneously.
Expandable Memory
The Beelink SER5 Pro runs Windows 11 Pro and has a memory capacity of 16GB, using dual-channel DDR4 with speeds of up to 3200MHz. It provides 500GB of storage, suitable for daily tasks and work-related activities. You can of course add more storage to the SER5 Pro and upgrade memory to 2x32GB and 2+2TB storage by upgrading the DDR4, adding a 2.5-inch SSD, or changing the M.2 NVMe SSD.
4K Visual Display
The Beelink SER5 Pro integrates AMD Radeon graphics with an AMD Radeon Vega GPU with 8 cores at 1900MHz, offering graphics processing for various activities like gaming or design. The device supports a multi-screen display through DP, HDMI 2.0, and Type-C, with a resolution of 4K@60Hz.
Connectivity Options
The Beelink SER5 Pro offers Gigabit Ethernet support, dual-band Wi-Fi 6, and Bluetooth 5.2. Its USB 3.2 ports accommodate several external devices, from speakers to surveillance equipment. With the 5700U processor, the SER5 Pro also includes a cooling fan to manage temperature. It also features good throughput transferring data and multi-monitor configuration support. There is also an audio jack in the front, along with a USB C connection.
Cooling and System Management
Beelink has ensured the Ryzen Mini PC runs cool with a system fan helps maintain performance while ensuring the device's life expectancy. The power adapter is designed to adequately support the system's power and cooling needs, along with a fan that is positioned below where the optional 2.5 inch SSD can sit.
Comparing with Intel: Why Choose AMD?
The AMD Ryzen series is an extremely compelling chip, especially for a home server in the Beelink SER5 Pro. With the Ryzen 7 5700U, you will get 8 cores and 16 threads, which is awesome considering we will be using it to run virtual machines.
AMD's has a focus on multi-core performance and provides very good value in terms of price to performance, making it a favorite for many.
Windows 11 preinstalled
Like all the other Beelink Mini PCs I have tested, the Beelink SER5 Pro 5700U has a pre-installed Windows 11 operating system. I swapped out the preinstalled NVMe drive in the lab for one I will use to install Proxmox.
Physical look outside and inside the unit
In the box, you will find the user manual, HDMI cables, power supply, wall-mounted bracket, and the Beelink Ser5 Mini PC.
The front of the unit features USB ports and the power button.
Around the back of the Beelink Ser5 there are the RJ45 LAN port, USB ports, HDMI, and Display port to go along with the power adapter connection. So you choose if you want to use an HDMI cable or display port cable.
The inside of the unit looks identical to the EQ12 Pro that I recently reviewed here: Beelink EQ12 Pro: Cheap Home Server with 8 Cores and 32 GB RAM. You see the fan bracket and underneath you will find the NVMe drive and RAM slots.
After taking the fan shroud out, you will see the RAM and NVMe slots exposed on the motherboard.
Downsides
One of the glaring downsides for me with the unit is the Realtek network adapter. It means you won't be able to install VMware ESXi on the unit without a USB network adapter. Ironically, as I have written about, Realtek USB network drivers ARE supported in VMware.
Also, it is only a 1 gig connection and not 2.5 gigs like many of the newer mini PCs coming out. 10 gig would just be awesome if we start seeing those in the future.
Also, DDR4 memory, while still fast enough for server applications, is not the latest and greatest with DDR5 memory in many of the mini PC units now.
Finally, this is PCIe gen 3 and not PCI gen 4 which a lot of the newer mini PCs have as standard now.
Home Server lab configuration
Getting this unit ready for the role of a home server running Proxmox, I had ordered a 64 GB DDR4 SODIMM kit from Amazon. The Corsair kit installed and had no issues. Confirmed in the BIOS.
Installing Proxmox
Connecting up the trusty Ventoy boot disk and getting the Proxmox installation kicked off.
Continuing with the Proxmox 8.x installation.
After getting Proxmox installed and a few VMs running already.
Cloning virtual machines
I start the process to clone even more virtual machines.
Below, I am cloning a Windows template I had created.
Power usage
What about power usage? Below I captured the power consumption when cloning VMs over and with 15 or so already running. It was peaking just every once in a while at 32.5 Watts.
Finally, I was able to push the little box to 100% CPU while starting 10 more Windows 10 VMs and these VMs kicking off updates, etc, all at once. It looks like the max for the little server is around 56.5 – 57.5 Watts. I only captured the 56.5 watts in the picture, but did see it go to 57.5 briefly when the CPUs were at 100%.
Below is a screenshot of the CPU activity that correlates to the above wattage draw.
I have to say though, I am running Xeon-D procs in older Supermicro servers now, and these are running anywhere from 85 to 95 watts with the same number of VMs or less and not as much CPU activity sustained. So, if I were to just switch to these little units I would be saving roughly 100 watts an hour for three of them compared to the Supers.
Frequently Asked Questions
How does the AMD Ryzen 7 5700U in the Beelink SER5 Pro compare to similar Intel CPUs?
While both AMD and Intel have their merits, the AMD Ryzen 7 5700U is known for balancing power with energy efficiency, especially when handling multi-threaded tasks. In contrast, Intel CPUs may focus on performance or energy efficiency depending on the specific model.
Is the Beelink SER5 Pro mini PC suitable for gaming?
The integrated AMD Radeon Vega GPU with 8 cores supports graphics processing that can manage casual gaming. You might need to adjust the settings for high-end games, but the SER5 Pro offers satisfactory performance for many titles.
How does the dual-band Wi-Fi 6 feature enhance the internet experience?
Wi-Fi 6, or 802.11ax, is a newer generation of Wi-Fi. On the Beelink SER5 Pro, dual-band Wi-Fi 6 ensures faster data transfer speeds, reduced latency, and more stable connections, especially in crowded network environments.
Can I use the Beelink SER5 Pro as a server for small-scale applications?
With its RAM and NVMe SSD capabilities, the SER5 Pro can be configured as a server for applications that don't demand high server workloads. However, dedicated server systems might be more appropriate for larger-scale server tasks.
Are there any additional accessories included in the box or do I need to purchase them separately?
The Beelink SER5 Pro generally comes with essential accessories like the power adapter and HDMI cables. However, specific inclusions can vary based on the seller and country. Always check the details at checkout.
Is it easy to upgrade the storage on the Beelink SER5 Pro?
Absolutely. The SER5 Pro has been designed with upgradability in mind. You can add a 2.5-inch SSD or replace the M.2 NVMe SSD based on your storage needs.
How does the SER5 Pro handle graphic-intensive tasks like video editing or 3D modeling?
With its AMD Radeon Vega GPU and support for 4K@60Hz resolution, the SER5 Pro can manage graphic-intensive tasks. However, for professional-grade work, it's recommended to check the software requirements and compare them to the mini PC's specifications.
Wrapping up
The Beelink Ser5 Mini PC with AMD Ryzen, especially the Ryzen 7, provides an excellent hardware solution for running a home server with power efficiency without compromising on performance. It definitely is a great piece of hardware kit for running Proxmox. Due to the Realtek network adapter, I wouldn't recommend it for running VMware ESXi as you would have to use a USB network adapter.
If you are looking at running 25-30 VMs and use Proxmox or XCP-ng, I definitely recommend this little unit for a power-efficient home server if you pick up the 64 GB kit that I picked up to max out the RAM. For me, this looks very appealing when I consider the almost 100-watt draw of my old Supermicros with Xeon-D procs compared to the SER5.