Windows
Why is Hard Drive space steadily decreasing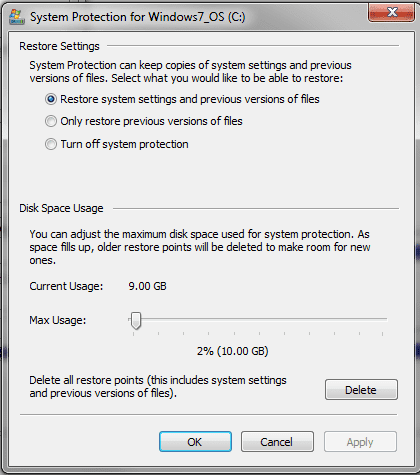 If you have had an issue with hard drive space steadily decreasing and many of you have, the issue may not be files at all.  In fact, in many cases it could be Windows itself!  This goes for server environments as well as workstation OS's.  In working with a client on a server disk space situation that presented itself, we discovered a nasty little caveat to using a built in Windows feature.  This client happened to be using Windows 2008 Server, not R2.  The server itself wasn't doing a whole lot and was a VM that hosted a couple of websites, some shared printers, and a few other one off applications.  After running disk cleanup and checking the obvious, things just were adding up.
I pulled out my WinDirstat app on a USB drive and loaded on the server to get a better visual representation of what was going on.  Again, WinDirStat only showed 35GB used out of 100GB.  Well, that didn't make sense once again as Windows reported that we had only 5GB free and the rest being used.  In playing around with WinDirStat though, I checked the option to show Unknown space along with the other, and wouldn't you know it, I was able to see the missing 60GB!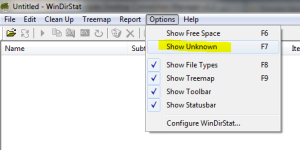 So finding that we have 60GB of unknown space is part of the battle.  How do we know what is taking so much space?  I had suspected that something having to do with Shadow copies might be allocating the space that we see that is "Unknown" just from prior experience with tracking down disk usage issues starting with Windows Vista.
Sure enough, when looking at the Volume Shadow copies tab in disk management, I saw that the space allocation for this server and Volume shadow copies was unlimited and it was using 60GB.  Bingo, there was our disk space being used.  How did we adjust this?
Open up disk management and right click your C Drive or whatever local drive you are having disk space issues with.  Click on the Shadow Copies tab.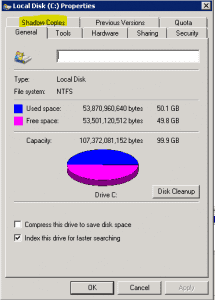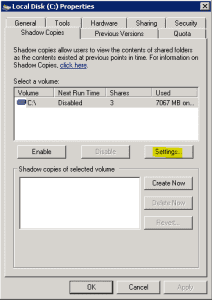 In our case, the server was set to No limit before we made the change to Use limit and set the limit to roughly 10GB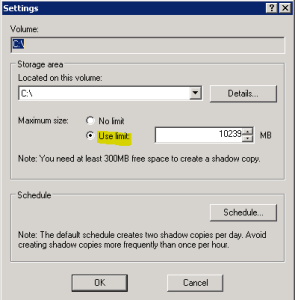 In a few seconds we had recovered over 50GB of space for our server!
Windows 7
In Windows 7 this is found in a slightly different place.  If you look under System Properties, sysdm.cpl you have the System Protection tab.  Click Configure.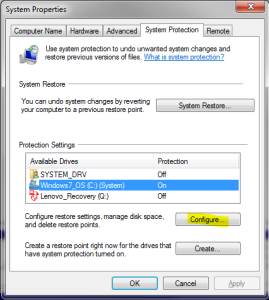 You will see disk space usage found here.  The Max Usage slider can be adjusted accordingly if need be to allocate more or less space.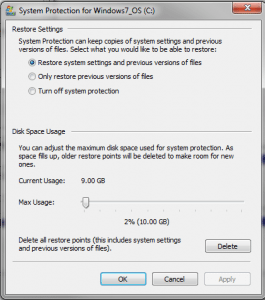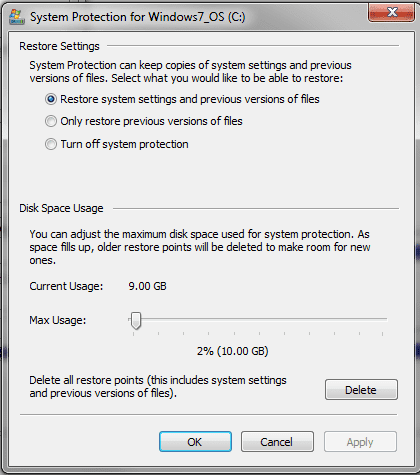 Don't miss out on new posts! Sign up!