home lab
Home Server: Why you shouldn't build one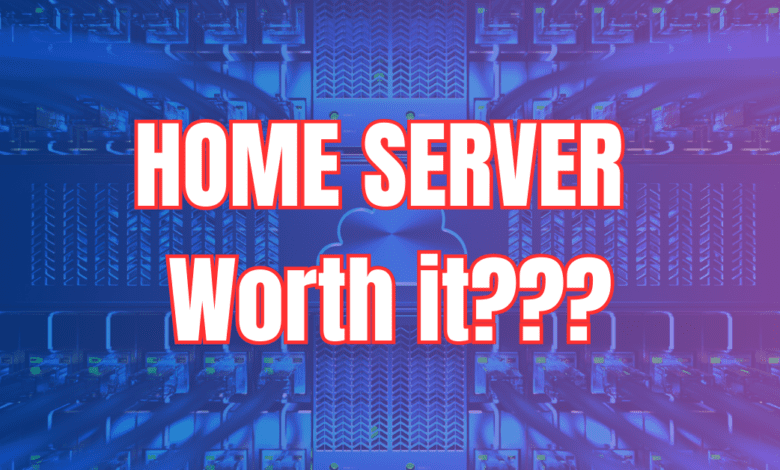 You can do so much running your own home server. It is a great tool for learning and actually storing your data. Many prefer to control their own file sharing, media streaming services, and also run their own web server hosting self-hosted services. However, let's look at a home server from a slightly different angle – why you shouldn't build your own home servers.
What is a Home Server?
Home servers provide hardware that is dedicated to the purpose of serving out services in your home network. It can be any type of hardware (dedicated server, an old desktop computer, mini PC, NAS device, or something else) that is dedicated to serving out resources. What types of things do many people like to host? Services may include server functions like a file server, home security systems, etc, on a home network.
Generally, home servers don't require much of the computer's processing power, so older CPUs tend to work well.
Many operating systems can be used. You can use evaluations of Windows Server, free Linux distros like Ubuntu Server, and hypervisors. These include Proxmox, VMware vSphere, Hyper-V, XCP-ng, KVM, and other virtualization software.
Running your own home server generally requires some basic tech knowledge, but you don't have to be an expert. In fact, many run a home lab simply to build their knowledge and skills for a specific technology. Before we look at why you shouldn't build a home server, let's consider why some do want to build one.
Overview of pros and cons
Note the following pros and cons of Home servers:
Reasons to Build a Home Lab
Reasons Not to Build a Home Lab
Control over your data
Financial investment required
Personalized technical playground
Space and noise considerations
Improved technical skills through practical experience
Time commitment and balance with family life
Opportunity to explore and master new technologies
Risk of becoming a distraction from other responsibilities
Real-world scenario emulation for better understanding
Potential steep learning curve for beginners
Professional skill development and future-proofing career
Difficulty in troubleshooting and resolving issues without prior experience
Family engagement in learning and understanding technology
Energy consumption and possible increase in utility bills
Controlled environment for testing new software and configurations
Cooling costs are a consideration
Optimizing hardware utilization through virtualization
You are responsible for backups
Creating a tech environment for learning and growth
List of pros and cons for home server
Let's look at a more in-depth comparison.
Why set up a Home Server?
Control Over Your Data
With a home lab home server, you can store files, manage your e-mail messages fully, and even host your own web pages on your own server within your local network, much like cloud servers, but with total ownership.
This control and ownership means you can set up your data security, and backups, and ensure that all your data is backed up according to your own standards and controls.
Improved File Sharing and Access
A home server facilitates file sharing and enables you to access files and access among different devices on your home network. Whether it's documents, media files, or even multiplayer games, a home server acts as a central hub where files are stored and accessed by different devices including computers, mobile phones, and other smart home appliances.
Enhanced Media Streaming and Gaming Experience
With a home server, media streaming, and online gaming become more seamless. You can host your own media files and stream them across different devices, or even host multiplayer games for a better gaming experience.
Cost Savings Over Time
Although there's an initial investment in hardware and software, over time, having a home server can be more economical compared to subscription-based cloud storage services. Moreover, the option to repurpose an old computer as a server can further cut down on costs.
Learning and Skill Development
For tech enthusiasts, building and maintaining a home server is a rewarding project that enhances technical know-how. It provides a hands-on learning experience in networking, operating systems, and server management.
Why Not Build a Home Server?
Note the following reasons not to build a home server:
You don't like to work with hardware

You want your hardware to always be up-to-date

You want the lowest power bill possible

You don't enjoy tinkering and troubleshooting

You don't want to worry about backups
1. You don't like to work with hardware
If the thought of dealing with hardware, setting up a home server, and troubleshooting technical issues doesn't appeal to you, building a home server may not be the right choice. There's a significant amount of hardware tinkering involved, from choosing the right hardware to installing and configuring the server software.
Home servers might not always have the latest hardware. If you want to have up-to-date hardware "all the time", a home server might not be what you are looking for as it will mean you are responsible for the hardware updates, which can be both time-consuming and costly.
Especially if you are already not inclined to work with hardware, as in point 1, it can be a challenge to stay up-to-date with the current hardware or have to deal with hardware refreshes in 2-5 years.
2. You want the lowest power bill possible
Home servers generally operate round the clock, which could lead to a higher energy bill. If minimizing energy consumption is your priority, having a home server up and running around the clock may not be something you want to have on top of normal power consumption.
3. You don't have adequate cooling
Tagging along with your electric bill is concerns over cooling. Once you start putting a number of different devices in the same space, heat will be generated. Many start out placing a home server in a closet or other space that doesn't have very good airflow.
This can lead to hardware failures and other damage to the devices, along with making spaces or rooms uncomfortable due to the excess heat. If you don't have a good space or a good cooling solution for your home or room, you may not want to run a home server.
4. You don't enjoy tinkering and troubleshooting
Building a server requires a willingness to tinker, troubleshoot, and solve technical issues. If you prefer a set-and-forget solution, home servers may not be the ideal choice.
5. You don't want to worry about backups
Home servers require a robust backup strategy to prevent data loss. If you don't want to worry about backups and prefer automated cloud backups, a home server might add to your concerns.
Take a look at my resources dedicated to building your own home servers below:
Frequently Asked Questions
What type of operating systems can I use for my home server?
You can use Windows Server, Linux distributions such as Ubuntu Server, and bare-metal hypervisors like Promox or VMware to host virtual machines or containers that run your services.
Can I use my desktop computer as a home server?
Absolutely. Many repurpose old computers or mini PCs as home servers. However, you will need a CPU that has extra processing power and storage capacity to handle the virtual machines and containers you plan to run on it.
Is setting up a home server a good way to learn?
It provides great hands-on experience to learn about networking concepts, managing servers, and even basic tech knowledge about hardware and software configurations. It's also a great way to learn how to troubleshoot operating system issues and problems with the network.
How can a home server host home automation?
It can store and manage data from home security systems, control smart home appliances, and even manage heating or lighting systems through a web proxy or dedicated applications.
How does a home server compare to the cloud?
Both allow you to access your data from anywhere. However, it is all about control. You control everything related to your server. With cloud solutions, you are subject to their standards and data access. Cloud storage is easier with requiring only an internet connection, but home servers provide much more control over your data and freedom from cloud service providers.
Is remote access possible with a home server?
Yes, with the right configurations, like VPN software, you can access your server remotely, enabling you to retrieve files, manage your media, and even control other devices on your home network from anywhere.
How can I optimize energy saving with a home server?
Use power-efficient hardware. Also use strategies to help reduce power consumption, like sleeping your servers or powering them down when you don't need to access your data.
What is the significance of a network router?
It manages traffic between your home network and the internet. It is where you setup configurations that allow you to access your server from outside your network when you are traveling, etc.
How can you prevent data loss?
Regular backups are crucial so you don't lose data. If you have server or NAS devices make sure your hardware is redundant using RAID technologies and consider off-site backups to cloud storage or other locations using available backup software.
Don't miss out on new posts! Sign up!