Storage
Synology SA3610 and SA3410: Game-Changing High-Performance Storage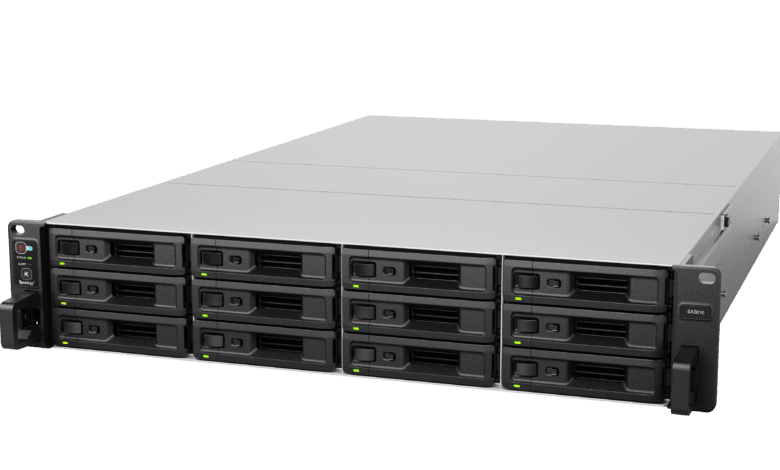 Don't miss out on new posts! Sign up for the Newsletter here:
May 3, 2023 – Today, Synology introduced the SA3610 and SA3410, a pair of highly scalable storage systems that enable organizations to store vast amounts of data without compromising speed and performance. Starting with 12 drive bays each, businesses can scale up to 96 drive bays1, reaching a total raw storage capacity of 1.7 PB.2 These new models excel as central backup, surveillance, and file servers.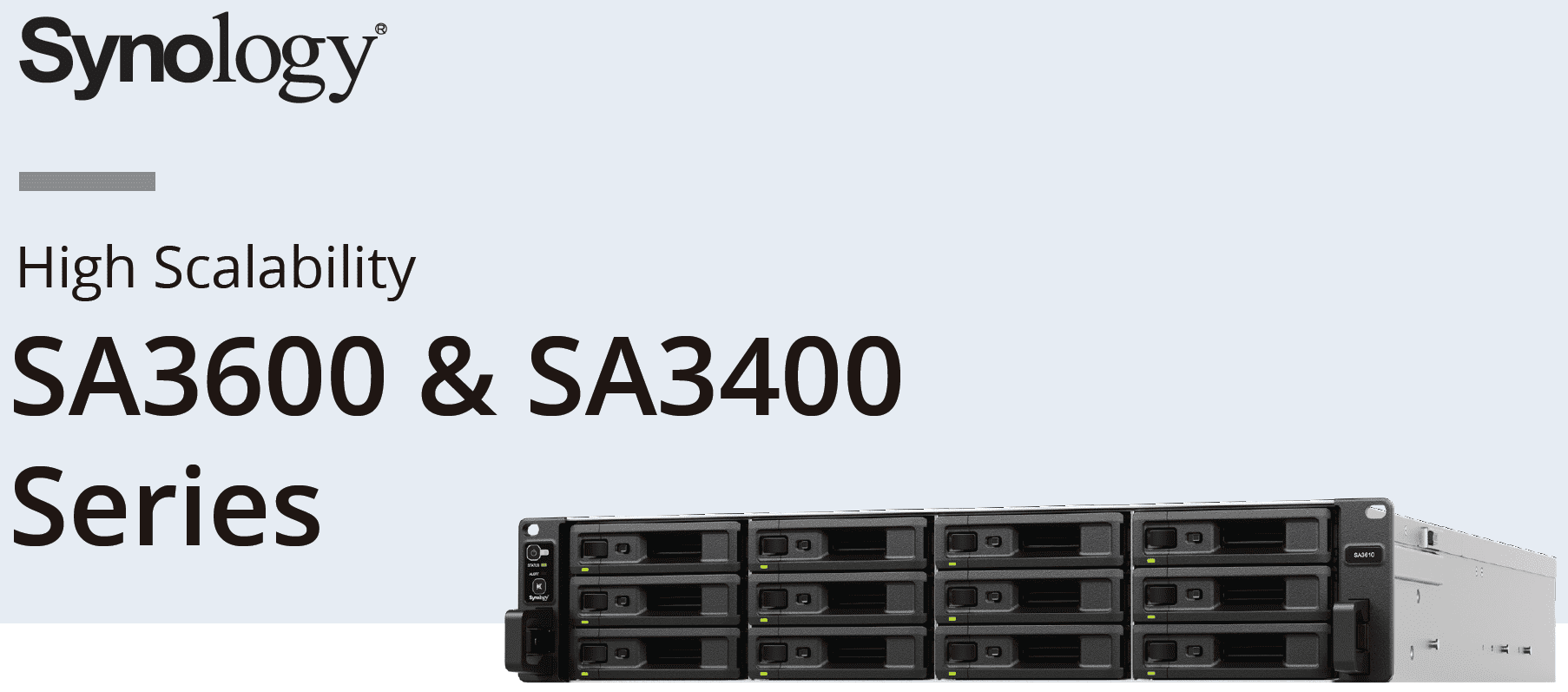 I'm excited to share that these new units offer stable, high throughput and ample capacity, making them ideal for managing large data volumes, such as simultaneous backups, archiving, surveillance recordings, and video serving and storage. Michael Wang, product manager at Synology Inc., emphasizes that the SA Series allows businesses to start small and expand as their data growth demands.
Dependable and Robust
These new units are keen on performance. The SA3610 and SA3410 support demanding applications with over 6,200/3,000 MB/s sequential read/write speeds,3 10/25/40GbE and Fibre Channel networking (2 x 10GbE RJ-45 included), network bonding, and SMB Multichannel support. Hybrid storage arrays offer a cost-effective solution to reduce I/O speeds and latency on HDD volumes, using SSD volumes as read/write cache.4
Remote management solutions such as a dedicated out-of-band (OOB) management port, central management via Synology CMS, and cloud-based remote monitoring with Active Insight help cut administrative overhead. Hardware redundancy and active-passive clustering through Synology High Availability ensure maximum service uptime.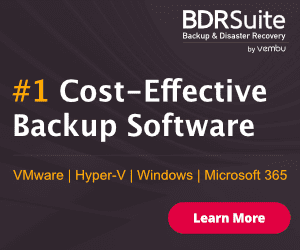 A Versatile Data Platform
All Synology SA series systems include dependable file management, sharing, and business syncing solutions. Synology Drive enables easy access to file management and sharing tools on PCs, Macs, and mobile devices. Connecting and syncing data between devices helps remote teams and offices stay in sync.
Synology Drive ShareSync distributes files to servers globally and syncs data back to headquarters, while teams can maintain multiple sites in sync using less bandwidth and storage with Hybrid Share.5 Shared data is saved to Synology C2 Storage data centers for on-demand access, while frequently accessed files are cached locally on Synology systems for LAN speed access.
Comprehensive Data Protection Built-In
Synology DiskStation Manager (DSM) offers powerful solutions to back up PCs, servers, VMs, and SaaS applications. Active Backup Suite consolidates backups of Windows clients and servers, Linux endpoints, Synology systems, VMware® and Hyper-V® virtual machines, and Microsoft 365 and Google Workspace onto the SA3610 or SA3410, all manageable through a centralized console.
Bare-metal and file-level restoration options are available for physical devices, while VMs can temporarily be restored to a built-in hypervisor to minimize downtime. Block-level data deduplication reduces storage usage, and incremental backups save time and bandwidth.
Local snapshots protect files and LUNs from accidents and threats like ransomware while minimizing storage usage and RTOs. All Synology data management solutions feature comprehensive system and file backup capabilities for secure backup to other Synology systems or cloud storage services.
Private Video Surveillance
Synology's Surveillance Station is a powerful VMS designed for businesses, currently safeguarding over 500,000 sites. Flexible ONVIF support and compatibility with over 8,300 validated IP cameras simplify deployment and adjustment to each location's needs. Up to 128 IP cameras can be added to each SA3610 and SA3410 unit,6 and multiple servers can be easily monitored, managed, and backed up through a built-in central management system
Specifications and Availability
The SA3610 and SA3410 sport powerful Intel® Xeon® D-1567 12-core and D-1541 8-core CPUs, respectively, and deliver sequential read/write speeds of over 6,200/3,000 MB/s.3 Both models support up to 128 GB of DDR4 memory and can be expanded to a maximum of 96 drive bays (with seven RX1222sas expansion units). They come equipped with five 1GbE RJ-45 ports, two 10GbE RJ-45 ports, and two PCIe 3.0 x8 slots with x8 lanes.
Additional features include two USB 3.2 Gen 1 ports, one expansion port (Mini-SAS HD), and an out-of-band management port. Both models come with a 5-year warranty.7
The SA3610 and SA3410 are available for purchase from Synology resellers today.
About Synology
I am a huge fan of Synology storage solutions and have been using Synology storage in the home lab for quite some time now. In my opinion, Synology remains at the forefront of data management innovation, adapting to ever-evolving technologies and bringing new possibilities.
They provide solutions for data storage and backup, file collaboration, video management, and network infrastructure all designed with one goal in mind – presenting a centralized platform to simplify IT administration while driving digital transformation for businesses worldwide.
FAQs – SA3610 and SA3410
The SA3610 and SA3410 support up to 96 drives with seven Synology RX1222sas expansion units, sold separately.
Volumes between 200 TB and 1 PB use the Btrfs (Peta Volume) file system and support a limited selection of applications, services, and configurations. Snapshot Replication, shared folder encryption, file compression, and other functions are not available for volumes over 200 TB. For more information and restrictions, refer to this article.
Performance figures are obtained through internal testing by Synology. Actual performance may vary depending on the testing environment, usage, and configuration. See performance charts for more information.
SSD cache can be enabled by using Synology SAT5200 Series 2.5″ SSDs or without occupying drive bays by installing Synology SNV3500 Series NVMe SSDs with M2D20 or E10M20-T1 adapter cards. All devices are sold separately.
C2 Storage for Hybrid Share requires the purchase of an eligible annual or monthly subscription. A free trial is available for each newly registered device.
Up to 128 IP cameras are supported on a single SA3410 or SA3610 server with Synology Surveillance Station. Up to 10,000 cameras can be managed per deployment by adding more recording servers with Surveillance Station CMS. Surveillance Station includes 2 free licenses. Connecting more cameras and devices requires additional licenses. Learn more
The warranty period starts from the date of purchase as stated on your purchase receipt.
SA3410 Pictures
SA3610 Pictures
Wrapping up
There is no doubt these two new units will be great additions to the Synology family of storage solutions, providing high-performance storage and capabilities to the lineup for businesses looking to support a wide range of use cases, including backup storage. I am excited to get my hands on one of the units, hopefully soon, and share my thoughts first-hand. Stay tuned.
Read more about the Synology SA3410 and 3610 here: https://www.synology.com.
Other posts you might like