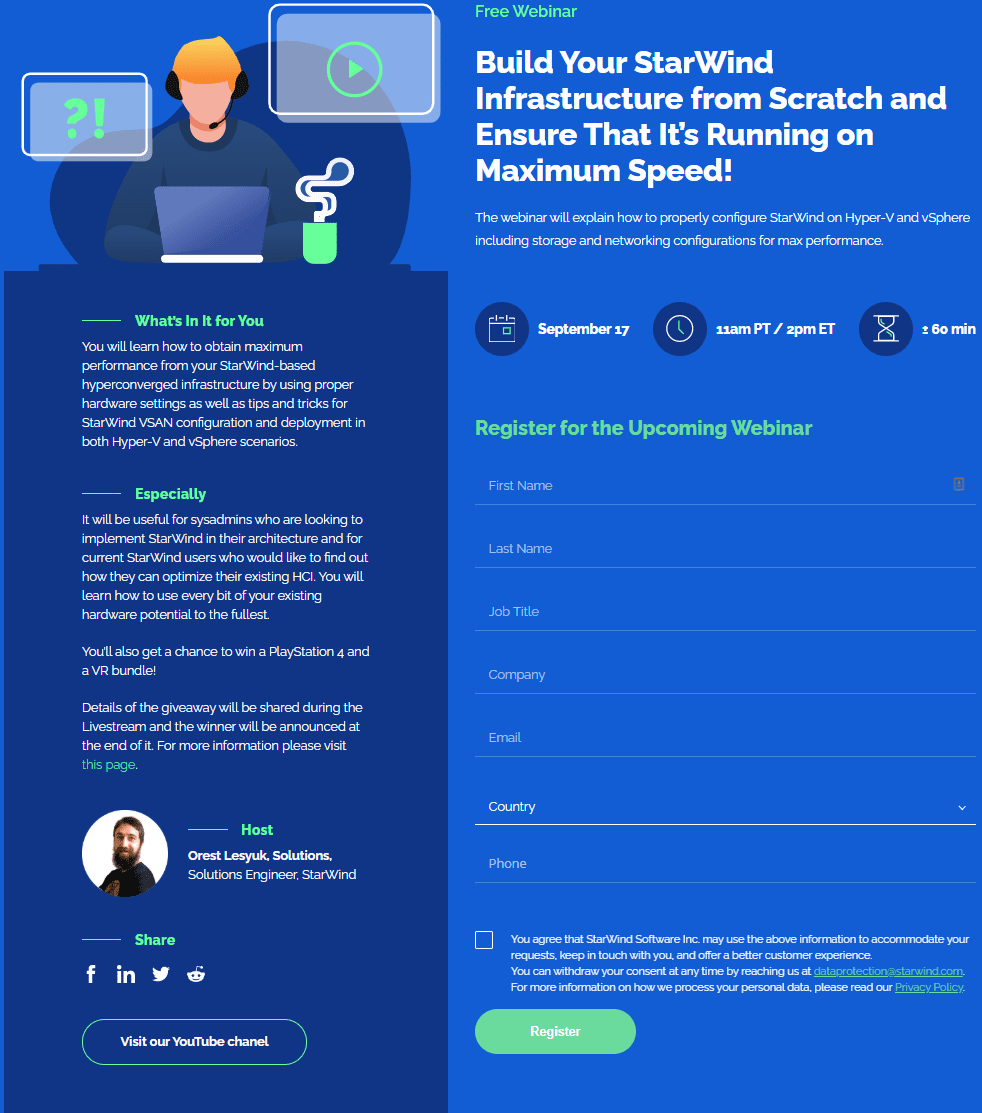 Designing infrastructure according to best practices can sometime be difficult to implement correctly. No matter what solution is provisioned, there are recommended best practices and settings that are generally recommended which allows the solution to perform and operate correctly and performance is not hindered by misconfiguration. StarWind VSAN is a great solution that provides software-defined storage for both Hyper-V and vSphere. Let's take a closer look at StarWind VSAN performance configuration and delve further into configuring StarWind for ultimate performance.
What is StarWind VSAN?
StarWind Virtual SAN (VSAN) provides a software-defined storage approach that you can take advantage of by mirroring internal hard disks and flash between hypervisor servers. It is a hypervisor agnostic solution that can be used for the likes of Microsoft Hyper-V, VMware vSphere/ESXi, Linux KVM, or Xen.
Who is StarWind VSAN targeted towards? It is ideal for Remote Branch Office (ROBO) environments as well as SMB & Edge environments. It is a unique solution that provides a "true two node" approach to providing HCI clusters without the need for a witness component running separately, outside the environment. You can truly lose 50% of the infrastructure and still have no downtime.
It allows bringing enterprise-grade features for businesses that are operating on a constrained budget. Performance is also at the heart of what StarWind's VSAN solution brings to the table. It includes the following features:
Synchronous replication
High-performance iSCSI stack
Responsive, proactive support
StarWind VSAN Best Practices
There are many basic principles as you are designing your storage solution based on StarWind's VSAN solution that you want to take into consideration. When thinking about building any highly available environment, you want to eliminate single points of failure throughout the solution.
Aside from the physical hosts and OS configuration, the network is one of the most critical aspects of configuring your StarWind VSAN deployment. Once you have calculated the number of IOPs that are required for your environment, you want to align your network equipment so that it will support the number of IOPs needed.
When you go above and beyond around 63,000 IOPs, a 1GbE network will not be enough. Additionally, once you go past around 250,000 IOPs, a single 10 GbE connection also becomes the bottleneck.
It is recommended to use a direct connection for your synchronization and iSSI channels. Network switches can also be used. Keep in mind that high-availability is always a concern. So, with that being said, it is not simply multiple hosts that are required to achieve this. It relies also on a combination of redundant hardware, specialized software, and the correct configurations.
StarWind VSAN Performance Configuration
StarWind VSAN performance is supported and limited by the following three factors:
Performance of the storage arrays used for HA storage.
The total performance of iSCSI multipath links from the client servers.
Synchronization channel performance.
When considering StarWind VSAN performance, it is extremely important to consider the storage requirements properly. For performance, the storage administrator wants to calculate the number of IOPS the system needs to sustain.
Additionally, it is always a good idea to pad this number for future growth that may take place in your environment over time. This helps to ensure the environment is neither underbuilt or overbuilt based on the calculated numbers.
Teaming and Multi-pathing
StarWind VSAN does not support NIC teaming technologies for resiliency or increased throughput. Instead, it makes use of MPIO multi-pathing. In compute and storage separated configurations, the recommended MPIO mode is round-robin. In HCI configurations, the recommendation of MPIO is Failover Only or Fixed Path MPIO. Least Queue Depth MPIO can be used for better performance.
Other performance impacting settings and configuration can include:
Stripe size
Virtual disk device sector size
Other StarWind Performance Considerations
Make sure to check every network link and every disk in a StarWind VSAN environment before putting the solution into production. A network performance issue discovered after the fact will likely require putting the cluster offline to diagnose and resolve correctly.
For Hyper-V environments, it is a best practice to create at least two HA device per Hyper-V/Microsoft Failover Cluster for optimum performance. Use write-back caching for best performance. Each written block is first cached on the local SAN node and then is synchronized with the second node cache.
StarWind VSAN Performance Configuration for Maximum Speed Webinar
Take note of an upcoming webinar by StarWind which will explain how to properly configure StarWind on Hyper-V and vSphere including storage and networking configurations for maximum performance.
What will be presented?
What are the proper hardware settings for your StarWind VSAN environment?
What are some tips and tricks for StarWind VSAN running on Hyper-V or VMware vSphere?
Learn how to utilize every bit of the hardware potential for StarWind VSAN in your environment
Who will benefit from the webinar?
Sysadmins who are looking to implement StarWind in their architecture
Current StarWind users who would like to find out how they can optimize their existing HCI
Click here to signup:
Another really great feature of the webinar is if you attend, you will also have a chance to win a PlayStation 4 and VR bundle! Cool stuff.
Don't miss out on new posts! Sign up!