Software
Runecast Analyzer license for Everyone and HOSPITALS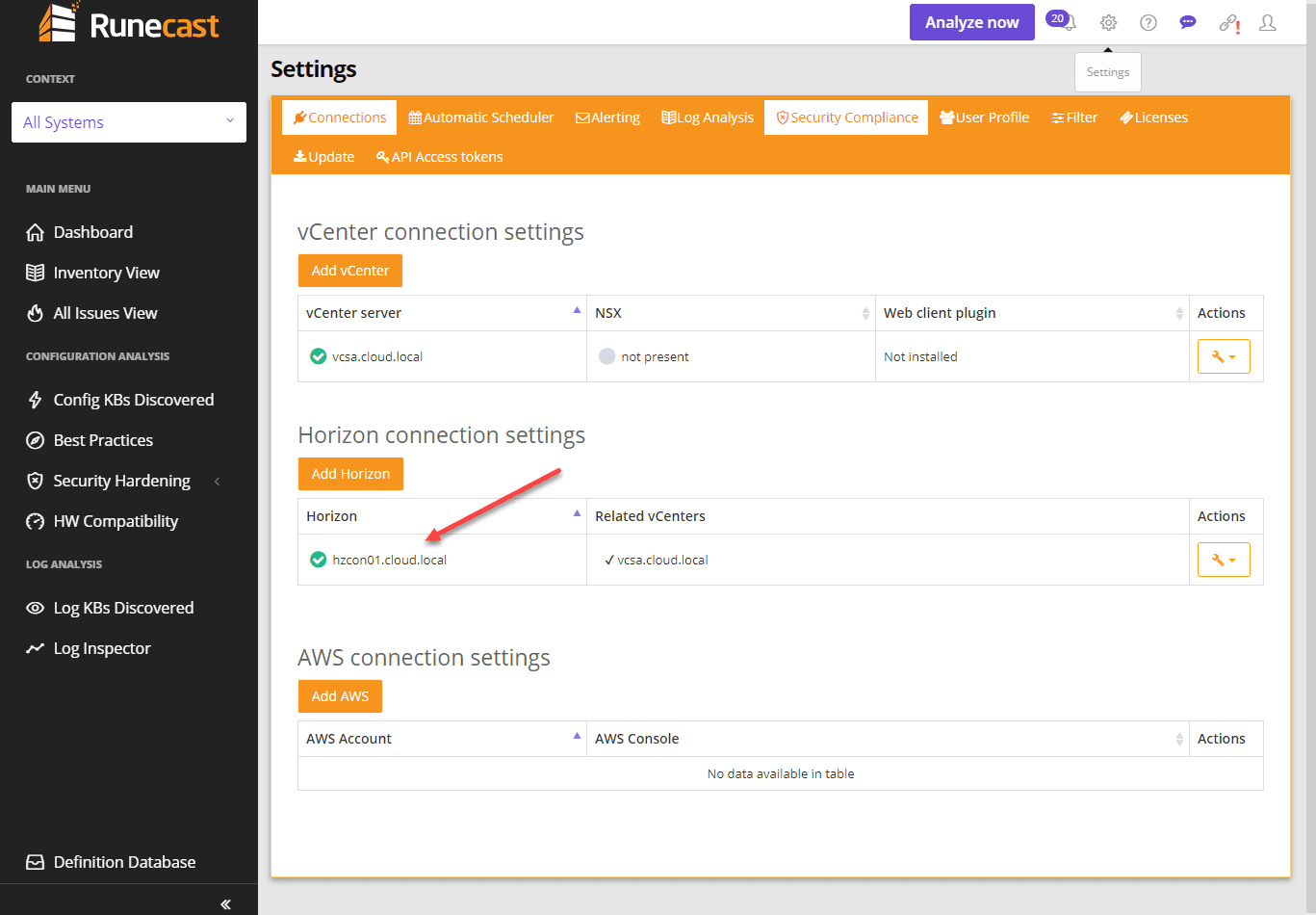 With COVID-19 raging across the world, businesses have been scrambling to configure and empower remote workers through the mass isolation of the workforce that has resulted. Many businesses are leveraging VMware Horizon as the means to effectively allow remote employees to access business resources in their environments. One thing that I have been noticing in companies that I have been working with on initiatives for remote workers is that environments are being stood up quickly and understandably often not in accord with best practices.
In line with that, if you haven't heard about Runecast in terms of keeping a healthy vSphere infrastructure environment, you need to know about them. I know I have written about Runecast solutions often here on VHT and have constantly been impressed by their product as well as the team of folks they have working for them. They offer a top notch solution providing functionality you won't find anywhere else. To go along with the great solution found in Runecast Analyzer, the team at Runecast is offering a free Runecast trial with full VMware Horizon insights enabled for EVERYONE and full Runecast Analyzer license for HOSPITALS to help those on the front lines of the COVID-19 crisis. Let's look at free Runecast Analyzer license for Everyone and HOSPITALS.
Details of Runecast Analyzer license for Everyone and HOSPITALS
There are two parts to the free Runecast licenses. There is free TRIAL licenses for EVERYONE. Then, there is also free Full Analyzer license for HOSPITALS. Let's break down the offering for each of these solutions offered by Runecast.
Free Runecast Analyzer Trial License
Since many companies have had to spin up remote work environments very quickly and stand up VMware Horizon infrastructure in a hurry, there is a good possibility of issues in the Horizon configuration or other concerns.
Runecast is extending a free trial license until September 15, 2020 with Horizon analysis enabled. This means that you have a fully functional trial license with Horizon features enabled until September of this year! How cool is that?
Who Does This Apply To? How Does it Work?
According to Runecast, this applies to any organization running VMware Horizon.
After the free 14-day trial, Horizon issues analytics will continue to be valid until September 15, 2020.
Free Full Runecast Analyzer License for HOSPITALS
Let's face it, our hospitals and infrastructure deserve a tip of the hat due to the extremely important work they are carrying out on the front lines of the COVID-19 fight.
Runecast is really extending a tremendous service to the healthcare industry as a whole in offering hospitals and clinics full free licenses of Runecast Analyzer until September 15, 2020.
Who Does This Apply To? How Does it Work?
This applies to hospitals and clinics running VMware and or AWS infrastructure and allows these resources to be monitored for HIPAA compliance and downtime mitigation.
This means hospitals and clinics will get full visibility of VMware and AWS issues including Horizon and HIPAA concerns until September 15, 2020.
Runecast Horizon Issues Analytics
Circling back to Horizon, Runecast provides great visibility to your Horizon environment. Simply add your Horizon connection server to your Runecast settings and run an analysis.
To add your Horizon Connection server to your Runecast Analyzer, simply click your settings and Add Horizon button to add your connection server. As you can see below, the screenshot is taken after adding the Horizon environment to Runecast.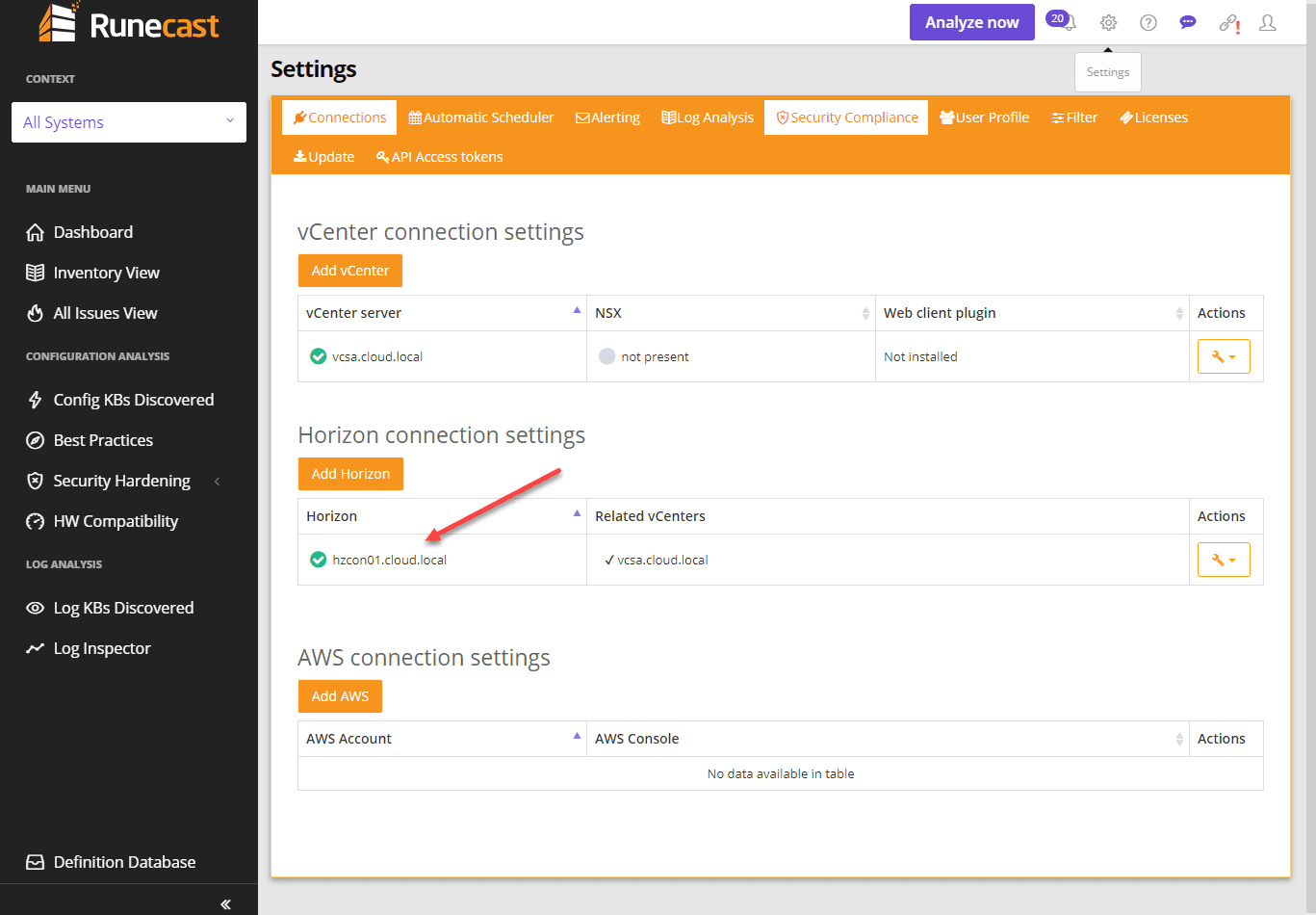 A quick analysis of the environment already shows issues with the Horizon environment. This is a lab environment, so as you can see, I only have one connection server, so it is listing this along with several other relevant KBs right out of the gate.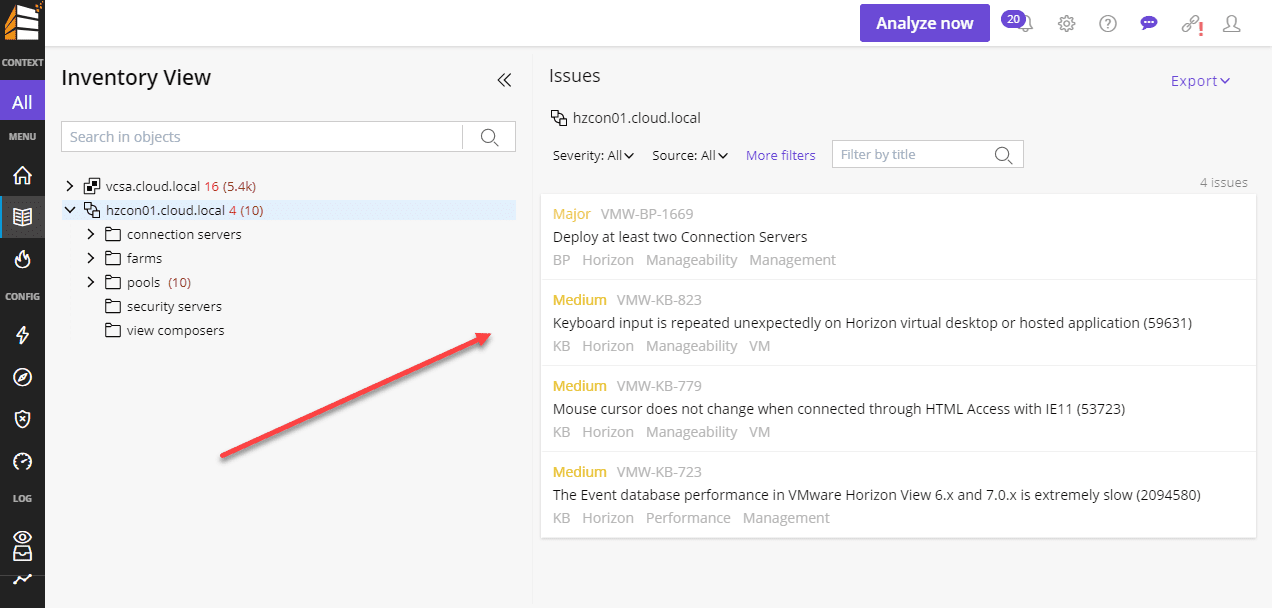 Runecast Analyzer Resources on VHT
Below is a list of Runecast Analyzer resources that are compiled from articles written covering Runecast functionality.
Wrapping Up
Runecast is just one of those solutions and companies that stands out. It is a great solution and the fact that Runecast is helping out hospitals and others who are working the front lines of the COVID-19 crisis is commendable.
Runecast has extended the Horizon functionality to all who have a VMware Horizon environment until September 15, 2020. This will allow any organization to benefit that is utilizing Horizon for remote workers.
Be sure to checkout Runecast Analyzer and the free trial license with VMware Horizon functionality enabled here.
Don't miss out on new posts! Sign up!