VMware
Runecast Analyzer 2.1 Released with HIPAA Scan and Management Report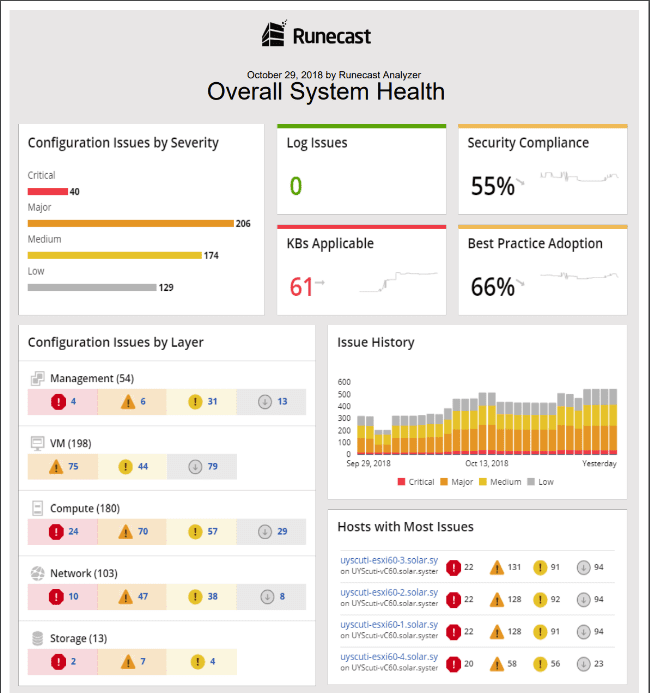 Even if your VMware vSphere environment shows to be health from a performance or capacity standpoint, is this all that is included in making sure vSphere is "healthy"? All too often, monitoring is reactive instead of proactive. What about aligning VMware vSphere with VMware's recommended best practices? This can be a monumental task when performed manually. What if you are in a regulated industry and must meet compliance regulations such as PCI-DSS or HIPAA? Again, making sure your VMware vsphere environment is meets compliance regulations could take hours, days, if not weeks or longer. As we all know, we have enough on our plates as vSphere administrators aside from ensuring alignment with best practices or compliance regulations. One of the most powerful tools out there for vSphere administrators to meet these very complex and challenging demands is Runecast. If you haven't heard of it – do yourself a favor and find out about it quickly. It stands in a league of its own, as I know of nothing else other there that fills the real need for an automated best practices and remediation solution. Recently, Runecast has announced the release of Runecast Analyzer 2.1 which takes the capabilities of this really powerful product even further, including HIPAA scans and even easier reporting. Let's take a look at Runecast Analyzer 2.1 Released with HIPAA Scan and Management Report to dive into the new features and functionality.
Runecast Analyzer 2.1 Released with HIPAA Scan and Management Report
What is the point of having great information presented if you can't aggregate it into a means to provide effective reporting?  The new Runecast Analyzer 2.1 provides a new Management Report that contains all the detailed information for the areas of the VMware vSphere environment that you want to see, especially if you need to provide an aggregated report to management.  What information does the new management report contain?
Summary of the existing VMware configuration issues and their trends
VMware security compliance status
Historical data on issue discovery and fixes (ideal to pair with your configuration management report or IT helpdesk report to track what impacted the environment)
VMware best practices implementation and trend history
TOP ESXi hosts with the most issues
Visual representation of the issues as "VMware layers"
Summary of prevalent issues in logs and their historical trend
Specific summary status for each of your connected vCenters
Detailed list of TOP 50 issues in your VMware environment, including the amounts of affected objects and related VMware products
With the management report, in a single glance, you can see the overall health and compliance of your VMware vSphere environment in line with the metrics included with the new Runecast Analyzer 2.1 appliance.  Again, all of this pulling from automated scans of the vSphere environment.  These types of checks are performed in minutes for you instead of the countless hours this would take to do manually.
Runecast Analyzer 2.1 Provides HIPAA Scans
HIPAA or Health Insurance Portability and Accountability act helps to protect patient information and who has access to that information so it is a beneficial regulation for protecting our health information across the board. However, the HIPAA compliance standard can be extremely difficult to comply with, especially on an ongoing basis. The new version of Runecast Analyzer 2.1 adds HIPAA compliance as part of the automated scans that are performed on the VMware vSphere environment, providing administrators an easy way to ensure compliance with this very stringent standard. Additionally, the ongoing checks of the environment for HIPAA compliance is automated, scheduled, and continually updated with the newest standards in line with VMware best practices.
The new HIPAA profile allows vSphere administrators to:
Scan and detect HIPAA privacy and security violations
Get a detailed explanation of each particular check and how to fix filed ones
Provide historical information of HIPAA profile fulfillment for auditors and security teams
Report on the current status in regards to HIPAA compliance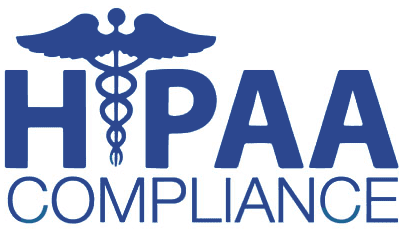 Updating to Runecast Analyzer 2.1 from Previous Versions
Updating to the latest and greatest version of Runecast Analyzer 2.1 is an easy process.  You can check to see in the web GUI if there are updates available to the Runecast Analyzer appliance as well as the Knowledge Definitions.  Under settings click the Update link.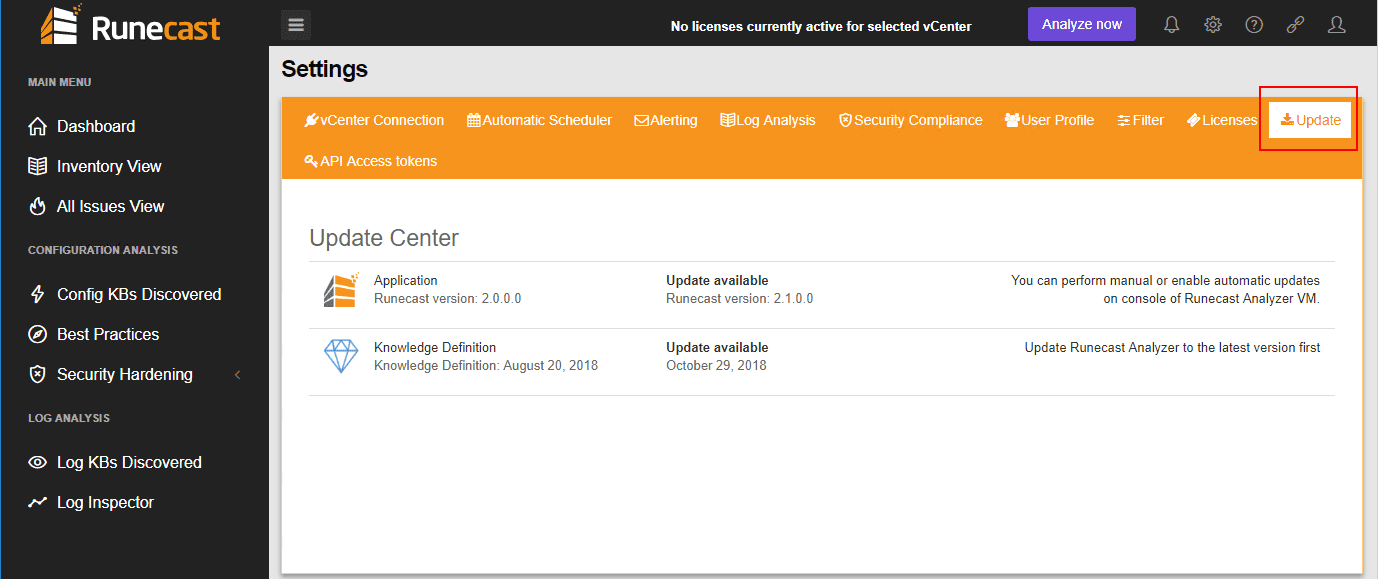 The appliance can be setup to automatically apply updates.  However, you can launch a connection to the console of the Runecast Analyzer appliance and select the Updates menu option and then the Check for update and install option to install the latest available updates.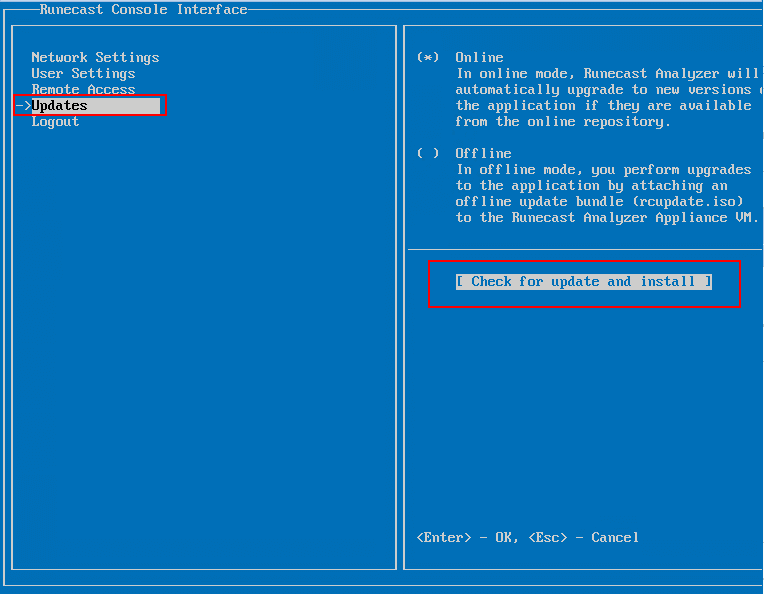 After launching the update process, the process checks for updates and installs those that are available.  I am running this from a Runecast Analyzer 2.0 appliance in the lab.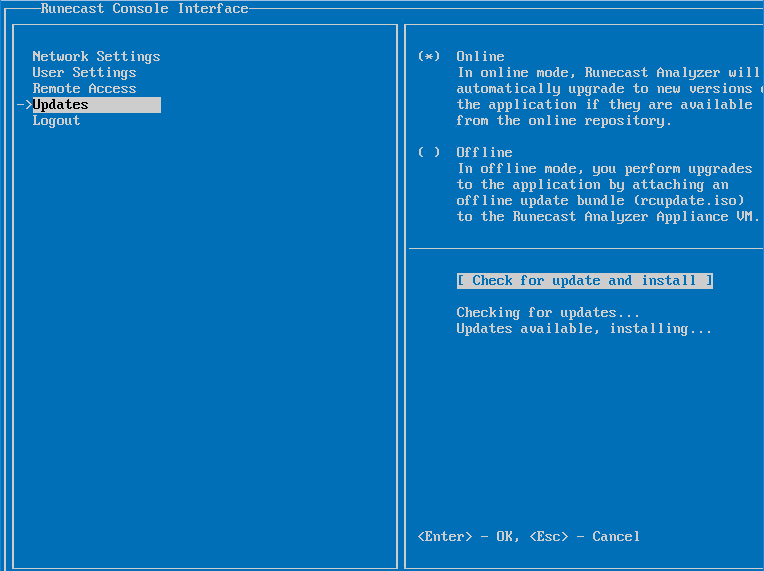 After the process finishes running, on the console, I can now see the version of Runecast Analyzer is v2.1.0.0.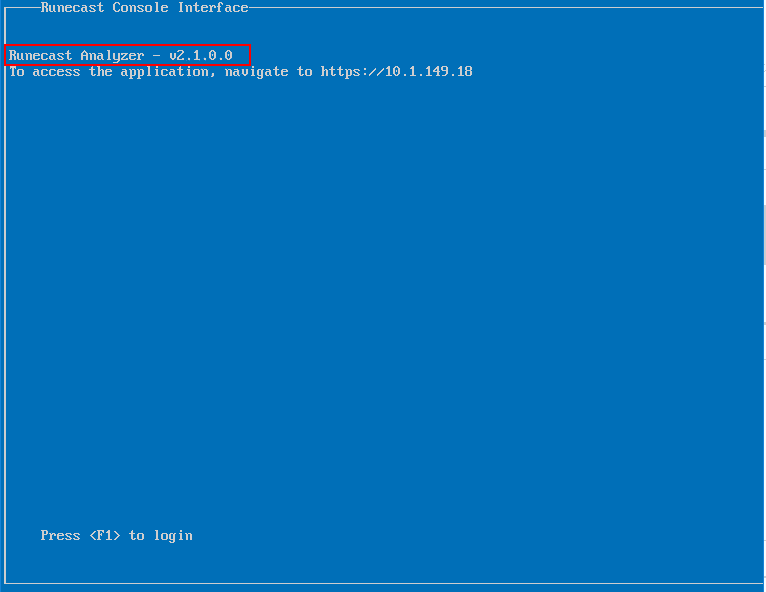 Sure enough, now, under Settings > Security Compliance we now have the option for enabling HIPAA checks in the Security Compliance menu.  Click the Edit option to be able to enable the HIPAA check.

Place a checkmark next to the box for HIPAA security compliance check to enable the check to be scanned.

After enabling, you should see a "green checkmark" next to the HIPAA scan.

An example of a HIPAA scan result.  As you can see the appliance has found HIPAA related violations in the environment.

Another new feature as mentioned is the Management Report that can easily be accessed on the main dashboard of the appliance with the Generate Report option.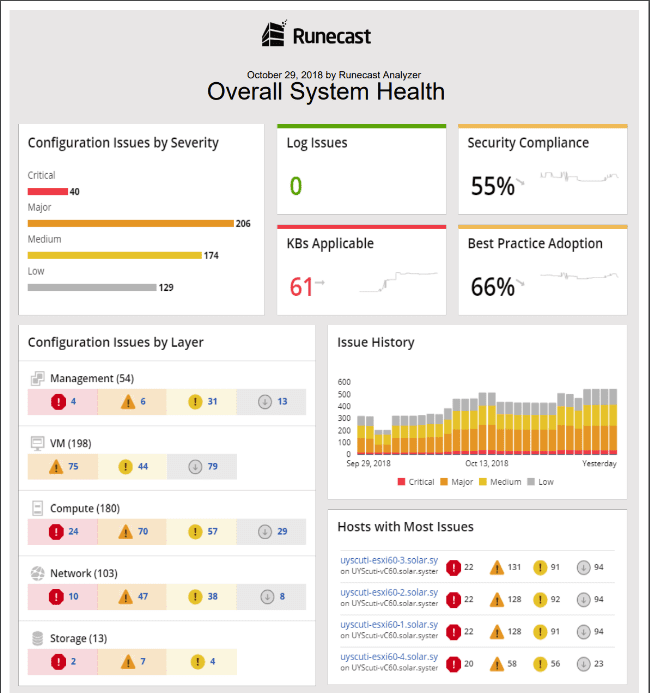 Takeaways
Runecast Analyzer provides the ability to automate VMware best practices and scan your VMware vSphere environments for compliance requirements including PCI-DSS and now the HIPAA compliance checks.  With  Runecast Analyzer 2.1 Released with HIPAA Scan and Management Report functionality, organizations now have an even more effective means to scan VMware vSphere environments for best practices and compliance.  Runecast Analyzer is quite frankly the only solution providing automated best practice functionality and allows organizations to effectively analyze and remediate their VMware vSphere environments by aligning with compliance regulations such as PCI-DSS and HIPAA.  Be sure to check out Runecast Analyzer 2.1 by downloading the free trial, allowing you to try out the Runecast solution in your own environment.
Don't miss out on new posts! Sign up!