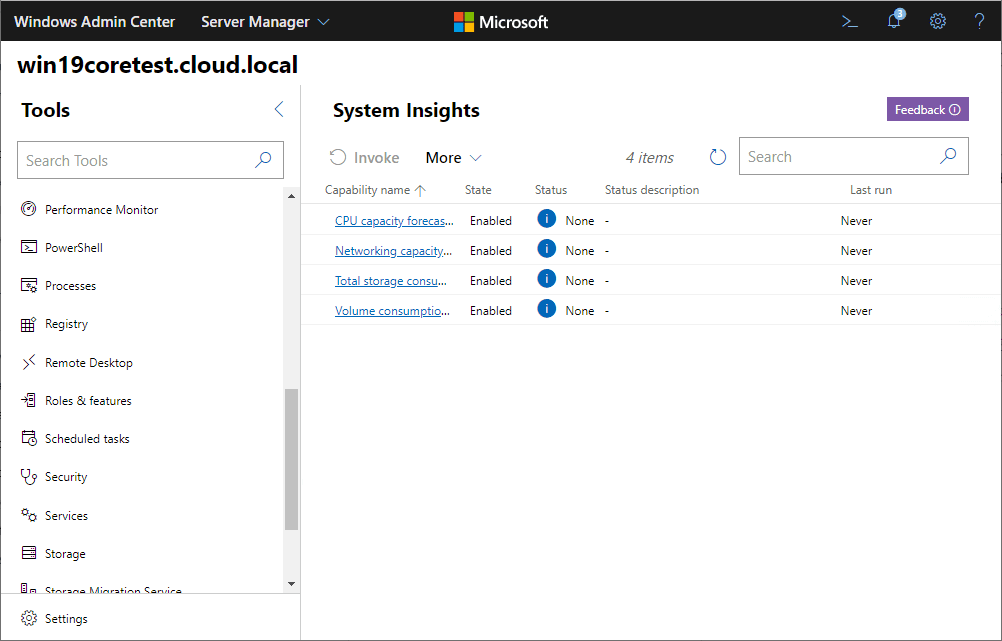 With the introduction of Windows Server 2016 and now 2019, many businesses are looking at upgrading their infrastructure to use the latest versions of Windows Server operating systems.
If you are running a legacy version of Microsoft Windows Server like Windows Server 2008, it is imperative that you upgrade now to avoid being in an unsupported state. Either Windows Server 2016 or 2019 would be a major step up in terms of features, functionality, supportability, and many other facets.
However, the question remains – Windows Server 2019 vs 2016, how to choose? It can depend on what you want and expect from Windows Server. However, let's take a look at Windows Server 2019 vs 2016 and see what features might help make the difference in your decision.
Windows Server 2019 vs 2016 – Feature Comparison
When it comes down to Windows Server 2019 vs 2016, it becomes a comparison of features that makes the difference between the two. Generally speaking, with each new version of Windows Server, it contains all the features and capabilities of the previous version while extending and adding to these.
Windows Server 2019 is certainly the most fully-featured Windows Server operating system to date and provides the best Windows Server operating system for cloud solutions and provides the best integration with Azure when compared to Windows Server 2016.
Let's look at the following features of Windows Server 2019 that may make the difference in choosing it over Windows Server 2016.
System Insights
Azure Network Adapter
Better Storage Spaces Direct
Better Storage Replica
Deduplication for ReFS
Enhanced Cloud Witness
Cluster-wide Monitoring
Cluster sets
Persistent Memory
Virtual Network Peering
Improved SDN gateway
Precision Time Protocol including Leap Second
Latency Optimized Background Transport (LEDBAT)
Improved SDN
Shielded VMs for Linux
HGS Offline Mode for Shielded VMs
HGS Secure Connect
Enhanced Windows Defender Advanced Threat Protection (ATP)
1. Storage Migration Service
The Storage Migration Service is one of the best tools moving forward for those who are looking to migrate off their current legacy server platform to a newer Windows Server. Microsoft is serious about helping customers get to a supported version of Windows as this new tool supports Windows Server all the way back to Windows Server 2003. Read more in our walk through of Storage Migration Service.
2. System Insights
Microsoft is also serious about introducing predictive analysis to Windows Server in Windows Server 2019. With the new System Insights module in Windows Admin Center, you can view predictive analysis of the health of your Windows Server 2019 platform. Powered by machine learning, it intelligently analyzes the platform for issues before they happen.
3. Azure Network Adapter
Creating a VPN connection between your on-premises environment and your Azure environment can be difficult when left to be configured manually.
With Azure Network Adapter inside of Windows Server 2019 and powered by Windows Admin Center, it allows easily creating a VPN tunnel between your Windows Server 2019 installation and your Azure environment.
This highly software-defined solution allows network connectivity to Azure to seamlessly be an extension of your on-premises network without the hassle of fancy networking configurations needed. Take a further look at how to Install and Configure Azure Network Adapter here.
4. Better Storage Spaces Direct
Storage Spaces Direct is Microsoft's software defined solution for HCI deployments. It allows making use of local storage in each Windows Server and aggregating the storage together for a distributed storage system that can be used for virtual machines.
Windows Server 2019 contains the latest version of S2D that provides many additional benefits. This includes a 4PB per storage pool and 64TB per volume in Windows Server 2019.
Additionally, with Windows Admin Center, the functionality to manage and monitor S2D in Windows Server 2019 is much better. Take a look at how to Create Windows Server 2019 Storage Spaces Direct Volumes in Windows Admin Center.
5. Better Storage Replica
Storage Replica is a feature that allows replicating an entire storage LUN from one server to another server. This is at the block-level and does not depend on a particular storage vendor to implement. You can replicat your data either asynchronously or synchronously.
With Windows Server 2019, you no longer need the Windows Server Datacenter license. You can replicate one storage volume with up to 2 TB of data in Windows Server 2019 Standard Edition. Look at Storage Replica in Windows Server 2019 Features and Configuration.
6. Deduplication for ReFS
ReFS for Windows Server 2016 introduced an entirely new level of ReFS that had even more powerful features. However, one of the hindrances to ReFS adoption with Windows Server 2016 was the lack of deduplication.
However, Microsoft has now solved this issue with ReFS in Windows Server 2019 ReFS. Now, deduplication and compression are both supported. This latest version takes virtual machine storage possibilities to new heights. Take a look at When to use Windows Server 2016 ReFS.
7. Enhanced Cloud Witness
Cloud Witness enables Azure blob storage as a witness in a Windows Server Failover Cluster for quorum for a stretched cluster. Windows Server 2019 extends the cloud witness functionality in that you can now create a file share witness not requiring the Cluster Name Object (CNO), but rather using a local user account on the Windows Server the file share witness is connected to.
8. Cluster-wide Monitoring
With Windows Server 2019, you can now in real-time check the status of cluster CPU, IOPS, latency, storage, and other metrics with real-time alerting, etc. In conjunction with Windows Admin Center, the monitoring and statistics available to you gives extreme visibility to the environment.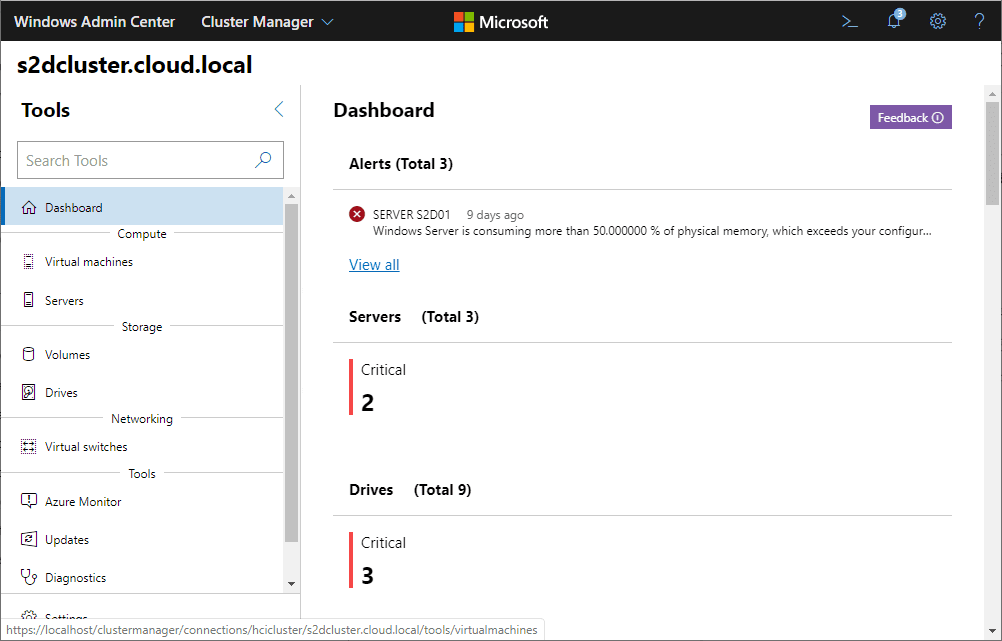 9. Cluster Sets
Cluster sets are a new technology introduced with Windows Server 2019 that allows you to have large scale-out sets of clusters. Think of cluster sets as a cluster of clusters.
Cluster sets allow you to exponentially increase your resiliency and availability of your applications and data. If you are looking to have the most effective way to scale out, cluster sets are a really powerful new architecture.
10. Persistent Memory
Windows Server 2019 provides support for persistent memory (PM) technology. Persistent memory provides increased storage speeds in orders of magnitude over current storage technologies.
When thinking about the fastest access to data for applications that are data base driven as an example, persistent memory provides very exciting capabilities.
11. Virtual Network Peering
Windows Server 2019 virtual network peering provides high speed connectivity between two virtual networks. With this new technology, traffic between the virtual networks does not need to traverse a gateway, but instead simply is communicated between the underlying fabric. The two virtual networks need to be part of the same datacenter stamp.
12. Improved SDN gateway
If you are using SDN gateways in your environment, Windows Server 2019 provides leaps and bounds better performance. It boasts improvements up to 3x for GRE tunnels and IPSec site-to-site VPN.
This will definitely be a selling point for deploying Windows Server 2019 instead of 2016 in your environment.
13. Precision Time Protocol including Leap Second
Are you in an industry where seconds and even fractions of a second count? Windows Server 2019 offers a tremendous step up in terms of accurate time keeping.
It introduces what is known as Precision Time Protocol (PTP). This new time keeping protocol enables network devices to add the latency introduced by each network device into the timing measurements. This produces a far more accurate measure of time when compared to the standard NTP protocol.
Windows Server 2019 even introduces what is know as Leap Second support. As the earth's rotation slows, leap seconds may need to be added to compensate. Windows Server 2019 supports this additional time accuracy provision.
14. Latency Optimized Background Transport LEDBAT
Latency Optimized Background Transport – LEDBAT is a new network congestion control provider. Low Extra Delay Background Transfer (LEDBAT). It automatically provides bandwidth to users and applications, while consuming the entire bandwidth available when the network is not in use.
15. Improved SDN and Encrypted Networks
Software defined networking in Windows Server has had a long way to come. However, Windows Server 2019 has made great improvements in the SDN features provided with Windows Server.
Windows Server 2019 now supports IPv6 and dual stack IPv4/IPv6 addressing as well. Additionally with Windows Server 2019, you have the capability to do encrypted networks. This allows easily encrypting all traffic traversing your virtual network subnets.
Couple this with the new Cluster Creation features found in Windows Admin Center 1910 that helps to do much of the heavy lifting with HCI clusters including provisioning virtual SDN, Windows Server 2019 provides many nice improvements over Windows Server 2016.
16. Shielded VMs for Linux
Up until Windows Server 2019, you could only make use of shielded vms for Windows with Windows Server 2016 Hyper-V. However, with Windows Server 2019 Hyper-V technology, you now have support for shielded VMs for Linux as well.
If you have a large number of Linux VMs in your environment and want to have the most secure data possible with Hyper-V, Windows Server 2019 is the way to go.
17. HGS Offline Mode for Shielded VMs
Another new feature with Windows Server 2019 is the ability to have offline mode for shielded VMs. With this new mode, you can start VMs that are shielded if the security of the Hyper-V host has not changed.
18. HGS Secure Connect
Secure Connect provides a secure console connection to the Windows or Linux shielded VMs in your environment protected with encryption.
19. Enhanced Windows Defender Advanced Threat Protection (ATP)
Enhanced Windows Defender Advanced Threat Protection (ATP) is a new set of security contained in Windows Server 2019. It includes a new set of host intrusion prevention capabilities such as preventative protection, attack detection, and zero-day exploits.
If you want the latest and greatest set of features in the realm of security, Windows Server 2019 provides the ultimate set of security tools and solutions to secure your environment.
Windows Server 2019 vs 2016 – Which to Choose?
As you can see there are many reasons that you would opt to choose Windows Server 2019 vs 2016. While it certainly would not be a bad move to upgrade to Windows Server 2016, Windows Server 2019 makes a lot of sense as a target since the effort is relatively the same and it gets you a lot of new features as well as improved features that are found in Windows Server 2016.
Additionally, when you think about support, Windows Server 2019 vs 2016 gets you a lot further down the road of support timeframe. The end of life on 2019 is going to be much further down the road when compared to 2016.
Also, when you consider the fact that the Storage Migration Service supports migrating data all the way from Windows Server 2003 all the way to Windows Server 2019. This really makes it a no brainer to upgrade to Windows Server 2019 vs 2016.
Don't miss out on new posts! Sign up!