Windows
Windows Server 2008 R2 Migration Guide Resources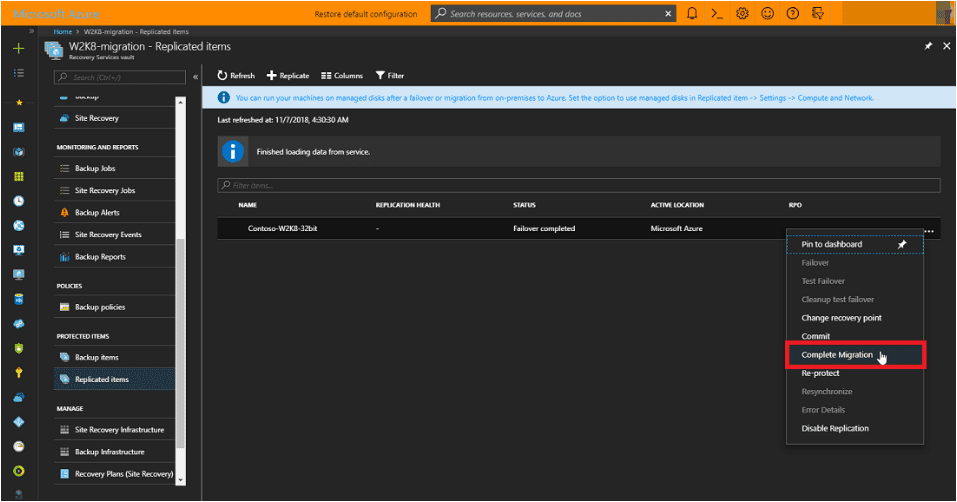 One of the pains of keeping up with on-premises IT infrastructure is ensuring that you are in a supported condition as far as infrastructure, software, and hardware. As most of you that have been working in IT operations for any number of years will attest, keeping up with Microsoft Windows Server operating systems and more importantly, the support model from a Windows Server operating system perspective. Every few years, Microsoft will deprecate support for older Windows Server operating systems. Next in the sights of Microsoft is Windows Server 2008 and Windows Server 2008 R2. On January 14, 2020, Microsoft is officially ending extended support for these Windows Server OS'es. Let's take a look at Windows Server 2008 R2 Migration Guide Resources to see the information available for successful migration or upgrade to newer Windows Server OS platforms.
Windows Server 2008 R2 Migration Options
What are the options when it comes to migrating Windows Server 2008 and Windows Server 2008 R2? Microsoft is increasingly headed to the "clouds" with infrastructure options and is generally steering customers to at least evaluate their production workloads to determine if they can make the jump to the clouds when decommissioning old servers. This includes servers that are running Windows Server OS'es that are set to expire support like Windows Server 2008 and Windows Server 2008 R2.
Microsoft has given many incentives to organizations to migrate to Azure. The core set of services that Azure offers is very robust, including Azure SQL, Azure App Service, Azure Active Directory, and many other Azure IaaS platforms. When you migrate to Azure, Microsoft is also offering incentives for businesses to save money. As many may be aware, Microsoft often includes Azure credits as part of enterprise licensing agreements, so there is definite value in hosting services in the Azure cloud.
One advantage that caught my eye from Microsoft's documentation is they offer free extended security updates for 3 more years after end of support for Windows Server 2008. With this option you may achieve the best of both worlds since you will move workloads to Azure, have the ability to stay with Windows Server 2008 if January 14, 2020 is too soon to migrate off, and you still get 3 more years of extended security updates.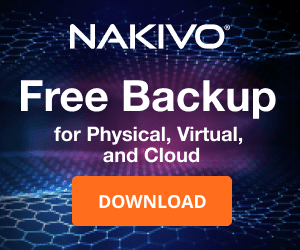 The great thing about thinking of migrating workloads to the Azure cloud is that you don't have to migrate everything. With a hybrid environment, you can migrate some of your workloads such as Windows Server 2008 servers and retain on-premises workloads as well.
Migrating Windows Server 2008 R2 to Azure
Migrating servers running Windows Server 2008 to Azure involves using Azure Site Recovery. With Azure Site Recovery, you can replicate Windows Server 2008 and Windows Server 2008 R2 VMs running in either VMware or Hyper-V environments up to your Azure IaaS cloud. To do this you have to deploy an Azure Site Recovery Configuration Server that contains the configuration server, process server, and master target server. Additionally Azure must be prepared with the necessary configuration to enable the Azure Site Recovery replication process for migrating your Windows Server 2008 workloads.
After both sides are prepared, using Azure Site Recovery, setup a replication policy to replicate your on-premises Windows Server 2008 or Windows Server 2008 R2 server to Azure. After setting up your RPOs, etc, you can perform a test failover of replicating servers after initial replication completes and the server status turns to protected. After everything tests out correctly, you can migrate your Windows Server 2008 and Windows Server 2008 R2 servers to Azure by replicating them, and then performing a "failover" to the Azure instance of the server and then perform the "complete migration" operation to finish the migration process, stop replication, and cleaning up replication data.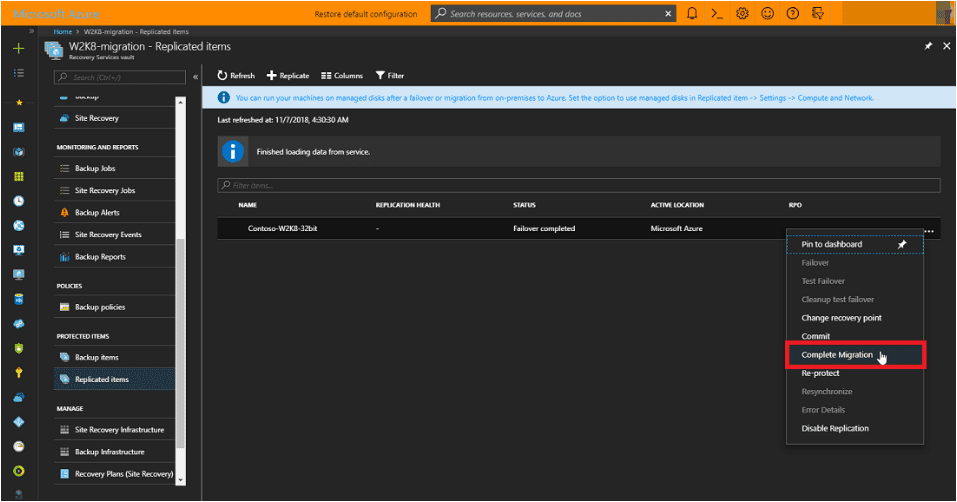 Upgrading Windows Server 2008 to Windows Server 2016 and 2019
Other options for Windows Server 2008 R2 migration include upgrading Windows Server 2008 to either Windows Server 2016 or Windows Server 2019. This could happen in either Azure or on-premises environment.
With either Windows Server 2008 or Windows Server 2008 R2, upgrading to Windows Server 2016 or Windows Server 2019 involves first upgrading to Windows Server 2012 R2 and then upgrade to Windows Server 2016. If you are targeting Windows Server 2019, you will upgrade to Windows Server 2012 R2, then to Windows Server 2016, and then to Windows Server 2019. Direct upgrades to these versions are not supported.
Moving Server Roles to Other Platforms
Another approach to getting off Windows Server 2008 and Windows Server 2008 R2 is moving or piecing out Windows Server roles. If you have a Windows Server 2008 family server that is hosting important infrastructure role services for your organization, you can easily migrate or move these roles to supported platforms.
With the wealth of services now available in Azure, there are many options and services that can take the place of on-premises servers hosting these resources such as Azure Active Directory Domain Services.
Windows Server 2008 R2 Migration Guide Resources
Wrapping Up
The writing has been on the wall now for Windows Server 2008 and Windows Server 2008 R2 for quite some time now. If you haven't started thinking about what you are going to do if you have workloads running on top of Windows Server 2008 and R2, now is the time to start thinking about it. We are roughly six months away from the "drop dead" date for Windows Server 2008 support.
Options vary for businesses, but there are really great options available, including migration to Azure as well as upgrading your Windows Server 2008 and Windows Server 2008 R2 servers to newer operating systems like Windows Server 2016 and Windows Server 2019. The key for a successful migration or upgrade is proper planning and assessment of your environment and the path to get to a supported platform.