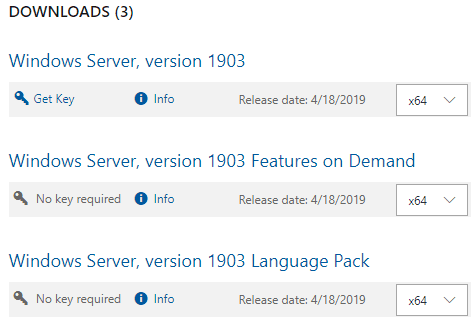 The Windows Server platform continues to evolve and expand with exciting new features and capabilities. Windows Server 1903 is no exception to this rule as it is evolving the abilities of Windows Server in the realm of containers and extending the features and capabilities of the Server Core version of Windows Server 1903 so it is an even more viable option for running Windows Server in production environments. Let's take a look at Windows Server 1903 GA for Download New Features to take a look in more detail at the new features and functionality of this latest release of Windows Server.
Windows Server 1903 GA Requirements
The new Windows Server 1903 release is a semi-annual channel release. It appears the system requirements for Windows Server 1903 are the same as Windows Server 2019.
Processor specs:
1.4 GHz 64-bit processor
Compatible with x64 instruction set
Supports NX and DEP
Supports CMPXCHG16b, LAHF/SAHF, and PrefetchW
Supports Second Level Address Translation (EPT or NPT)
RAM Requirements:
512 MB (2 GB for Server with Desktop Experience installation option)
ECC (Error Correcting Code) type or similar technology, for physical host deployments
Storage requirements:
Computers that run Windows Server 2019 must include a storage adapter that is compliant with the PCI Express architecture specification.
Persistent storage devices on servers classified as hard disk drives must not be PATA. Windows Server 2019 does not allow ATA/PATA/IDE/EIDE for boot, page, or data drives.
32 GB Storage space required
Network Requirements:
An Ethernet adapter capable of at least gigabit throughput
Compliant with the PCI Express architecture specification.
Other Requirements:
UEFI 2.3.1c-based system and firmware that supports secure boot
Trusted Platform Module – If using certain features such as BitLocker
Graphics device and monitor capable of Super VGA (1024 x 768) or higher-resolution
Windows Server 1903 GA for Download New Features
Let's now take a closer look at the new features contained in this release. These include enhancements and improvements in the following areas:
Windows Server Containers
Windows Admin Center
Server Core App Compatibility
New Storage Migration Features
SetupDiag and Update Rollbacks
Microsoft Defender Advanced Threat Protection (ATP) improvements
Windows Server Containers
There are new platform capabilities with Windows Server containers that include perhaps most notably, the support of Windows Server containers in Kubernetes. Additionally, this support is being carried over to the Azure Kubernetes Service (AKS). This includes:
Support for pods of Windows containers and Linux containers on Windows (LCOW) on Azure.
With Kubernetes v1.14, Windows SErver node support is officially upgraded from beta to a stable release.
Tigera Calico is now GA as part of Tigera Essentials subscription and offers both non-overlay networking and network policy across mixed Linux/Windows environments.
Stability improvements for overlay networking support for Windows containers, including integration with Kubernetes through the latest release of Flannel and Kubernetes v1.14.
Windows Admin Center
Windows Admin Center is not part of Windows Server 1903 natively, however, as has been the case up to now, it is available as a separate download. I suspect in the future, it will be baked in. However, in conjunction with the new release of Windows Server, a new release of Windows Admin Center is available.
Windows Admin Center continues to get more proficient with hybrid cloud capabilities to help businesses leverage cloud environments and hybrid cloud infrastructure with Windows Servers. A new release of Windows Admin Center is available for download with the latest capabilities baked in. The Storage Migration service continues to get better with the ability to migrate Windows 2008 and Windows 2008 R2 file shares to Azure. Version 1904 is the most recent GA release that introduces the Azure Hybrid Services tool, and brings features that were previously in preview to the GA channel.
Server Core App Compatibility
Microsoft has been very clear about best practice moving forward with Semi-Annual Channel releases is that Server Core should be the first choice when it comes to provisioning a new server. Server Core is more secure, has less moving parts and is becoming more compatible than ever. One of the complaints with Server Core is the compatibility limitations. Microsoft has been doing a lot of work in this space with Server Core especially with the release of the Feature On Demand or FoD. The Feature On-Demand or FoD is the package of installables that allows greatly extending the compatibility and features of Server Core. In Windows Server 1903, Microsoft has added Task Scheduler and Hyper-V Manager to Server Core installations, allowing even greater flexibility for installing Server Core.
New Storage Migration Features
Storage Migration has gotten even better with the Windows Server 1903 released. It provides a graphical tool that inventories data on servers, transfers the data and configuration, and validates the migration process. New to Windows Server 1903, Storage Migration includes the following added features:
Migrate local users and groups to the new server
Migrate storage from failover clusters
Migrate storage from a Linux server that uses Samba
More easily sync migrated shares into Azure by using Azure File Sync
Migrate to new networks such as Azure
SetupDiag and Update Rollbacks
The SetupDiag utility has been updated to version 1.4.1 and available. SetupDiag is a command-line tool that can help diagnose Windows Update failures. Windows Server 1903 has added rollback improvements with Windows Updates. Servers will now automatically recover from startup fialures by removing updates if the startup failure was as a result of a recent driver or quality update. This feature requires Server Core with the Windows Recovery Environment partition configured.
Microsoft Defender Advanced Threat Protection (ATP) improvements
New improvements to Microsoft Defender Advanced Threat Protection (ATP) include the following enhancements:
Attack surface area reduction that allows enabling web protection and defining allow and deny lists for specific URLs and IPs
Next generation protection – This includes protection against attacks including ransomware, credential misuse, and attacks that are propogated using removable storage.
Microsoft Defender ATP next-gen protection technologies include:
Advanced Machine Learning that help to protect against apex attackers using vulnerability exploit techniques, tools and malware
Emergency outbreak protection provides automatically updated intelligence when a new outbreak is detected
Certified ISO 27001 compliance – Ensures cloud service has been analyzed for threats, vulnerabilities, and impacts. It helps to ensure that risk management and security controls are in place.
Geolocation support – Supports sovereignty of data and configurable retention policies to help satisfy requirements of such compliance regulations as GDPR, etc
Wrapping Up
The news of Windows Server 1903 GA for Download New Features brings about exciting new features and functionality for Windows administrators. There are many great new features included in this server release that help to extend the hybrid cloud aspects of Windows Server and interoperability with Azure. Server Core is becoming more and more the preferred installation of Windows Server. As Microsoft continues to add to the Feature on Demand installation, Server Core is becoming more and more powerful and will certainly help to catch on as the preferred installation among organizations provisioning new servers if they aren't using Server Core already.
Don't miss out on new posts! Sign up!