vSphere 6.7
VMware ESXi Free Download Configuration and License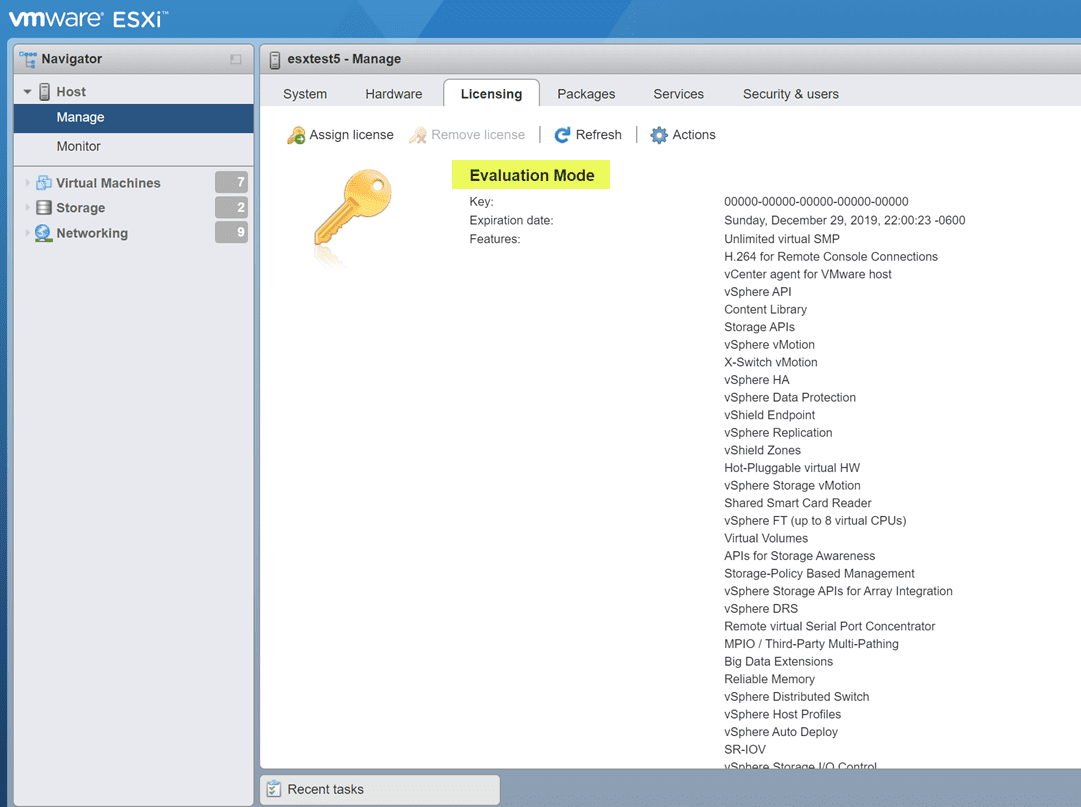 We are certainly in the age of virtualization and the hypervisor is at the core of what makes virtualization possible. Both VMware and Microsoft have hypervisors they allow you to download for free. This allows anyone to get their hands on an enterprise grade hypervisor and play around with it.
Focusing in more on the VMware vSphere hypervisor, how do you get your hands on VMware ESXi free edition? How is it configured? Is it different than the paid version? In this post, we will take a look at VMware ESXi free download configuration and license to see how you download it, configure it, and get a license to apply to it.
VMware ESXi Free Download
First of all, how do you get your hands on the VMware ESXi free edition? Getting your free VMware version is pretty straight forward. There is one requirement to get the download. You need to have a current VMware account (this is free to setup).
This does not have to be associated with a business. You can sign up as an individual as well to get access to the free edition of the hypervisor for download. Additionally, you will also be provided a license key for the free edition on the same page.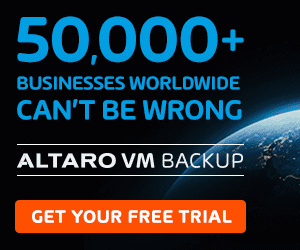 Where do you go to get this? Go to this link which will take you directly to the page for the VMware ESXi free download: https://www.vmware.com/go/get-free-esxi
Let's look at a few screenshots of this process. Below is the screen you will see when you browse to the above URL for VMware ESXi free. As you can see, you will have the choice to either login with an existing account, or create an account to use for the login and download of VMware ESXi free.
Since I already have a VMware account, I went ahead and logged in with my account and this takes you to the License & Download step. Notice you will need to Register for your download of the free VMware ESXi version. Click the register button.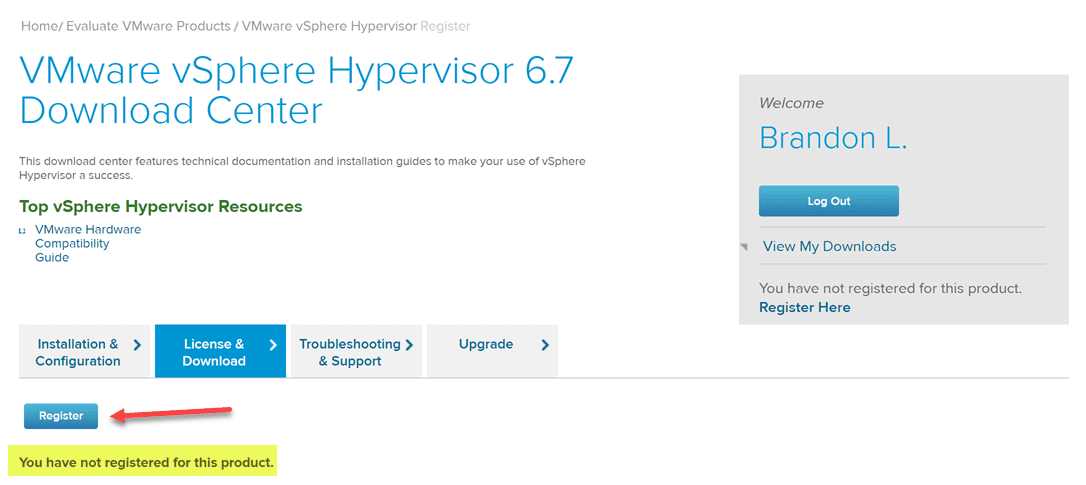 Once you click register, you should see your License keys displayed and then also the Download Packages section has activated to allow you to download the VMware ESXi binaries. The latest at the time of this writing is VMware ESXi 6.7 Update 3.
You also have the option to download older versions of ESXi if you would like. These are available underneath the current downloadable version.
Is VMware ESXi Free Download the Same as the Paid Download?
The answer to that question is yes. The download for the free VMware ESXi version is the same as the download for the paid version. Both installs will install with the same trial license that is valid for 60 days until you have to enter the license key.
VMware ESXi Free License
What about the license? Is the VMware ESXi free license a time limited license that you have to renew every year or after multiple years? No, the VMware ESXi free license is perpetual and does not have to be renewed.
Of course, there is no implied or built-in support that is given with the VMware ESXi free license. This is a self-support license with no expressed support given from VMware. So be warned!
Assigning the VMware ESXi free license is as simple as logging into the ESXi host UI and entering the license key you received from VMware for the free VMware hypervisor.
How do the features compare between evaluation mode and the free licensed mode? Below is a listing of all the features you have available with the evaluation mode. With evaluation mode, you get everything for 60 days. You can even manage you evaluation mode servers with vCenter Server.
To change it to free mode, you click the Assign License button.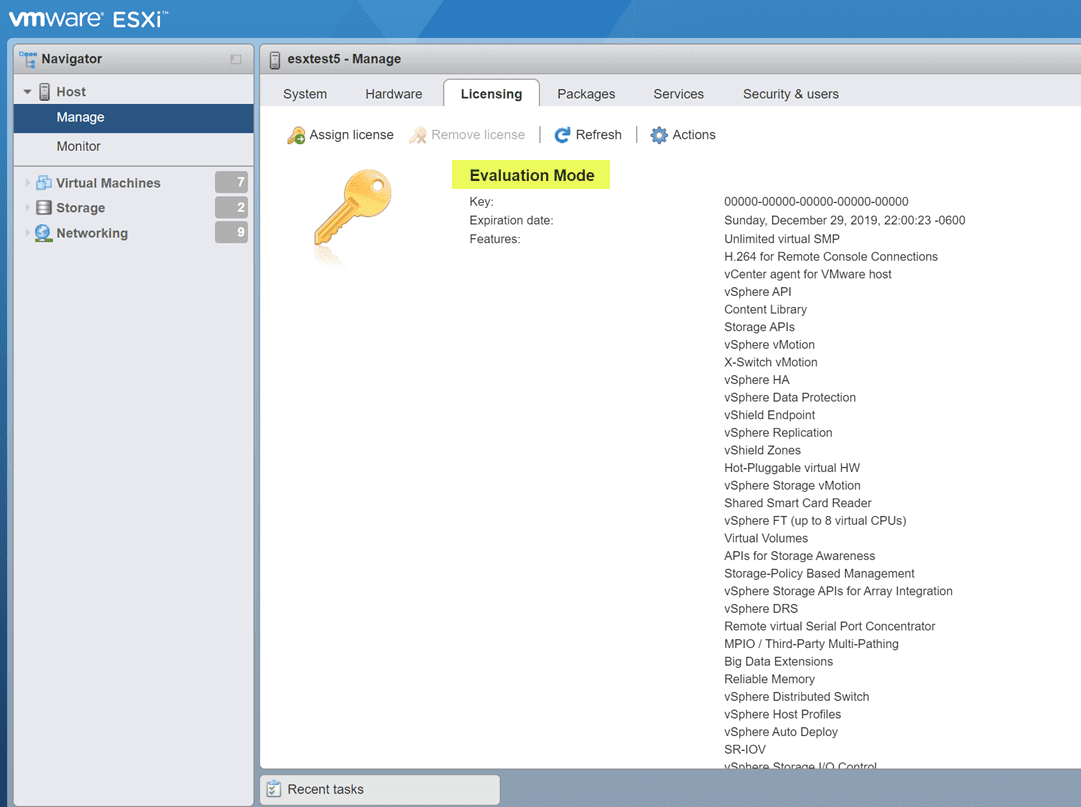 Enter the ESXi free license key received from VMware after registering for the download.
Take a look at the features that are enabled once you switch over to the free license for VMware ESXi. The features includes are drastically fewer than what you get with the evaluation license.
VMware ESXi Free Limitations and Restrictions
What are the VMware ESXi free limitations and restrictions that you need to make note of? There are a handful of important items to note with the VMware ESXi free version. These include the following limitations and restrictions:
Virtual Machine vCPUs are limited to 8 vCPUs
No VMware Support
No vSphere Storage APIs are exposed
No management using vCenter Server
Basically everything else is unlimited including RAM, physical CPUs installed inside the ESXi server, number of cores per processor among others.
There are two of the restrictions that are listed above, that IMHO are the most important to note when considering free ESXi for use in running any type of workloads in your environment.
No vCenter Server Management
Perhaps the most important restriction with VMware ESXi free is you have no vCenter Server management of your ESXi hosts that are running the free version of ESXi. This means you have no centralized management of your ESXi hosts and you have to manage each one via the host UI of each ESXi host.
No vCenter Server Management means you don't have the ability to create a vSphere cluster of multiple ESXi hosts. This also rules out the enterprise features that most need in running virtual machines in vSphere including:
vMotion
Fault Tolerance
GUI Update Manager
No distributed virtual switches
Another important thing to note when it comes to efficiency of management is you only have access to the host UI and not the vSphere Client that you get with your connection to your vCenter Server.
The host UI is still not that great even in vSphere 6.7 in my honest opinion and the management experience is miles behind the HTML 5 vSphere Client.
No vStorage APIs Mean No Backups
One of the other restrictions that exists with the free ESXi hypervisor is you do not get access to the vStorage APIs in the free ESXi hypervisor. This means you cannot use a backup solution to interact with and backup virtual machines you have running on a free VMware ESXi host.
For most, this will be a total deal breaker for production virtual machines since you will not have a way to effectively backup the production virtual machines running on top of a free ESXi hypervisor host.
Without the vStorage APIs, you won't be able to do online backups of running virtual machines like you would with a backup solution making use of the APIs.
Real World Use Case for VMware ESXi Free
What kind of use cases does the VMware ESXi free license fit for most environments? With no vCenter Server and no vStorage APIs, it will most likely totally eliminate any place for the VMware ESXi free edition in a production environment.
There could perhaps be some edge use case where a free ESXi host might be used in a pinch to run some workloads, however, those will be few and far between.
The free download and license will be a great fit for learning environments as well as labs, testing, development, and others. This is because you may just simply need a place to copy over some VMs and run them. You may not care in these types of environments about backing them up or managing them with vCenter Server.
Wrapping Up
Hopefully this VMware ESXi Free Download Configuration and License tutorial will help anyone who is looking at deploying a free ESXi host here or there for testing or other use cases.
While the features are limited in the free license version ESXi free is still the same hypervisor powering vSphere clusters. Using the free ESXi hypervisor is a great way to learn and experiment with arguably the leader in enterprise virtualization – VMware ESXi.