Digital Workspace
Cameyo Cloud Virtual Application Delivery Now Chrome Enterprise recommended by Google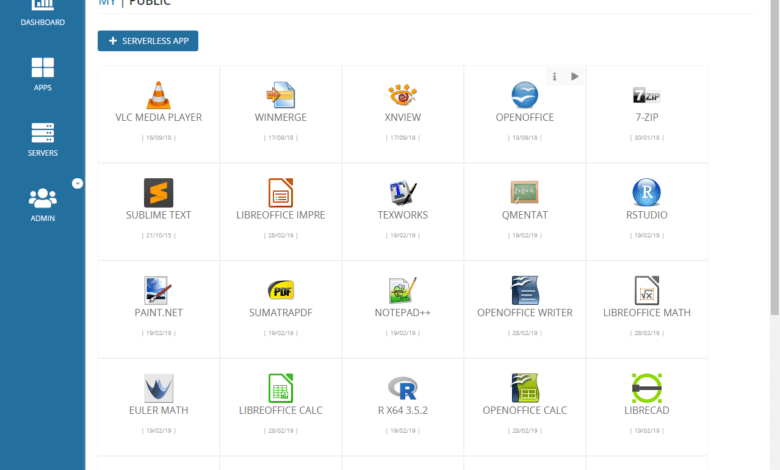 Most businesses over the course of the past two years of the global pandemic have seen a paradigm shift in how they empower their remote employees to carry out business-critical tasks. The shift to a hybrid remote workforce has meant providing the tools and solutions needed for employees to be productive, access mission-critical applications, and communicate. Many today are realizing the benefit of virtual application delivery to provide employees with a seamless application access experience, no matter what platform they are connecting from. Cameyo is a virtual application delivery platform that has allowed businesses to rethink application access and security. Today this is big news for Cameyo – Cameyo Cloud Virtual Application Delivery Now Chrome Enterprise recommended by Google.
What is Cameyo cloud virtual application delivery?
The Cameyo cloud virtual application delivery platform is a modern approach to delivering what most remote employees truly need – applications. Cameyo's solution is a fresh take on simplicity, security, and ease of deployment that can literally have an organization up and running, delivering on-premises, or even legacy applications in a matter of a short amount of configuration time.
If you want to see just how easy it is to get up and running, take a look at my post here.
I also was selected as a test of the software and just how easy it was to install and configure. You can read my blog post on the Cameyo blog site here. It literally took just a few minutes to stand up a working Cameyo configuration and begin delivering virtual applications. You can read my experience with that process here: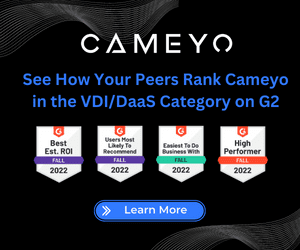 It is one of those solutions that until you get your hands on it and experience the configuration and management side of things, you don't appreciate how easy it is to connect remote users with the applications they need.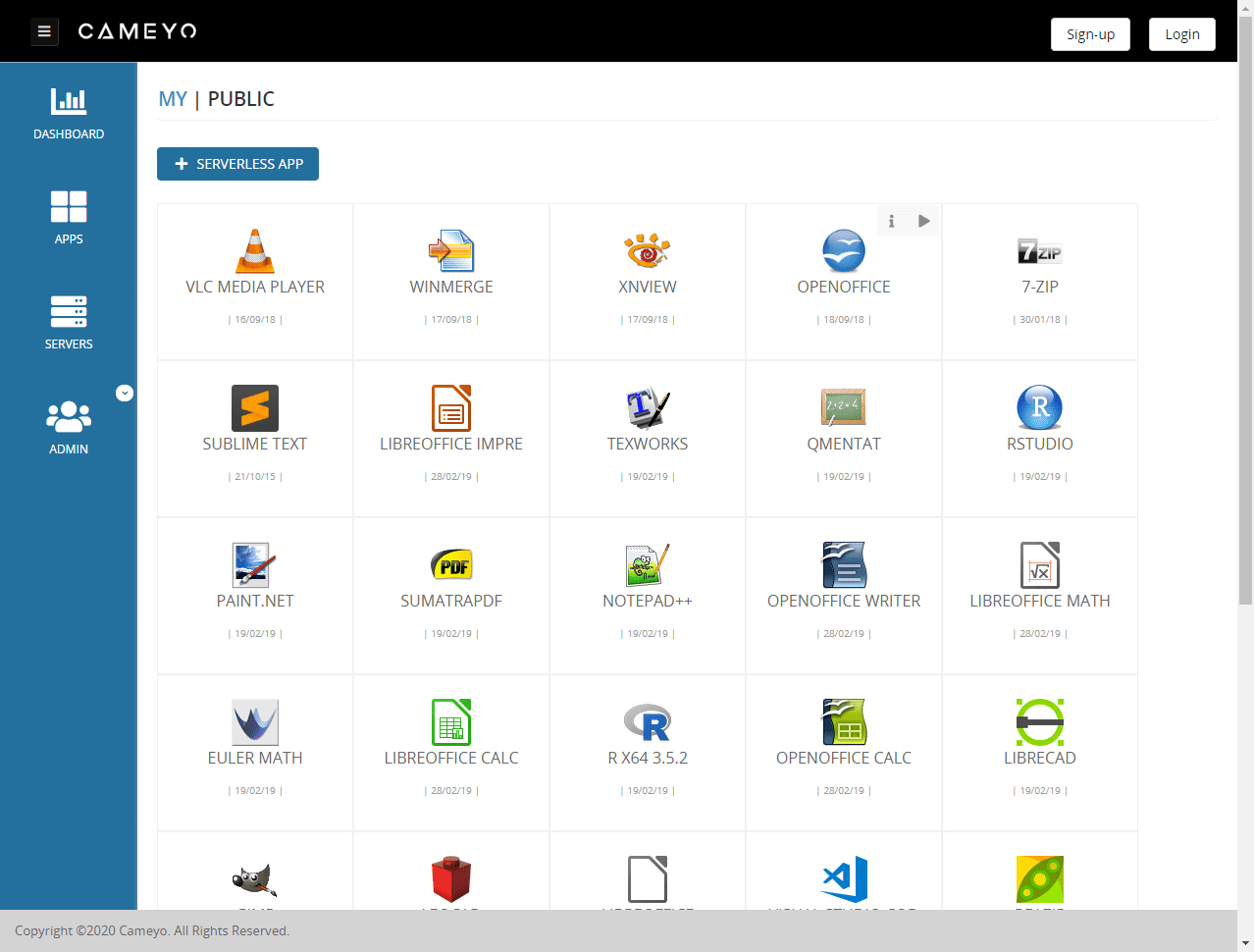 What are the benefits of Cameyo?
There are many outstanding benefits to the Cameyo solution. With the distributed and hybrid workforce needed today, organizations have to provide the tools needed to allow that connectivity from anywhere and on any device.
Security
Businesses today are tasked with defending against more cybersecurity threats than ever before, including ransomware.
Organizations using legacy connection technologies like Remote Desktop Protocol (RDP) and Virtual Private Networks (VPNs) are often a target of attackers who use phishing or other password attacks to compromise weak passwords and other vulnerabilities in these technologies.
Cameyo is a purpose-built digital workspace solution with intrinsic security by design. They implement a zero trust security model. The Cameyo digital workspace solution includes modern security mechanisms as part of the offering. These include:
A unique "PortShield" technology – The Cameyo PortShield closes all HTTP, HTTPS, and RDP server ports and any connections are only allowed once a user is authenticated and authorized
No firewall ports are required inbound – Cameyo uses a Secure Cloud Tunnelling technology as part of the solution that ensures zero configuration of firewalls and ingress traffic
Requires no VPNs – Cameyo uses what is known as a "NoVPN" technology meaning connectivity to businesses-critical apps is possible without any special network connections or tunnels from endpoints to internal applications
Digital workspace experience
Cameyo provides a seamless digital workspace experience that is simple, intuitive, and uses a tool that end-users are well acquainted with – the browser. From only a browser session, including those on Chromebooks, users are able to access full Windows applications inside the browser.
It is also extremely flexible in its implementation. Organizations can choose to leverage the Cameyo cloud fully-hosted solution in Google Cloud Platform (GCP), or they can self-host Cameyo in their own private or public cloud infrastructure. Companies can also use their own storage, permissions, and other technologies integrated with Cameyo.
Cameyo Cloud Virtual Application Delivery Now Chrome Enterprise recommended by Google
With today's news, Cameyo becomes only one of three vendors recognized by Google as a Chrome Enterprise Recommended solution. What is Chrome Enterprise Recommended?
Chrome Enterprise Recommended is Google's partner program for third-party solutions that are verified as meeting technical and support standards for Chrome OS. To become a Chrome Enterprise Recommended partner, Cameyo worked extensively with Google to extend its solution's functionality, quality, security, and end-user experience. This helps organizations simplify the change management process and shorten the testing cycle for the cloud by selecting a solution that's already been verified by Google.
Cameyo FAQs
What is Cameyo? – Cameyo is a cloud-hosted and self-hosted solution allowing businesses to provide remote users with virtual application delivery, access to full Windows applications, no matter the network location or device of the end-user. Cameyo does this securely with many unique security mechanisms that validate users before connectivity is established to the application platform.
What is virtual application delivery? Virtual Application Delivery provides a more efficient approach to delivering applications to users. Instead of provisioning a full desktop, users have access to the application, eliminating unnecessary resources if full desktops are not needed.
How is virtual application delivery different than VDI? Virtual application delivery provides access to applications where virtual desktop infrastructure (VDI) provides access to full desktop sessions.
How does Cameyo run full apps in a browser? Using a secure tunnel, Cameyo provides access to applications based on Microsoft's RDSH application delivery technology with greatly simplified deployment.
Concluding Thoughts
In my time working with Cameyo as a technology and with the company, they have a great thing going, both in terms of technology and people. I have found their solution to be unique in many ways and one that helps to solve very complex technical challenges in a very simple way. Most VDI and other VAD solutions may take weeks to plan, architect, and provision. However, Cameyo is a solution that can literally start delivering applications in minutes.
Read my other Cameyo posts here: