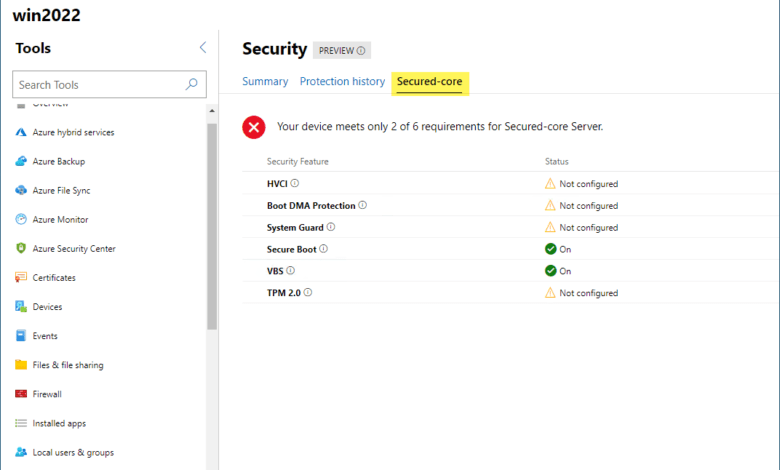 Unless you have had your proverbial head in the sand, you have no doubt at least played around with Windows Admin Center since its parallel release with Windows Server 2019. With the release of Windows Server 2022 looming on the horizon, Windows Admin Center is coming of age and getting some great new features and enhancements. It helps to validate my confidence that Windows Admin Center is not just a fad application that will come and go quickly. Microsoft is devoted to the platform and this is evident by the time and effort they are putting into it. You may have noticed that along with the Windows Server Insider Preview 20285 (Windows Server 2022) release, Microsoft has also released the Windows Admin Center Preview 2012. There are some really great enhancements to be found. This post will take a look at Windows Admin Center Preview 2012 released download new features to take a look at these.
Downloading Windows Admin Center Preview 2012
How do you get your hands on the new Windows Admin Center Preview 2012? You need to sign up for the Windows Server Insider Preview. You will see the new Windows Admin Center Preview 2012 as an available option for download in the downloads.
Windows Admin Center Preview 2012 released download new features
There are many updates in this release that will no doubt get your attention as it did mine. The ones to note are the following:
Significant performance improvements
Platform updates
Windows Admin Center tools updates
New GPU tool
Secured-core capabilities
RDMA provisioning
Stretch Cluster
Integrated solutions updates
Secret feature – A secret feature? That is right, read further
Significant Performance Improvements
Microsoft has updated Windows Admin Center to using HTTP/2 with this release. After installing the new Windows Admin Center Preview 2012 on Windows Server 2022, I definitely saw a noticeable improvement in how snappy everything loaded in the WAC GUI. Every extension that I clicked on was extremely quick to respond and paint the application.
This has been a bit of a pet peeve of mine in using Windows Admin Center in previous releases. It just seemed a bit sluggish in some areas. However, this is a great improvement and I can see a noticeable difference in using the new HTTP/2 Windows Admin Center Preview 2012 release.
Platform Updates
There are various other platform updates to note with this release including a much better experience with Azure login. Previous releases have been plagued with Azure login issues. Microsoft makes note with this release, the Azure login experience is much improved. I haven't really had a chance to work with the new release enough as of yet to make a determination on that front as I have certainly seen issues on the Azure login side with WAC.
Windows Admin Center Preview 2012 Tools Updates
Many of the tools/extensions have been improved and enhanced with this release. Some that have not been updated in a while have received updates in this new preview.
A list of improvements includes the following:
Azure File Sync – much more reliable experience from start to finish
Files and File sharing – Bug fixes and UNC copy-paste to dashboard
Cluster Manager – You can register Azure HCI Cluster to Azure and change diagnostic settings in Windows Admin Center
Storage Migration – Many UI updates and new features coinciding with the October 2020 Storage Migration Service cumulative update
Storage Replica – View replication status next to the status iocon as well as bug fixes
System Insights – These are now available for Azure Stack HCI
Virtual Machines – Isolation mode in the networking section when creating a virtual machine, improved SDN networking for VMs, bug fixes and performance improvements
Windows Update – fixed a specific bug related to scheduled restarts happening immediately
New GPU Tool
With this release of Windows Admin Center 2012, there is a new GPU tool that is used for assigning GPUs to specific virtual machines. This new tool is in Preview and has to be enabled with the Insider Preview feed in Windows Admin Center. Even if you install the new tool, you will not see the GPU extension unless you are connected to an Azure HCI Cluster.
New Secured Core Capabilities
With Windows Admin Center Preview 2012, there is a new security feature that is currently in preview. It adds a new section on the Security extension for Secured-core. This lists a number of security-related capabilities, scans a Windows Server to see if these have been enabled and reports this back to you.
RDMA provisioning
RDMA provisioning is now a part of the Azure Stack HCI cluster creation deployment workflow. it allows leveraging RDMA capable network adapters and automatically discovers the supported protocol (iWARP or RoCE V2) with recommended settings.
Stretched Cluster
With stretch cluster, Azure Stack HCI provides a solution for disaster recovery that allows for automatic failover. The cluster creation tool is now GA and provides the ability to choose to deploy single-site or multiple site/stretched cluster deployments. It can auto-provision sites based on Active Directory Sites and Services.
Integrated solutions updates
This is Microsoft's answer to VMware's vSphere Lifecycle Manager tool that is now able to perform lifecycle updates on drivers and firmware from hardware OEM providers. This will allow greatly simplifying lifecycle management for Azure Stack HCI clusters and minimizing downtime as a result of both software and hardware updates.
Secret Feature
It probably got your attention with a secret feature noted! Microsoft has added the ability in Windows Admin Center Preview 2012 to allow popping out the WAC extension windows in the GUI. You have to first enable this feature under the developer options by adding a "key" there. Then, simply hover over the extension name and you will see the new pop out button.
Adding the Insider Preview Extensions
Many of the new extensions that are shown with Windows Admin Center Preview 2012 are "Insider Preview" extensions that you must enable. To do that, you have to add the following feed to your Extensions feed.
https://aka.ms/wac-insiders-feed
Wrapping Up
This post, Windows Admin Center Preview 2012 Released Download New Features shows many of the new features that are found in the latest Preview release of Windows Admin Center Preview 2012. There are great new enhancements across the board, especially in the area of performance, extension features, and just overall awesomeness. This is a great view of the potential for Windows Admin Center as it continues to grow and mature.
Don't miss out on new posts! Sign up!