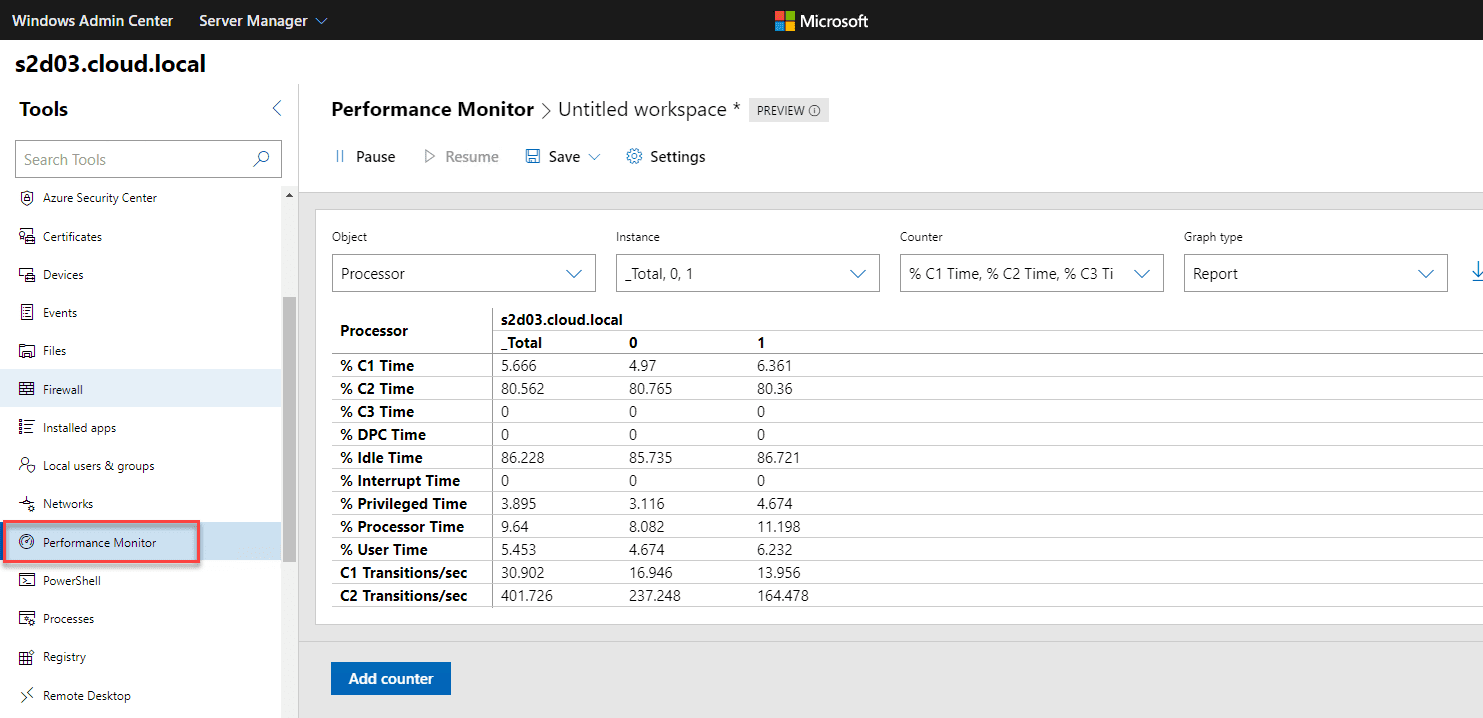 Windows Admin Center is the de facto standard now for managing Windows Servers, HCI, Hyper-V, and bridging your on-premises environment to your Azure environment. The hybrid cloud features that are built into Windows Admin Center certainly makes it clear this is THE tool Microsoft wants you to be using for your Microsoft infrastructure moving forward. Today in conjunction with Microsoft Ignite, Windows Admin Center 1910 is GA with great new features for use in your enterprise datacenter. Let's take a look at Wndows Admin Center 1910 GA download with New Features to see what this version of Windows Admin Center has in store for your environment.
Why Use Windows Admin Center?
Well there are a few important reasons to think of. One of the most important however is this is the management tool of choice that Microsoft has settled on. This means you will get the best experience, features and functionality to manage your environment.
Another reason is that it is free. This is a free tool provided by Microsoft that provides better management of your environment than many if not most third-party tools. With the growing partner ecosystem, as we will see later, this is set to become THE tool you use.
Finally, it aggregates and consolidates the management of your Windows and hybrid cloud environments. It allows you to manage all of your nodes in one place
Windows Admin Center 1910 GA Download with New Features
Let's get right to what you want to hear about – the new features. With Windows Admin Center 1910 there are many great new features with this release. Let's cover some of the major enhancements you will see with this version of Windows Admin Center Let me just say, there are a lot of new features in this release.
A great thing you are seeing with the releases of Windows Admin Center new features is many are driven from user requests to Microsoft on what they would like to see in the upcoming versions. It is cool to see the requests of end users/administrators influencing what features should be included in upcoming versions.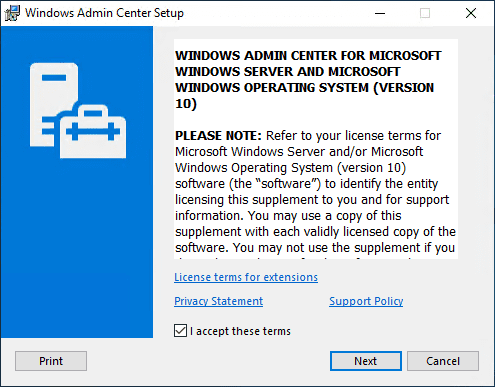 The major new features of Windows Admin Center 1910 can be broken down into the following:
User Experience
New Connectivity Settings
New Core Tools
New Hybrid Cloud Features
New Hyperconverged Infrastructure (HCI) Improvements
Partner Ecosystem
Not So Welcomed Changed
This may be viewed as a picky criticism, however, one change Microsoft has made recently with regards to Windows Admin Center that I don't like is the need to now go through the Eval Center to download Windows Admin Center now. This has been in place for just a while now. You can still find the direct link if you search hard enough.
I am not sure what the reasoning for this is since the software is a totally free tool and does not have an evaluation period. The one reason I can see here is they are making you enter some type of contact information before downloading. Okay enough of that. Let's look at the new features.
New User Experience Features
There are some definite user experience upgrades in this release of Windows Admin Center. One of these is the new dashboard that pops up when you are adding a new connection to Windows Admin Center. This allows you to have the option to click from a number of tiles describing the type of server you are connecting to.
Connectivity Settings
A nice little feature that was added in this release is the ability to control how much Internet access you give to Windows Admin Center itself. You can control which types of connectivity WAC has to the outside world. There are three options available in the Internet Access area of your Settings.
Full internet access
Azure services only
No internet access
WinRM over HTTPS
One of the requested features for Windows Admin Center that has found its way into WAC 1910 is the forcing of WinRM over HTTPS. This is a much more secure approach to managing your nodes with WinRM. Now, you can select this method for connectivity during installation of Windows Admin Center 1910.
New Core Tools
There are several new core tools to make note of with this release of Windows Admin Center 1910. One of the biggest items that has been added with this release is a new Performance Monitor that updates the long in the tool tool that has been used for years now with the Windows Server operating system.
Performance Monitor
This is a big one. A new Performance Monitor tool is now found in Windows Admin Center 1910 that provides a much needed update to the legacy Performance Monitor tool found in Windows Servers for years past.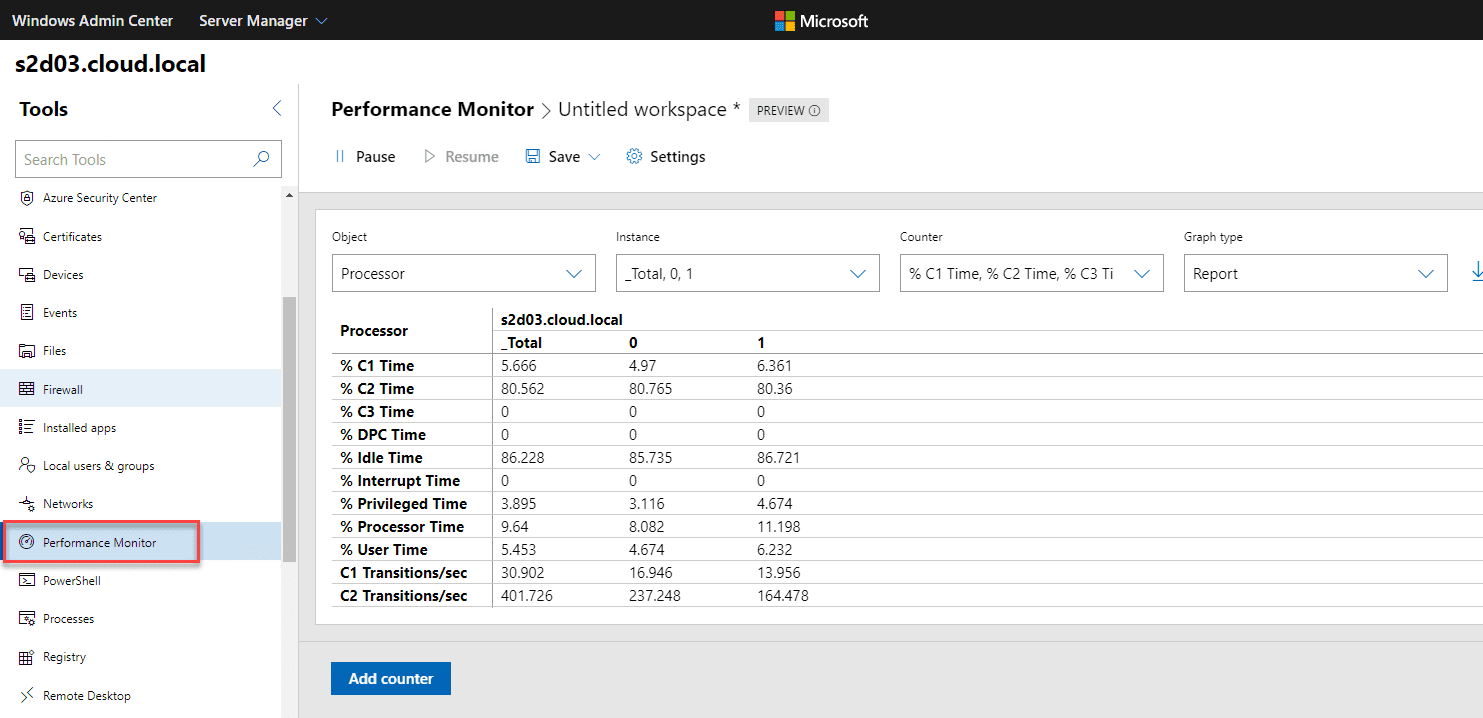 New Virtual Machine Functionality
If you are like me and always pay particular attention to the virtual machine functionality, this release will certainly bring about some welcomed news. Now with Windows Admin Center 1910, you can Import/Export virtual machines, tag VMs, and Live Migrate virtual machines.
With the Import/Export features you can import/export VMs to and from local volumes and remote file shares. You can create a new VM ID when importing and also rename VMs that are imported if there are VMs detected with the same names.
VM tagging allows bringing similar tagging functionality found in the tagging connections features in Windows Admin Center to the virtual machines in Hyper-V. You can select the "Edit tag" button to manage tags in the Hyper-V inventory managed by Windows Admin Center.
A long awaited capability with Windows Admin Center and Hyper-V is Live Migration. Finally, with this release, you can Live Migrate a VM from a server or cluster to a server or cluster in any combination with WAC.
Windows Updates
Windows Updates – You can now select individual updates to install now with the Updates tool.
Overview Tool
The Overview tool now visibly shows via a banner when a reboot is pending on a Windows Server.
New Hybrid Cloud Features
Azure hybrid services tool: Content now loads from an online feed to ensure the latest available services are always shown.
Switch accounts: Switch between multiple accounts in the Account Settings page
Cost estimates: Azure hybrid integrations within Windows Admin Center now include a hyperlink to Azure, to discover and understand the estimated cost of that service once onboarded.
Add Azure VM: Azure VMs are now a top-level connection type. When a server is added this way, it appears in the connections list as "Server (Azure VM)" so you can easily see which of your servers are Azure VMs.
Create Azure VM:  Provisioned Azure VMs directly from Windows Admin Center
Azure Arc for servers: Apply Azure policies to your on-premises infrastructure. You can govern servers using Azure policy, control access using RBAC, and enable additional management services from Azure.
Azure Security Center: Security management and advanced threat protection with Azure Security Center across hybrid workloads. You can apply policy to ensure compliance, find and fix vulnerabilities, block malicious activity, detect attacks and investigate cybersecurity events for threat response purposes
Azure File Sync: Synchronize on-premises file servers with servers in the cloud. Centralize file shares in Azure while caching frequently accessed files on your local file servers. Now enable end-to-end provisioning and configuration within Windows Admin Center.
S2S VPN / Azure Extended Network: Previewing in the Extensions feed, added ability in Gateway Connections extension to setup Site to Site VPN connection between SDN virtual network and Azure virtual network, enabling seamless migration of on-prem applications to Azure without any IP address changes thanks to private IP carryover (extends your SDN virtual network into Azure vNet).
Azure Monitor: Windows Admin Center can now onboard Cluster connections to Azure Monitor: To configure Azure Monitor for your cluster, navigate to Settings -> Monitoring Alerts. The onboarding process will help set up the log analytics workspace in Azure and install the appropriate local agents on each server in your cluster to help you collect events and performance counters for analysis, reporting, and alerting.
Storage Migration Service: Migrate on-premises file servers to Azure and upgrade to a newer Windows version in the same process. You can now create Azure Virtual Machines on the fly during migration, automatically size them, provision them with formatted storage, and join them to your domain – while allowing you to migrate from legacy operating systems, Samba on Linux, and standalone servers to the latest versions of Windows Server and failover clusters.
Storage Replica: Azure can be used for the second site in Storage Re. Windows Admin Center now supports creating Azure Virtual Machines on the fly during setup of new asynchronous replication partnerships so that Azure can help protect your business from disasters with minimal data loss.
Azure Cloud Shell: Azure Cloud Shell is now accessible via Windows Admin Center. Cloud Shell provides a browser-based, authenticated, interactive shell experience to manage your Azure resources. Cloud Shell comes with common command-line tools by default, and any new tools or files that you save will be persisted and available during your next session.
New Hyperconverged Infrastructure (HCI) Improvements
Deploy Azure Stack HCI – You can now with Cluster Creatio preview create an Azure Stack HCI cluster with two or more suitable Windows Servers using Windows Admin Center. Instead of using many PowerShell scripts that can introduce the room for errors and mistakes, this allows instead using a very straightforward process to deploy Azure Stack HCI.
If you remember before, when adding a connection in Windows Admin Center, you had to pick between a Failover Cluster and an HCI cluster. Now this has logically been merged in the interface. Much better detection here has been introduced so that the appropriate connection type is detected and chosen.
Storage Spaced Direct improvements includes new capabilities to identity noisy VMs in the S2D cluster.
Storage Tiers are now visible on the volume detail page.
New SDN improvements including FlowLog Audit, SDN Load Balancer, and SDN Public IP.
Partner Ecosystem
Not to go into too much detail on this, but just a brief mention that many new partners have developed and released new Windows Admin Center extensions for use. The community of partners that Microsoft has now developing tools for Windows Admin Center continues to grow.
Recently added includes: Dell EMC, HPE, Thomas-Krenn.AG and BiitOps have newly released Windows Admin Center extensions in the past few months.
Concluding Thoughts
Windows Admin Center 1910 GA download with New Features released continues to prove Microsoft is heavily committed to making Windows Admin Center the best tool for managing, configuring, and troubleshooting your Windows and Microsoft infrastructure/cloud environments.
Each new release contains tons of new features and with the buy in from third-party vendors, this tool is going to only get more powerful over time. Be sure to check out the download of Windows Admin Center 1910 from the Eval Center here: https://www.microsoft.com/en-us/cloud-platform/windows-admin-center
Don't miss out on new posts! Sign up!