vSphere 6.7
VMware VCSA 6.7a Released – Upgrade VCSA 6.7 to VCSA 6.7a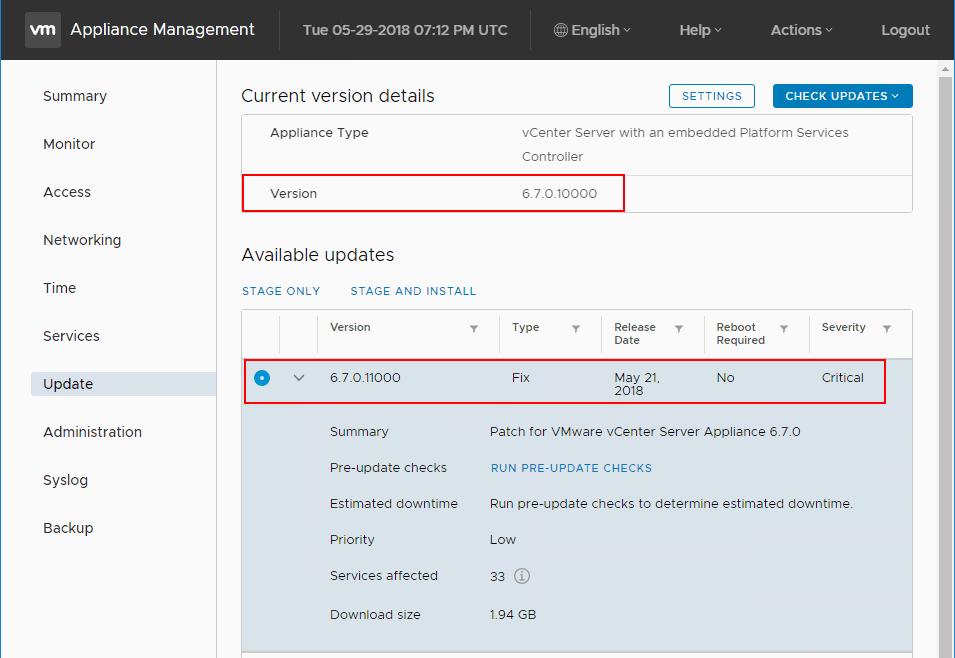 It seems like vSphere 6.7 just dropped but VMware is continuing with their blistering pace of patching and updating products. VMware vCenter VCSA Appliance 6.7a has been released as a "full patch" delivery. When saying it is a full patch, it is a 2094.5 MB download package containing various software fixes applying to the VCSA appliance and the Platform Services Controller Appliance. What are the specific issues addressed in this release? How is this upgrade applied? Let's take a look at VMware VCSA 6.7a Released – Upgrade VCSA 6.7 to VCSA 6.7a.
VMware VCSA 6.7a Released – Upgrade VCSA 6.7 to VCSA 6.7a
The specific information related to the VCSA 6.7a upgrade version, download size, and checksum are found below.  This is taken from the official VMware KB article found here:  https://kb.vmware.com/s/article/54740
| | |
| --- | --- |
| Download Filename | VMware-vCenter-Server-Appliance-6.7.0.11000-8546234-patch-FP.iso |
| Build | 8546234 |
| Download Size | 2094.5 MB |
| md5sum | 3b95789b6ed40140b42b1ee7d26fcdf4 |
| sha1checksum | ef3fabfc4f2d395cde1ec0a206edda933f2d62e2 |
There are three areas that are addressed with this full patch release to VCSA 6.7a.  They include:
Installation and Upgrade issues

Error Failed to check the status of VMware Directory Service.  This is due to port 11711 no longer being used.  Certain upgrade paths may still check and attempt ot bind vmdir to port 11711.  The fix updates the port to 389 if an LDAPPort registry is present
Error the installation of vCenter Server failed due to an internal errorThis issue dows not allow unique messages to propagate to the UI if the upgrade fails on first boot.
Error Failed to register Auto Deploy during firstboot – Duplicate versions of OpenSSL in the system environment path variable might cause Auto Deploy firstboot to fail

vSphere web client and vSphere client issues

vSphere Web Client might stop responding when logging in – This is due to any plugins that may have been installed before upgrading to vSphere Web Client that have been upgraded to vSphere 6.7
Inability to disable the deduplication and encryption features by using the Allow Redundancy option in the configure vSAN wizard.  Remove cached plug-ins, remove the working directory of the vSphere client, restart the vsphere client when upgrading to vSphere 6.7a.

vSAN issues

If vSAN is deployed in an environment without Internet connectivity, the VMware vSAN health service might alert the HCL database is out of data
Upgrading VCSA 6.7 to VCSA 6.7a
To upgrade to VCSA 6.7a you can either download the ISO or pull the update from the online patch repository.  In the example below, we will simply connect to the patch repository and pull down the update.  Login to the VAMI interface via port 5480 and navigate to the Update menu.  We will then select the Check Updates button.  Notice the current version of VCSA 6.7 is 6.7.0.10000.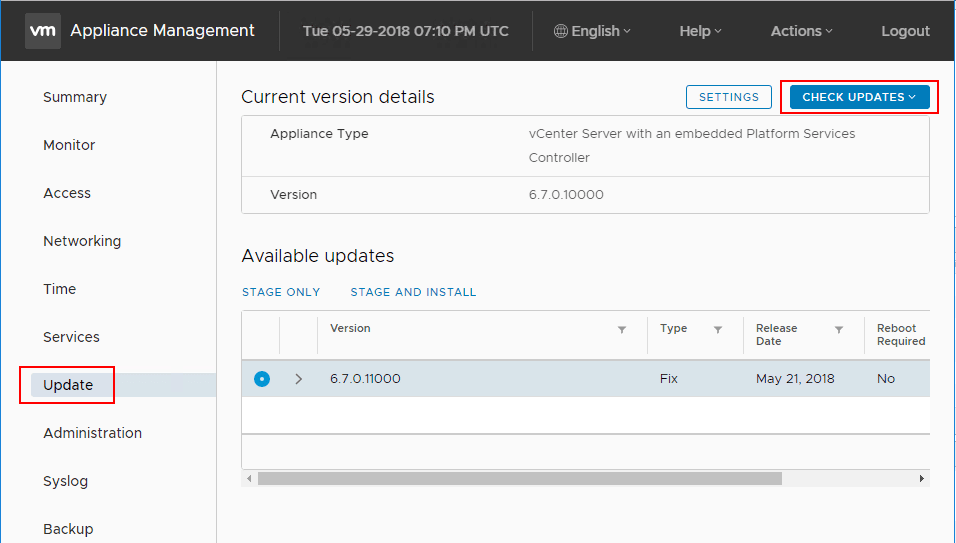 Select the Check CD ROM + URL option.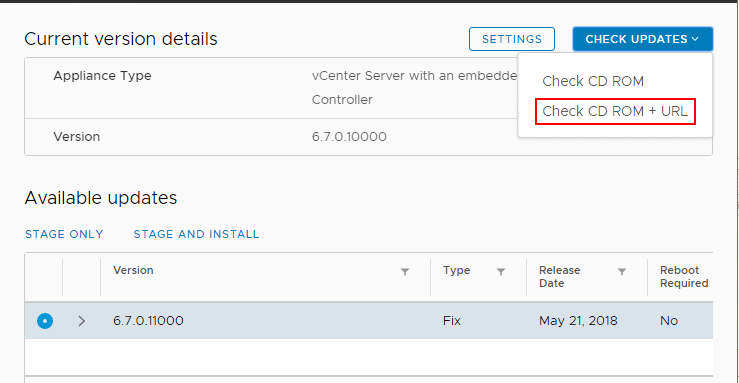 The 6.7.0.11000 version is showing as available from the patch repository.  Select the radio button for the patch.  You can either select to stage only or stage and install which is the option I will be doing.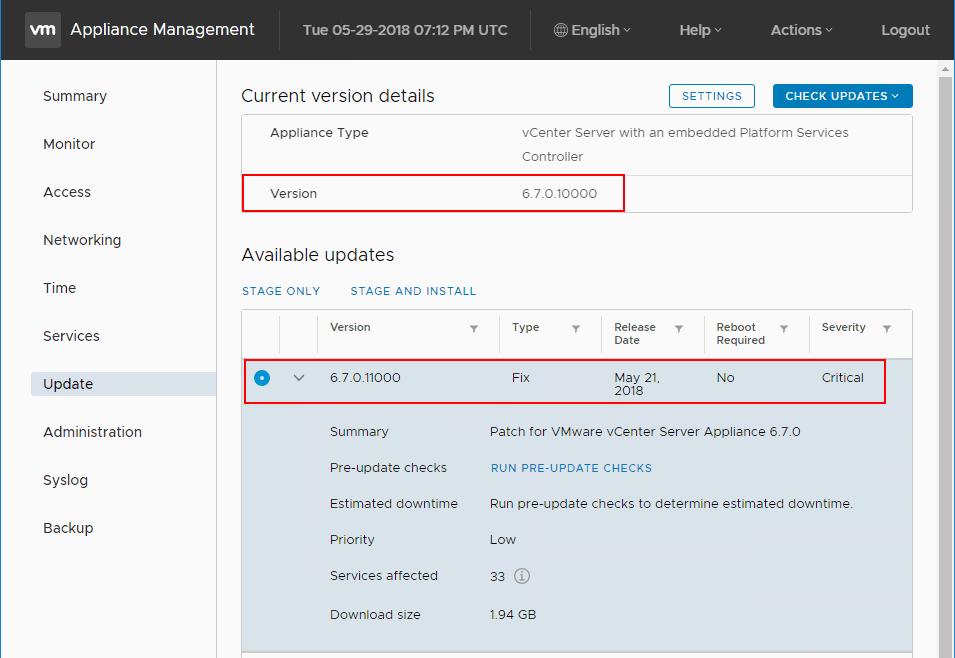 The three-step Stage and Install Update wizard begins.  First, we agree to the EULA.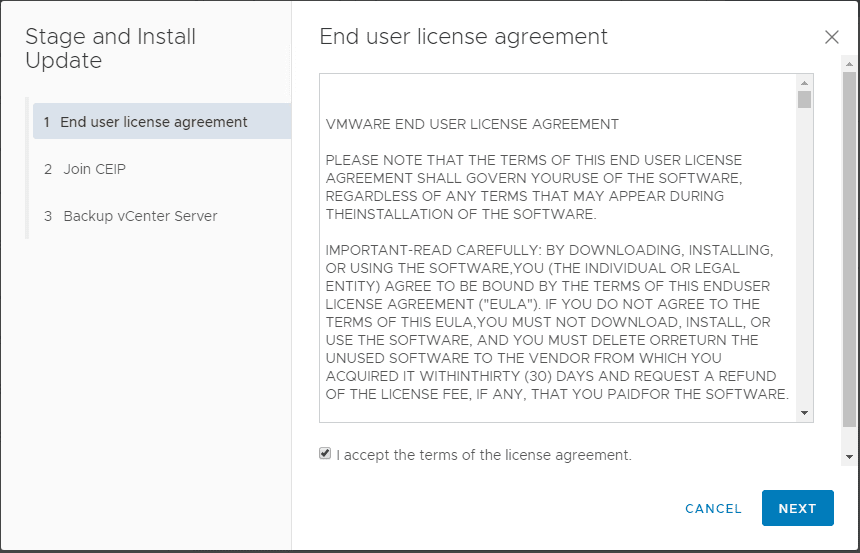 Next, select to either join the CEIP or not.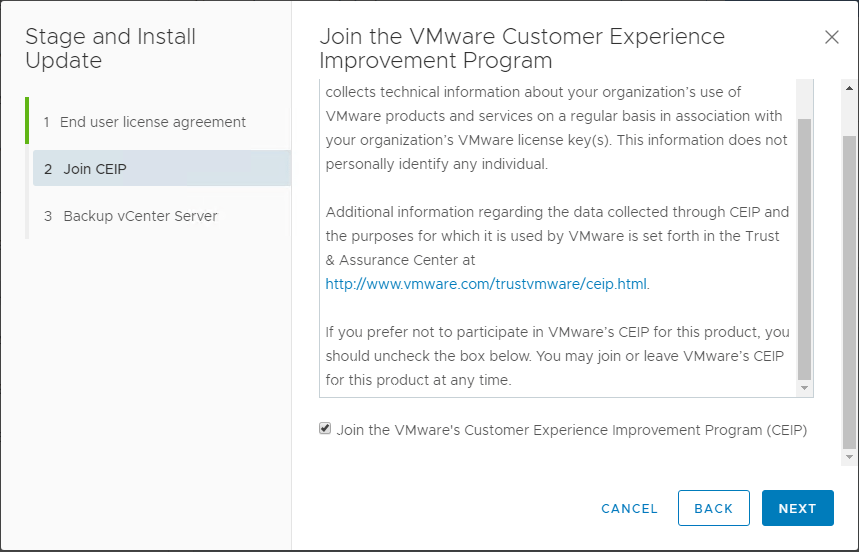 Finally, probably the most important to the upgrade itself is to select either to go to backups and initialize a backup of your appliance before upgrading, or check the box that I have backed up vCenter Server and its associated databases.  After selecting Finish, the upgrade begins…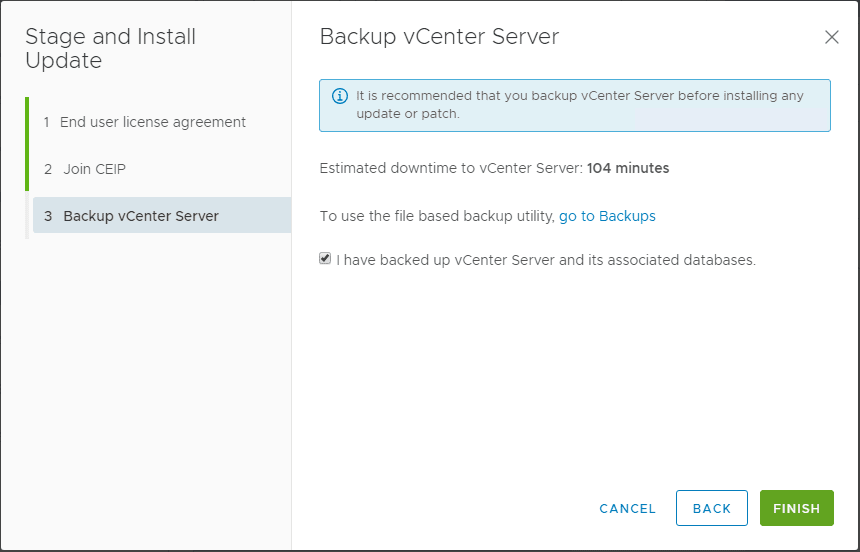 Installation of VCSA 6.7a begins.

Services are started.  Interestingly, I didn't notice a reboot of the appliance, however, I did leave it for a few minutes.  The interface and workflow of the update seems to definitely be smoother as we all remember in previous updates via the VAMI it leaves the rebooting to you.

Installation of VCSA 6.7a is successful.

After the installation wizard is closed, going back to the Update section, the version is now displaying 6.7.011000 which is the VCSA 6.7a version number.  Also, in the screen clip below, I went ahead and checked for updates again and as shown, none are available.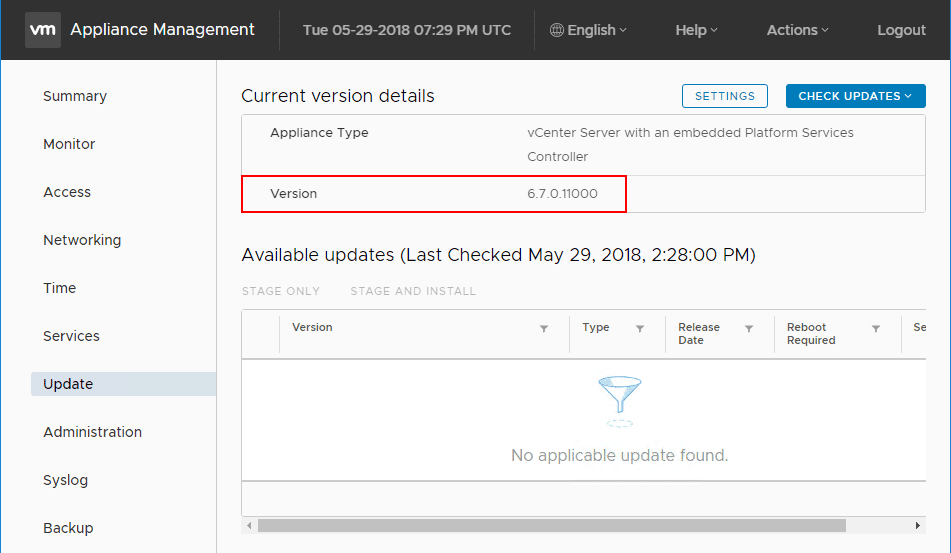 Takeaways
VMware vSphere 6.7 is a great new vSphere version that proves itself to be a worthy upgrade from previous versions (no 6.5 U2 path as of yet). With the release of VCSA 6.7a, VMware has fixed some upgrade, web client, and vSAN related bugs that may be encountered with the GA version of VCSA 6.7, so it is a critical upgrade for those who may have already upgraded or are contemplating upgrading to vSphere 6.7.  The new VAMI interface with vSphere 6.7 sporting the clarity UI is extremely quick and easy to work with especially for the update workflow.  I was impressed with how the update process feels even more streamlined when compared to even 6.5 releases.  It will be interesting to see if patches are released for ESXi 6.7 and also when support for 6.5 U2 will be included.  Stay tuned!
Don't miss out on new posts! Sign up!