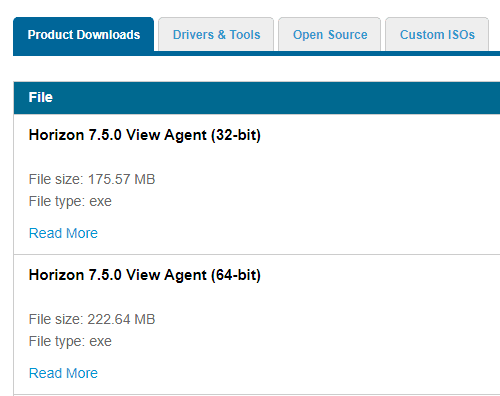 As mentioned in the previous post, the past few weeks with VMware have been full of releases. it seems like every other day has been a new release of an updated product – exciting times! However, this is to be expected with the recent release of vSphere 6.7. All the other VMware products are getting updates to support the new vSphere version. For those with VDI environments running VMware Horizon, VMware Horizon 7.5 has been released. Let's take a look at VMware Horizon 7.5 Released with New Features that will excite most virtual desktop administrators to say the least.
VMware Horizon 7.5 Released with New Features
The VMware Horizon 7.5 Release is a huge release to say the least.  It contains many long awaited features and exciting new integration with the VMware on AWS environment.  The new features and enhancements found in Horizon 7.5 are found in the following areas:
Horizon Connection Server
Horizon Agent for Linux
Horizon Agent
Horizon GPO Bundle
Horizon Client
Horizon JMP Server
Horizon 7 Security
Let's take a look at these one by one and explore the new features in each.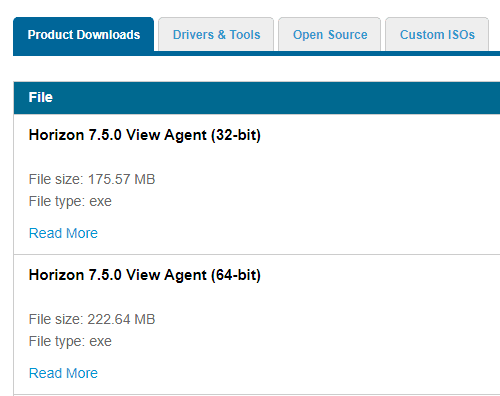 Horizon 7.5 Connection Server
The VMware Horizon Connection Server is where most of the goodness with Horizon 7.5 release is found. It contains the following enhancements:
Horizon Console
Virtual Desktops
Cloud Pod Architecture
Horizon Help Desk Tool
Horizon Console
The is the latest web interface that allows managing and creating virtual and published desktops and applications. This solution integrates in the JMP solution which allows Just in Time management of the Horizon 7.5 environment.
Horizon 7.5 on VMware Cloud on AWS
This is a huge new feature that integrates into the VMware Cloud on AWS platform and allows creating desktop pools in the environment which allows organizations to be able to quickly scale their Horizon deployment in the AWS cloud.
Virtual Desktops
Instant Clones
Another great new feature that is supported with Horizon 7.5 is the vSphere 6.7 Instant Clone API technology. Horizon 7.5 is now able to make use of the enhanced vSphere 6.7 API for instant cloning. Multiple GPUs are supported along with PCoIP or VMware Blast as the display protocol to use with NVIDIA GRID vGPU for instant clone desktop pools.
Cloud Pod Architecture
A new configuration maximums limit has been extended in Horizon 7.5 with the cloud pod architecture. Total session limit has been increased to 200,000 and total site limit increased to 10.
Horizon Help Desk Tool
The Horizon Help Desk Tool has been fully integrated into the Horizon Console allowing troubleshooting of Linux and Windows VMs. Support information such as Disk IOPS data, application and desktop session state, etc, are included.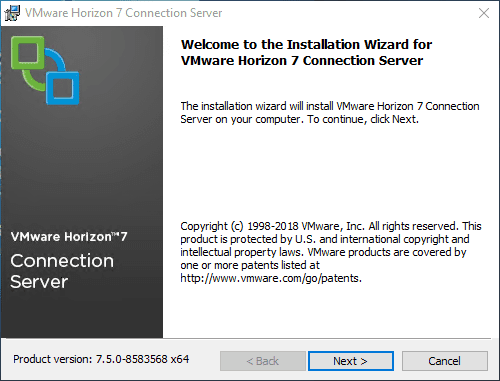 Horizon 7.5 Agent for Linux
USB, Clipboard, and Client Drive Redirection
With VMware User Environment Manager, policies define redirection of USB, clipboard and CDR redirection functionality.
Help Desk Tool Support
The Linux Agent allows integration with the Help Desktop Support Tool.
VMware Blast Network Intelligence
Blast can now dynamically adjust whether it uses UDP or TCP to provide the best user experience in transmitting data.
Horizon Agent
HTML5 Multimedia Redirection Support
Supports subdirectories with URL content redirection
Content can be redirected along with the subdirectories.
Simple Device Orientation SDO Sensor Redirection
This detects changes in client device screen orientation changesand display differently depending on the device
VMware Logon Monitor
The Logon Monitor monitors Windows user logons and reports performance metrics intended in troubleshooting slow logon performance to help VDI administrators track down potential issues.
VMware Horizon Performance Tracker
This utility runs inside a remote desktop and monitors performance of the display protocols and system resource usage. This can also be ran as a published application inside an application pool.
Horizon GPO Bundle
This includes the new ADMX template file containing policy settings related to the Performance Tracker.
Horizon Client
For information about new features in Horizon Client 4.8, including HTML Access, see the Horizon Clients Documentation page.
Horizon JMP Server
Horizon JMP Server installer and JMP Integrated Workflow features
Includes Just in Time management for the Horizon Console allow you to easily define and manage desktop workspaces that consist of a desktop operating system, applications, and settings. JMP technologies are integrated into a single workflow. For more information, see Getting Started with JMP Integrated Workflow in the VMware Horizon Console Administrationdocument and the VMware Horizon JMP Server Installation and Setup Guide document.
Horizon 7 Security
Horizon 7 Security Features

Horizon 7 supports TLS 1.2.
Takeaways
VMware Horizon 7.5 offers some really great new functionality that coincides with the release and feature set of vSphere 6.7.  VMware is doing a great job of getting the integrated products updated very quickly after the release of vSphere 6.7.  With VMware Horizon 7.5 Released with New Features including vSphere 6.7 support, VMware on AWS integration as well as the new instant clone technology which again is vSphere 6.7 functionality, this is a major release for all VMware Horizon VDI shops that have perhaps been waiting for a major upgrade opportunity.  Stay tuned as we will run through the installation and configuration of the new Horizon 7.5 components.
Don't miss out on new posts! Sign up!