Backup Software
BDRSuite v5.5 Released New Features with vSphere 8.0 Backup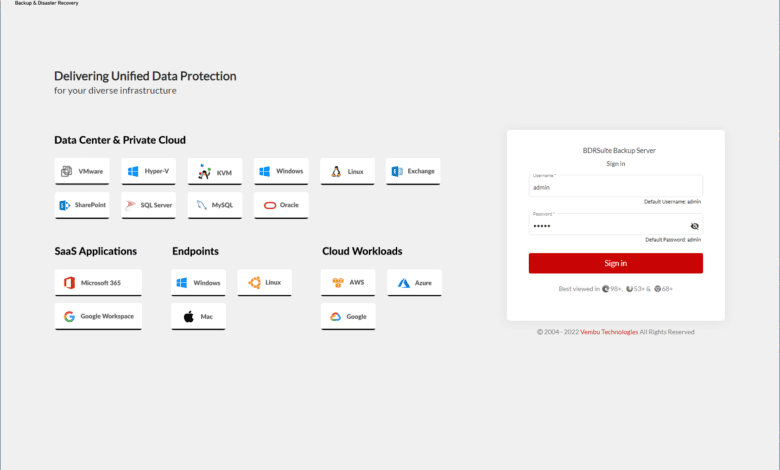 The data protection space is crowded across the board, with many great solutions available on the market to help protect critical data. However, one of the great solutions available, and one that I have been working with for the past few years, is a solution called BDRSuite by Vembu. BDRSuite is one of the most cost-effective data protection solutions available on the market, with many great features. Recently BDRSuite v5.5 was released with many great new features. Let's look at the new features in BDRSuite v5.5 and see what the new release brings to the table.
BDRSuite v5.5 new features
BDRSuite v5.5 is packed full of new features and is one of the first backup solutions I have seen officially supporting VMware vSphere 8.0. Let's run down the list of new features found in BDRSuite v5.5. Note the following:
Support for VMware vSphere 8.0
Target Google Cloud storage as a backup repository
ConnectWise Integration
Backup and Recovery of VMware VM templates
Backup Google Workspace Shared Drives
Backup and Recover Microsoft 365 Archive Mailboxes
Deduplication for Microsoft User Emails
Many new other enhancements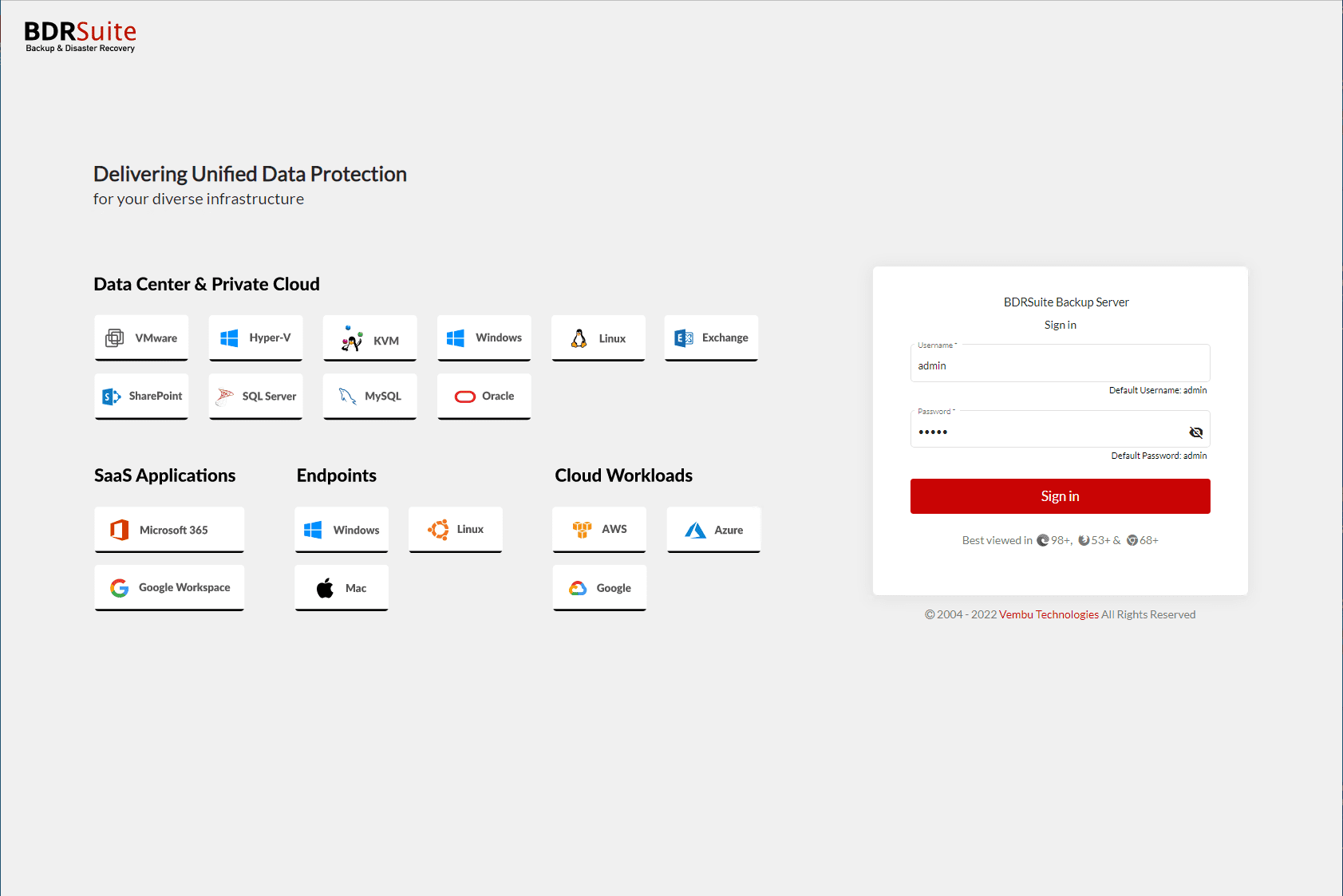 Support for VMware vSphere 8.0
When a new hypervisor version is released, one of the blockers to upgrading to the latest version is waiting on your backup vendor of choice to support the new release officially. I have seen this take many months from some of the major players in the data protection space.
However, it is great to see that BDRSuite v5.5 has added support for the newly released VMware vSphere 8.0 release. It will allow customers to take advantage of many of the great new features found in vSphere 8.0, including the new vSAN 8.0 Express Storage Architecture.
BDRSuite has always been quick to support the latest hypervisor releases very soon after they are released as GA. It is great to see them offering support for vSphere 8.0 soon after its release.

Below, I added a vCenter Server 8 environment without any issues
Target Google Cloud storage as a backup repository
One of the primary use cases for organizations levering cloud environments is using them as a target for backup and offsite backup storage. BDRSuite v5.5 is extending support for targeting cloud environments. In this release, Vembu has added support for Google Cloud Storage Object Storage repositories for storing backups, backup copies, and offsite data copies for BDRSuite backups.
This is an additional location for the existing Amazon S3, Azure Blob storage, and other compatible cloud object storage providers, such as Wasabi, MinIO, and others. This is an excellent addition to the solution since it will offer the additional option for organizations who may already be aligned with Google Cloud Services to use Google Cloud storage as the target for their BDRSuite backups.
ConnectWise Integration
Many businesses use ConnectWise for their helpdesk and other ticketing operations. BDRSuite v5.5 now supports ConnectWise integration. This new integration allows organizations to be able to automatically create tickets in ConnectWise for BDRSuite tasks and other activities.
What BDRSuite activities allow automatic ticket creation in ConnectWise? You can create tickets for various tasks in BDRSuite, including backups, restores, and replication jobs. In addition, you can also create tickets based on BDRSuite task statuses. For example, you can create tickets on a BDRSuite job's failure and have these on relevant service boards within ConnectWise.
Backup and Recovery of VMware VM templates
With BDRSuite v5.5, Vembu has added the ability to back up VMware vSphere VM templates. Now, in the BDRSuite interface, VM templates appear as entities that can be selected for backup. These can be configured for normal backup and recovery operations as needed.
This is an excellent new feature, as many organizations may have customized VM templates that are critical to IT operations on a daily basis. The ability to protect and recover these when needed is a great new feature.
Backup Google Workspace Shared Drives
Many organizations have migrated or are in the process of migrating to cloud Software-as-a-Service (SaaS) environments. Cloud SaaS offers many advantages compared to traditional on-premises infrastructure. However, most cloud SaaS environments operate in what is known as a shared responsibility model. It is essential to protect the data as it exists in cloud SaaS environments.
Many businesses have chosen Google Workspace as their cloud SaaS provider, as it aligns with their existing infrastructure in the Google cloud. Backing up the data in shared drives in Google Workspace is essential for disaster recovery for those using Google Workspace cloud SaaS.
BDRSuite v5.5 provides the new capability to back up and recover Google shared drives. Now, businesses can properly protect their Google Workspace data in shared drives as part of their disaster recovery plan.
Backup and Recover Microsoft 365 Archive Mailboxes
In addition, many organizations are utilizing Microsoft 365 cloud SaaS environments. BDRSuite v5.5 allows organizations to back up and recover user emails in Microsoft 365 Archive Mailboxes. This new feature will provide added protection to these special-purpose inboxes.
Deduplication for Microsoft User Emails
Organizations are always looking to have more efficient and cost-effective solutions in the enterprise. BDRSuite v5.5 introduces many new improvements to reduce bandwidth and storage utilization. One of those new features is using a mail-level deduplication feature at the source when backing up Microsoft 365 mailboxes. This new deduplication feature helps avoid copying and transmitting duplicate emails across the network and saving these to storage multiple times.
Many other new enhancements
As with any other update, there are many new enhancements in addition to the major features listed above. Those include:
VMware Backup Performance increased by 2x
VMware CBT Reset
Parallel Disk Image Backup
Parallel Synthetic Full Backup
Auxiliary Applications for Microsoft 365 Backup
Restore to a mailbox in a different Organization (Microsoft 365 & Google Workspace)
Restore the backed-up user emails directly from Microsoft 365 console through BDRSuite Add-in for Outlook
Download Restore Logs for Microsoft 365 and Google Workspace
Breadcrumbs view for OneDrive and Group OneDrive Restore
Enhanced progress window for Offsite Replication
BDRSuite v5.5 FAQs
Is BDRSuite free? BDRSuite allows you to test out all the enterprise features for 30 days. After that, you can transition into the product's free edition if you choose not to purchase a license. The free edition allows you to protect 10 workloads for free.
Does BDRSuite support vSphere 8? VMware vSphere 8 is supported in BDRSuite v5.5.
How do you upgrade to BDRSuite v5.5? It would be best if you ran at least BDRSuite v5.0 to upgrade directly to v5.5. However, the upgrade process is just a matter of running the upgrade installer on your existing BDRSuite Server.
Wrapping Up
In summary, this is an excellent release of BDRSuite for the enterprise. It provides many new features and capabilities, allows organizations to upgrade to the latest hypervisor release of vSphere 8, and removes data protection as a blocker for the upgrade. It strengthens cloud capabilities and allows organizations to protect their Google Workspace cloud assets more completely and effectively.
Check out BDRSuite and download a free trial edition of BDRSuite v5.5 here: BDRSuite by Vembu download.
Don't miss out on new posts! Sign up!